April 2014
| Su | Mo | Tu | We | Th | Fr | Sa |
| --- | --- | --- | --- | --- | --- | --- |
| | | 1 | 2 | 3 | 4 | 5 |
| 6 | 7 | 8 | 9 | 10 | 11 | 12 |
| 13 | 14 | 15 | 16 | 17 | 18 | 19 |
| 20 | 21 | 22 | 23 | 24 | 25 | 26 |
| 27 | 28 | 29 | 30 | | | |

October 17, 2008




Senator John McCain has been interviewed over a dozen times by Charlie Rose since 1997. We've select the 10 most significant interviews and featured them here. This set of videos provides an excellent portrait of McCain over the past 10 years. Here are some of the key interviews:
-In the 06/03/1997 interview, McCain told a riveting story of his experiences as a soldier and POW in Vietnam.
-In the 07/28/1999 interview, McCain laid forth his 2000 presidential campaign platform addressing political cynicism and corruption, and how to rid Washington of the special interests that contribute to both Democratic & Republican parties and control the American political process.
-In the 09/17/2001 interview, McCain discussed preparations for a war with Afghanistan after the 9/11 attacks.
-In the 09/24/2002 interview, McCain gave his reasons for supporting the upcoming war with Iraq.
-In the 04/19/2004 interview, McCain spoke with Charlie Rose about the difficulties of the Iraq War.
-In the 08/20/2007 interview, McCain laid forth his platform for his 2008 presidential campaign, focusing on fighting Islamic terrorism, winning the war in Iraq, cutting government spending, and dealing with climate change.
These interviews provide an interesting history of the changes in American politics over the past 10 years and how Senator John McCain has confronted these changes. These streaming videos are made available through CharlieRose.com and Google Video.


A discussion with John McCain
06/03/1997
Senator John McCain, Republican of Arizona, speaks to Charlie about his experiences as a soldier in Vietnam and his support for the Head Start program, a federally funded program focusing on providing early stage education for children from low-income families.
A conversation with Senator John McCain
07/28/1999
Senator John McCain of Arizona discusses his run for the Republican nomination for president in the 2000 elections, his main Republican opposition, George W. Bush, and outlines his policy platform. McCain addresses political cynicism and corruption, and curbing the special interests that contribute to both Democratic & Republican parties.
An interview with John McCain
09/13/1999
Senator of Arizona and Presidential candidate John McCain talks about his new book "Faith of My Fathers", about the significance of his time spent in the military and as a prisoner of war in Vietnam.
An interview with John McCain
12/13/1999
An hour with Republican senator from Arizona and presidential candidate, John McCain. McCain responds to the feedback about the recent debates among Republican candidates, discusses formative life experiences that have contributed to his desire to run for the presidency, and shares his policy platform.
A conversation about the preparation for war with Senator John McCain
09/17/2001
A conversation with Republican Senator John McCain of Arizona about preparations for war after the 9/11 attacks and President Bush's plan of action.
An interview with John McCain
09/24/2002
Senator John McCain, Republican of Arizona and author of the book "Worth Fighting For", discusses America's failure to keep the peace and rebuild in Afghanistan following the 2001 invasion. He also talks about mounting tensions with Iraq.
A conversation with Senator John McCain
04/19/2004
A conversation with Republican Senator John McCain of Arizona about his book "Why Courage Matters: The Way to a Braver Life". McCain also discusses the war in Iraq.
An hour with Republican Senator John McCain
10/31/2005
An hour conversation with Senator John McCain about his views regarding President Bush, the platform and future of the Republican Party and his own possible run for the presidency in 2008.
A conversation with Sen. John McCain
08/20/2007
A conversation with Senator John McCain about his Presidential campaign. McCain talks about combatting Islamic extremism, the rise of China, and other foreign policy issues.
Charlie Rose Special Edition: The Candidate - John McCain
11/27/2007
Charlie Rose Special Edition: The Candidates featuring an hour with John McCain. McCain covers most of the platform upon which he is running in 2008 as he talks about Iraq, health care, education, immigration, and other issues.
Posted by LearnOutLoud | Permalink
May 22, 2008



FORA.tv offers over 2000 free videos from over 115 different partners covering the world's most interesting political, social and cultural issues. Their partners include bookstores, think tanks, colleges, institutes, and many other public forums (the word fora is simply the plural of "forum"). At LearnOutLoud we combed through these free resources and picked out 500 of the top titles that FORA.tv offers.
We've added these 500 free titles to our site and have embedded the videos onto our pages so you can watch them directly on LearnOutLoud.com. FORA.tv has also provided the ability to download the audio of their videos on MP3 for almost all of their titles, making it easy to take FORA.tv programs with you. On our product pages we've provided links to the FORA.tv pages where you can download the MP3 files.
We've divided the FORA.tv titles up according to their providers. Here are the top providers you can browse with some highlights of the titles they offer:
Joseph Stiglitz: The Economics of Information
President's Forum with Thich Nhat Hanh
The Clash Between Faith and Reason by Sam Harris
A Conversation with Lance Armstrong
A Conversation with Richard Branson
Karl Rove in Conversation with Walter Isaacson
Death Experiences: Stan Grof and Scott Eberle
John Gray: Why Mars and Venus Collide
Joyce Carol Oates: The Gravedigger's Daughter
Madeleine Albright: The Mighty and The Almighty
The Beginning of Our Religious Traditions by Karen Armstrong
Made to Stick by Chip Heath
Immigration Reform: Prospects and Possibilities
Carnegie Endowment for International Peace:
A World Free of Nuclear Weapons?
Andrew Sullivan: The Conservative Soul
The End of Iraq: How American Incompetence Created a War without End
John McCain: The Myth of a Maverick
Ban Ki-moon: Why the UN Matters Today
Boosting the Brain's Power Into Old Age by Dharma Singh Khalsa
Music: Heart, Soul and Dollar - Robert Greenberg
Nutrition and Physical Activity for a Lifetime by Christina Economos
Chris Elliott in Conversation with Dave Eggers
Eric Schlosser, Author of Fast Food Nation
Jared and Susan Diamond in Conversation
Leaving Microsoft to Change the World by John Wood
Shelby Steele on Why Barack Obama Cannot Win
A Conversation with Benazir Bhutto
Hillary Rodham Clinton at Council on Foreign Relations
The Audacity of Hope by Barack Obama
Gay Marriage Debate with David Blankenhorn & Evan Wolfson
The Joke's Over: Ralph Steadman on Hunter S. Thompson
Noam Chomsky: Hegemony or Survival
President George W. Bush at the NAACP
Richard Dawkins: The God Delusion
Tom Wolfe: What's Southern Today?
The President, The Pope and The Prime Minister by John O'Sullivan
Secretary of State Condoleezza Rice: U.S. Policy in Northeast Asia
Harvey Mansfield: Anger and Self-Importance
Norman Podhoretz: World War IV
Steps Toward a World Free of Nuclear Weapons
Battle of Ideas: Debating Darwin
Debating Matters: Human Genetic Engineering
Bruce Sterling on The Singularity
Francis Fukuyama: The End Of History Revisited
An Evening with John Pilger and Amy Goodman
Film Historian David Thomson on Hollywood
Dave Barry's History of the Millennium (So Far)
Tom Brokaw: Boom! Voices of the Sixties
Hamas and the National Unity Government
A Conversation with Ted Turner
Histories of Burma by Thant Myint-U
Journeys of a Passionate Traveller by Frances Mayes
And about 120 titles from their other providers we've consolidated under the publisher FORA.tv:
The 20th Century on Trial: Norman Mailer
Al Gore: The Global Environmental Crisis
Al Sharpton and Christopher Hitchens Debate
Bill Clinton: A Call to Action
Free to Choose by Milton Friedman
Fritjof Capra: The Science of Leonardo
Garrison Keillor on Life, Cheerfulness and Aging
Khaled Hosseini: A Thousand Splendid Suns
Malcolm X: Address to the Ford Hall Forum
Mind Set! Reset Your Thinking and See the Future by John Naisbitt
Vietnam and the Rise of the New Left by Michael Medved
Enjoy the offerings from this brilliant ideas network for discourse and debate.
Posted by LearnOutLoud | Permalink
October 12, 2007
A while back I blogged about micro-learning which I think is going to be an increasingly strong trend in the world of education. In short, micro-learning is breaking up learning modules into bite-sized chunks that can consumed in isolation or in series. It's respecting the fact that people are busier than ever and that the population is becoming more ADD-ish in its media consumption habits.
To that extent, we've recently launched a side project called 10Things.tv. It's a series of short instructional videos for learning languages. The initial videos teach Spanish but eventually we'll be adding other languages. It's a great way to pick up a bit of Spanish before you head off on a trip or to whet your appetite to learn more. Take a look at videos below and if you like them visit 10Things.tv for more.
Posted by | Permalink
April 13, 2007
This Wednesday, April 11th American author Kurt Vonnegut, Jr. passed away at the age of 84. Watch one of his last interviews which was conducted by John Hockenberry of the The Infinite Mind series, and recorded live in the virtual on-line community Second Life. It's an entertaining interview with questions from the Second Life audience and Vonnegut's thoughts on America towards the end of his life. He also discusses his final work which is a collection of essays entitled A Man Without a Country.
The Infinite Mind is produced by Lichtenstein Creative Media which focuses on mental health, human rights and other social issues. LearnOutLoud features over 40 audio downloads from The Infinite Mind.
For audio books from Vonnegut check out:
Slaughterhouse-Five

Breakfast of Champions

Essential Vonnegut Interviews

A Man Without a Country

Posted by LearnOutLoud | Permalink
October 9, 2006

So the Google-You Tube deal is official. Only time will tell whether this deal will be a good one or not. Perhaps this will be another MySpace-type deal where a year from now everyone will marvel at how much Google underpaid. Or maybe it'll be another Broadcast.com where the big winners will end up being Chad Hurley and the rest of the YouTube founders.
But here's one thing that's interesting. I'm pretty sure that we'll start to see an eradication of a big chunk of the copyrighted content on YouTube. And this is really important because it opens up the door for something that is all about inevitable...YouTube 2. Part of the beauty of YouTube is the Web 2.0-nature of the site. Miss the Daily Show yesterday? Find it on YouTube (for free) tomorrow. I'm guessing those days are numbered...at least for YouTube 1.
So I decided to put together a list of the companies that have a chance to become YouTube 2. It's tough to say who this will be and of course it's impossible to gauge whether this will end up becoming just like the P2P systems where these sites end up having to face the choice of going legit or shutting down (a la Napster-Grokster-Kazaa). But I think a few things will decide who the next YouTube will be:

1. The company will need to be relatively independent. It can be venture-funded but can't already be in bed with a big media/tech company. This disqualifies Netscape, Grouper, iFilm, etc.
2. The company will have to have some funding and a good foundation already in place. The race to be YT2 will happen quickly. It's unlikely that a company that is under-capitalized or that is just getting going will have a chance to win this race.

3. The company will have to have an interface at least somewhat simliar to YouTube. When the teenage crew finds they can't post their copyrighted stuff on YouTube anymore they are going to look for an alternative and if the next best thing seems pretty much like the last best thing it'll have a good shot of getting their content.
So here are the candidates (in alphabetical order) along with Vegas-style odds that they'll become YouTube 2:
blip.tv - Blip just closed an angel funding round and has a lot of similarities to YouTube. While they haven't generated a lot of traction yet their position as a relative independent gives them a shot. Plus they have Amanda Congdon! (Alexa ranking = 10,685)
Likelihood of becoming YouTube 2 - 9:1
Clipshack - Clipshack hasn't gotten a ton of traction but recently raised $2 million and has a site that could best be described as a "poor man's YouTube." They don't seem to have a lot of copyrighted material (a search on "Jon Stewart" yielded almost nothing) so they might be actively policing that. Possible that they try to become YT2 but unlikely. (Alexa ranking = 23,389)
Likelihood of becoming YouTube 2 - 30:1
Metacafe - This will be an interesting one to watch. They've received $15 million in funding and have a lot of traction. While their tune is only to serve the world's "best videos" I wonder if that might change post-GoogTube given the opportunity that's out there for them to be a fast follower in this race. (Alexa ranking = 143)
Likelihood of becoming YouTube 2 - 3:1
motionbox - While they seem to focusing much more on their toolset than on becoming a portal since Arrington thinks they're the best video sharing site maybe they've got a chance. Seriously though it's highly unlikely given their focus. (Alexa ranking = 62,721)
Likelihood of becoming YouTube 2 - 100:1
Revver - When it became apparent that they weren't going to win the video portal game Revver shifted gears to focus on video distribution. It's a smart move on their part but shifting back to becoming a portal so quickly is probably not going to happen. (Alexa ranking = 2,853)
Likelihood of becoming YouTube 2 - 40:1
Veoh - Veoh has raised a lot of money ($12.5 million) but given who they've raised it from (Eisner, Time Warner, etc.) it's unlikely they'll be the next YouTube despite the fact that their site is a virtual clone. If it wasn't for their investors I'd say they'd be the ones to be YT2. (Alexa ranking = 3,877)
Likelihood of becoming YouTube 2 - 50:1
vSocial - vSocial has raised some money and doesn't seem gun-shy about featuring copyrighted videos on their homepage. They don't have quite as much traction as Metacafe but could become "the deuce" if Metacafe doesn't take the throne. (Alexa ranking = 3,611)
Likelihood of becoming YouTube 2 - 6:1
Vimeo - Another possible contender although their layot is decidedly un-YouTube-like, not all their videos are Flash and I couldn't seem to find anything on their funding situation. A long shot at best. (Alexa ranking = 8,895)
Likelihood of becoming YouTube 2 - 75:1
It'll be an interesting race to watch. If YouTube was worth $1.6 billion then what is YT2 going to be worth? Probably not nearly as much because there will be increasing pressure on them to go legit and they won't be able to fly under the radar (relatively speaking) as long as YouTube did while building up an audience. Still, if they can manage to pull a lot of YouTubers over much the same way MySpace did to Friendster and much the same as what happened with the P2P networks then it's quite possible they could build up a huge audience very quickly.
YouTube wanna-bes start your engines...the race has begun!
Discuss this post in the LOL Forums!
Want to subscribe to this blog? This free, short video tutorial will show you how.

Posted by | Permalink
March 5, 2006

Cool. We need more of this type of stuff available online. :)
"All Marketers are Liars" - Seth Godin speaks at Google
Discuss this post in the LOL Forums!
Want to subscribe to this blog? This free, short video tutorial will show you how.
Posted by | Permalink
January 12, 2006

Took my first real look at Google Video last night and I have to admit that I'm very impressed with it and with its potential for video education. When Google Video first launched it just seemed to be a random hodgepodge of videos like this. Funny perhaps but not a lot of learning going on there.
But over the last few months Google quietly amassing a fairly cool stockpile of content. As outlined in this blog post on the Google Blog there's a lot of interesting stuff up there right now. When it comes to video learning the following are worth a look:
• Aquarius Health Care Media: A leading producer and distributor of healthcare-related videos will pilot with Google Video using a variety of titles covering SIDS, diabetes, and blindness, among other health issues.
• CLEARVUE & SVE: A leading provider of educational K-12 educational video content. They sell DVDs and run a subscription media-on-demand website with video, audio, and images. CLEARVUE & SVE primarily serves large clients such as schools, school districts or entire states. Leveraging Google Video, they have embarked on a new and bold strategy to target individual customers directly. Among the hundreds of videos you will find on Google, topics vary from classic children's literature to detailed explanations about the workings of the human body.
• Kantola Productions: Captures unique speaking events given by well-known experts at Stanford University. Topics focus on innovative and practical business advice, such as How Leaders Boost Productivity by John H. (Jack) Zenger and Mastery of Speaking as a Leader by Terry Pearce.
• LIME: "Healthy Living with a Twist" offers entertaining and revealing programming focused on a greener, healthier, more balanced lifestyle. Programming features inspiration from leading experts, authors, and pop culture icons and covers topics including the environment and sustainability, personal growth, alternative health, healthy foods, and business ethics.
• Nobel Video Library: A library focused on the achievements of individual Nobel Laureate. The series was developed to introduce students to the work of the laureates as well as to support classroom discussion regarding important issues addressed by Nobel Prize winners in recent decades.
I particularly liked a show from Plum TV called Open Exchange which consisted of a CEO (Jonathan Tisch of Loews Hotels) interviewing other top CEOs.
While you have to pay for some of the content there is a good chunk of it up there for free right now. I'm not sure if that will last but my guess is that there probably will always be a fairly sizable wealth of free educational content on the site.
The biggest question in my mind is how Google will properly showcase this content. To be honest, had I not stumbled upon the post on the Google Blog I don't think I would have found this stuff. Because Google is allowing anyone and everyone to upload content, it's going to be increasingly important to have solid filtering mechanisms in place. If they're able to pull that off this is going to be a really resource. If not, it could turn into a mess.
One more nice feature to mention is that they give you the ability to add code to your site such that you can play video directly within the site. For example, you can check out the Open Exchange interview with Ace Greenberg (CEO of Bear Stearns) below:
(Thanks to Wynn over at the Stingy Scholar blog for his heads up on this feature as well as the LearnOutLoud mention in his blog post about Google Video.)
One last comment and then I'll sign off for the night.
What is Google Video's monthly bandwidth usage?
It must an insane amount. And that's going to be the interesting thing to watch with Google Video (as well as the other video sharing services that are out there). If you're charging for something you can pretty much be assured that the revenue will offset the costs, even if you're only selling something for 99 cents. But if Google allows people to post tons of free video and doesn't charge them to do so you'd have to imagine that will be pretty costly for them. But I guess they can afford it.
After all they are Google.
Discuss this post in the LOL Forums!
Want to subscribe to this blog? This free, short video tutorial will show you how.
Posted by | Permalink
December 18, 2005
We've been playing around with Camtasia this week and have been very impressed with how easy it is to put together professional-quality video tutorials. We've posted a couple of these up on Castpost. They cover how to subscribe to podcasts with iTunes and how to subscribe to blogs using Bloglines, My Yahoo! and other news readers. Here are the links:
How To Listen To a Podcast with iTunes
How To Subscribe To a Blog
(Prepared to be a bit patient when you click on the links. We're working on trying to figure out a way to get these to load faster.)
We're likely going to be rolling out some other tutorials of this nature soon. Sometimes we all take for granted how tech-savvy everyone is but the fact of the matter is that the percentage of people who take advantage of RSS-based content like blogs and podcasts is in the single digits. So we're going to do our best to help with the education process. If you have any ideas for other tutorials that we should do of web services, applications, etc. drop me a line at jon@learnoutloud.com and let me know.
Discuss this post in the LOL Forums!
Posted by | Permalink
October 12, 2005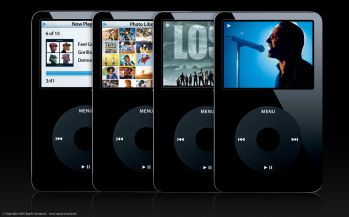 OK, so less than 48 hours ago I'm bitching about how options for video learning are more limited than for audio learning because of the lack of ability to "space shift." With the iPod and other portable MP3 players that are out there, audio is almost entirely portable (with the exception that it's still a pain in the ass to connect iPods and MP3 players to many vehicles). Video on the other hand is much less portable...at least until today.
Apple just announced their brand new video iPod at their "One more thing..." event in San Francisco. They have a cool new commercial that allow you to see the new iPod. Check it out:
I just wandered down to the Apple Store here in Santa Monica and unfortunately they don't have any video iPods in the store yet. I'd love to see the quality of the video first-hand. I'm also curious to see the screen size and try to gauge whether this is a viable platform for viewing and what type of video content might work best on the video iPod.
Regardless of whether the video iPod takes off, I think that this will be the day that people will look back on and point to as the beginning of the portability of video. Imagine what this allows me to do. I can take some video content, throw it on my iPod and watch in anywhere. On the train on the way into work in the morning...hooked up to my PC or laptop...through my new hi-def television (OK, wishful thinking there...).
Just as the original iPod (and other MP3 players) made music and spoken word content portable (do you remember the days of lugging cases of CDs around with you?!), I think that the new iPod will absolutely do the same thing for video. DVDs? What are those? I think as soon as a few years from now people might be asking that question.
It's a brave new world and we're glad to be a part of it. We're excited to bring you educational and self-development video content in the coming months. So when you do get that brand spankin' new iPod for the holidays make sure y'all come back here to fill it up!
Before I go, here are some more cool links related to the new iPod:
"One more thing..." Special Event Video
Engadget's First Impressions of the new iPod
How to get your own videos onto the iPod
Discuss this post in the LOL Forums!

Posted by | Permalink
September 17, 2005

I'm in the midst of preparing a full-blown "Audio Learning Manifesto" which I'll attempt to have published soon on ChangeThis (more on that later) but I wanted to step away from that to talk about something that we haven't discussed much on our site as of late: video learning. In addition to promoting audio books and podcasts our mission is also to promote video learning products. It's certainly been somewhat of a secondary mission to date as much of our focus is currently on audio but we plan to devote an increased amount of resources to video learning in the near future.
Why video learning you ask? I'll offer a number of reasons. First of all, there is a lot of material that simply works better on video than on audio. Let's say that you are interested in studying art history and stumbled upon the Teaching Company course From Monet to Van Gogh. Now while this could be available in audio format I think you'll agree that trying to learn art history without actually being able to view the art being discussed is less than optimal.
Video learning can also offer a richer experience for the viewer. A good example of this is an excellent PBS documentary on the life of Benjamin Franklin that I just finished watching. This documentary contains actors playing the parts of Franklin and his contemporaries, reenactment of historical events and paintings and portraits from the era. While there are a number of good audio resources on Frankin's life (The Autobiography of Benjamin Franklin and the excellent Portable Professor course about him jump to mind), the PBS documentary was made truly special because some of the video elements that were incorporated.
Another reason why I love promoting video learning is that (for most of you!) it doesn't require a huge shift in your behavior. According to Nielsen, the average person watches somewhere in the neighborhood of 4-5 hours of television per day. I'm not asking you to give up TV cold turkey (although it's not a bad idea) or switch entirely to educational content. But how about substituting some of those hours spent watching mind-numbing sitcoms and dramas with some cool educational and inspirational DVDs? Netflix has tons of awesome documentaries and other educational and self-development titles that you rent and their plans are now as low as $9.99 per month. Not a bad deal for what is essentially an unlimited supply of video learning material!
The final reason that I'll offer for why I love video learning is that I think, like audio, that it's an excellent opportunity for Dead Time Learning. At first glance this might not seem so obvious. After all, you can't watch videos while commuting. But there are some creative ways to incorporate video learning into your daily life. Consider the opportunity to watch educational videos while you exercise or cook dinner. I just bought a new stationary bicycle and can pop in a DVD while I'm exercising. As a friend of mine recently told me, it's like getting two workouts (a physical one and a mental one!) at the same time.
For these reasons and many more we're going to continue to work hard to make it even easier for you to find good quality educational and self-development video content. It definitely falls under the category of "Learning Out Loud" and is something we're very passionate about. We welcome your suggestions as to how we can best serve your needs.
Discuss this post in the LOL Forums!
Posted by | Permalink