December 2008
March 2022
| Su | Mo | Tu | We | Th | Fr | Sa |
| --- | --- | --- | --- | --- | --- | --- |
| | | 1 | 2 | 3 | 4 | 5 |
| 6 | 7 | 8 | 9 | 10 | 11 | 12 |
| 13 | 14 | 15 | 16 | 17 | 18 | 19 |
| 20 | 21 | 22 | 23 | 24 | 25 | 26 |
| 27 | 28 | 29 | 30 | 31 | | |
December 19, 2008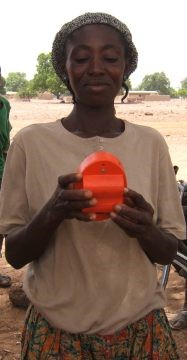 Between now and December 31, 2008, LearnOutLoud is donating $1 from every order placed on LearnOutLoud.com to Literacy Bridge, a nonprofit charity that distributes Talking Book Devices to impoverished rural areas with low literacy levels. Their pilot program is beginning by providing Talking Book Devices to families in the rural north of Ghana. You can learn more about there program here:
So feel free to place an order with LearnOutLoud.com before the end of 2008 (even if it's for a $1 audio book), knowing that $1 from every order you place will be donated to Literacy Bridge. Literacy Bridge is promising that all funds raised by December 31, 2008 will be applied directly to their pilot tests and not to administrative costs. So help the nation of Ghana to learn out loud today, when you place an order on LearnOutLoud.com:
Posted by LearnOutLoud | Permalink
December 16, 2008
Still don't know what to get a friend or family member for Christmas? We've got a great (and a bit biased...) suggestion: Audiobooks. Why are audiobooks such great gifts? Because they don't require the recipient to take any time out of his or her day to listen to. They can just pop the audiobook on while driving to work, exercising, etc. and each time they'll think of you and thank you for making their commute or workout a
little more interesting.

To help you out in finding an affordable stocking stuffer we've put together all of our titles on sale for less than $20 in LearnOutLoud.com's Audiobook Outlet. Here you can browse titles by category that are Under $5.00, Under $10.00, Under $15.00, and Under $20.00. Find a great affordable gift in the LearnOutLoud.com's Outlet:
LearnOutLoud.com's Audiobook Outlet
We've also put together this list of the 50 best stocking stuffers available for under $20:
Arts & Entertainment:
New and Not Bad Pretty Good Jokes by Garrison Keillor
How to Ruin Your Life by Ben Stein
The Hitchhiker's Guide to the Galaxy Live in Concert by Douglas Adams
Keyboard Conversations: The Power and Passion of Beethoven by Jeffrey Siegel
David Sedaris Live at Carnegie Hall
Biography:
This I Believe by Jay Allison
Running with Scissors by Augusten Burroughs
Tuesdays with Morrie by Mitch Albom
An Hour Before Daylight by Jimmy Carter
The Life and Works of William Butler Yeats by John Kavanagh
Anne Frank's Story by Carol Ann Lee
Business:
Richest Man in Babylon and The Magic Story by George S. Clason
Think & Grow Rich: Instant Motivator by Napoleon Hill
Personal Finance for Dummies, 5th Edition by Eric Tyson
The 4 Disciplines of Execution by Stephen R. Covey
History:
Martin Luther King Jr.: We Shall Overcome
Flags of Our Fathers by James Bradley
Famous Americans in History by Barnaby Chesterman
Literature:
Horton Hears a Who and Other Sounds of Dr. Seuss
And Still I Rise by Maya Angelou
Essential Walt Whitman
Prince Caspian by C.S. Lewis
Oedipus the King by Sophocles
A Child's Christmas in Wales by Dylan Thomas
The Great Gatsby by F. Scott Fitzgerald
Roots: The Saga of an American Family by Alex Haley
Religion & Spirituality:
The Word of Promise: Christmas Story
The Hiding Place by Corrie ten Boom
More Than a Carpenter Today by Josh McDowell
The Beginner's Guide to Buddhism by Jack Kornfield
Zen Flesh, Zen Bones
The 100 Minute Bible
How to Pray by R.A. Torrey
The Meaning of Life by His Holiness the Dalai Lama
Self Development:
Mindfulness for Beginners by Jon Kabat-Zinn
101 Ways To Transform Your Life by Wayne Dyer
101 Power Thoughts by Louise L. Hay
Creative Visualization Meditations by Shakti Gawain
As You Think by James Allen
Unlimited Power by Anthony Robbins
Meditations for Manifesting by Wayne Dyer
Spiritual Progress Through Regression by Brian Weiss
Deep Relaxation by Effective Learning Systems
Meditations for a Miraculous Life by Marianne Williamson
Living a Life of Inner Peace by Eckhart Tolle
Other Notable Releases:
The Audacity of Hope by Barack Obama
Rush Hour Express Spanish
The Golfer's Mind by Dr. Bob Rotella
Marley & Me by John Grogan
Wine Appreciation Freeway Guide by Robin Stark
Get a great little gift for a loved one this holiday season to aid them in their lifelong learning!

Posted by LearnOutLoud | Permalink
December 16, 2008
At LearnOutLoud.com we've assembled a list of the 150 best new and most popular audio book releases from 2008. You can view all of our audio book new releases here:
www.learnoutloud.com/New-Releases
To make it easy, we've divided this list of 150 new releases into categories:
Arts & Entertainment:
Hitchhikers Guide to the Galaxy: Complete Radio Series Box Set by Douglas Adams
Why We Suck by Denis Leary
American Prince by Tony Curtis
The Best of Wait Wait... Don't Tell Me! by Peter Sagal & Others
Liberty by Garrison Keillor
When You Are Engulfed in Flames by David Sedaris
Music: An Appreciation by Roger Kamien
Horton Hears a Who and Other Sounds of Dr. Seuss by Dr. Seuss
The History of Opera by Richard Fawkes
Biography:
Call Me Ted by Ted Turner
John Lennon: The Life by Philip Norman
Shakespeare: The World as Stage by Bill Bryson
Billy Graham: His Life and Influence by David Aikman
Led by Faith by Immaculee Ilibagiza
Promises to Keep by Joe Biden
The Snowball: Warren Buffett and the Business of Life by Alice Schroeder
My Stroke of Insight: A Brain Scientist's Personal Journey by Jill Bolte Taylor
Home: A Memoir of My Early Years by Julie Andrews
An Hour to Live, an Hour to Love by Richard Carlson
A Wolf at the Table by Augusten Burroughs
Audition: A Memoir by Barbara Walters
A Remarkable Mother by Jimmy Carter
The Sum of Our Days by Isabel Allende
Life Beyond Measure by Sidney Poitier
The Color of Water by James McBride
It's Not About the Bike by Lance Armstrong
Eat, Pray, Love by Elizabeth Gilbert
Business:
The Leader in Me by Stephen R. Covey
50 Prosperity Classics by Tom Butler-Bowdon
Credit Repair Kit for Dummies by Steve Bucci
The Missing Secret by Joe Vitale
Saving the World at Work by Tim Sanders
Money, and the Law of Attraction by Jerry & Esther Hicks
The Buffettology Collection by Mary Buffett
Go Green, Live Rich by David Bach
Leadership Gold by John C. Maxwell
The Wealth of Nations (Abridged) by Adam Smith
The End of Poverty by Jeffrey Sachs
Predictably Irrational by Dan Ariely
The New Science of Getting Rich by Wallace D. Wattles
Good to Great by Jim Collins
Think & Grow Rich: The 21st Century Edition by Napoleon Hill
History:
The Mental Floss History of the World by Eric Sass
A Short History of the United States by Robert V. Remini
Traitor to His Class: The Privileged Life and Radical Presidency of Franklin Delano Roosevelt by H.W. Brands
A History of the Olympics by John Goodbody
The War Within by Bob Woodward
America's Hidden History by Kenneth C. Davis
Ladies of Liberty by Cokie Roberts
The Fire Next Time by James Baldwin
Literature:
The Christmas Sweater by Glenn Beck
Marley by John Grogan
Revolutionary Road by Richard Yates
A Mercy by Toni Morrison
A Christmas Carol (Dramatized) by Charles Dickens
How the Grinch Stole Christmas by Dr. Seuss
An Irish Country Christmas by Patrick Taylor
On the Road: The Original Scroll by Jack Kerouac
Brideshead Revisted by Evelyn Waugh
Tropic of Cancer by Henry Miller
Steppenwolf by Herman Hesse
Othello by William Shakespeare
Native Son by by Richard Wright
Armageddon in Retrospect by Kurt Vonnegut
Pilgrims by Elizabeth Gilbert
The White Tiger by Aravind Adiga
Homer's the Iliad and the Odyssey: A Biography by Alberto Manguel
The Nick Adams Stories by Ernest Hemingway
The Life of Galileo by Bertolt Brecht
Great Poets: W.B. Yeats by William Butler Yeats
Song Yet Sung by James McBride
Dog Soldiers by Robert Stone
Bright Shiny Morning by James Frey
Politics:
Mike's Election Guide by Michael Moore
The Way of the World by Ron Suskind
Makers and Takers by Peter Schweizer
An Inconvenient Truth by Al Gore
The Revolution: A Manifesto by Ron Paul
The Essential Barack Obama: The Grammy Award-Winning Recordings by Barack Obama
Memo to the President Elect by Madeleine Albright
The Great Awakening by Jim Wallis
Out of Mao's Shadow by Philip P. Pan
Fleeced by Dick Morris
Rights of Man by Thomas Paine
Religion & Spirituality:
The Word of Promise: Next Generation - New Testament features the voices of such world-class young actors as Annasophia Robb, Marshall Allman, Emily Osment, Cody Linley, Sean Astin, Jordin Sparks, and Corbin Bleu
Jesus: A Story of Enlightenment by Deepak Chopra
The Purpose of Christmas by Rick Warren
Start Where You Are by Pema Chodron
Everything You Know about God Is Wrong, Volume 1
Jesus Wants to Save Christians by Rob Bell
Love Your Life by Victoria Osteen
Wake Up: A Life of the Buddha by Jack Kerouac
Fresh Air: Faith, Reason and Doubt by Terry Gross
Conflict Free Living by Joyce Meyer
The Love Languages of God by Gary Chapman
Buddha's Teachings by Bukkyo Dendo Kyokai
I Don't Believe in Atheists by Chris Hedges
The Faith by Charles Colson
Conversations with God by Neale Donald Walsch
NKJV: Word of Promise - New Testament
New Birth or Rebirth by Ravi Zacharias
Finding Our Way Again by Brian McLaren
Self Development:
The Stephen R. Covey 20th Anniversary Collection
ChiRunning by Danny Dreyer
Magnificent Mind at Any Age by Daniel G. Amen
100 Ways to Simplify Your Life by Joyce Meyer
Spiritual Liberation by Michael Beckwith
You: Being Beautiful by by Mehmet C. Oz & Michael F. Roizen
Transitions: Making Sense of Life's Changes by William Bridges
Leveraging the Universe and Engaging the Magic by Mike Dooley
You: Staying Young by Michael F. Roizen & Mehmet C. Oz
Making Love Last by David Richo
Law of Attraction Directly from Source: Leading Edge Thought, Leading Edge Music by Jerry & Esther Hicks and Scott Raposa
The 7 Habits of Happy Kids by Sean Covey
Conquering Procrastination: How to Stop Stalling & Start Achieving! by Neil Fiore
Loneliness: Human Nature and the Need for Social Connection by John T. Cacioppo
The End of Food by Paul Roberts
The Teachings of Abraham by Esther & Jerry Hicks
You Breathing Easy by Michael F. Roizen
Transitions: Making Sense of Life's Changes by William Bridges
Leveraging the Universe and Engaging the Magic by Mike Dooley
You: Staying Young by Michael F. Roizen & Mehmet C. Oz
The Age of Miracles by Marianne Williamson
Getting Things Done (Unabridged) by David Allen
Success Through a Positive Mental Attitude by Napoleon Hill
The Wise Heart by Jack Kornfield
Life Visioning by Michael Beckwith
Relieve Anxiety with Medical Hypnosis by Steven Gurgevich
From Fear to Fearlessness by Pema Chodron
Advanced Chakra Wisdom by Cyndi Dale
The Power of Presence by Peter M. Senge
The End of Your World by Adyashanti
Psychosomatic Wellness by Candace Pert
Yoga Wave by Shiva Rea
Living Everyday Zen by Charlotte Joko Beck
The Personal Mastery Program by Srikumar Rao
Other Notable Releases:
The Intellectual Devotional: Modern Culture by David S. Kidder
A Member of the Family: Cesar Millan's Guide to a Lifetime of Fulfillment with Your Dog
Green Living for Dummies by Yvonne Jeffery
Outliers: The Story of Success by Malcolm Gladwell
This I Believe II by Jay Allison
Man's Search for Ultimate Meaning by Viktor E. Frankl
Advanced Spanish
Don't Know Much about Anything by Kenneth C. Davis
Cradle to Cradle by William McDonough
Irreligion: A Mathematician Explains Why the Arguments for God Just Don't Add Up by John Allen Paulos
Everything You Pretend to Know and Are Afraid Someone Will Ask by Lynette Padwa
Simplexity by Jeffrey Kluger
Posted by LearnOutLoud | Permalink