July 2009
November 2021
| Su | Mo | Tu | We | Th | Fr | Sa |
| --- | --- | --- | --- | --- | --- | --- |
| | 1 | 2 | 3 | 4 | 5 | 6 |
| 7 | 8 | 9 | 10 | 11 | 12 | 13 |
| 14 | 15 | 16 | 17 | 18 | 19 | 20 |
| 21 | 22 | 23 | 24 | 25 | 26 | 27 |
| 28 | 29 | 30 | | | | |
July 31, 2009
We thought we'd post our Facebook Fan Box to our blog here so you can follow the links to great free audio & video learning resources as we post them there. You can also click through to become a Fan. If you're not on Facebook, no big deal. Just bookmark this page or click through to our fan page and bookmark it:


We also have the URL: www.facebook.com/audiobooks which we use for more general audio book news. You can add this profile as a friend by clicking the badge below:
Learn Out Loud


Create Your Badge
Posted by LearnOutLoud | Permalink
July 28, 2009

Looking for college lectures to listen to? Download over 100 college courses on audio from the Modern Scholar series featuring great university professors teaching college-level courses on a variety of subjects:
Download Over 100 College Courses from the Modern Scholar Series
You can browse their audio courses by subject by clicking the following links featuring philosophy college courses, history college courses, literature college courses, politics college courses, business college courses, religion college courses, science college courses & more.
To help introduce you to the magnificent Modern Scholar series where great professors teach you, we're offering a new group of 10 free lectures to download from 10 of their best courses. These recorded lectures are taught by eminent university professors.
Here are the 10 lectures you can download right now on MP3. Note: For downloading these files you have to right-click on the Download button and select Save Target As... Then it will allow you to download the file to an assigned place on your computer.
In this lecture, Professor Colin McGinn deciphers what we mean when we say we 'know' something to be true. He traces the history of philosophical skepticism, giving the listener several historical arguments for the theory of knowledge, and also touching on arguments made by the likes of Plato, Descartes, and other important philosophers. This lecture is a foundational exercise for the rest of the program, with McGinn arguing that for someone to begin thinking philosophically, he or she must first understand the methods of thinking that go into the pursuit of true knowledge.
2. C.S. Lewis Literature Overview
In this lecture professor Timothy Shutt provides an overview of the life and literature of C.S. Lewis. He mentions various viewpoints that people have had about Lewis and says why he thinks Lewis is more popular now than he was in his time. Shutt breaks Lewis' works into three categories: his Christian apologetic works, his fictional works including The Chronicles of Narnia, and his scholarly works. He discusses each category of Lewis' works and examines how Lewis has gained a following particularly in the areas of apologetics and fiction. It's a good introduction to this masterful writer and storyteller.
In this first lecture called "The Business of America" Professor Brands gives a brief overview of the course and then proceeds to cover 200 years of American business history in 20 minutes from 1776 to the 20th century. He covers the importance of business in colonial times and its influence on the American Revolution. He then examines the 19th century which brought in industrialization and finance as important factors along with the central issue of slavery and its relation to business. And in the 20th century he briefly covers how businesses shifted their focus to the consumers who would buy all of the products that industrial capitalism was producing.
In this lecture professor Peter Meineck introduces Ancient Greek drama and explains why he feels it is still so popular and powerful today. He briefly discusses the plays of the four major Greek playwrights Aeschylus, Sophocles, Euripides, and Aristophanes. He then covers what Greek tragedy and comedy were actually like at the time they were performed in Athens 2,500 years ago.
5. Global Warming in Earth's History
In this lecture professor Michael B. McElroy introduces the worldwide experiment we have embarked on through the increase in global temperature. He covers some of the basics of global warming such as the greenhouse effect, the gases that contribute to global warming, and what creates the climate on Earth. He then puts humanity and global warming in the context of Earth's entire history going back 4.5 billion years ago. He uses a calendar year as a reference for Earth's history and places global warming at the last few seconds before midnight on December 31st. It's an excellent introductory lecture for placing global warming in global history.
6. Comparing Western Christendom & the Abode of Islam
In this lecture professor Seyyed Hossein Nasr discusses the similarities and differences of early western Christendom and the Islamic World known as Dar al-Islam. He talks about the origins of each religious tradition and how Christianity split into western Christendom and the Eastern Orthodox Church centered in Byzantium, while Islam did not split and expanded quite rapidly throughout the Middle East and into Africa and Asia. He also talks the about the importance of the sacred Islamic language of Arabic which spread throughout the Islamic world, whereas Christendom's languages were much more diverse. And he discusses a number of other comparisons between early Christianity and Islam.
7. Understanding Conversations Between Women and Men
In this lecture linguistics professor and bestselling author Deborah Tannen describes many of the basic differences between in communication between men and women. She starts with an example she discovered when examining the conversations of kids and teenagers. Girls tended to talk to each other face to face while boys generally sat at angles or parallel and looked around the room while they talked to each other. She mentions many other general patterns of behavior in the communication habits of men and women and hopes that by becoming more aware of these differences we can become more understanding in our communication with the opposite sex.
In this introductory lecture, Professor Jay Winik traces what led America into the grip of Civil War, and begins a series on how the nation survived. Citing examples of how the United States was inherently vulnerable to secessionist impulses from the beginning, we come to see how slavery was an issue that was cast aside in order to preserve a young nation, and how it smoldered within the culture into the fires of war. In showing us the seeds of the conflict, Winik effectively argues that due to America's vast geographic and social differences, bloodshed may have been inevitable.
In this lecture professor Chandak Sengoopta discusses the life of Charles Darwin covering the major events in Darwin's life including his voyage on the HMS Beagle and his eventual publication of On the Origin of Species in 1859. Professor Sengoopta covers a lot of Darwin's life in a short amount of time while providing many interesting facts about the man whose theory of evolution by natural selection revolutionized biology and greatly affected many other areas of society from the late 19th century up to the present day.
In this lecture Professor Stephen Prothero discusses what religion is and why it still matters in the modern age. He provides a number of important definitions of religion from its origins up to definitions by modern thinkers such as Emile Durkheim, Sigmund Freud, Karl Marx, and William James. While many scholars predicted the decline of religion and the rise of secularism in the 20th century, professor Prothero points out many ways in which religion is as widely practiced now as in any time in history.
Posted by LearnOutLoud | Permalink
July 10, 2009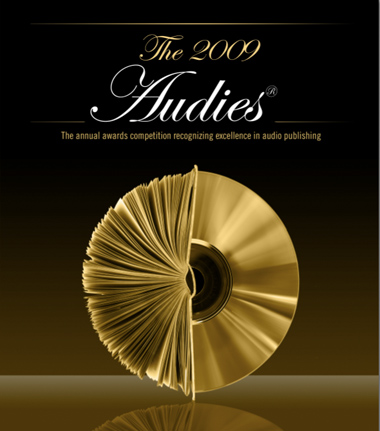 The Audie Awards took place on May 29th in New York City. For those of you who've not heard of the Audies, they are basically the Oscars for audio books.
Here are some highlights of the winners which we offer through LearnOutLoud.com:
Audiobook of the Year
The Graveyard Book
Publisher: Harper Audio
Author: Neil Gaiman
Narrator: Neil Gaiman
Audio Drama
The Odyssey
Publisher: BBC Audiobooks America
Author: Homer
Narrator: Tim McInnerny, Amanda Redman and a Full Cast
Audiobook Adaptation
A Prairie Home Companion: English Majors
Publisher: HighBridge Audio
Author: Garrison Keillor
Narrator: Garrison Keillor et al.
Classics
Great Expectations
Publisher: Tantor Media
Author: Charles Dickens
Narrator: Simon Vance
Personal Development
You: Staying Young
Publisher: Simon & Schuster Audio
Author: Michael F. Roizen, Mehmet C. Oz
Narrator: Michael F. Roizen, Mehmet C. Oz
Biography/Memoir
The Last Lecture
Publisher: Harper Audio
Author: Randy Pausch, Jeffrey Zaslow
Narrator: Erik Singer, Randy Pausch
Business Information/Educational
The Little Red Book of Selling
Publisher: Simon & Schuster Audio
Author: Jeffrey Gitomer
Narrator: Jeffrey Gitomer
Children's Titles for Ages Up to 8
James Herriot's Treasury for Children
Publisher: MacMillan Audio
Author: James Herriot
Narrator: Jim Dale
History
Gandhi & Churchill
Publisher: Recorded Books
Author: Arthur Herman
Narrator: John Curless
Inspirational/Faith-Based Non-Fiction
The Word of Promise: Next Generation - New Testament
Publisher: Thomas Nelson Word
Narrator: Sean Astin, Codey Linley, Anna-Sophia Robb and Jordin Sparks
Literary Fiction
Elmer Gantry
Publisher: Blackstone Audio
Author: Sinclair Lewis
Narrator: Anthony Heald
Narration by the Author or Authors
When You Are Engulfed in Flames
Publisher: Hachette Audio
Author: David Sedaris
Narrator: David Sedaris
Non-Fiction
Hot, Flat, and Crowded
Publisher: MacMillan Audio
Author: Thomas L. Friedman
Narrator: Oliver Wyman
And check out the Audie Award Winners from the past three years:
Posted by LearnOutLoud | Permalink
July 1, 2009
Listen to ten of the most famous historical speeches in American history. For the past many years we've featured hundreds of free audio & video resources as part of our Free Resource of the Day Emails. From these emails, we've picked ten of the most enduring free speeches from America's founding to the Civil War, World War II, and on through to the present era. With this collection, you can listen to audio performances from early luminaries such as George Washington, Daniel Webster, and Abraham Lincoln, and hear archival recordings of speeches delivered by John F. Kennedy, Robert Kennedy and Dwight D. Eisenhower. We also devote special attention to social leaders such as Susan B. Anthony and, of course, Martin Luther King, Jr. We hope this top ten list provides a useful overview of the world-defining rhetoric that has helped define each part of the American story. You can check them all out by clicking the links below:
For our first speech, we thought it fitting to feature Lincoln's most famous speech delivered at the dedication of the Soldiers' National Cemetery in Gettysburg, Pennsylvania during the American Civil War. American Rhetoric offers the speech in four different versions, one narrated by musician Johnny Cash, and the others read by actors Jeff Daniels, Sam Waterson, and Jim Getty. Sam Waterson has portrayed Lincoln on TV and film and delivers the address in how we typically assume Lincoln to sound like. Jim Getty is one of Gettysburg, Pennsylvania's "most recognized" residents as he often plays the role of Lincoln there, and his reading sounds like a historical reenactment. Johnny Cash strums the guitar on his reading and Jeff Daniels offers the most dramatic reading complete with orchestral accompaniment. The speech is about 2 minutes and 30 seconds and is available on streaming audio from American Rhetoric.
2. I Have a Dream Audio and Video
One of our favorite free titles in our free directory is Martin Luther King, Jr.'s classic "I Have a Dream" speech. Delivered on August 28th, 1963 at the Lincoln Memorial in Washington D.C., King's passionate call for justice and equality was the battle cry for the civil rights movement in America. Choose from an audio version of the speech from American Rhetoric or a video version from YouTube.
3. Patrick Henry's "Give Me Liberty Or Give Me Death" Speech
Download this free inspiring speech delivered by Patrick Henry on the brink of the Revolutionary War. This key speech in American history called forth the Founding Fathers to break the encroaching chains of slavery put on them by the British. It's a stirring cry for freedom delivered with gusto by narrator Jon Reiss, and it's available for MP3 download through LearnOutLoud.com.
4. Remarks on the Assassination of Martin Luther King, Jr.
Robert F. Kennedy was assassinated during his campaign for president in June of 1968. Two months before his tragic death, on April 4, 1968, Robert F. Kennedy delivered a moving eulogy on the night of Martin Luther King Jr.'s assassination. In the speech he calls for "love, and wisdom, and compassion toward one another, and a feeling of justice toward those who still suffer within our country". This great 5 minute speech is available on streaming audio and MP3 download from American Rhetoric.
5. D-Day Pre-Invasion Address to Soldiers
Listen to General Dwight D. Eisenhower's D-Day Pre-Invasion Address delivered on the morning of June 6th, 1944. This short, inspiring message was delivered to 175,000 soldiers of the allied expeditionary force. This speech is available on MP3 download and streaming audio from American Rhetoric.
6. Speech on Women's Right to Vote
Listen to American civil rights leader Susan B. Anthony's inspiring speech "On Women's Right to Vote". After casting her vote in the 1872 election, Anthony was arrested and brought to trial in the case of the United States v. Susan B. Anthony. She pleaded not guilty and in this famous speech she asserts that voting is her legal right as a United States citizen under the Constitution which promises all people the blessings of liberty. This speech is narrated by Antonia Bath and available exclusively through LearnOutLoud.com on MP3 download.
7. First Inaugural Address of President George Washington
Listen to the First Inaugural Address of President George Washington. In this address Washington reluctantly accepts the call of the American people and humbly stresses his shortcomings in carrying out the role of president. He expresses gratitude for the divine providence that led the United States to independence, and he sets his intention to be a selfless public servant, even asking that he not receive any form of compensation for his duties. This address is available on MP3 download exclusively through LearnOutLoud.com.
8. John F. Kennedy Speeches: The Inaugural Address
The Miller Center of Public Affairs features downloadable audio of the speeches by numerous Presidents in the 20th century. They offer over a dozen John F. Kennedy speeches, including his famous Inaugural Address, his inspiring address at Rice University on the space effort, his Civil Rights Address, and his "Ich bin ein Berliner" Speech which delivered next to the Berlin Wall criticizing communism. All these speeches can be downloaded on MP3.
9. Daniel Webster's Plymouth Oration
Daniel Webster's famous Plymouth Oration did much to establish the Pilgrims as the forefathers of America. After this speech delivered in 1820, the journey of the Pilgrims to Plymouth, Massachusetts became the nation's founding myth, and by 1863 Abraham Lincoln proclaimed a national Thanksgiving Day which has been celebrated ever since. This historic speech is available on MP3 download and streaming audio directly through LearnOutLoud.com.
10. I've Been to the Mountaintop
On April 4th, 1968, Martin Luther King, Jr. was assassinated in Memphis, Tennessee. The night before he was assassinated Martin Luther King Jr. delivered his prophetic "I've Been to the Mountaintop" speech. In this stirring speech Dr. King looks back on his life and is thankful for all the positive changes in civil rights that occurred in his lifetime, and he is grateful to have lived in the second half of the 20th century when masses of people all over the world were standing up for freedom and human rights. Listen to this speech on streaming audio or download it on MP3 from American Rhetoric.
We've been sending out our Free Resource of the Day Emails for many years now. If you've not subscribed yet, we highly encourage you to do so.

Posted by LearnOutLoud | Permalink