August 2012
November 2021
| Su | Mo | Tu | We | Th | Fr | Sa |
| --- | --- | --- | --- | --- | --- | --- |
| | 1 | 2 | 3 | 4 | 5 | 6 |
| 7 | 8 | 9 | 10 | 11 | 12 | 13 |
| 14 | 15 | 16 | 17 | 18 | 19 | 20 |
| 21 | 22 | 23 | 24 | 25 | 26 | 27 |
| 28 | 29 | 30 | | | | |
August 15, 2012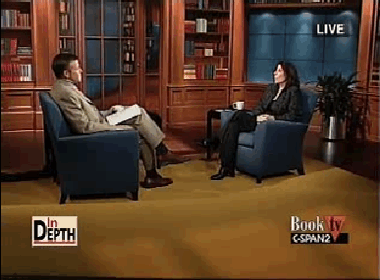 One of the best ways to learn about some of the greatest authors of our time is with Book TV's In Depth Author Interview Series. These comprehensive, live three-hour interviews cover an author's work throughout their career. It's a great way to hear from your favorite authors and to discover the ideas of authors you might not know much about. The show starts out as an interview from one of C-SPAN's hosts. One of the best aspects of the show is that after the first half hour it becomes a live call-in program so the authors get asked all sorts of questions from different viewpoints of people across the United States. All the programs are available to watch for free from the C-SPAN video library and for the modest price of $0.99 you can purchase each program on MP3 audio download from C-SPAN. This may be the best series Book TV offers and it gives invaluable insights into the greatest authors of our time.
Here are some of the In Depth interviews we've featured over the years with write ups of what these interviews cover:
In this In Depth interview Gore Vidal talks about his upbringing with books reading to his his grandfather who was the U.S. Senator Thomas Gore of Oklahoma. He also discusses his 7-part historical novel series "Narratives of Empire" which chronicles the American Empire from dawn to decay starting with the novel Burr about Aaron Burr and other founding fathers and going up to The Golden Age which he published in 2000 and goes into World War II and the start of the Cold War. Through this interview Gore Vidal offers his critique of American Empire and his "populist" viewpoint which speaks against America's expansive foreign policy, militarism, and corporate rule. It's an entertaining 3-hour interview with the irascible and irreverent Gore Vidal.
In this streaming video from C-SPAN's BookTV, Tom Wolfe talks about his career as writer from The Kandy-Kolored Tangerine-Flake Streamline Baby which he wrote back in the 1960s all the way up to his latest novel I Am Charlotte Simmons which explores the college campus life in the present day. He fields call-in questions from people across the United States and tells us the secrets of his craft. Indeed, no writer today is as fun to listen to as Tom Wolfe.
In Depth with Francis Fukuyama
In this interview with political philosopher and author Francis Fukuyama, he discusses many of his books including America at the Crossroads: Democracy, Power, and the Neoconservative Legacy. Much of the discussion is over Iraq which Fukuyama opposed, and he has since openly criticized Neoconservatives even though Fukuyama is a conservative himself. He fields many questions from callers across the political spectrum. This free interview is available on streaming video from BookTV.
New York Times columnist Thomas Friedman is full of ideas on globalization, foreign affairs, economics, education, fuel efficiency, and much more and he gets a chance to express a lot of them in this 3 hour interview from C-SPAN's BookTV. He fields questions from callers all over the world, discussing this new "flat" world we're living in and what that means for all of us. This title is available as a streaming video.
In this generous 3-hour interview provided on streaming video by BookTV, John Updike talks about his life as a writer and observer of the human condition. Last week the literary world mourned the death of Updike who's literary reputation places him among the likes of Mailer, Vonnegut and Roth as one of the great contemporary American novelists. Here you can watch him as he examines his childhood, discusses his early start with the New Yorker Magazine, and answers questions about his prolific career as an author and literary critic. This streaming video is available through the BookTV website.
In this three-hour interview from BookTV's In-Depth series, author Temple Grandin discusses her autism and the wide spectrum of autism, and how she has used her insights into autism to help her relate to the inner worlds of animal. Her autism leads to hypersensitivity to noise and other sensory stimuli and she correlates it to how animals perceive the world through their senses. She talks about how she has used this correlation to improve animal welfare in the agricultural industry. In the interview Grandin also provides a host of insights into what it is like to live as an autistic person. This talk is available on streaming video from C-SPAN's BookTV.
One of our favorite free video resources is the C- SPAN BookTV series In Depth. This series features 3-hour long interviews with America's greatest and most prolific authors towards the latter part of their careers. Included in the interviews are questions from callers across the United States, that always make for interesting discussion. This free video includes the three hour video interview with the late author & activist Susan Sontag. She answers questions about politics, movies, and the many nonfiction & fiction books she has written throughout her career. Watch this free streaming video from BookTV.
And here are all 80+ of the In Depth interviews we feature! This is all of the In Depth programs featured in the C-SPAN video library through the summer of 2011:
In Depth with Arthur Schlesinger, Jr.
In Depth with Barbara Ehrenreich
In Depth with Christopher Buckley
In Depth with Christopher Hitchens
In Depth with David Halberstam
In Depth with David Herbert Donald
In Depth with David McCullough
In Depth with Doris Kearns Goodwin
In Depth with Edward O. Wilson
In Depth with Francis Fukuyama
In Depth with Harvey Mansfield
In Depth with John Hope Franklin
In Depth with Margaret MacMillan
In Depth with Michael Eric Dyson
In Depth with Norman Podhoretz
In Depth with R. Emmett Tyrrell
In Depth with Simon Winchester
In Depth with Victor Davis Hanson
In Depth with Vincent Bugliosi
In Depth with William F. Buckley Jr.
Go In Depth with C-SPAN's Book TV!




Posted by LearnOutLoud | Permalink