April 2016
November 2021
| Su | Mo | Tu | We | Th | Fr | Sa |
| --- | --- | --- | --- | --- | --- | --- |
| | 1 | 2 | 3 | 4 | 5 | 6 |
| 7 | 8 | 9 | 10 | 11 | 12 | 13 |
| 14 | 15 | 16 | 17 | 18 | 19 | 20 |
| 21 | 22 | 23 | 24 | 25 | 26 | 27 |
| 28 | 29 | 30 | | | | |
April 12, 2016
1000 new YouTube videos have been added to our LearnOutLoud Free Audio & Video Directory bringing our total number of free resources to over 11,000. We've gone through some of the best educational channels on YouTube and picked out the most popular videos from the past few years. Here are the channels we've added titles from along with some choice titles we thought you'd like:
Aspen Institute - Featuring over 40 talks from their annual Aspen Ideas Festival.
Marianne Williamson Talks Spirituality and Politics
Self Directed Biological Transformation (SDBT) with Deepak Chopra
The Four Desires: Creating a Life of Purpose, Happiness, Prosperity, and Freedom with Rod Stryker
Will Massively Open Online Courses Transform the Way We Learn?

Big Think - Longer interviews and lectures from this popular and intellectually stimulating YouTube channel that features leading thinkers from a variety of backgrounds.
Big Think Interview with Karen Armstrong
Michio Kaku: The Universe in a Nutshell
William Ackman: Everything You Need to Know About Finance and Investing in Under an Hour

Book TV - New interviews from C-SPAN's Q&A series bringing the total number of Book TV titles to 250.
Q&A with Bethany McLean on The Hidden History of the Financial Crisis
Q&A with Medea Benjamin on Drone Warfare

Center for Inquiry - Talks from this secular and skeptical nonprofit educational organization.
A Lecture by James "The Amazing" Randi
Michael Shermer: The Believing Brain

Commonwealth Club of California - New lectures and interviews from this popular public forum bringing our total to over 100 titles.
Finding Faith and Spirituality in the 21st Century
Jane McGonigal: How Games Can Make a Better World
Noam Chomsky: Philosophies of Language and Politics
Robert Reich: Inequality for All
The Mind, Madness, and Gun Violence
The Mythbusters at the Commonwealth Club
The Psychology of Building a Bulletproof Personal Finance System with Ramit Sethi

Conversations with Harold Hudson Channer - A few archived conversations from the New York public access show "Conversations with Harold Hudson Channer".
Conversation with Buckminster Fuller
Conversation with Oliver Sachs
Conversation with Timothy Leary

Conversations with History - Long running interview show on UCTV hosted by Harry Kreisler and covering politics, economics, and much more. We now feature over 100 interviews.
My Forty Years at Berkeley with Harry Kreisler
Philosophy and Activism with Peter Singer
Understanding Human Nature with Steven Pinker

Cutting Edge Conscious - Talk show featuring guests that may broaden your horizons about consciousness.
Bruce Lipton: The Frequency That is "You"
Byron Katie: Question Your Thoughts and End Your Suffering
Dan Millman on Finding Your Life Purpose
Joe Vitale: The World Is Our Mirror

European Graduate School - Lectures from this graduate school focused on art and philosophy.
Jacques Derrida & Gilles Deleuze: On Forgiveness
Jean Baudrillard: Violence of the Image
Slavoj Zizek: The Irony of Buddhism

Forum Network - Lectures from WGBH in the Boston area. We now feature over 200 titles from their YouTube channel.
Emily Dickinson: My Wars Are Laid Away in Books
How Working Women Can Manage Stress with Dr. Kathleen Hall
Scott Stossel: My Age of Anxiety
The History of the Universe in One Hour by Max Tegmark, Professor of Physics at MIT

Google Talks - Many more talks from authors and notable speakers at Google bringing our total to over 500 of their best talks.
Alain de Botton on The News: A User's Manual
Ariane De Bonvoisin on The First 30 Days: Your Guide to Making Any Change Easier
Chip Conley on Emotional Equations
Daniel Dennett on Intuition Pumps and Other Tools for Thinking
Dr. David Agus on The End of Illness
Elizabeth Kolbert on The Sixth Extinction: An Unnatural History
Martha Stewart Talks at Google
Richard Dawkins on The Magic of Reality
Shawn Achor on Before Happiness
Steven Johnson on Future Perfect: The Case For Progress In A Networked Age

Gresham College - Over 20 lecture series from professors at Gresham College in London.
The Great Plagues from the Middle Ages to the Present Day
Psychology Lectures with Glenn D. Wilson
Rhetoric: Belinda Jack on the Mysteries of Reading and Writing

Hoover Institution - Interviews from the show "Uncommon Knowledge" hosted by Peter Robinson and featuring primarily conservative thinkers. Over 60 interviews to choose from.
Milton Friedman on Libertarianism
The Sixties with Christopher Hitchens and William F. Buckley
The Word According to Tom Wolfe
Thomas Sowell: Basic Economics

Intelligence Squared U.K. - Over 40 debates from the United Kingdom's leading debate forum along with some lectures they feature.
Between You and I the English Language is Going to the Dogs
Jesus Would Have Voted Democrat
Let Them Come: We Have Nothing to Fear From High Levels of Immigration

Intelligence Squared U.S. - Over 30 debates from the leading debate forum in the United States.
Good Riddance To Mainstream Media
The Constitutional Right to Bear Arms Has Outlived Its Usefulness

Politics and Prose - We now have over 75 author talks from this important book store in Washington, D.C..
Norman E. Rosenthal, M.D. on The Gift of Adversity
Thom Hartmann on The Crash of 2016

The 92nd Street Y - Over 100 talks added from The 92nd Street Y in New York City including contemporary and classic talks they have recorded.
Allen Ginsberg Reads at the 92nd Street Y
Arthur Miller: Death of a Salesman Reading
Christopher Hitchens and Tariq Ramadan Debate: Is Islam a Religion of Peace?
George Carlin at the 92nd Street Y
Love Your Enemies: Robert Thurman, Sharon Salzberg and Uma Thurman
Maya Angelou: Mystical, Magical, Musical, and Lyrical
On Sigmund Freud: Psychobiography with George Makari
The (Neuro) Science of Genius with Michio Kaku, Antonio Damasio, and JoAnn Deak
Vladimir Nabokov: Selected Poems and Prose

UCTV - Many new programs from UCTV. We now feature over 250 of their videos which are also usually on MP3 audio download through the UCTV website.
Fat Chance: Fructose 2.0 with Robert Lustig
Overthrowing the Emperor of All Maladies: Moving Forward Against Cancer with Siddhartha Mukherjee
Weapons of Mass Distraction with Pico Iyer

University Channel - New talks from the University Channel or UChannel offering talks from numerous academic institutions.
A Conversation with Studs Terkel
How Human Psychology Drives the Economy with Robert J. Shiller
Moving Beyond Fast Food Nation with Peter Singer and Eric Schlosser
Why Work? Business, Professions, and the Common Good with David Brooks, Alex Sink, and Steven Reinemund

And we've added a number of interesting talks from a variety of other channels:
Brian Weiss: Past-Life Regression Session
H.W. Brands on American Colossus: The Triumph of Capitalism, 1865-1900
History of Neuroscience: William Dement
Jiddu Krishnamurti: In Total Silence The Mind Comes Upon The Eternal
Ken Blanchard on Leading at a Higher Level
LinkedIn Speaker Series: Suze Orman
Neil deGrasse Tyson on the New Cosmos
Stephen Hawking on Unified Theory
The Facebook Effect with Mark Zuckerberg
Sell Your Ideas the Steve Jobs Way with Carmine Gallo
Walter Isaacson on Benjamin Franklin: An American Life
And there's just so much more! Browse around our free directory for all of these great new talks.

Posted by LearnOutLoud | Permalink
April 6, 2016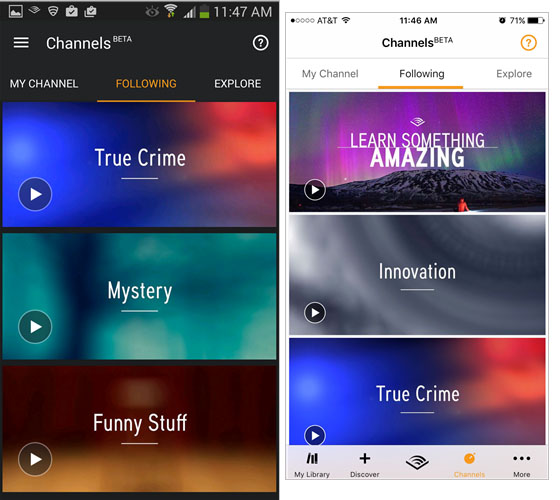 The Audible mobile app has a new section which will surely interest fans of audio learning. It's in beta mode right now and it's called "Channels". We're not sure if it showing up for all Audible app users yet, but we'll give you an overview of what is probably coming soon to an Audible app near you, if it's not already there.
The new Audible Channels section of the Audible app on iOS and Android features about 90 channels of relatively short audio content that is free to members to listen to via streaming or you can download for offline listening. Many of the channels are categories such as comedy, meditation, business news, etc. Each of these categories features a playlist of short audio related specifically to that category. This audio content is coming from publishers and partners of Audible including excerpts of audio books and articles from a number of publications that Audible partners with such as The New York Times and The Wall Street Journal.
There are also channels featuring professional audio recordings of new articles from Audible's partner publications and we'll list a bunch of the publications that have channels: The New York Times, The Wall Street Journal, National Review, Harvard Business Review, Smithsonian Magazine, Forbes, cNet, McSweeney's Fiction, MIT Technology Review, The New Republic Magazine, Reader's Digest, Science News Magazine, Scientific American, and The Washington Post. There is also some original audio content such as episodes of Charlie Rose, the best TED Talks, Marketplace, BBC Newshour, PRI's The World, and The Onion Radio.
And then there are some channels that seem to be premium audio shows that Audible has developed including Hot Mic with Dan Savage, Hold On with Eugene Mirman featuring funny live stories, How to Be Amazing with comedian Michael Ian Black as he interviews intriguing people, Limelight Illuminating Comedy, and a few others.
Audible's Channels free section gives one even more incentive to become an Audible member as it will surely grow into an amazing new way to get premium audio content that isn't currently in audio book form. If you're not an Audible member, you might want to check this out. You can subscribe through Amazon (which owns Audible) right now and get two free audio books:
Try the Audible 30-Day Free Trial and Get Two Free Audiobooks
Audible's Channels section is an interesting move for Audible who's main focus has been in promoting unabridged audio books and generally longer form audio content to purchase via its memberships or a la carte from its site or on Amazon or on iTunes (who it partners with). Audible has amassed 180,000 titles over the years which has completely dwarfed their competitors in audio book retail. But I'm sure they have seen the magnificent success of over 200,000 free podcasts on iTunes and felt the need to somehow get into that space. Audible tried to get into podcasting 10 years ago with the failed Audible Wordcast. But now they are an Amazon owned company with much more money and power, and with Audible Channels they might give traditional podcasting a run for the money. Will they lure over top podcasters to their subscription service so podcasters can finally start making some serious money? Only time will tell. In the meantime they've got some great premium audio content that you won't find anywhere else and it's all free for Audible members!
Here is Audible's official announcement of Channels and you can browse the channels they offer:
Audible's Intro Page to Channels
Here is Audible's new video introduction to Audible Channels:
Posted by LearnOutLoud | Permalink