August 2020
March 2022
| Su | Mo | Tu | We | Th | Fr | Sa |
| --- | --- | --- | --- | --- | --- | --- |
| | | 1 | 2 | 3 | 4 | 5 |
| 6 | 7 | 8 | 9 | 10 | 11 | 12 |
| 13 | 14 | 15 | 16 | 17 | 18 | 19 |
| 20 | 21 | 22 | 23 | 24 | 25 | 26 |
| 27 | 28 | 29 | 30 | 31 | | |
August 27, 2020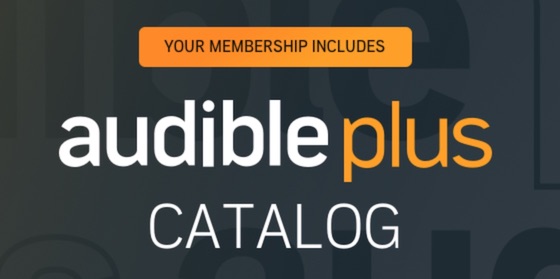 A subscription to Audible just got a whole lot more appealing! Audible has launched their brand-new all-you-can-listen-to service called Audible Plus! We've been hoping for something like this for a while, and now if you're an Audible member you get access to a library of over 11,000 audio books that you can download or stream at any time! Current Audible members are automatically upgraded to Audible Premium Plus where you'll get your one audio book credit a month and you'll also have access to their Plus Catalog of over 11,000 audio books that you can Play and Add to your library at any time.
Here's Audible's press release on Audible Plus:
All-You-Can-Listen Membership Option, Audible Plus, Rolls Out in Preview
And if you browse the audio book categories on the Audible.com site you can now filter by their "Plus Catalog", so you can see the titles you'll be automatically getting when you become an Audible Premium Plus Member:
We've browsed around for a few hours and noticed that most of the titles are ones published directly by Audible.com or they're published by the large independent audiobook publisher Blackstone Audio, which appears to have offered up a hefty portion of their audiobooks on Audible Plus. I'm sure the Audible Plus catalog will change and expand over time, but it's already very impressive!
Audible Plus is eventually going to be offered as a stand-alone subscription service for $7.95/month. But you won't get your monthly audio book credit if you're subscribed to only Audible Plus. And that monthly Audible credit can be applied to the hundreds of thousands of audiobooks available on Audible. If you want to dive into Audible Plus, sign up for a free Audible trial today:
Get an Audible Free Trial Now Featuring Audible Plus
Here are just a few of the most popular audio books currently available in the Audible Plus Catalog. You can listen to all these titles now for free with a subscription to Audible Premium Plus:
1984 by George Orwell
Man's Search for Meaning by Viktor E. Frankl
Animal Farm by George Orwell
The Complete Book of Five Rings by Miyamoto Musashi
The Hiding Place by Corrie ten Boom
The Confidence Gap by Russ Harris
The New Confessions of an Economic Hit Man by John Perkins
Surely You're Joking, Mr. Feynman! by Richard P. Feynman
What If?: Serious Scientific Answers to Absurd Hypothetical Questions by Randall Munroe
Peace Is Every Step by Thich Nhat Hanh
Mere Christianity by C.S. Lewis
The Anatomy of Peace, Expanded Second Edition by The Arbinger Institute
Amusing Ourselves to Death by Neil Postman
The Doors of Perception by Aldous Huxley
Goals!: How to Get Everything You Want Faster Than You Ever Thought Possible by Brian Tracy
The Bulletproof Diet by Dave Asprey
The Bonfire of the Vanities by Tom Wolfe
Origins: Fourteen Billion Years of Cosmic Evolution by Neil deGrasse Tyson
Smile at Fear: Awakening the True Heart of Bravery by Chogyam Trungpa
And over 11,000 more free titles to stream with Audible Plus! We're gonna be adding new titles to our Audible library for days! :)
Posted by LearnOutLoud | Permalink