Best Audio Books
September 2020
| Su | Mo | Tu | We | Th | Fr | Sa |
| --- | --- | --- | --- | --- | --- | --- |
| | | 1 | 2 | 3 | 4 | 5 |
| 6 | 7 | 8 | 9 | 10 | 11 | 12 |
| 13 | 14 | 15 | 16 | 17 | 18 | 19 |
| 20 | 21 | 22 | 23 | 24 | 25 | 26 |
| 27 | 28 | 29 | 30 | | | |
June 13, 2007

For those of you unaware, the Audie Awards are sort of the Oscars for audio books and they were held June 1st in New York City, NY. They are run by the Audio Publishers Association. Hopefully next year a LearnOutLoud.com audio book will be up for an Audie but until then we applaud the winners of the 2007 Audies. Here's the winners that apply to audio learning in general and we feature on our site:
Audiobook of the Year
Inspired by...The Bible Experience: New Testament
Publisher: Zondervan
Narrator: Denzel Washington, Blair Underwood, Angela Bassett, Juanita Bynum, Shirley Caesar, Kirk Franklin and more
Politics
Hubris
Publisher: Blackstone Audiobooks
Author: Michael Isikoff, David Corn
Narrator: Stefan Rudnicki
Classics
To Kill a Mockingbird
Publisher: Caedmon Audio
Author: Harper Lee
Narrator: Sissy Spacek
Non-Fiction, Abridged
The Beatles
Publisher: Simon & Schuster Audio
Author: Bob Spitz
Narrator: Alfred Molina
Personal Development/Motivational
For the Love of a Dog: Understanding Emotion in You and Your Best Friend
Publisher: Tantor Media
Author: Patricia B. McConnell
Narrator: Ellen Archer
Biography/Memoir
Teacher Man
Publisher: Simon & Schuster Audio
Author: Frank McCourt
Narrator: Frank McCourt
Business Information/Educational
The Long Tail
Publisher: Hyperion Audiobooks
Author: Chris Anderson
Narrator: Christopher Nissley
Inspirational/Spiritual
Inspired by...The Bible Experience: New Testament
Publisher: Zondervan
Narrator: Denzel Washington, Blair Underwood, Angela Bassett, Juanita Bynum, Shirley Caesar, Kirk Franklin and more
Humor
Spoiled Rotten America
Publisher: Harper Audio
Author: Larry Miller
Narrator: Larry Miller
Short Stories/Collections
This I Believe: Personal Philosophies of Remarkable Men and Women
Publisher: Audio Renaissance
Editors: Jay Allison and Dan Gediman
Narrator: Bill Gates, Martha Graham, et al.
Original Work
Soundwalk: Hasidic Williamsburg, Brooklyn for Men & Soundwalk: Hasidic Williamsburg, Brooklyn for Women
Publisher: Soundwalk
Narrator: Joseph Piekarski and Pearl Gluck
Solo Narration – Male
Peter and the Shadow Thieves
Publisher: Brilliance Audio
Author: Dave Barry and Ridley Pearson
Narrator: Jim Dale
Solo Narration – Female
Telegraph Days
Publisher: Simon & Schuster Audio
Author: Larry McMurtry
Narrator: Annie Potts
Narration by Author or Authors
The Tortilla Curtain
Publisher: Blackstone Audiobooks
Author: T. Coraghessan Boyle
Narrator: T. Coraghessan Boyle
Audio Drama
Radio Theatre's The Life of Jesus
Publisher: Tyndale/Focus on the Family
Author: Paul McCusker
Narrators: Richard O'Callaghan, Adam Godley, Geoffrey Palmer, Robert Hardy and a full cast
Posted by LearnOutLoud | Permalink
October 15, 2006
We've decided to add a new category to LearnOutLoud.com. Under Literature we now have the subcategory Contemporary Literature. We're going to pull together all the literature on audio that we feel can be deemed educational, and that was roughly published post-1960.
https://www.learnoutloud.com/contemporaryliterature
We're not contemporary literature scholars here, so please feel free to give us suggestions at suggestions@learnoutloud.com, if you feel there's particular authors we've left off. Keep in mind their works must be on audio book, and also that we haven't added a lot of contemporary literature titles yet as it's a new category.
Here's a laundry list of authors we're going to feature in Contemporary Literature to start out with (in no particular order):
Amy Tan
Margaret Atwood
Toni Morrison
Umberto Eco
Salman Rushdie
Alice Walker
Gore Vidal
Thomas Pynchon
John Irving
Chuck Palahniuk
Philip Roth
Michael Ondaatje
Harold Pinter
William Golding
Gabriel García Márquez
Isaac Bashevis Singer
Saul Bellow
Arthur Miller
Norman Mailer
E. L. Doctorow
John Updike
Joyce Carol Oates
Don DeLillo
David Foster Wallace
Dave Eggers
Jonathan Safran Foer
Samuel Beckett
Vladimir Nabokov
Neal Stephenson
William Gibson
Bruce Sterling
J. G. Ballard
Philip K. Dick
Harlan Ellison
William Burroughs
Kurt Vonnegut
Joseph Heller
Allen Ginsberg
Jack Kerouac
Hunter S. Thompson
Truman Capote
Bret Easton Ellis
Michael Chabon
Jeffrey Eugenides
John Cheever
Tom Wolfe
John Kennedy Toole
Tom Robbins
James Baldwin
Ralph Ellison
Alex Haley
Bernard Malamud
Grace Paley
Oscar Hijuelos
Isaac Asimov
Ray Bradbury
Edmund White
Leslie Marmon Silko
Arthur C. Clarke
Harper Lee
Neil Gaiman
Carl Sagan
Walter Miller
Sylvia Plath
Frank Herbert
Robert A. Heinlein
Eudora Welty
Henry Miller
William Styron
William Kennedy
Larry McMurtry
Anne Tyler
Annie Proulx
Michael Cunningham
Marilynne Robinson
Kazuo Ishiguro
Milan Kundera
V.S. Naipaul
Doris Lessing
John Fowles
Jorge Luis Borges
Richard Bach
Iris Murdoch
Samuel R. Delany
Alfred Bester
Thomas Bernhard
Peter Carey
W.G. Sebald
Rohinton Mistry
Carol Shields
James Redfield
José Saramago
Frank McCourt
Yann Martel
John Barth
Cormac McCarthy
Susan Sontag
Jonathan Franzen
Irvine Welsh
Douglas Coupland
Ira Levin
Anthony Burgess
Russell Banks
Evelyn Waugh
Seamus Heaney
Tom Stoppard
Mordecai Richler
Alice Munro
Robertson Davies
Leonard Cohen
Charles Bukowski
Khaled Hosseini
Posted by LearnOutLoud | Permalink
September 15, 2006

I've been listening recently to Leadership and Self-Deception and really have been enjoying it. It reminded me a lot of the audiobook for The Goal in that it takes place in the form of a dialogue and the narrator takes on different voices to represent who is talking.
I've realized that having some sort of dialogue (like this with a single narrator or a title like Kosmic Consciousness that's an actual dialogue) seems more engaging (at least to me) than having the traditional model of just having a single narrator reading a book as a monologue.
I'm wondering if that's one of the reasons why podcasts are becoming so popular. 99% of podcast are of the dialogue variety and I think, in the case of audio, that's truly what works better. Think of radio shows that are popular (e.g., Howard Stern, Opie & Anthony). Can you imagine how much worse they would be if you were forced to listen to one person the entire time? I think most people would flip the station in a heartbeat regardless of how entertaining that one person was.
Audiobooks are more popular than ever but I think they'll start to become "mainstream" once audiobook publishers wake up to the fact that most people don't want to listen to a single voice droning on for hours on end regardless of how good the content or narration is. If audiobook publishers don't realize this I think their businesses will be increasingly threatened by what's happening in podcasting.
I find myself listening to more and more podcasts these days and it has little to do with the fact that podcasts are free and audiobooks cost money. Rather it has more to do with the fact that I find the back-and-forth format of most podcasts to be better suited to how I like to consume information. I'm sure it's different for everyone but I wonder how many audiobook publishers even have this on their radar. If not maybe this will be a little free consulting for them...

Posted by | Permalink
August 15, 2006
I'm a sucker for lists. When I was kid I remember creating a Top 100 list of songs each year and dubbing the songs (along with a voiceover of course) onto cassette tapes. It was one of my fondest memories of childhood.
If you're a sucker for lists like me you might want to take a look at the new Top 100 Bestsellers list we just posted to the site. We've had our Top 10 up for a while but now we've finally had enough orders to produce a meaningful Top 100. Here were a few I found interesting:
#20: English for Portuguese (Brazilian) Speakers - Easily our best selling language title. Who knew LearnOutLoud was so popular with the Portuguese and Brazilians?
#30: Spiritual Enlightenment - This one came to us via our TeachOutLoud service which allows you to self-publish your audio content. This title and Spiritually Incorrect Enlightenment are both in our Top 50 which shows the great opportunity for those who want to self publish content to our site.
#71: A Survey of Ancient History - I love a good value as much as the next person. How about 8 hours of educational audio content for less than $5? Now that's what I call a bargain!
#93: Appreciating Emotional Intelligence - These interviews from New Dimensions are excellent. This represents a big part of why I'm so proud of the collection we've got here at LearnOutLoud. You might not find all the latest best-sellers but you will find a lot of high-quality stuff that you probably won't find elsewhere (with lots more on the way soon!
Anyway, I hope you enjoy your Top 100 list. I can't even begin to imagine how much this world would change for the better if everyone made it their mission to listen to as many of these titles as possible!

Posted by | Permalink
July 6, 2006


Recently I've been completely obsessed with Lictenstein Media's The Infinite Mind program. Each one-hour episode focuses on a particular issue related to the brain, be it mental illness, how the brain is affected by outside stimuli, what certain emotions mean, or the outward consequences of neurological process. A quick look at the episodes we carry on LearnOutLoud will give you a good idea of the wide range of topics that fit within this spectrum. All of them feature guests that are experts on a specific subject, with discussion that is approachable yet heady. They also sometimes feature slice of life examples to help one better understand a certain issue, such as one woman's vivid description of a panic attack ("If you could visualize someone holding you by the hair over the George Washington bridge..."), or another person's tragic acknowledgement that her mother's creative genius was probably fueled by the same mania that led her to suicide. This formal structure works to complete a fairly thorough picture of what is discussed; from introduction, to expert analysis, to "street-level" experience.


Thus far I can list a few episodes that warrant serious attention. First of all is the incredible Art and Madness, which explores the undeniable link between insanity and creative brilliance. Here you will hear about musicians, poets and actors that have made incredible works of art, only to be hampered and sometimes killed by debilitating illness.


Next up, I would say Marriage is an episode that stuck with me, not because of any sort of personal affinity at this point in my life, but more for the questions raised on whether or not fidelity is hard-wired into us. Additionally the episode offers the most concise common sense advice I've yet heard on what it takes from an emotional standpoint to turn formative passions into lifelong bonds.


I'll also mention Alcoholism, which is treated in this instance as nothing short of a neurological illness. With alcohol however, the pain is consensual: it's always a choice one makes when they decide to drink. The episode addresses this argument, and goes further to show how certain people may have less of a choice in the matter than you may think.


Religion endeavors to trace the human attraction to the religious experience and why interest in the divine endures to this day despite encroaching secularism. Experts identify parts of the brain that are now associated with religious impulse, and we see how religion's tenants may appeal to a primal aspect of human neurology that has yet to be identified.


Finally I'll there's Narcissism. All of us have probably met someone we feel is self-absorbed, but does that necessarily mean they are a narcissist? Here we learn that narcissists lack a certain sense of empathy that makes them believe they somehow exist beyond established laws of social conduct. Think of it as the most extreme selfishness you've ever known and somehow that doesn't describe all of what these people go through. I thought many of those interviewed in this episode were terrifying to be honest with you.


In all, every episode of the Infinite Mind has it's pearls of wisdom to impart. If you can download any one of these episodes, be sure to get one on a topic you are especially interested in. I can guarantee you will hear an hour of information packed with insight you can't find anywhere else. I was basically up for hearing every one of these shows, and I have yet to leave unsatisfied with the wealth of detailed information available. Definitely an amazing way to fill up your iPod.
Posted by | Permalink
June 2, 2006
For those of you unaware, the Audie Awards are sort of the Oscars for audio books and they were held May 19th in Washington, D.C. They are run by the Audio Publishers Association. Hopefully next year a LearnOutLoud.com audio book will be up for an Audie but until then we applaud the winners of the 2006 Audies. Here's the winners that apply to audio learning in general and we feature on our site:
Audiobook of the Year
The Hitchhiker's Guide to the Galaxy: The Tertiary Phase
Publisher: BBC Audiobooks America and The Audio Partners Publishing
Company
Author: Douglas Adams
Narrator: BBC Radio
Classics
Around the World in 80 Days
Publisher: Listening Library
Author: Jules Verne
Narrator: Jim Dale
Non-Fiction, Abridged
Luckiest Man: The Life and Death of Lou Gehrig
Publisher: Simon & Schuster Audio
Author: Jonathan Eig
Narrator: Ed Herrmann
Personal Development/Motivational
The Five Love Languages
Publisher: Oasis Audio
Author: Dr. Gary Chapman
Narrator: Dr. Gary Chapman
Biography/Memoir
Garlic and Sapphires
Publisher: Random House Audio
Author: Ruth Reichl
Narrator: Ruth Reichl
Business Information/Educational
Good to Great
Publisher: HarperCollins Publishers
Author: Jim Collins
Narrator: Jim Collins
Inspirational/Spiritual
Finding God in Unexpected Places
Publisher: Brilliance Audio
Author: Philip Yancey
Narrator: Mel Foster
Humor
The Truth (With Jokes)
Publisher: Brilliance Audio
Author: Al Franken
Narrator: Al Franken
Original Work
Famous Composers
Publisher: Naxos AudioBooks Ltd.
Author: Darren Henley
Narrator: Marin Alsop recorded at Room With a View
Solo Narration – Male
Moby-Dick
Publisher: Naxos AudioBooks Ltd.
Author: Herman Melville
Narrator: William Hootkins
Narration by Author or Authors
The Tender Bar
Publisher: Hyperion AudioBooks
Author: J.R. Moehringer
Narrator: J.R. Moehringer
Audiobook Adapted From Another Medium
Hidden Kitchens: Stories and More from NPR's the Kitchen Sisters
Publisher: Audio Renaissance
Author: Davia Nelson and Nikki Silva
Narrators: Frances McDormand, Davia Nelson and Nikki Silva

Posted by LearnOutLoud | Permalink
May 26, 2006

We recently added to our Downloads section over 60 titles from Hovel Audio, which is an excellent publisher of classic Christian audio books.
Here's the publisher page we created for them:
https://www.learnoutloud.com/hovel
From them you'll find classics like The Confessions of St. Augustine and Orthodoxy by G.K. Chesterton, as well as thoughtful audio books from contemporary Christian authors like Eugene H. Peterson and Dallas Willard. They also do some classic fiction by Tolstoy, Dostoevsky, John Bunyan, and others. They've been generous enough to currently offer two of their titles in our free directory, Tolstoy On Death: The Death of Ivan Ilyich & Master Man and The Practice of the Presence of God.

I speak from listening experience when I say their production is stellar. I'm currently half way through listening to their edition of The Brothers Karamazov and in all honesty it's one of the best audio books I've ever listened to. Narrator Simon Vance provides a distinct voice for each character and he really brings the text to life. Their other narrators are industry professionals like Dan Cashman, Grover Gardner, Lloyd James, and many other superb narrators.
Also check out their expanded site Christianaudio.com which features their titles as well as other Christian audio books by many publishers. This site lets you save on audio books in all formats when you subscribe to their Thoughtful Listener plans.


Posted by LearnOutLoud | Permalink
May 8, 2006
While working on the Autobiography of Benjamin Franklin over the past few weeks, I was given a great chance to access Franklin's life, his time, and most of all his wisdom. In the memoir his code of ethics can be expressed in many ways. In one section he stresses how learning forms the crux of personal excellence, in another he systematically endevours to rid himself of the daily habits that impede virtue. Any one section of the book can be listened to on its own and it would be enough to chew on for several months if not a year. Here are a few aspects of Franklin's life that I found the most compelling.
Morality: Franklin was not conventionally religious: He spurned the clergy's attempts to save his soul, and he rarely attended church. Nevertheless, he did come to form his own set of beliefs based on divine principles. He codified these beliefs at one point into a series of maxims he then tried to adhere to for the rest of his life. For instance, during a period of several weeks he spoke nary an unkind word about anyone in his circle in order that he not become known as a badmouther. By taking a strategic approach to personal character, Franklin experimented with the whole concept of "good" human conduct. While he himself admitted the results over a lifetime were mixed, he still found a way to identify his personal deficiencies and objectively improve upon them.
Reading and Writing: When you think you've hit a wall in your options, there's always the option of reading more about your options in order to broaden your understanding of your options. Does that make sense? Let me put it another way, Benjamin Franklin read not just for pleasure, he read to gain a better grasp on the way the world functions and how he might best be used within it. Reading for him was a way to map the world more efficiently. He made time for reading within his daily work schedule, and at many points in the book one can see he derived extreme pleasure from his books. He was also a beloved writer, and this aspect of his many talents had a profound influence on early colonial life. His poor Richard's Almanac, newspaper editorials and self-published essays held major sway on public opinion and undoubtedly helped plot the direction of the colonial mind. It would be foolish to think he didn't sow the seeds of revolution; his writing extolled independent thought and action at all costs. What's more American than that?
Be Curious: Every waking moment can move you forward, even when it seems like leisure. Franklin was the very definition of a rennaissance man. If he wasn't creating the first library, he was thinking of a way to put fires out or harnessing the electrical properties of lightning. All of these great discoveries were made by a man that followed through on every interest he had to the nth degree. Franklin was always searching to illuminate the dark corners of his personal experience. His world was marked by a constant need to know more and to push the boundaries of convention. Throughout the book, Franklin speaks of his activities as if they didn't present an obstacle and everything he didn't know was simply something he would know if he simply took the time to study it.
That's just a bit of what I've gleaned after thinking about it here for a few minutes. There's much more to discuss here and nothing written here can encapsulate what Franklin was able to accomplish in his lifetime. He was gifted with an amazing intellect to be sure, but he was also equally blessed by his access to learning materials (even he would admit he would have gone nowhere if he hadn't educated himself throughout his life).
In the end, it constantly amazes me how era-defining historical periods produce the perfect people to lead the way. If we didn't have men like Franklin, Washington and Jefferson during the revolution, I don't know how history would have gone. The same can be said for how Lincoln appeared during the Civil War or how leaders like FDR and Churchill emerged to save the world during World War II. I hope you enjoy Franklins account of his story and are inspired by his example as well. If anything, the model he provides for living is very, very doable.
Posted by | Permalink
May 3, 2006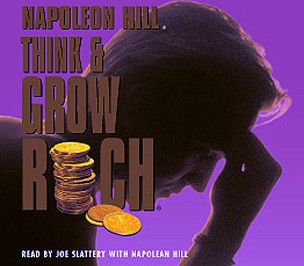 LearnOutLoud.com is proud to be the first retailer to offer Napoleon Hill's audio books on digital download including the all-time self-help classic "Think & Grow Rich". These 15 titles are published by Highroads Media which we've created a publisher page for:
https://www.learnoutloud.com/highroads
And we also feature an author page on Napoleon Hill:
https://www.learnoutloud.com/napoleonhill
Commissioned by Andrew Carnegie, Napoleon Hill spent 20 years interviewing over 500 millionaires and his books feature the collected knowledge he gathered on how to attain success in business and in life. From his monumental 4 volume set "The Law of Success" to over 12 hours of rare recordings of Napoleon Hill lectures in "Your Right to Be Rich", you can learn from one of the most important self-help and wealth-building authors of all time.

Posted by LearnOutLoud | Permalink
April 6, 2006

Recently I had an illuminating day attending a David Allen Roadmap Seminar in Santa Monica. Jon has written in the past about Allen, and I'd like to share some of my thoughts on Allen's system and philosophy as well.
David Allen, in case you were wondering is a human productivity black belt and author of the best-selling book, Getting Things Done. His system, now labeled GTD for short is a series of structured productivity schemes you can apply to your life in every way. On a surface level it comes across as a rigorous form of list making: you write down every single thing you wish to accomplish in your life, from the most mundane to the most profound; whatever has your attention at that moment. From there, you continue writing down things you wish to remember for the future the moment they come to you. These can be projects in the garden, goals for your next sales quarter, remembering phone calls, whatever. The overarching point here is that your brain is not something that was meant to store information. In fact, the more information you are constantly trying to remember, the more stress you have in your life because of the strain involved in making sure you have everything accounted for. This rings incredibly true to me, and indeed, another phrase Allen uses to describe GTD is "advanced common sense".
This isn't a system that Allen wants you to use solely as way of getting more projects done at work, despite the fact that most of the people attending the session with me were business professionals. On the contrary, while his system is acutely useful in the business world, Allen's ambition with GTD goes farther. Throughout the day he convincingly applied it to the accomplishment of goals at home, in personal relationships, hobbies, (i.e. planning what audio books you want to listen to) and the establishment of lifetime goals. You are also asked to reflect upon what you've done every week so that you are constantly keeping up and in focus on what you are trying to do and what underpins what you are trying to do.
I have since begun implementing some of GTD into my life and it has relieved the pressure I've attached to what I do in almost every way. You wouldn't believe how good it feels to write down everything you think about in a given day. When you see it, you can break it down into the actions it takes to get it done, and once you have all of that figured out, it simply isn't taxing you any longer. Imagine being able to rid yourself of the daily torture that comes from not knowing if you're doing exactly what you could be doing to reach your potential. I'm not saying I'm a yellow belt with this GTD stuff or even that I will follow everything talked about in the seminar to the letter. I don''t think Allen is pushing strict adherence; instead he is providing a model of task assessment that can filter out any associated anxiety. It is a very durable framework and you can find many different ways to work it into your routine.
As I said earlier, David Allen's primary book on the subject is Getting Things Done. He also has a second book which is available through us called Ready for Anything. Take a look, I honestly think you'll find something valuable here.
Posted by | Permalink