December 2016
| Su | Mo | Tu | We | Th | Fr | Sa |
| --- | --- | --- | --- | --- | --- | --- |
| | | | | 1 | 2 | 3 |
| 4 | 5 | 6 | 7 | 8 | 9 | 10 |
| 11 | 12 | 13 | 14 | 15 | 16 | 17 |
| 18 | 19 | 20 | 21 | 22 | 23 | 24 |
| 25 | 26 | 27 | 28 | 29 | 30 | 31 |

December 1, 2016
We're not sure exactly when it happened, but Charlie Rose's video archive is back up on CharlieRose.com. This archive features over 10,000 interviews with notable authors, entertainers, political figures, business leaders, and more going back to when Charlie Rose started his show in 1991. These videos used to be up on the abandoned video platform Google Video, but when that shut down, the Charlie Rose show moved over to Hulu. On Hulu most of the archive disappeared and the new shows were only viewable in the United States. Now the archive has been restored in its entirety and the videos are hosted and playable right on CharlieRose.com.
Back in 2012 we went through the entire Charlie Rose archive and picked out 350 of the best Charlie Rose interviews to feature on LearnOutLoud.com. We've fixed the links and embeds, and we've put those interviews back up into our free directory:
350 of the Best Charlie Rose Guests on LearnOutLoud.com
We hope to add more of the best of Charlie Rose interviews to our site next year.
We've done a few blog posts on Charlie Rose interviews. He has interviewed many great film directors and actors which we featured in a previous blog post:
Top 10 Charlie Rose Interviews of Film Directors and Actors
Another blog post we did featured videos from the Charlie Rose Brain Series which covers many topics related to the latest findings in neuroscience:
We'll now feature some of the best of the best guests that Charlie has interviewed over the years. We've separated these by Personal Growth Experts, Business Leaders, Political Figures, Writers, and Entertainers:
Personal Growth Experts:
A Conversation about Nutrition with Dr. Andrew Weil
A Conversation about the Science of Happiness with Martin Seligman, Mihaly Csikszentmihalyi, and others
An Interview with Steven R. Covey
A Conversation about Health and Disease Prevention with Dr. Mehmet Oz and Dr. Michael Roizen
Business Leaders:
An Hour with Jack and Suzy Welch
An Hour with Management Consultant Jim Collins
A Conversation with Business Guru Tom Peters
A Conversation with Lee Iacocca
A Conversation with Michael Milken & Muhammad Yunus
A Conversation with Jeff Bezos on Amazon.com
The Future with Eric Schmidt, Marc Andreessen, and Bill Gates
An Exclusive Conversation with Warren Buffett (at the start of the 2008 financial crisis)
Political Figures:
An Hour with Illinois Senator Barack Obama on Nov. 23, 2004
A Conversation with Guest Host Judy Woodruff and Massachusetts Governor Mitt Romney
A Conversation with Mayor Michael Bloomberg and Governor Arnold Schwarzenegger
An Hour with Mikhail Gorbachev
A Talk with Mahmoud Ahmadinejad, President of the Islamic Republic of Iran
A Discussion on Abortion with Arianna Huffington and Laura Ingraham
A Conversation with Noam Chomsky
An Appreciation of William F. Buckley
Two Conversations with Filmmaker Michael Moore
A Conversation with Bill O'Reilly
Writers:
A Conversation with Author David McCullough
A Conversation with Author Tom Wolfe
A Conversation with Carl Sagan on Pale Blue Dot
An Interview with David Foster Wallace
A Conversation with Author John Updike on The Greatest American Short Stories of This Century
Author Christopher Hitchens on Hitch-22
A Remembrance of Hunter S. Thompson
A Remembrance of Intellectual Susan Sontag
Entertainers:
A Conversation with Opera Singer Luciano Pavarotti
A Conversation with Radio Personality Garrison Keillor
A Conversation with Basketball Legends Kareem Abdul-Jabbar, Julius Erving, and Bill Russell
A Conversation with Musician David Bowie
A Conversation with Comedian George Carlin
A Conversation with Rapper Kanye West
A Conversation with Julia Child
A Discussion of the Music Wars on the Internet with Metallica drummer Lars Ulrich and rapper Chuck D of Public Enemy
An Interview with Conan O'Brien on October 20, 1993
A Conversation with Mick Jagger
Also at the turn of the century Charlie Rose conducted a series of interviews about some of the most important things in the 20th century with all-star guest panels discussing the most formative events, the most important person, the greatest minds, the most influential artists, and the greatest athletes of the 20th century. Here are those specials:
A Discussion about Formative Events of the 20th Century
A Panel Discussion about the Idea of the Most Important Person of the 20th Century
An Hour Panel Discussion about the Greatest Minds and Breakthroughs of the 20th Century
An Hour Panel Discussion about the Most Influential Artist of the 20th Century
A Discussion about the Greatest Athletes of the 20th Century
Enjoy these and many, many more great shows from the modern master of interviews, Mr. Charlie Rose:
350 of the Best Charlie Rose Guests on LearnOutLoud.com
Posted by LearnOutLoud | Permalink
September 28, 2016
Watch Frontline: The Choice 2016
The 2016 U.S. Presidential Election is Tuesday, November 8th and Americans will soon decide who will be our next President. Each presidential election the PBS series Frontline produces an election special that profiles the two major candidates. Their two-hour special aired last night on PBS and is now available to stream on their YouTube channel. This special covers the biographies of the frontrunners Hillary Rodham Clinton and Donald Trump, and the long and very different paths they took to reach this point. With interviews from biographers and people closest to each of the candidates you get an idea of what has driven these individuals throughout their careers. You'll hear the story of Hillary Clinton and her entry into Democratic politics from her years as first lady of Arkansas and then the United States, to her role as Senator of New York and Secretary of State. You'll also hear about the rise of Donald J. Trump, the wealthy American businessman who came of age in the 1980s and kept his brand alive into 1990s and became a reality TV star in the 2000s. You'll hear about the scandals and hardships they've faced throughout their long lives in the public eye and their persistence through it all in "Frontline: The Choice 2016".
Watch Frontline: The Choice 2016
And just to revisit some history you may want to check out the PBS Frontline documentaries from the past two presidential elections which are also available on YouTube:
Also Clinton and Trump sparred in their First Presidential Debate on Monday:
2016 First Presidential Debate: Trump vs. Clinton
In the First Presidential Debate Clinton and Trump touched on issues such as trade, foreign policy, race relations, and other key issues. The 90-minute debate is available on streaming video on YouTube and on MP3 audio download.
For another interesting debate check out this recent debate from Intelligence Squared U.S.:
Blame the Elites for the Trump Phenomenon
In this debate from Intelligence Squared U.S. the two sides argue over who is responsible for the rise of Donald Trump. One side argues that the Trump Phenomenon is due to the elites of both parties ignoring the voice of the declining American middle class. They argue that the political elite's devotion to special interests and their bailouts of the big banks has created frustration in middle America who have not seen much recovery from the financial disaster of 2008. The opposing side blames the voters and the media for the rise of Donald Trump, emphasizing that his rise is largely a response to his stirring up fears about immigration, crime, and terrorism. Neither side are particularly fans of the Trump Phenomenon, but they both offer interesting insight into how this unprecedented candidate has rose to such heights. The two-hour debate is available to stream on YouTube and also is available on MP3 audio download from the Intelligence Squared U.S. website.
Posted by LearnOutLoud | Permalink
May 31, 2016
Listen to some informed and civil political debates about issues facing the United States in these great debates from Intelligence Squared U.S.. These Oxford-Style debates set forth a motion and then usually have two people on each side debating for or against the motion. Along with debating back and forth, the participants also each get opening and closing remarks to summarize their viewpoints. The moderator of the debates is author and journalist John Donvan, and he does a superb job of keeping the debates well mannered, intelligent, and moving forward. Each debate generally runs 90 to 100 minutes along with questions from the moderator and from the audience. The audience votes on the motion before the debate and then afterwards. Whichever side changes the most members of the audience to vote for their side by the end is declared the winner. These debates can be watched on YouTube or listened to on MP3 from the Intelligence Squared U.S. website. There is also a 50 minute version of the debate on the Intelligence Squared U.S. website (which is the podcast and radio version). We recommend the full version for the most coherent debates, but either way you'll learn a lot. Challenge your own political beliefs on these complex issues with these intelligent debates!
1. The Two-Party System is Making America Ungovernable
Has the two-party system in America created a toxic dynamic where the most extreme members of each political party can no longer work together? In this debate hosted by Intelligence Squared, Ariana Huffington and David Brooks argue that Democrats and Republicans are stuck in a rotten two party system that forces both sides to obey the party line at the cost of personal beliefs. Their proposed solution is a broader social movement to de-align the two parties and make way for a centrist alternative. In contrast, humorist P.J. O'Rourke is joined by Zev Chafets to argue for how durable the two-party system has remained when put under almost two centuries of stress, and caution against a de-polarized political atmosphere where smaller, single issue-based interests are enabled to fight it out on a national stage.
In this debate from Intelligence Squared, the two sides square off about the taxation of the rich in the United States and whether they should pay more than they currently do to cover the costs of government spending. Both sides agree that government is running deficits that need to be paid for and that entitlement programs like Social Security and Medicare need reform before they spiral government down into much more debt in the coming decades. The side arguing for the motion suggests the best way to raise revenues is to "broaden the base" of the tax system, to cut out of control government spending, and to cut tax rates so that wealthy individuals will invest more into the economy and boost employment which will in turn boost individual income and generate more in overall taxes. The side arguing against the motion suggests that it is a necessity to raise taxes on the rich because of the current deficits government is running and because a more progressive approach in the tax system is the fair thing to do and will ultimately benefit the growth of the economy. They also argue for closing tax loopholes which have prevented the rich from paying their fair share. Both sides feature economists that throw out a lot of statistics supporting each of their arguments, but the moderator John Donvan tries to get beyond the numbers to the core ideas behind each side.
3. Don't Give Us Your Tired, Your Poor, Your Huddled Masses
The topic of immigration has become a lightning rod for pundits on both sides of the political spectrum. This debate hosted by Intelligence Squared pits two sides in a nuanced argument pro and con over whether or not America is, or should be the place for the world's "Tired", "Poor" and "Huddled Masses", as immortalized by poet Emma Lazarus at the Statue of Liberty. Arguing for stronger immigration Policy, Kris Kobach and Tom Tancredo work to dispel the nostalgia surrounding America's melting-pot roots, arguing that open immigration in the modern world is unsustainable in a welfare state. No stranger to border issues, San Antonio mayor Julian Castro is joined by Tamar Jacoby to argue for effective enforcement that is at the same time consistent with core American values.
4. Obesity is the Government's Business
Obesity has become an epidemic in the United States, but what is the best way of dealing with it. In this Intelligence Squared debate the two sides argue over what role the government should play in confronting this health crisis. The side arguing for the motion that obesity is the government's business, feels that it is time for the government to step up their efforts in educating the public about the causes of obesity and giving the public more opportunities for exercise and health eating. The side arguing against the motion comes from a more libertarian stance that feels the government is not good at accomplishing much and that when it comes to fighting obesity the data isn't there in regards to the programs that it has currently put forth. It's a fun debate over the role of government when it comes to this important issue we are facing.
At some point in anyone's life, the minimum wage is all there is to live on, so how has this 75 year experiment worked out for the American economy? For this debate hosted by Intelligence Squared, James Bernstein is joined by Karen Kornbluh to argue for the moral merits of upholding the minimum wage, stating that it serves as a necessary safety net to ensure that lesser-skilled workers are treated fairly. On the opposite end of the table, Russell Roberts and James Dorn argue that a set wage slows job growth by rendering employees artificially more expensive; this in turn makes it harder for them to find work, and needlessly interferes with an individual's personal bargaining freedom.
6. For a Better Future, Live in a Red State
In this lively debate hosted by Intelligence Squared, two sides argue for and against the claim that the future in America may be brighter if one lives in a more conservative-leaning "Red" state. Arguing for this motion, popular radio host Hugh Hewitt and the Wall Street Journal's Stephen Moore note migration patterns have favored more affordable red states in recent years, leading many to wider job opportunities coupled with a lower cost of living, and clear sense of traditional values. On the other side, former California Governor Gray Davis is joined by centrist pundit Michael Lind, to argue that Blue states are generally more innovative, feature higher quality education and offer a better healthcare infrastructure. Regardless of who's side you prefer, the debate offers an interesting snapshot of the changing interstate dynamics at play in an America that is getting more polarized across ideological lines.
7. It's Time to End the War on Terror
Is the term "War on Terror" an outdated description that has outlived the current state of play in the global effort to curb terrorist activity? For this Intelligence Squared debate, Security expert Peter Bergen is joined by former Obama-administration expert Juliette Kayyem to argue that while terrorism is still very much a threat, the nature of that threat has changed in the decade since September 11th. With Al Qaeda on its last legs, the "War on Terror" calls back to another era, where the American-led fight to abolish Osama Bin Laden's terror network has given way to a more sporadic, less focused enemy. On the flip-side, Micahel Hayden and Richard Falkenrath argue that the legal tools made available when a country is in a declared state of war allows for lawful execution of operations that would otherwise be considered illegal.
8. Income Inequality Impairs the American Dream of Upward Mobility
Listen to a stimulating debate over income inequality in America and whether or not it hinders the mobility of lower or middle income households to be upwardly mobile economically. Both sides agree income inequality is increasing and that upward mobility is not as good as it should be, especially among the poor. But they disagree as to whether income inequality is the cause of this lack of upward mobility. The side against the motion argues that the data is not there to support that upward mobility is declining in America. They feel that the ever-increasing wealth of the top 1% creates incentives and opportunities for the lower and middle classes to rise up the economic ladder. The side arguing for the motion says it is too soon to tell whether future generations are declining in economic mobility since the increasing income gap has only been on the rise since the late 1970s. They plead that common sense shows us a declining middle class and a working poor that is finding it harder and harder to move up the economic ladder as they struggle to make ends meet. They argue that higher taxation of the super rich can be funneled into innovative programs such as education to bring back the thriving middle class in America. It is a well argued debate from both sides with interesting results at the end from the audience that votes on the motion.
9. The Constitutional Right to Bear Arms Has Outlived Its Usefulness
Is the Second Amendment a historic anachronism designed during a time without police and when militias were more important to American national defense? Or does it embody American attitudes towards independence, and remain a vital means of maintaining the security of a free state? In this fierce debate hosted by Intelligence Squared, Alan Dershowitz & Sandy Levinson argue that the right to bear arms would be defined differently if written in 2015, with the basic right of self-defense superseding the specific right to carry weapons. On the opposing side, David Kopel and Eugene Volokh agree that everyone has a basic right to defend themselves, but go further by pressing that the tools necessary (aka. guns) should be explicitly safeguarded for anyone that wishes to use them.
10. Legalize Drugs
Watch this stimulating debate on the motion to legalize drugs. Since the drug war began 30 years ago it has cost the U.S. government $2.5 trillion dollars and has currently locked up over 100,000 nonviolent drug offenders in federal prison. The side arguing for the legalization of drugs points out how the drug war has primarily been waged against minorities and the poor in a disproportionate ratio to drug usage. They argue that drug use does not equal drug abuse, and that many drugs such as marijuana are less harmful to society than the current legal drugs of alcohol and prescription drugs. The side arguing against legalizing drugs points out the detrimental effects some drugs have had on communities such as meth and heroin, and how the drug war has to an extent deterred drug usage. Be sure to wait for the results of this excellent debate from Intelligence Squared U.S.
11. The GOP must Seize the Center or Die
Following the defeat of Mitt Romney in 2012, Intelligence Squared hosted this contentious debate over the future of the Republican party and how it can best win over the electorate. The side arguing for the motion points out that the country is diversifying and changing and that conservatives need to shift their current ideology more towards the center particularly on social issues which have caused fission amongst Republicans. They feel that because Republicans have been so staunchly anti-government, they have become the party of "no" which prevents government from doing much of anything and it has produced exasperation amongst the populace. The side arguing against the motion feels that if conservatives compromise their core principles of limited government and move more towards the center, they will cease to be a viable alternative to the Democrats and they will continue to lose more elections. It's a well carried out debate featuring prominent conservative voices such as David Brooks and Laura Ingraham.
12. Containment Is Not Enough: ISIS Must Be Defeated
Watch or listen to this debate from August 2015 with the motion "Containment Is Not Enough: ISIS Must Be Defeated". In the debate, foreign policy experts argue over what the Obama administration's next steps should be in dealing with ISIS. The side for ISIS being defeated proposes that containing ISIS in the region poses a threat to the surrounding region and the enemies of ISIS around the World, and that this threat will only grow over time. These foreign policy experts do not advocate putting "boots on the ground" of U.S. troops, but they feel a much stronger resolution needs to be put in place to roll back and defeat ISIS. The side for containing ISIS and staying the course with the current U.S. policy, feels that containment is the best option at this time while we wait for the conflict to play out, and that ultimately the turmoil in Syria and Iraq are not our battle to win. They also cite the lack of political will for a full scale war against ISIS in the wake of two wars in Afghanistan and Iraq. It's a good debate that helps to make sense out of a very complicated and messy situation in the Middle East and the results of the debate are quite interesting. Towards the end of the debate questions are received from the audience including questions from David Petraeus and Ayaan Hirsi Ali. The debate can be watched on YouTube or downloaded on MP3 from the Intelligence Squared U.S. website.
13. Eliminate Corporate Subsidies
Watch a debate over corporate subsidies in America and whether or not they should be eliminated. In this debate both sides agree that there are some subsidies that are good and there are some subsidies that are bad (such as the unnecessary oil & gas subsidies). But overall each side has differences over whether subsidies are good in general. The side arguing against corporate subsidies says the U.S. government simply cannot afford them, and that the state of corporate welfare in American is favoring big business over small business and making it hard for the little guy. The side arguing for corporate subsidies highlights a lot of areas where subsidies can be helpful in spurring innovation with emerging technologies and lead to great economic success in the future. The results of the debate produce a big swing in opinion in the audience, but we won't give away which way it goes.
Is America a culture that lives by the credo "an eye for an eye", or is it becoming apparent that many Americans are rethinking their stance on the Death Penalty? In this passionate debate hosted by Intelligence Squared, Diane Russ Tierny and Barry Scheck argue that killing inmates on death row is an unacceptable risk to innocent lives that any modern society should abolish, going further to cite statistics demonstrating that capital punishment does not lower crime rates, and is racially skewed. On the other side, Robert Blecker and Ken Sheidegger argue that the death penalty should always be an available option for the cruelest offenders, citing rising prison incarceration costs, and basic concepts of human justice as a compelling reason for death to remain the most serious punishment legally possible.
15. Freedom of the Press Does Not Extend to State Secrets
Hear an interesting debate on the freedom of the press and whether or not they have the right under the 1st amendment to publish state secrets. Both sides agree that some state secrets need to be kept such as the identities of spies, nuclear secrets, and other secrets which might obviously endanger the United States. But they disagree as to whether the press or the government has the power to determine the release of other state secrets which may be more controversial. They also debate over new incarnations of "the press" such as the Wikileaks leak from Julian Assange. It's an interesting and sometimes confusing debate over the freedom of the press in this new digital information age.
Posted by LearnOutLoud | Permalink
April 12, 2016
1000 new YouTube videos have been added to our LearnOutLoud Free Audio & Video Directory bringing our total number of free resources to over 11,000. We've gone through some of the best educational channels on YouTube and picked out the most popular videos from the past few years. Here are the channels we've added titles from along with some choice titles we thought you'd like:
Aspen Institute - Featuring over 40 talks from their annual Aspen Ideas Festival.
Marianne Williamson Talks Spirituality and Politics
Self Directed Biological Transformation (SDBT) with Deepak Chopra
The Four Desires: Creating a Life of Purpose, Happiness, Prosperity, and Freedom with Rod Stryker
Will Massively Open Online Courses Transform the Way We Learn?

Big Think - Longer interviews and lectures from this popular and intellectually stimulating YouTube channel that features leading thinkers from a variety of backgrounds.
Big Think Interview with Karen Armstrong
Michio Kaku: The Universe in a Nutshell
William Ackman: Everything You Need to Know About Finance and Investing in Under an Hour

Book TV - New interviews from C-SPAN's Q&A series bringing the total number of Book TV titles to 250.
Q&A with Bethany McLean on The Hidden History of the Financial Crisis
Q&A with Medea Benjamin on Drone Warfare

Center for Inquiry - Talks from this secular and skeptical nonprofit educational organization.
A Lecture by James "The Amazing" Randi
Michael Shermer: The Believing Brain

Commonwealth Club of California - New lectures and interviews from this popular public forum bringing our total to over 100 titles.
Finding Faith and Spirituality in the 21st Century
Jane McGonigal: How Games Can Make a Better World
Noam Chomsky: Philosophies of Language and Politics
Robert Reich: Inequality for All
The Mind, Madness, and Gun Violence
The Mythbusters at the Commonwealth Club
The Psychology of Building a Bulletproof Personal Finance System with Ramit Sethi

Conversations with Harold Hudson Channer - A few archived conversations from the New York public access show "Conversations with Harold Hudson Channer".
Conversation with Buckminster Fuller
Conversation with Oliver Sachs
Conversation with Timothy Leary

Conversations with History - Long running interview show on UCTV hosted by Harry Kreisler and covering politics, economics, and much more. We now feature over 100 interviews.
My Forty Years at Berkeley with Harry Kreisler
Philosophy and Activism with Peter Singer
Understanding Human Nature with Steven Pinker

Cutting Edge Conscious - Talk show featuring guests that may broaden your horizons about consciousness.
Bruce Lipton: The Frequency That is "You"
Byron Katie: Question Your Thoughts and End Your Suffering
Dan Millman on Finding Your Life Purpose
Joe Vitale: The World Is Our Mirror

European Graduate School - Lectures from this graduate school focused on art and philosophy.
Jacques Derrida & Gilles Deleuze: On Forgiveness
Jean Baudrillard: Violence of the Image
Slavoj Zizek: The Irony of Buddhism

Forum Network - Lectures from WGBH in the Boston area. We now feature over 200 titles from their YouTube channel.
Emily Dickinson: My Wars Are Laid Away in Books
How Working Women Can Manage Stress with Dr. Kathleen Hall
Scott Stossel: My Age of Anxiety
The History of the Universe in One Hour by Max Tegmark, Professor of Physics at MIT

Google Talks - Many more talks from authors and notable speakers at Google bringing our total to over 500 of their best talks.
Alain de Botton on The News: A User's Manual
Ariane De Bonvoisin on The First 30 Days: Your Guide to Making Any Change Easier
Chip Conley on Emotional Equations
Daniel Dennett on Intuition Pumps and Other Tools for Thinking
Dr. David Agus on The End of Illness
Elizabeth Kolbert on The Sixth Extinction: An Unnatural History
Martha Stewart Talks at Google
Richard Dawkins on The Magic of Reality
Shawn Achor on Before Happiness
Steven Johnson on Future Perfect: The Case For Progress In A Networked Age

Gresham College - Over 20 lecture series from professors at Gresham College in London.
The Great Plagues from the Middle Ages to the Present Day
Psychology Lectures with Glenn D. Wilson
Rhetoric: Belinda Jack on the Mysteries of Reading and Writing

Hoover Institution - Interviews from the show "Uncommon Knowledge" hosted by Peter Robinson and featuring primarily conservative thinkers. Over 60 interviews to choose from.
Milton Friedman on Libertarianism
The Sixties with Christopher Hitchens and William F. Buckley
The Word According to Tom Wolfe
Thomas Sowell: Basic Economics

Intelligence Squared U.K. - Over 40 debates from the United Kingdom's leading debate forum along with some lectures they feature.
Between You and I the English Language is Going to the Dogs
Jesus Would Have Voted Democrat
Let Them Come: We Have Nothing to Fear From High Levels of Immigration

Intelligence Squared U.S. - Over 30 debates from the leading debate forum in the United States.
Good Riddance To Mainstream Media
The Constitutional Right to Bear Arms Has Outlived Its Usefulness

Politics and Prose - We now have over 75 author talks from this important book store in Washington, D.C..
Norman E. Rosenthal, M.D. on The Gift of Adversity
Thom Hartmann on The Crash of 2016

The 92nd Street Y - Over 100 talks added from The 92nd Street Y in New York City including contemporary and classic talks they have recorded.
Allen Ginsberg Reads at the 92nd Street Y
Arthur Miller: Death of a Salesman Reading
Christopher Hitchens and Tariq Ramadan Debate: Is Islam a Religion of Peace?
George Carlin at the 92nd Street Y
Love Your Enemies: Robert Thurman, Sharon Salzberg and Uma Thurman
Maya Angelou: Mystical, Magical, Musical, and Lyrical
On Sigmund Freud: Psychobiography with George Makari
The (Neuro) Science of Genius with Michio Kaku, Antonio Damasio, and JoAnn Deak
Vladimir Nabokov: Selected Poems and Prose

UCTV - Many new programs from UCTV. We now feature over 250 of their videos which are also usually on MP3 audio download through the UCTV website.
Fat Chance: Fructose 2.0 with Robert Lustig
Overthrowing the Emperor of All Maladies: Moving Forward Against Cancer with Siddhartha Mukherjee
Weapons of Mass Distraction with Pico Iyer

University Channel - New talks from the University Channel or UChannel offering talks from numerous academic institutions.
A Conversation with Studs Terkel
How Human Psychology Drives the Economy with Robert J. Shiller
Moving Beyond Fast Food Nation with Peter Singer and Eric Schlosser
Why Work? Business, Professions, and the Common Good with David Brooks, Alex Sink, and Steven Reinemund

And we've added a number of interesting talks from a variety of other channels:
Brian Weiss: Past-Life Regression Session
H.W. Brands on American Colossus: The Triumph of Capitalism, 1865-1900
History of Neuroscience: William Dement
Jiddu Krishnamurti: In Total Silence The Mind Comes Upon The Eternal
Ken Blanchard on Leading at a Higher Level
LinkedIn Speaker Series: Suze Orman
Neil deGrasse Tyson on the New Cosmos
Stephen Hawking on Unified Theory
The Facebook Effect with Mark Zuckerberg
Sell Your Ideas the Steve Jobs Way with Carmine Gallo
Walter Isaacson on Benjamin Franklin: An American Life
And there's just so much more! Browse around our free directory for all of these great new talks.

Posted by LearnOutLoud | Permalink
April 6, 2016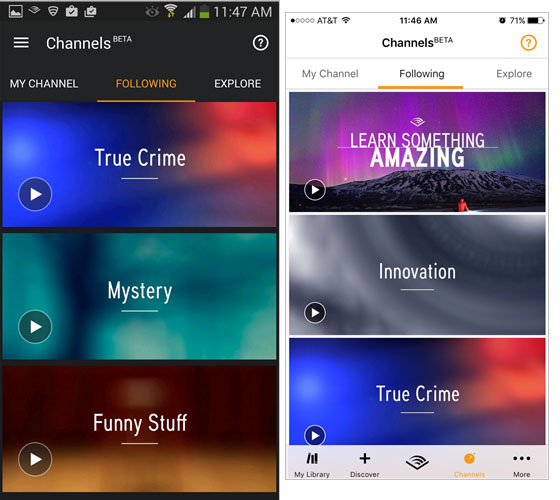 The Audible mobile app has a new section which will surely interest fans of audio learning. It's in beta mode right now and it's called "Channels". We're not sure if it showing up for all Audible app users yet, but we'll give you an overview of what is probably coming soon to an Audible app near you, if it's not already there.
The new Audible Channels section of the Audible app on iOS and Android features about 90 channels of relatively short audio content that is free to members to listen to via streaming or you can download for offline listening. Many of the channels are categories such as comedy, meditation, business news, etc. Each of these categories features a playlist of short audio related specifically to that category. This audio content is coming from publishers and partners of Audible including excerpts of audio books and articles from a number of publications that Audible partners with such as The New York Times and The Wall Street Journal.
There are also channels featuring professional audio recordings of new articles from Audible's partner publications and we'll list a bunch of the publications that have channels: The New York Times, The Wall Street Journal, National Review, Harvard Business Review, Smithsonian Magazine, Forbes, cNet, McSweeney's Fiction, MIT Technology Review, The New Republic Magazine, Reader's Digest, Science News Magazine, Scientific American, and The Washington Post. There is also some original audio content such as episodes of Charlie Rose, the best TED Talks, Marketplace, BBC Newshour, PRI's The World, and The Onion Radio.
And then there are some channels that seem to be premium audio shows that Audible has developed including Hot Mic with Dan Savage, Hold On with Eugene Mirman featuring funny live stories, How to Be Amazing with comedian Michael Ian Black as he interviews intriguing people, Limelight Illuminating Comedy, and a few others.
Audible's Channels free section gives one even more incentive to become an Audible member as it will surely grow into an amazing new way to get premium audio content that isn't currently in audio book form. If you're not an Audible member, you might want to check this out. You can subscribe through Amazon (which owns Audible) right now and get two free audio books:
Try the Audible 30-Day Free Trial and Get Two Free Audiobooks
Audible's Channels section is an interesting move for Audible who's main focus has been in promoting unabridged audio books and generally longer form audio content to purchase via its memberships or a la carte from its site or on Amazon or on iTunes (who it partners with). Audible has amassed 180,000 titles over the years which has completely dwarfed their competitors in audio book retail. But I'm sure they have seen the magnificent success of over 200,000 free podcasts on iTunes and felt the need to somehow get into that space. Audible tried to get into podcasting 10 years ago with the failed Audible Wordcast. But now they are an Amazon owned company with much more money and power, and with Audible Channels they might give traditional podcasting a run for the money. Will they lure over top podcasters to their subscription service so podcasters can finally start making some serious money? Only time will tell. In the meantime they've got some great premium audio content that you won't find anywhere else and it's all free for Audible members!
Here is Audible's official announcement of Channels and you can browse the channels they offer:
Audible's Intro Page to Channels
Here is Audible's new video introduction to Audible Channels:
Posted by LearnOutLoud | Permalink