June 2017
| Su | Mo | Tu | We | Th | Fr | Sa |
| --- | --- | --- | --- | --- | --- | --- |
| | | | | 1 | 2 | 3 |
| 4 | 5 | 6 | 7 | 8 | 9 | 10 |
| 11 | 12 | 13 | 14 | 15 | 16 | 17 |
| 18 | 19 | 20 | 21 | 22 | 23 | 24 |
| 25 | 26 | 27 | 28 | 29 | 30 | |

June 7, 2017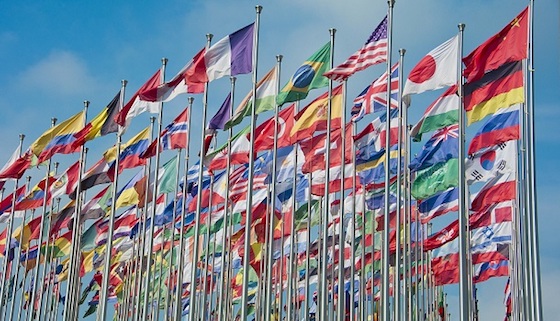 In recent years U.S. foreign policy and global affairs have become increasingly interesting to say the least. With ongoing crises happening in the Syrian Civil War and their refugee crisis, the war on ISIS and the fight against terrorism, the Russian-Ukrainian conflict and Russia's meddling in the elections of other countries, heightened tensions on the Korean peninsula, the ongoing war in Afghanistan, the rise of populist nationalism in many Western countries, the threat of the break up of NATO and the European Union, hacking and cybersecurity, confronting global warming, international trade deals, and the list goes on and on.
One of the best ways to attempt to keep up with all the global news and to hear a diverse range of opinions on these issues facing the United States and the rest of the world, is by listening to the latest coverage from many excellent foreign policy and global affairs podcasts. Most major foreign policy think tanks and publications now have regular podcasts discussing the latest news and events, and public radio from the U.S. and the U.K. provide a number of excellent foreign affairs programs. We've assembled this list of 15 of the best foreign policy podcasts that cover global affairs. These podcasts feature interviews, news, analysis, and debate from foreign policy experts about what is happening now and what is coming next on the global stage.
1. The Global Politico Podcast
The Global Politico Podcast is one of the best new foreign policy podcasts, featuring in-depth interviews conducted by POLITICO's Susan Glasser. Glasser has access to highly influential leaders and thinkers on the global stage including former Secretary of State Condoleezza Rice, NBC's Andrea Mitchell, Iraq war architect Paul Wolfowitz, former Secretary of State Jim Baker, Clinton campaign chairman John Podesta, Trump senior national security official Michael Anton, and many other key figures in American foreign policy. Glasser is not afraid to ask her guests challenging questions about their views and she keeps the interviews consistently compelling as she seeks to apply her guest's knowledge to current events in the world.
2. Center for Strategic & International Studies Podcast
The Center for Strategic & International Studies (CSIS) Podcast provides serious discussion on geopolitical topics. Each week host Colm Quinn talks to a key foreign policy thinker about a major issue confronting the U.S. and the world. Topics range from cybersecurity to human rights to climate change to military defense, and Quinn seems very knowledgeable of all these issues as he navigates the latest news and developments each week.
Pod Save the World is the foreign affairs arm of the Crooked Media slate of progressive political news podcasts hosted by former Obama-administration insiders John Favreau, Tommy Vietor, and Jon Lovett. With this podcast, Vietor utilizes his first-hand National Security experience to discuss both past and current foreign policy matters. Washington insiders from a wide array of backgrounds are interviewed to discuss the fascinating inner workings, decisions, deals, and challenges that face policy makers in Washington.
4. The World Next Week Podcast
The World Next Week Podcast from the Council on Foreign Relations looks forward to the major upcoming events in global politics each week and how things might play out. CFR's Director of Studies James M. Lindsay and CFR.org Managing Editor Robert J. McMahon offer their ideas regarding current global affairs, drawing on their deep knowledge of the history of foreign relations of the United States. In each 30-minute episode they cover a number of key topics that the world will face each week, and they also look back at what has happened recently in terms of major global events.
NPR's Madeleine Brand hosts a monthly magazine-format podcast that dissects some of the biggest challenges shaping U.S. foreign policy. Set firmly in a post-Trump diplomatic world scene, Brand and a team of correspondents survey topics ranging from Middle East relations, emergent disease response, cyber threats, climate change developments, and more. Informative and well produced, the America Abroad Podcast puts you on the front lines with top-notch reporting that will keep you abreast of how the United States is maintaining its leadership role in a complex world.
6. WSJ Opinion: Foreign Edition Podcast
From the editorial board of the Wall Street Journal, Mary Kissel hosts a brief look at current world news. Episodes are short and to the point, averaging about 20 minutes, and packed with interviews designed to help shed light on the forces shaping the world, especially in relation to the United States foreign policy and security. Kissel's point of view is in keeping with the conservative WSJ reputation, and is a valuable addition to your regular balance of daily news.
7. Foreign Policy's The Editor's Roundtable Podcast
For a casual roundtable of conversation about current U.S. foreign policy tune into Foreign Policy's The Editor's Roundtable Podcast. Foreign Policy magazine has been around since 1970, and their bimonthly magazine and website ForeignPolicy.com have become a popular platform for leading foreign policy contributors and politicians to express their views on global affairs. Based in Washington, D.C., this podcast features Foreign Policy magazine editors who consider themselves self-professed "foreign policy nerds". They express their views on the latest news and topics, often with experts calling in from around the world to weigh in on contemporary issues. They aren't afraid to throw in some humor to the mix as they openly discuss what U.S. foreign policy is today.
Global Dispatches is a podcast dedicated to in-depth conversations with academics, and expert personalities involved in current foreign affairs. With each episode, host Mark Leon Goldberg interviews figures on topics ranging from global nuclear security, climate change, US-China relations, the state of worldwide humanitarian relief, and more. Brief and to the point, Goldberg chooses his guests well, offering expert analysis to help better inform listeners on how big global challenges are being addressed (or not) on a diplomatic level.
PRI's The World Podcast is a daily world news magazine that is a coproduction of Public Radio International, the BBC World Service, and WGBH in Boston. Hosted by Marco Werman, each show covers world news and interesting stories from around the world in public radio's signature style. Each show runs about 45 minutes and they are put out by PRI Monday through Friday with two weeks of episodes remaining up on the podcast. In addition to global political news, they also cover economics, language, and music from around the globe. You'll also hear stories of a more personal nature as their reporters interview individual throughout the world. Enjoy this popular public radio program that is broadcast on over 300 stations across North America.
10. From Our Own Correspondent - BBC Podcast
If you'd like to go beyond the headlines when hearing stories about what is happening around the world, listen to the BBC's From Our Own Correspondent Podcast. This BBC radio show has been broadcasting since 1955 and features BBC foreign correspondents from around the globe reporting on specific stories that relate to current events. Often these correspondents travel to places that aren't covered in the headlines of the day, and they provide news that might otherwise go uncovered. These 25-minute podcast episodes include good descriptions and the weekly episodes go back over several years on their podcast feed, so you can browse around for stories that interest you most.
11. When Diplomacy Fails Podcast
With the When Diplomacy Fails Podcast, host Zack Twamley takes you on a well-researched tour of the major figures, events, and political maneuvering involved in some of the great historical conflicts. Twamley doesn't spare any details in multi-part episodes that take a deep dive into the preceding factors, dramatic clashes, and lasting consequences of wars that are mostly centered in Europe. This podcast is notable for the breadth and depth of detail, and is recommended for listeners particularly interested in European history and in World War I specifically. Learn about the past to understand the present state of international relations.
12. New Books in World Affairs Podcast
The New books in World Affairs Podcast is part of the larger New Books Podcast Network, which is focused on high-quality author interviews covering a variety of challenging, up-to-date topics. With this world affairs podcast, a revolving group of NBN moderators sit down to speak with authors that also happen to be leading thinkers in the fields of sociology, history, politics, and general philosophy. Episodes tend to be an hour-long, which provides ample time for authors to draw out the big ideas of a given book. This is a great podcast for serious readers interested in discovering new books in geopolitics, religious studies, intellectual history, and political theory.
13. Financial Times World Weekly Podcast
The Financial Times World Weekly Podcast is a brief, but informative foreign affairs podcast out of London. The show features weekly 20-minute discussions about specific events from the past week that will play a major role on the global stage. Coming out of the United Kingdom, this podcast delivers a nice outsider's view of U.S. foreign policy while also relating global events as to how they will impact England. Major topics within the UK such as "Brexit" are also given more coverage.
14. Fareed Zakaria GPS Audio Podcast
Fareed Zakaria GPS, or Global Public Square, Podcast offers editorial commentary by Zakaria on world events on CNN. Zakaria brings in guests and journalists as they debate the current news with an emphasis on international issues and foreign affairs. Zakaria considers himself a "centrist" politically and his interviews and roundtables on the show provide a variety of opinions on global affairs from the mainstream cable news outlet of CNN.
Based in Chicago, WBEZ's Worldview Podcast offers up-to-the-moment analysis of the current global news. Jerome McDonnell interviews a range of expert guests to examine U.S. foreign policy, and help us understand everything from Middle East hotspots to emerging Asian markets. This podcast is a digestible roundup of the key players, cultural pressure points, and historical trends that are shaping the world. The podcast also features commentaries on human rights and foreign film reviews.
Posted by LearnOutLoud | Permalink
May 15, 2017
You can now listen to 27 hour-long introductions of famous operas written by Thomson Smillie and read by David Timson. The introductions are part of the "Opera Explained" series from the classical music record label NAXOS, and they offer them streaming through Spotify. Whether you are a classical music expert, or you are new to opera, these introductions serve as one of the most accessible ways to learn about and appreciate opera. The introductions contain popular excerpts from NAXOS classical recordings of the operas. David Timson is a wonderful narrator and in each introduction he provides context for the opera before going into the story and highlighting the best musical moments. You'll also learn a great deal about the composer of each opera from Wolfgang Amadeus Mozart to Giacomo Puccini. Please Note: In order to listen to these introductions you'll need a free Spotify account. You can listen for free with occasional ads and they also have Spotify software for easier listening on your computer or smart phone. If you want to listen ad-free and you love music as well, we can't recommend Spotify Premium highly enough.
Here are all 27 introductions that we feature on LearnOutLoud.com:
27 Introductions to Operas by Thomson Smillie
If you're wondering where to start, we'll recommend some of the most beloved operas of all time:

Aida: An Introduction to Verdi's Opera

The Barber of Seville: An Introduction to Rossini's Opera

Carmen: An Introduction to Bizet's Opera

Fidelio: An Introduction to Beethoven's Opera

La Boheme: An Introduction to Puccini's Opera

The Marriage of Figaro: An Introduction to Mozart's Opera

In addition to these opera introductions, we'll also feature today 11 composer biographies by Jeremy Siepmann that are offered by NAXOS on Spotify:

11 Biographies on the Life & Works of Famous Composers by Jeremy Siepmann

These 4-hour introductions to the composers alternate between telling their life story and featuring recordings of their musical works. Some of the composers you may have heard of include:

The Life and Works of Bach

The Life and Works of Mozart

The Life and Works of Beethoven

The Life and Works of Tchaikovsky

The Life & Works of Giuseppe Verdi

Enjoy these introductions to some of the greatest composers and operas of all time!


Posted by LearnOutLoud | Permalink
May 3, 2017
Back in March the University of California-Berkeley announced they were taking down their free audio & video courses from iTunes U and YouTube. Although many of these free courses are still up on YouTube if you want to get them before they're gone:
90 webcast.berkeley Courses Still on YouTube
Thankfully some other University of California universities are still offering many free courses. In the past we've featured over 100 free courses from UC San Diego which present podcasts on audio (and some on video) of courses from 2007 to the present from the University of California at San Diego. You can browse them here:
Browse Over 100 Course Podcasts from UC San Diego
Today we're featuring 45 free courses offered by the University of California at Irvine. Since 2012 UC-Irvine has been offering courses through their UCI open, online course initiative and they are now offering these courses on YouTube. Many of these courses are in the areas of chemistry, physics, Earth science, math, and engineering. You can browse them all there:
45 Free Video Courses from UC-Irvine on LearnOutLoud.com
And here they all are listed by their educational department:
Biological Sciences 93: DNA To Organisms
Biological Sciences 94: Organisms to Ecosystems
Biological Sciences M121: Immunology with Hematology
Chemistry 1P: Preparation for General Chemistry
Chemistry 1B: General Chemistry
Chemistry 107: Inorganic Chemistry
Chemistry 128: Introduction to Chemical Biology
Chemistry 131A: Quantum Principles
Chemistry 131B: Molecular Structure & Statistical Mechanics
Chemistry 131C: Thermodynamics and Chemical Dynamics
Chemistry 201: Organic Reaction Mechanisms I
Chemistry 202: Organic Reaction Mechanisms II
Chemistry 203: Organic Spectroscopy
Chemistry 51C: Organic Chemistry
Chemistry 5: Scientific Computing Skills
Earth System Science 1: Introduction to Earth System Science
Earth System Science 5: The Atmosphere
Earth System Science 21: On Thin Ice: Climate Change and the Cryosphere
Earth System Science 23: Air Pollution and Global Environments
Education 151: Language and Literacy
Education 320: Teaching PE & Health, Elementary Education
Engineering CEE 20: Engineering Problem Solving
Engineering MAE 91: Intro to Thermodynamics
Engineering MAE 130A: Intro to Fluid Mechanics
Engineering 165/265: Advanced Manufacturing Choices
Math 113B: Mathematical Biology
Math 131A: Introduction to Probability and Statistics
Physics 20E: Life in the Universe
Physics 255: Einstein's General Relativity and Gravitation
Psych 9A: Psychology Fundamentals
Public Health 1: Principles of Public Health
Public Health 91: Disparities in Healthcare
Public Health 194A: Clinical and Translational Research Preparatory I
Interestingly enough those last two economics courses are taught by American economist Peter Navarro who currently serves as the Assistant to the President, Director of Trade and Industrial Policy, and the Director of the White House National Trade Council, a newly-created entity in the executive branch of the U.S. federal government. Learn about some of the economic principles guiding the Trump administration in these two free courses.
Navarro is the author of over a dozen books and has also taught four Modern Scholar courses that we offer on sale on LearnOutLoud:
Principles of Economics: Business, Banking, Finance, and Your Everyday Life
Waking Dragon: The Emerging Chinese Economy and Its Impact on the World
Navarro has long been a critic of China and its role in global trade and that last course is certain to be of interest when it comes to his guidance of U.S. trade policy in the coming years. For a free lecture he gave on one of his books on China check out this talk from C-SPAN:
Peter Navarro on The Coming China Wars
Of course all of our over 1,200 free audio & video courses can be found in our Free Courses Collection here:
LearnOutLoud.com Free Courses Collection
Posted by LearnOutLoud | Permalink
April 30, 2017
In recent years many of Dr. Martin Luther King, Jr.'s speeches have been made available for free on audio & video from The King Institute at Stanford and The King Center in Atlanta. In this post we'll feature 35 prominent speeches and sermons that Dr. King delivered in his lifetime that are available to listen to for free on audio & video.
You can browse all of the speeches and sermons of Dr. King that we feature on his author page, along with some audio books of his speeches and some interviews he did:
35 Free Speeches of Martin Luther King, Jr. on Audio & Video
We'll start off by featuring some of Dr. King's most famous speeches that we've featured in the past:

I Have a Dream Speech (August 28th, 1963)
Delivered on August 28th, 1963 at the Lincoln Memorial in Washington D.C., King's passionate call for justice and equality was the battle cry for the Civil Rights Movement in America. The 17-minute speech called for an end to racism in the United States during the March on Washington for Jobs and Freedom, which was a defining moment of the Civil Rights Movement.
I've Been to the Mountaintop Speech (April 3rd, 1968)
On April 4th, 1968, Martin Luther King, Jr. was assassinated in Memphis, Tennessee. The night before he was assassinated Martin Luther King Jr. delivered his prophetic "I've Been to the Mountaintop" speech. In this stirring speech Dr. King looks back on his life and is thankful for all the positive changes in civil rights that occurred in his lifetime, and he is grateful to have lived in the second half of the 20th century when masses of people all over the world were standing up for freedom and human rights.
Letter from Birmingham Jail: Dramatic Reading (April 16, 1963)
Watch a free dramatized version of Martin Luther King, Jr.'s "Letter from Birmingham Jail". Written 40 years ago on April 16, 1963, Dr. King wrote this while in jail in response to a statement by 8 white clergymen who argued that the battle against segregation should be fought in the courts, and not in the streets. In his letter, Dr. King argues for nonviolent direct action in response to unjust laws. The letter contains many great quotes including "Injustice anywhere is a threat to justice everywhere" and "Justice too long delayed is justice denied". This special 1-hour video is a recording from the University of Texas at Austin filmed in an old Georgetown, Texas, jail sitting in for Birmingham in 1963, with actor Corey Jones playing Dr. King.
Acceptance Speech at Nobel Peace Prize Ceremony (December 10, 1964)
Listen to this brief yet powerful speech that Dr. King delivered upon receiving the Nobel Peace Prize in 1964. In the speech Dr. King talks of the ongoing "creative battle to end the long night of racial injustice" in the United States which by that time had led to the passage of the Civil Rights Bill. And King speaks of his hope that "mankind will bow before the altars of God and be crowned triumphant over war and bloodshed and join together in brotherhood."
A Knock at Midnight Sermon (June 11, 1967)

Martin Luther King, Jr.'s "A Knock at Midnight" sermon was delivered on June 11, 1967. It is one of his most famous sermons where he relates the parable Jesus told of a man who knocks at midnight for three loaves of bread. Dr. King extends the meaning of "midnight" to regard his time in 1967 as midnight in the social order, the psychological order, and the spiritual order. He encourages the church to offer "bread" to those in need both in a real sense and in a spiritual sense. It's a powerful sermon delivered 50 years ago, but still very relevant today. It is available on streaming audio from the King Institute and on streaming video from YouTube.
The Drum Major Instinct Sermon (February 4, 1968)
Listen to this inspiring sermon from Martin Luther King, Jr. In this speech, delivered in the year he was assassinated, Dr. King looks back on his life and hopes he will be remembered as a "Drum Major for Justice". King sees the importance in the "drum major instinct" that drives us to lead and be recognized, but points out through Christ's teachings that the greatest leaders are those who serve others and put justice before their own gain.

Now we'll give you a list all of the speeches including many new ones we've recently added to our LearnOutLoud.com Free Audio & Video Directory. The King Institute offers text and streaming audio of many of Dr. King's most famous speeches. They are available through a Flash player on their site so if you're on an iPhone or iPad the flash player won't show up. But no need to worry we've also embedded video of all of these speeches from YouTube. Also The Martin Luther King, Jr. Center for Nonviolent Social Change has uploaded many of Dr. King's speeches to its YouTube channel in the past year and we've now added many of these to our site.
Here they all are in order of when they were delivered:

Rediscovering Lost Values (February 28, 1954)
Paul's Letter to American Christians (November 11, 1956)
Birth of a New Nation (April 7, 1957)
Give Us the Ballot (May 17, 1957)
Loving Your Enemies (November 17, 1957)
Letter from Birmingham Jail: Dramatic Reading (April 16, 1963)
Speech at the Great March on Detroit (June 23, 1963)
I Have a Dream (August 28th, 1963)
Eulogy for the Martyred Children (September 18, 1963)
Acceptance Speech at Nobel Peace Prize Ceremony (December 10, 1964)
The Quest for Peace and Justice: 1964 Nobel Peace Prize Lecture (December 11, 1964)
How Long, Not Long: Address at the Conclusion of the Selma to Montgomery March (March 25, 1965)
Creative Maladjustment (April 27, 1965)
The American Dream (July 4, 1965)
Free at Last (February 10, 1966)
Guidelines for a Constructive Church (June 5, 1966)
The Casualties of the War in Vietnam (February 25, 1967)
Beyond Vietnam (April 4, 1967)
The Three Dimensions of a Complete Life (April 9, 1967)
A Knock at Midnight (June 11, 1967)
Where Do We Go from Here? (August 16, 1967)
Why Jesus Called a Man a Fool (August 27, 1967)
The Three Evils of Society (August 31, 1967)
What is Your Life's Blueprint? (October 26, 1967)
The Drum Major Instinct (February 4, 1968)
Unfulfilled Dreams (March 3, 1968)
The Other America (March 14, 1968)
Remaining Awake Through a Great Revolution (March 31, 1968)
I've Been to the Mountaintop (April 3, 1968)
The Martin Luther King, Jr. Center is also featuring the 1967 CBC Massey Lectures that Dr. King delivered on their YouTube channel:
Conscience for Change: The 1967 CBC Massey Lectures
2. Conscience and the Vietnam War
4. Nonviolence and Social Change
5. A Christmas Sermon on Peace (December 24, 1967)
We do feature a number of other audio & video titles from Dr. King on his author page. Check them all out here:
Over 50 Martin Luther King, Jr. Audio & Video Titles
And for our comprehensive collection of audio & video resources about Dr. King check out:
MLK Out Loud Audio & Video Resources
Posted by LearnOutLoud | Permalink
April 29, 2017
Long ago the publisher Penton Overseas and their many language learning programs disappeared, but they've now been re-published and are available for free on streaming audio on Spotify. You listen to over 60 of their language learning programs including their popular Learn In Your Car series.
Browse Over 60 Free Language Learning Programs from Penton Overseas
The Learn In Your Car programs are digestible language tutorials offered in 3 step-by-step levels that you can listen to wherever you are, and they run 3 hours in length. They are also offering their Vocabulearn series which presents vocabulary words that will beef up the building blocks of the language you are trying to learn. The Vocabulearn programs run about 3 hours as well. Here are some of their most popular language learning titles:

Learn in Your Car Series:
Learn in Your Car: French, Level 1
Learn in Your Car: German, Level 1
Learn in Your Car: Italian, Level 1
Learn in Your Car: Japanese, Level 1
Learn in Your Car: Mandarin Chinese, Level 1
Learn in Your Car: Russian, Level 1
Learn in Your Car: Spanish, Level 1
Aprenda En Su Auto: Ingles, Nivel Uno (English for Spanish Speakers)
Vocabulearn Series:
VocabuLearn: Portuguese, Level 1
VocabuLearn: Vietnamese, Level 1
And there are many more courses to choose from, many of which are at higher skill levels:
Browse Over 60 Free Language Learning Courses from Penton Overseas
Please Note: In order to listen to these audio programs you'll need a free Spotify account. You can listen for free with occasional ads and they also have Spotify software for easier listening on your computer or smart phone. If you want to listen ad-free and you love music as well, we can't recommend Spotify Premium highly enough.
Posted by LearnOutLoud | Permalink