September 10, 2022
Great educational audio books continue to be added to Spotify! The latest publisher we found that is offering audio books through Spotify is Princeton University Press. They've been publishing books for over one hundred years! The batch of titles they've added to Spotify consists of over 75 audio books covering a variety of topics including science, sociology, history, economics, philosophy, and more. These audio books are of their latest publications from many different scholars in their fields. We've made a playlist of these audio books on Spotify which you can access here:
Playlist of Over 75 Free Audio Books from Princeton University Press on Spotify
And you can browse all of their Princeton University Press audio books on Spotify by clicking the links below
1177 B.C.: The Year Civilization Collapsed by Eric H. Cline
Africa's Struggle for Its Art: History of a Postcolonial Defeat by Benedicte Savoy
After One Hundred Winters: In Search of Reconciliation on America's Stolen Lands by Professor Margaret D. Jacobs
Alien Oceans: The Search for Life in the Depths of Space by Kevin Hand
American Afterlives: Reinventing Death in the Twenty-First Century by Shannon Lee Dawdy
The Arab Winter: A Tragedy by Noah Feldman
Artificial You: AI and the Future of Your Mind by Susan Schneider
Billionaire Wilderness: The Ultra-Wealthy and the Remaking of the American West by Justin Farrell
Brooklyn: The Once and Future City by Thomas Campanella
Central Asia: A New History from the Imperial Conquests to the Present by Adeeb Khalid
The Cheating Cell: How Evolution Helps Us Understand and Treat Cancer by Athena Aktipis
Conservatism: The Fight for a Tradition by Edmund Fawcett
Dark Commerce: How a New Illicit Economy Is Threatening Our Future by Louise I. Shelley
Dark Data: Why What You Don't Know Matters by David J. Hand
Deaths of Despair and the Future of Capitalism by Anne Case & Angus Deaton
Delicious: The Evolution of Flavor and How It Made Us Human by Robert Dunn & Monica Sanchez
Digging Up Armageddon: The Search for the Lost City of Solomon by Eric H. Cline
Digital Cash: The Unknown History of the Anarchists, Utopians, and Technologists Who Created Cryptocurrency by Finn Brunton
The Drama of Celebrity by Sharon Marcus
The Economics of Belonging: A Radical Plan to Win Back the Left Behind and Achieve Prosperity for All by Martin Sandbu
Eva Palmer Sikelianos: A Life in Ruins by Artemis Leontis
Evil in Modern Thought: An Alternative History of Philosoph by Susan Neiman
The Fire Is upon Us: James Baldwin, William F. Buckley Jr., and the Debate over Race in America by Nicholas Buccola
GDP: A Brief but Affectionate History by Diane Coyle
The Genetic Lottery: Why DNA Matters for Social Equality by Kathryn Paige Harden
Gods and Robots: Myths, Machines, and Ancient Dreams of Technology by Adrienne Mayor
Hate in the Homeland: The New Global Far Right by Cynthia Miller-Idriss
Ibn Khaldun: An Intellectual Biography by Robert Irwin
Indebted: How Families Make College Work at Any Cost by Caitlin Zaloom
An Infinite History: The Story of a Family in France over Three Centuries by Emma Rothschild
In Praise of Good Bookstores by Jeff Deutsch
Iran Rising: The Survival and Future of the Islamic Republic by Amin Saikal
Irrationality: A History of the Dark Side of Reason by Justin E. H. Smith
The Jefferson Bible: A Biography by Peter Manseau
The Joy of Science by Jim Al-Khalili
Land of Wondrous Cold: The Race to Discover Antarctica and Unlock the Secrets of Its Ice by Gillen D'Arcy Wood
The Lives of Bees: The Untold Story of the Honey Bee in the Wild by Thomas D. Seeley
A Lot of People Are Saying: The New Conspiracism and the Assault on Democracy by Nancy L. Rosenblum & Russell Muirhead
Making Up Your Own Mind: Thinking Effectively Through Creative Puzzle-Solving by Edward B. Burger
Masada: From Jewish Revolt to Modern Myth by Jodi Magness
Michelangelo, God's Architect: The Story of His Final Years and Greatest Masterpiece by William E. Wallace
Narrative Economics: How Stories Go Viral and Drive Major Economic Events by Robert J. Shiller
Nine Algorithms that Changed the Future: The Ingenious Ideas that Drive Today's Computers by John MacCormick
On the Future: Prospects for Humanity by Martin Rees
The Origins and History of Consciousness by Erich Neumann
A Passion for Ignorance: What We Choose Not to Know and Why by Renata Salecl
Poet of Revolution: The Making of John Milton by Nicholas McDowell
The Power of Cute by Simon May
The Preacher's Wife: The Precarious Power of Evangelical Women Celebrities by Kate Bowler
The Profit Paradox: How Thriving Firms Threaten the Future of Work by Jan Eeckhout
Ravenna: Capital of Empire, Crucible of Europe by Judith Herrin
Red Meat Republic: A Hoof-to-Table History of How Beef Changed America by Joshua Specht
Renewal: From Crisis to Transformation in Our Lives, Work, and Politics by Anne-Marie Slaughter
Rescuing Socrates: How the Great Books Changed My Life and Why They Matter for a New Generation by Roosevelt Montas
Rome Is Burning: Nero and the Fire that Ended a Dynasty by Anthony A. Barrett
Running Out: In Search of Water on the High Plains by Lucas Bessire
Saint Patrick Retold: The Legend and History of Ireland's Patron Saint by
Scroogenomics: Why You Shouldn't Buy Presents for the Holidays by
A Series of Fortunate Events: Chance and the Making of the Planet, Life, and You by Sean B. Carroll
The Slow Moon Climbs: The Science, History, and Meaning of Menopause by Susan Mattern
So Simple a Beginning: How Four Physical Principles Shape Our Living World by Raghuveer Parthasarathy
The Spike: An Epic Journey Through the Brain in 2.1 Seconds by Mark Humphries
The Spirit of Green: The Economics of Collisions and Contagions in a Crowded World by William D. Nordhaus
Stalin: Passage to Revolution by Ronald Grigor Suny
The Technology Trap: Capital, Labor, and Power in the Age of Automation by Carl Benedikt Frey
Things Fall Together: A Guide to the New Materials Revolution by Skylar Tibbits
Translating Myself and Others by Jhumpa Lahiri
Twelve Caesars: Images of Power from the Ancient World to the Modern by Mary Beard
Under the Influence: Putting Peer Pressure to Work by Robert H. Frank
Unfabling the East: The Enlightenment's Encounter with Asia by Jurgen Osterhammel
Weimar Germany: Promise and Tragedy by Eric D. Weitz
What Makes an Apple?: Six Conversations About Writing, Love, Guilt, and Other Pleasures by Amos Oz
White Freedom: The Racial History of an Idea by Tyler Stovall
Why Nationalism by Yael Tamir
Why Trust Science? by Naomi Oreskes
Why We Are Restless: On the Modern Quest for Contentment by Benjamin Storey & Jenna Silber Storey
Will This Be on the Test?: What Your Professors Really Want You to Know About Succeeding in College by Dana T. Johnson & Jennifer E. Price
The World According to Physics by Jim Al-Khalili
A World Divided: The Global Struggle for Human Rights in the Age of Nation-States by Eric D. Weitz
Enjoy these free audio books from one of the best university presses in America!
November 27, 2021
UPDATE! As you might've heard, iTunes shut down their iTunes U section at the end of 2021. iTunes U was launched in 2007 to showcase free educational material from universities, colleges, and other institutions. Now the bad news is that you can no longer browse iTunes U and some of their courses and offerings are gone. But the good news is that many of their courses have now moved over to the iTunes Podcast Directory. At LearnOutLoud we've tried to feature the top audio & video learning content that iTunes U had to offer over the years which we'll highlight below.
After going through their courses which we featured, here are some of courses that still remain on the iTunes Podcast Directory and we still feature on our site:
Over 70 Courses & Lectures from Stanford University on iTunes & YouTube
12 Courses from La Trobe University
23 Free Courses from UC Davis on iTunes & YouTube
11 Courses from Arizona State University
16 Courses from East Tennessee State University
9 Courses from Utah Valley University
19 Courses from Missouri State University on iTunes & YouTube
12 Course from Seattle Pacific University
11 Courses from Harrisburg Area Community College
5 Courses from Parkland College
8 Courses from the New Jersey Institute of Technology
18 Courses from Covenant Theological Seminary
3 Courses from DePaul University
4 Courses from the Reformed Theological Seminary
4 University of Arizona Courses
And here are 30 other iTunes U courses we link to:
And here are some of the individual courses and offerings we've featured over the years:
In addition to their other offerings through Stanford on iTunes, Stanford University is offering this course for free through iTunes U on audio download. This Intro to Humanities course entitled "The Literature of Crisis" explores crisis when it occurs at the personal, familial, and societal levels through six major works of literature. Professor Martin Evans and Marsh McCall are both dynamic lecturers that lead listeners through these works. While it seems a lot can be derived from the lectures without reading the works, you may want to read (or listen to) some of the works yourself in conjuction with listening to the lectures. Here are the works they examine (with links to these titles on audio book): Apology by Plato, The Consolation of Philosophy by Boethius, Oedipus the King by Sophocles, Hamlet by Shakespeare, The Aeneid by Virgil, and Candide by Voltaire.
Professor J. Rufus Fears was an American historian, scholar, teacher, and author, who was best known for his many courses he taught through the Teaching Company that produces The Great Courses. Now you can get one of his "great" courses absolutely free from the University of Oklahoma through iTunes U. In a series of 18 dynamic audio & video lectures supplemented by downloadable documents, Professor J. Rufus Fears tells the story of how America's vision of freedom became a model for the entire world. As Fears argues in the first lecture, one of the main reasons America has endured is because the founding fathers used lessons from the past to make decisions in the present and plan for the future. This sense of what works historically and what we should avoid has given the great American leaders (from Jefferson to Lincoln to FDR) a sturdy precedent that can be used as a tool to forge ahead. With that established, Fears says the purpose of the course will be to reflect upon the lessons provided by major turning points in American history and how we can use this history to tackle the problems the world faces today. Enjoy this course from a truly great professor and historian. Now on YouTube.
Utah Valley University Professor Michael J. Shively leads a course that will explore the structure and function of the most remarkable machine on earth: the Human Body. In a series of video lectures, Shively goes over how human anatomy is broken down to the sub-atomic level, back up to the "gross" or observable elements we can study with the naked eye. As they progress through the course, Shively asks his students to continually build upon what they are learning, providing a cell by cell, bone by bone picture of how human beings function and how we differ from other living beings. Fun and easy to digest, Shively's dynamic videos easily draw both the student and the viewer in on a fascinating topic. This 38 lesson course is available on free video via iTunes U.
UCLA professor Robert Cargill teaches a class that considers how the the three major world religions focused on Jerusalem as a center of holy significance. Cargill begins the course by tracking why a regionally unexceptional city became so important in the first place. Starting chronologically with Genesis, he traces the history of Jewish settlement in the region, to the rise of Christianity and the latter development of Islam. Throughout each lecture, Cargill tethers every historical era to the physical geography of the city itself, showcasing how cultural and religious development was mirrored by the changing significance of specific landmarks. Viewed in this light, Cargill's course demonstrates how different cultures externalize and maintain their religious beliefs through physical objects and places. This course is available on video through iTunes U.
Colonial and Revolutionary America
The ways in which scholars and teachers approach American History has gone through a major shakeup in recent years, and in this free course presented by Stanford, students will be given a chance to assess the new ways we might investigate American origins. Historian and professor Jack Rakove identifies two strands of thinking when it comes to American history: the first, more conventional take examines American history through the prism of British colonial involvement and the transplantation of English institutions into North America. The second, more contemporary view sets the clock back to European "discovery", starting with Columbus and tracing the vast exchanges over what became known as the Atlantic Ocean. Setting up his survey in these terms, Rakove explains that writing a strong narrative of American history has always been tough to do, and the course will try to navigate the complex series of interactions that led to the development of the North American continent up the Revolutionary generation. This course is available on audio through iTunes U.
Who were the Romantics? In this free course conducted by Timothy Morton, listeners will learn about an innovative literary period between 1790 and 1820 that produced influential writers such as William Blake, Jane Austen, William Wordsworth, John Keats, and Mary Shelley. Centered primarily in England at the dawn of the Industrial Revolution, the Romantic poets began to grapple with a changing world that was dominated by capitalist ambition, a growing consumerism, and the explosive development of democratic political reforms. Morton also feels that with this change there came a new self-awareness that the romantics tapped into, where many became conscious of a newfound intellectual and expressive freedom. The course will not only cover the writers and their work, but also pay special attention to how their thinking helped influence modern self-understanding. It's being offered on audio on iTunes U.
How to Think Like a Psychologist
In this free mini-course provided by Stanford University, Upside of Stress author and psychologist Kelly McGonigal hosts a survey of current trends in psychology and how they might offer strategies for use in daily life. With each class, cutting edge psychologists offer a lecture on their specific areas of study, followed by lively interviews with McGonigal and questions from the class. Fascinating topics covered include how to use meditation to combat anxiety, finding practical techniques to manage our emotions, and what really makes human beings unique. A must for anyone interested in the role psychology plays in daily life, and for those that want to learn more about the newest, exciting innovations in the field. This course is available on video through iTunes U.
Enjoy what is left of iTunes U through the iTunes Podcast Directory!
May 1, 2021
We've just added over 500 new audio books from Spotify into our Free Audio & Video Directory. That brings our total number of Spotify audio books to over 1,000. We've created a Spotify playlist on our LearnOutLoud Spotify account that you can use to find these audio books. The playlist features the first track of each audio book. Check out this playlist on Spotify:
Best Audio Books on Spotify Playlist by LearnOutLoud
In addition to music and podcasts, Spotify has increasingly become a destination for audiobooks. In order to listen to these audiobooks you'll need a free Spotify account. You can listen for free with occasional ads, and they also have Spotify apps for easier listening on your computer or smart phone. If you want to listen ad-free and you love music as well, we can't recommend Spotify Premium highly enough.
One of the issues with Spotify and audio books is finding the best audio books they have to offer. We've scoured through Spotify to find the highest quality audio books you can learn from and below we'll list the publishers that have added many of their titles to Spotify. Browse through these publishers on our site and find some great audio books to listen to on Spotify today!
Spotify Podcasts & Audio Books – For titles that didn't fit under another publisher, we've added them to our Spotify publisher page. Here you'll find some classic literature audio books that Spotify has published with professional narrators, along with some podcasts that are exclusive to Spotify. There are also spoken word albums of speeches, poetry readings, comedy, and a lot more.
Dreamscape Media Audio Books – This publisher has hundreds of audio books on Spotify. We've picked out over 200 of their best educational audio books that you can listen to and added them to our site. Their titles cover a wide array of categories from self help to business to history and more.
Made for Success Audio Books – We feature over 250 audio programs from Made for Success which are available on Spotify and YouTube. They specialize in original audio programs to motivate you in your personal and professional life.
L.A. Theatre Works Audio Books – The best publisher of audio theatre has added over 80 of their plays to Spotify. You'll find classic plays such as Twelve Angry Men and much more.
Penton Overseas Language Learning Audio Books – This publisher has added over 50 of their "Learn in Your Car" language learning audio programs to Spotify. Learn French, Spanish, Italian, Chinese, German, English as a Second Language, and more.
Scholastic Audio Books – Scholastic Audio specializes in contemporary books for kids and offers about 50 of their audio books on Spotify including The Hunger Games.
Speechworks Audio Books – If you like great speeches, then Speechworks features over 25 collections of original recordings of amazing speeches on Spotify.
Vibrance Press Audio Books – This publisher offers over 50 of their unabridged audio books on Spotify, mostly in the areas of personal growth.
BN Publishing Audio Books – Check out over 50 classic self help audio programs from BN Publishing on Spotify. Mixed in are some great speeches, classic radio programs, and other historic recordings.
CSA Word Audio Books – If you want to listen to classic literature in abridged format, then CSA Word has over 50 audio books that typically run 2-3 hours in length. These abridged classics feature outstanding professional narrators.
Novel Audio Books – They offer over 30 contemporary audio books on Spotify, with many nonfiction titles.
Saland Publishing Audio Books – Love Shakespeare? Saland Publishing offers over 25 full cast Shakespeare plays on Spotify with many superb actors.
Krishnamurti Foundation of America Audio Books – Listen to 30 audio programs from the renowned spiritual teacher Jiddu Krishnamurti on Spotify.
Smithsonian Folkways Recordings Audio Books – Smithsonian Folkways publishes a lot of music, but they also have released some great spoken word collections. We feature 15 of them from Spotify.
Musically Speaking Audio Books – Take a journey through classical music with over twenty "Conductor's Guides" to some of the greatest music ever composed!
Osho Audio Books – Over 20 talks on Spotify from the famous spiritual guru Osho, also known as Bhagwan Shri Rajneesh (featured in the popular Netflix documentary Wild Wild Country).
NAXOS Audio Books – Listen to 27 hour-long introductions of famous operas and 11 4-hour-long composer biographies from NAXOS. They're all on Spotify and we've collected them here on a blog post.
Earworms Audio Books – Over 15 language learning programs featuring essential words and phrases in Spanish, French, German, Russian, Italian, Japanese, and more.
The Relaxation Company Audio Books – The Relaxation Company offers over 30 of their pioneering audio programs on Spotify to help your relax with meditations, guided relaxations, and audio sleep aids.
There are even more audio books than that on Spotify, but the 1,000 audio books from these publishers we think are the best!
August 27, 2020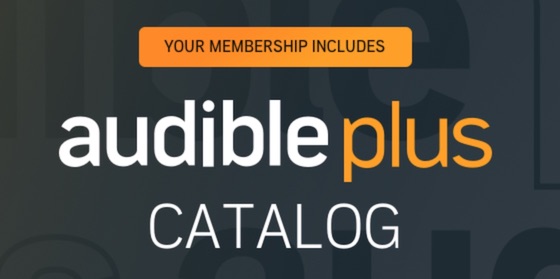 A subscription to Audible just got a whole lot more appealing! Audible has launched their brand-new all-you-can-listen-to service called Audible Plus! We've been hoping for something like this for a while, and now if you're an Audible member you get access to a library of over 11,000 audio books that you can download or stream at any time! Current Audible members are automatically upgraded to Audible Premium Plus where you'll get your one audio book credit a month and you'll also have access to their Plus Catalog of over 11,000 audio books that you can Play and Add to your library at any time.
Here's Audible's press release on Audible Plus:
All-You-Can-Listen Membership Option, Audible Plus, Rolls Out in Preview
And if you browse the audio book categories on the Audible.com site you can now filter by their "Plus Catalog", so you can see the titles you'll be automatically getting when you become an Audible Premium Plus Member:
We've browsed around for a few hours and noticed that most of the titles are ones published directly by Audible.com or they're published by the large independent audiobook publisher Blackstone Audio, which appears to have offered up a hefty portion of their audiobooks on Audible Plus. I'm sure the Audible Plus catalog will change and expand over time, but it's already very impressive!
Audible Plus is eventually going to be offered as a stand-alone subscription service for $7.95/month. But you won't get your monthly audio book credit if you're subscribed to only Audible Plus. And that monthly Audible credit can be applied to the hundreds of thousands of audiobooks available on Audible. If you want to dive into Audible Plus, sign up for a free Audible trial today:
Get an Audible Free Trial Now Featuring Audible Plus
Here are just a few of the most popular audio books currently available in the Audible Plus Catalog. You can listen to all these titles now for free with a subscription to Audible Premium Plus:
1984 by George Orwell
Man's Search for Meaning by Viktor E. Frankl
Animal Farm by George Orwell
The Complete Book of Five Rings by Miyamoto Musashi
The Hiding Place by Corrie ten Boom
The Confidence Gap by Russ Harris
The New Confessions of an Economic Hit Man by John Perkins
Surely You're Joking, Mr. Feynman! by Richard P. Feynman
What If?: Serious Scientific Answers to Absurd Hypothetical Questions by Randall Munroe
Peace Is Every Step by Thich Nhat Hanh
Mere Christianity by C.S. Lewis
The Anatomy of Peace, Expanded Second Edition by The Arbinger Institute
Amusing Ourselves to Death by Neil Postman
The Doors of Perception by Aldous Huxley
Goals!: How to Get Everything You Want Faster Than You Ever Thought Possible by Brian Tracy
The Bulletproof Diet by Dave Asprey
The Bonfire of the Vanities by Tom Wolfe
Origins: Fourteen Billion Years of Cosmic Evolution by Neil deGrasse Tyson
Smile at Fear: Awakening the True Heart of Bravery by Chogyam Trungpa
And over 11,000 more free titles to stream with Audible Plus! We're gonna be adding new titles to our Audible library for days! 🙂
July 8, 2020
When top authors go on tour to talk about their latest books, they'll often stop at a Google office location to deliver a summary of what they've written and to answer questions from Google employees. Google has been recording these talks for 15 years now on video and has been putting them on YouTube where they now have over 5,000 talks on their Talks at Google Channel. Also recently they launched the Talks at Google Podcast where you can listen to their newest talks.
Over the years we've listened to hundreds of these talks and have added about 500 of the Best Google Talks to LearnOutLoud for you to browse:
500 of the Best Google Talks on LearnOutLoud.com
It's been about five years since we've added any of their talks to our site, so we decided to browse through all of the talks they've been offering and pick out the Top 100 Google Talks from the Past Five Years. We've selected these based on what talks are most popular, highly rated, and also have the most highly rated and bestselling books associated with them. Below we've listed these 100 talks and we're linking to them directly on YouTube:
Alex Epstein on The Moral Case for Fossil Fuels
Alex Filippenko on Supernovae, Exoplanets, Black Holes
Alex Garland on Ex Machina
Andy Puddicombe on Headspace
Ashlee Vance on Elon Musk
Atul Gawande on Being Mortal
Barbara Corcoran on Shark Tales
Barbara Oakley on Learning How to Learn
Bea Johnson on Zero Waste Home
Bernie Roth on The Achievement Habit
Bill Nye on Undeniable
Brad Gilbert on Winning Ugly
Brian Christian & Tom Griffiths on Algorithms to Live By
Brian Greene on Until the End of Time
Carmine Gallo on Talk Like TED
Carol Dweck on Mindset
Caroline Webb on How to Have a Good Day
Cary Elwes on As You Wish
Cenk Uygur on the Revolution of News
Chris Guillebeau on The Happiness of Pursuit
Chris McDougall on Natural Born Heroes
Chuck Bryant & Josh Clark on Stuff You Should Know
Chuck Klosterman on But What If We're Wrong
Clayton Christensen on Where Growth Comes From
Dan Ariely on Dating & Relationships
Dan Carlin on The New Golden Age of Oral Historical Storytelling
Dan Lyons on Disrupted
Dan Savage & Esther Perel on Love, Marriage & Monogamy
Daniel Dennett on The Evolution of Minds
Daniel Ellsberg on The Doomsday Machine
Daniel Goleman & Richie Davidson on Altered Traits
Daniel H. Pink on The Scientific Secrets of Perfect Timing
Daniel Levitin on The Organized Mind
David Nihill on Do You Talk Funny?
David Wallace-Wells on The Uninhabitable Earth
Donald Johanson on What Makes Us Human?
Dr. Brant Cortright on The Neurogenesis Diet
Dr. Harry Barry on Flagging Anxiety & Panic
Dr. Helen Fisher on Anatomy of Love
Dr. Jordan Metzl on Running Strong
Dr. Michael Greger on How Not to Die
Emily Fletcher on Ziva Meditation
Felicia Day on You're Never Weird on the Internet
Francis Chan on How to Get to Heaven from Silicon Valley
Frank Abagnale on Catch Me If You Can
Garry Kasparov on Deep Thinking
George Friedman on The Emerging Crisis in Europe
George Miller on Mad Max: Fury Road
Gloria Steinem on My Life on the Road
Gretchen Rubin on Better than Before
Harville Hendrix & Helen LaKelly Hunt on Getting the Love You Want
Ijeoma Oluo on So You Want to Talk About Race
J.L. Collins on The Simple Path to Wealth
Jack and Suzy Welch on The Real-Life MBA
James Robinson on Why Nations Fail
Jimmy O. Yang on How to American
Joel Greenblatt on The Little Book that Beats the Market
John Cleese on So, Anyway
John Searle on Consciousness in Artificial Intelligence
Jon Ronson on So You've Been Publicly Shamed
Judith Orloff on The Empath's Survival Guide
Kristin Neff on The Science of Self-Compassion
Leanne Brown on How to Eat Well on $4 Per Day
Lisa Nichols on Abundance Now
Mark Roberge on The Sales Acceleration Formula
Mary Roach on Grunt
Matt Ridley on The Evolution of Everything
Matthew Vines on God and the Gay Christian
Matthew Walker on Why We Sleep
Max Tegmark on Our Mathematical Universe
Michael Moore on Where to Invade Next
Michael Pollan on How to Change Your Mind
Michio Kaku on The Future of Humanity
My Journey at the Nuclear Brink
N.T. Wright on Simply Good News
Nassim Nicholas Taleb on Skin in the Game
Neil Pasricha on The Happiness Equation
Nicholas Carr on Automation and Us
Nick Offerman on Good Clean Fun
Noam Chomsky at Google in 2017
Paul Mason on PostCapitalism
Pedro Domingos on The Master Algorithm
Penn & Teller on Broadway
Peter Adamson on Philosophy in the Islamic World
Peter Singer on The Most Good You Can Do
Randall Munroe on What If?
Ray Dalio on Principles: Life and Work
Richard Dawkins on Brief Candle in the Dark
Richard Rohr on Divine Dance
Richard Thaler on The Making of Behavioral Economics
Richard Wolff on Democracy at Work
Robert Greene on The Laws of Human Nature
Robert Reich on Preparing the Economy for AI
Robert Thurman on Buddhist Ethics
Ryan Holiday on Ego is the Enemy
Ryan Serhant on Sell It Like Serhant
Sadhguru on Developing an Inclusive Consciousness
Sean Carroll on The Big Picture
Sebastian Junger on Tribe
Shawn Stevenson on Sleep Smarter
Simon Sinek on The Games of Leadership
Sonia Shah on Pandemic
Steven J. Dubner on When to Rob a Bank
Steven Pinker on Enlightenment Now
Steven Pinker on The Sense of Style
Ted Koppel on Lights Out
Thomas L. Friedman on Thank You for Being Late
Tim Ferriss on How to Cage the Monkey Mind
Tim Keller on Making Sense of God
Tim Larkin on When Violence is The Answer
Vanessa Van Edwards on Captivate
William Thorndike on The Outsiders
Yanis Varoufakis on And the Weak Suffer What They Must?
Yuval Harari on Techno-Religions and Silicon Prophets
Yuval Noah Harari on 21 Lessons for the 21st Century