March 22, 2018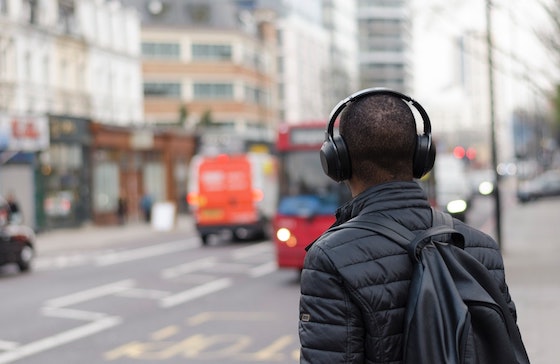 In the past few years podcasting has been going through a Renaissance evolving from its origins of talk shows and radio programs to a new era of original content through digital storytelling complete with seasons as binge-worthy as your hottest Netflix show. After seeing this trend, we decided to greatly expand our podcast directory adding 5000 New Podcasts in Our Podcast Directory in January of 2017. We've been continually checking for the best podcasts on iTunes and also discovering amazing ones that aren't making it to the top of iTunes charts. We've recently added 100s of more podcasts and today we're highlighting 100 new and notable podcasts that we've added. As always we're sticking to the best podcasts you can learn from. Enjoy these great new educational podcasts in our directory. We tried to divide them up by categories:
PERSONAL & PROFESSIONAL GROWTH PODCASTS:
Change Agent Podcast – Podcast by Charles Duhigg, author of the bestselling book The Power of Habit. In the podcast Dughigg sets out to help everyday people solve tough personal problems with the help of novel methods.
The Solopreneur Hour Podcast – Interviews with icons and successful game changers on how to become profitably unemployable.
The One You Feed Podcast – Conversations about creating a life worth living. Host Eric Zimmer interviews experts on a variety of self help topics.
Something You Should Know Podcast – Host Mike Carruthers interviews top experts in their field to bring you fascinating information and advice on a great many topics.
From The Heart: Conversations with Yoga Girl Podcast – Yoga Girl Rachel Brathen shares practical and spiritual wisdom along with her guests.
Popular Mechanics Most Useful Podcast Ever Podcast – Life hacks from the classic magazine of popular science and technology.
Masters of Scale Podcast – Reid Hoffman hosts this educational podcast on how the leaders of the world's biggest companies scaled up to the place they are today with interviews of Facebook's Mark Zuckerberg & Sheryl Sandberg, Netflix's Reed Hastings, and Google's Eric Schmidt.
The Goop Podcast – Gwyneth Paltrow's lifestyle brand gets a podcast mostly about health and wellness.
Cutting Edge Consciousness Podcast – Older podcast but features interviews with many leading spiritual teachers.
Dream Big Podcast – 7-years-old Eva Karpman and her mom Olga Karpman interviews extraordinary achievers like General Stanley McChrystal, inventor Ray Kurzweil, and human guinea pig A.J. Jacobs. Family-friendly inspiration!
Getting In: Your College Admissions Companion Podcast – A real-time podcast following a diverse group of New York-area high school seniors through the process of applying to college with plenty of expert advice along the way.
Losing 100 Pounds Podcast – Master Weight Loss Coach Corinne has lost 100 pounds and is now coaching you how to lose weight.
Daily Meditation Podcast – Meditation coach Mary Meckley answers your questions and guides you on the journey of establishing a daily meditation ritual.
The Ultimate Health Podcast – Interview with world-class experts in the health & wellness community. Over 200 episodes to choose from.
The Psych Central Show Podcast – Candid chat on many different aspects of mental health & psychology.
Pray the Word with David Platt Podcast – Short, daily meditations on prayer featuring teacher, author, and pastor David Platt.
Oprah's SuperSoul Conversations Podcast – Oprah Winfrey is now podcasting the conversations from her Super Soul Sunday TV show! Hear 30-60 minute long conversations with some of the most popular authors on spiritual and personal growth.
Where Should We Begin? Podcast – Relationship therapist Esther Perel takes you behind closed doors for the stories of 10 anonymous couples.
Under The Skin with Russell Brand Podcast – Comedian speaks with guests from the world of academia to help us to see the ulterior truth behind our constructed reality.
High Performance Habits Podcast – Late last year the bestselling author and leading personal development trainer Brendon Burchard put out a free abridged version of his new book High Performance Habits as a podcast!
The Goal Digger Podcast – Jenna Kutcher's podcast for creative girl bosses.
HISTORY & BIOGRAPHY PODCASTS:
American History Tellers Podcast – Multi-episode series on The Cold War, Prohibition, the Gold Rush, the Space Race, and more. Very entertaining history storytelling hosted by Lindsay Graham (not the Senator).
Slow Burn: A Watergate Podcast – In this 8-part investigative podcast hosted by Slate's Leon Neyfakh, you'll get a careful examination of the people that had a key political, legal, and cultural part to play in the Watergate scandal.
Unknown History Podcast – Short, fun history podcast covering little known stories in world history.
Ponzi Supernova Podcast – Original audio series from Audible.com covering Bernie Madoff's $65 billion dollar Ponzi scheme and including interviews with Bernie Madoff from prison.
Presidents Are People Too! Podcast – Short Audible original series covering Franklin Pierce, Gerald Ford, Chester A. Arthur, George Washington, William Howard Taft, and Rutherford B. Hayes.
Making Obama/Making Oprah Podcast – Season One told the story of how Oprah built a media empire and Season Two tells the story of Obama's climb from Chicago to the national stage.
Slate's The Moment Podcast – Host Brian Koppelman interviews creative people about the pivotal moments that fueled fascinating creative careers.
ESPN: 30 For 30 Podcast – Very well produced audio documentaries on sports from ESPN, creators of the amazing 30 for 30 documentary series. They also interview some of the documentary filmmakers from the series.
Tides of History Podcast – Patrick Wyman, PhD sets up the makings of the modern world from the fall or Rome to the Renaissance.
Business Wars Podcast – Netflix vs. HBO. Nike vs. Adidas. Business is war! More fabulous storytelling from the podcast network Wondery.
This is War Podcast – A raw look at the combat and homecoming experience from American veterans who have been deployed in Iraq and Afghanistan.
The Fall of Rome Podcast – PhD historian and specialist Patrick Wyman outlines the fall of the Roman Empire in over 20 episodes.
LBJ's War Podcast – From Public Radio International, a documentary in oral history form of Lyndon Johnson and the Vietnam War.
100:1 The Crack Legacy Podcast – Journalist Christopher Johnson traces the roots of today's violent policing and mass-incarceration back to the war on drugs.
APM: Reports Documentaries Podcast – Over 100 of the best produced audio documentaries available dating back over two decades. APM Reports (formerly American RadioWorks) has now put them all on one podcast feed!
NEWS, POLITICS, & CULTURE PODCASTS:
Today Explained Podcast – Led by host Sean Rameswaram, Today, Explained brings together Vox Media's team of explainers to break down the news into a 20 minute, daily podcast released every afternoon.
Slate's Working Podcast – Slate host Jacob Brogan goes out and interviews everyday Americans about their jobs.
Our National Conversation About Race Podcast – Lively multiracial conversation about the ways we talk about race.
WBEZ Resound Podcast – Short audio documentaries and stories from WBEZ in Chicago.
See Something Say Something Podcast – BuzzFeed's Ahmed Ali Akbar gathers folks together to drink tea, tell stories, and talk about being Muslim in America.
The Ben Shapiro Show Podcast – Daily podcasts from this leading conservative voice.
NPR: It's Been a Minute Podcast – Weekly wrap up show from NPR's Sam Sanders.
Slate Politics Spoken Edition Podcast – The latest Slate.com political articles read by humans.
Radio Atlantic Podcast – A weekly show from the 160-year-old magazine hosted by Jeffrey Goldberg (Editor-in-Chief, The Atlantic), Matt Thompson (Executive Editor, The Atlantic), and Alex Wagner (Co-host, CBS This Morning: Saturday; Contributing Editor, The Atlantic).
POLITICO's Pulse Check Podcast – Podcast on health care with interviews of the most interesting and influential people in health care.
The Atlantic Interview Podcast – Atlantic Editor in Chief Jeffrey Goldberg talks with the pivotal voices shaping politics, technology, art, media, business, and culture.
C-SPAN's The Weekly Podcast – C-SPAN's latest podcast features interviews that take you behind the scenes of what is happening in politics in Washington, D.C.
The Libertarian Podcast – Hoover Institution podcast featuring Richard Epstein on the latest news from a libertarian political perspective.
Slate's Double X Podcast – Slate podcast focused on the latest news involving feminism and women's issues.
The FRONTLINE Dispatch Podcast – FRONTLINE has launched their first audio-only podcast in The FRONTLINE Dispatch Podcast and it applies FRONTLINE's investigative reporting to the podcast medium with superb audio documentaries.
ARTS & ENTERTAINMENT AND LITERATURE PODCASTS:
The Writers Panel Podcast – Chat show with professional writers about the process and business of writing TV, film, comic books, music, novels, etc.
The Combat Jack Show Podcast – Interviews with hip hop icons and news from the world of hip hop music.
The New Yorker: The Writer's Voice Podcast – New Yorker fiction writers read their stories.
NEA Big Read Audio Guides Podcast – Audio guides featuring readings from great books with commentary from artists, educators, and public figures. Short guides to The Great Gatsby, The Age of Innocence, To Kill a Mockingbird, Fahrenheit 451, and many other works of great literature.
All of the Above with Norman Lear Podcast – Entertainment legend Norman Lear (now 95 years old!) interviews many famous entertainers.
LeVar Burton Reads Podcast – Listen to short fiction read by the amazing actor and voice talent Levar Burton.
KPCC: The Frame Podcast – Hosted by longtime LA film writer John Horn, who talks to the people at the center of the creative universe in the world of film, TV, art and music.
HarperAudio Presents Podcast – Conversations with authors of major book releases from the publisher Harper Collins.
The New Yorker: Poetry Podcast – Readings and conversation with The New Yorker's poetry editor, Kevin Young.
The Slash Filmcast Podcast – Discussion and debate over the latest movies from bloggers at the film site slashfilm.com.
AudioShelf Podcast – Finally a podcast for the audiobookworm! Podcasts about many audio books, mostly fiction.
Fictional Podcast – Modern adaptations of classic stories.
Homecoming Podcast – The first scripted audio series from Gimlet Media, starring Catherine Keener, Oscar Isaac, David Schwimmer, David Cross, Amy Sedaris, Michael Cera, and Spike Jonze. What a cast!
The Daily Show Podcast – The "Ears Edition" of Comedy Central's The Daily Show hosted by Trevor Noah.
Launch Podcast – Screenwriter John August sets out to write his first novel and takes you along the ride.
The New York Public Library Podcast – Amazing wealth of talks and events featuring today's best writers, artists, and thinkers. Over 200 episodes to choose from.
The Close-Up: Film Society of Lincoln Center Podcast – Film Society of Lincoln Center brings in major guests from the world of cinema including filmmakers, actors, critics, and more.
AND SOME OTHER PODCASTS:
The Vergecast Podcast – Popular tech and gadget news podcast.
The Sporkful Podcast – Eating show hosted by Dan Pashman of Cooking Channel's You're Eating It Wrong and the book Eat More Better.
Antiques Roadshow – PBS Podcast – Behind-the-scenes of the fun PBS show on the world of antiques and collectibles.
The H3 Podcast – Comedy podcast featuring mostly YouTube superstars and hosted by the H3 duo of Ethan & Hila Klein.
2 Dope Queens Podcast – Live comedy podcast from Brooklyn featuring Phoebe Robinson and Jessica Williams and many other comedians.
Hi-Phi Nation Podcast – Professor Barry Lam's storytelling podcast that raises philosophical questions and answers them with the help of contemporary academic philosophers.
The Jordan B. Peterson Podcast – Interviews & lectures from the now world famous psychologist and author of the current bestseller 12 Rules for Life: An Antidote to Chaos.
Houston We Have a Podcast – Official podcast of the NASA Johnson Space Center, the home of human spaceflight, stationed in Houston, Texas.
NPR: Live from the Poundstone Institute Podcast – Comedy and random knowledge from Paula Poundstone and her team of experts.
The Butterfly Effect Podcast – This free series from Audible.com is a multi-part audio documentary by bestselling author Jon Ronson who examines the wide-ranging effects of free pornography.
Sincerely, X Podcast – TED and Audible.com teamed up for this series of talks from speakers whose ideas deserve to be heard, but whose identities must remain hidden.
Stay Tuned with Preet Podcast – Join Preet Bharara, the former U.S. Attorney who fought corruption, financial fraud and violent crime, in a podcast about justice and fairness.
WSJ The Future of Everything Podcast – Wall Street Journal podcast that takes a look at the future of technology.
Duolingo Spanish Podcast – Learn some Spanish from the creators of the popular language-learning platform.
TRUE CRIME PODCASTS:
And for you true crime fans we have added some of the most popular true crime podcasts to our podcast directory:
Dirty John Podcast – Complex web of love, deception, forgiveness, denial, and survival from the L.A. Times.
Up and Vanished Podcast – The unsolved disappearance of Georgia beauty queen and high school teacher, Tara Grinstead.
Cults Podcast – What goes on inside a cult? Let's find out. Covers the Manson Family, the Branch Davidians, Heaven's Gate, and many other cults.
Crimetown Podcast – Each season investigates the culture of crime in a different American city.
APM: In the Dark Podcast APM Reports Season 1 focused on the investigation of the abduction of Jacob Wetterling.
Atlanta Monster Podcast – Atlanta Monster aims to tell the true story of one of Atlanta's darkest secrets, almost 40 years later.
Casefile True Crime Podcast – A new true crime case in ever episode.
Serial Killers Podcast – A psychological glimpse into the mind, methods and madness of the most notorious serial killers.
Unsolved Murders: True Crime Stories Podcast – Podcast drama with a modern twist on old time radio that delves into the mystery of true cold cases and unsolved murders.
The Vanished Podcast – Stories of those who have gone missing.
And for some lighter fare:
A Very Fatal Murder Podcast – The Onion puts together a pretty funny podcast satirizing the true crime podcasts that have become all the rage.
June 7, 2017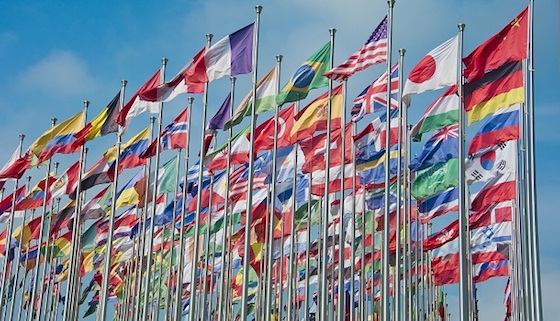 In recent years U.S. foreign policy and global affairs have become increasingly interesting to say the least. With ongoing crises happening in the Syrian Civil War and their refugee crisis, the war on ISIS and the fight against terrorism, the Russian-Ukrainian conflict and Russia's meddling in the elections of other countries, heightened tensions on the Korean peninsula, the ongoing war in Afghanistan, the rise of populist nationalism in many Western countries, the threat of the break up of NATO and the European Union, hacking and cybersecurity, confronting global warming, international trade deals, and the list goes on and on.
One of the best ways to attempt to keep up with all the global news and to hear a diverse range of opinions on these issues facing the United States and the rest of the world, is by listening to the latest coverage from many excellent foreign policy and global affairs podcasts. Most major foreign policy think tanks and publications now have regular podcasts discussing the latest news and events, and public radio from the U.S. and the U.K. provide a number of excellent foreign affairs programs. We've assembled this list of 15 of the best foreign policy podcasts that cover global affairs. These podcasts feature interviews, news, analysis, and debate from foreign policy experts about what is happening now and what is coming next on the global stage.
1. The Global Politico Podcast
The Global Politico Podcast is one of the best new foreign policy podcasts, featuring in-depth interviews conducted by POLITICO's Susan Glasser. Glasser has access to highly influential leaders and thinkers on the global stage including former Secretary of State Condoleezza Rice, NBC's Andrea Mitchell, Iraq war architect Paul Wolfowitz, former Secretary of State Jim Baker, Clinton campaign chairman John Podesta, Trump senior national security official Michael Anton, and many other key figures in American foreign policy. Glasser is not afraid to ask her guests challenging questions about their views and she keeps the interviews consistently compelling as she seeks to apply her guest's knowledge to current events in the world.
2. Center for Strategic & International Studies Podcast
The Center for Strategic & International Studies (CSIS) Podcast provides serious discussion on geopolitical topics. Each week host Colm Quinn talks to a key foreign policy thinker about a major issue confronting the U.S. and the world. Topics range from cybersecurity to human rights to climate change to military defense, and Quinn seems very knowledgeable of all these issues as he navigates the latest news and developments each week.
Pod Save the World is the foreign affairs arm of the Crooked Media slate of progressive political news podcasts hosted by former Obama-administration insiders John Favreau, Tommy Vietor, and Jon Lovett. With this podcast, Vietor utilizes his first-hand National Security experience to discuss both past and current foreign policy matters. Washington insiders from a wide array of backgrounds are interviewed to discuss the fascinating inner workings, decisions, deals, and challenges that face policy makers in Washington.
4. The World Next Week Podcast
The World Next Week Podcast from the Council on Foreign Relations looks forward to the major upcoming events in global politics each week and how things might play out. CFR's Director of Studies James M. Lindsay and CFR.org Managing Editor Robert J. McMahon offer their ideas regarding current global affairs, drawing on their deep knowledge of the history of foreign relations of the United States. In each 30-minute episode they cover a number of key topics that the world will face each week, and they also look back at what has happened recently in terms of major global events.
NPR's Madeleine Brand hosts a monthly magazine-format podcast that dissects some of the biggest challenges shaping U.S. foreign policy. Set firmly in a post-Trump diplomatic world scene, Brand and a team of correspondents survey topics ranging from Middle East relations, emergent disease response, cyber threats, climate change developments, and more. Informative and well produced, the America Abroad Podcast puts you on the front lines with top-notch reporting that will keep you abreast of how the United States is maintaining its leadership role in a complex world.
6. WSJ Opinion: Foreign Edition Podcast
From the editorial board of the Wall Street Journal, Mary Kissel hosts a brief look at current world news. Episodes are short and to the point, averaging about 20 minutes, and packed with interviews designed to help shed light on the forces shaping the world, especially in relation to the United States foreign policy and security. Kissel's point of view is in keeping with the conservative WSJ reputation, and is a valuable addition to your regular balance of daily news.
7. Foreign Policy's The Editor's Roundtable Podcast
For a casual roundtable of conversation about current U.S. foreign policy tune into Foreign Policy's The Editor's Roundtable Podcast. Foreign Policy magazine has been around since 1970, and their bimonthly magazine and website ForeignPolicy.com have become a popular platform for leading foreign policy contributors and politicians to express their views on global affairs. Based in Washington, D.C., this podcast features Foreign Policy magazine editors who consider themselves self-professed "foreign policy nerds". They express their views on the latest news and topics, often with experts calling in from around the world to weigh in on contemporary issues. They aren't afraid to throw in some humor to the mix as they openly discuss what U.S. foreign policy is today.
Global Dispatches is a podcast dedicated to in-depth conversations with academics, and expert personalities involved in current foreign affairs. With each episode, host Mark Leon Goldberg interviews figures on topics ranging from global nuclear security, climate change, US-China relations, the state of worldwide humanitarian relief, and more. Brief and to the point, Goldberg chooses his guests well, offering expert analysis to help better inform listeners on how big global challenges are being addressed (or not) on a diplomatic level.
PRI's The World Podcast is a daily world news magazine that is a coproduction of Public Radio International, the BBC World Service, and WGBH in Boston. Hosted by Marco Werman, each show covers world news and interesting stories from around the world in public radio's signature style. Each show runs about 45 minutes and they are put out by PRI Monday through Friday with two weeks of episodes remaining up on the podcast. In addition to global political news, they also cover economics, language, and music from around the globe. You'll also hear stories of a more personal nature as their reporters interview individual throughout the world. Enjoy this popular public radio program that is broadcast on over 300 stations across North America.
10. From Our Own Correspondent – BBC Podcast
If you'd like to go beyond the headlines when hearing stories about what is happening around the world, listen to the BBC's From Our Own Correspondent Podcast. This BBC radio show has been broadcasting since 1955 and features BBC foreign correspondents from around the globe reporting on specific stories that relate to current events. Often these correspondents travel to places that aren't covered in the headlines of the day, and they provide news that might otherwise go uncovered. These 25-minute podcast episodes include good descriptions and the weekly episodes go back over several years on their podcast feed, so you can browse around for stories that interest you most.
11. When Diplomacy Fails Podcast
With the When Diplomacy Fails Podcast, host Zack Twamley takes you on a well-researched tour of the major figures, events, and political maneuvering involved in some of the great historical conflicts. Twamley doesn't spare any details in multi-part episodes that take a deep dive into the preceding factors, dramatic clashes, and lasting consequences of wars that are mostly centered in Europe. This podcast is notable for the breadth and depth of detail, and is recommended for listeners particularly interested in European history and in World War I specifically. Learn about the past to understand the present state of international relations.
12. New Books in World Affairs Podcast
The New books in World Affairs Podcast is part of the larger New Books Podcast Network, which is focused on high-quality author interviews covering a variety of challenging, up-to-date topics. With this world affairs podcast, a revolving group of NBN moderators sit down to speak with authors that also happen to be leading thinkers in the fields of sociology, history, politics, and general philosophy. Episodes tend to be an hour-long, which provides ample time for authors to draw out the big ideas of a given book. This is a great podcast for serious readers interested in discovering new books in geopolitics, religious studies, intellectual history, and political theory.
13. Financial Times World Weekly Podcast
The Financial Times World Weekly Podcast is a brief, but informative foreign affairs podcast out of London. The show features weekly 20-minute discussions about specific events from the past week that will play a major role on the global stage. Coming out of the United Kingdom, this podcast delivers a nice outsider's view of U.S. foreign policy while also relating global events as to how they will impact England. Major topics within the UK such as "Brexit" are also given more coverage.
14. Fareed Zakaria GPS Audio Podcast
Fareed Zakaria GPS, or Global Public Square, Podcast offers editorial commentary by Zakaria on world events on CNN. Zakaria brings in guests and journalists as they debate the current news with an emphasis on international issues and foreign affairs. Zakaria considers himself a "centrist" politically and his interviews and roundtables on the show provide a variety of opinions on global affairs from the mainstream cable news outlet of CNN.
Based in Chicago, WBEZ's Worldview Podcast offers up-to-the-moment analysis of the current global news. Jerome McDonnell interviews a range of expert guests to examine U.S. foreign policy, and help us understand everything from Middle East hotspots to emerging Asian markets. This podcast is a digestible roundup of the key players, cultural pressure points, and historical trends that are shaping the world. The podcast also features commentaries on human rights and foreign film reviews.
January 31, 2017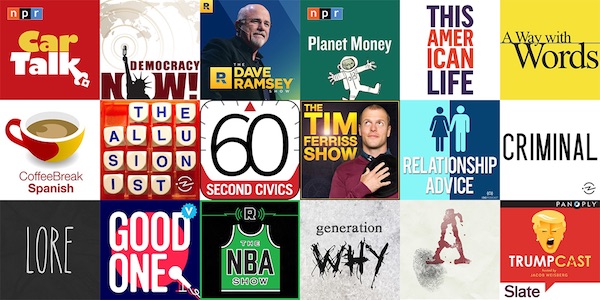 It's been months in the making, but we've just added over 5,000 new podcasts to our LearnOutLoud.com Podcast Directory, bringing our total number of educational podcasts in our directory to over 7,000. We combed through over 500,000 podcasts in the iTunes podcast directory to find the best of the best in terms of ratings, reviews, and educational subject matter. We also removed old podcasts from our directory that are no longer available. Browse them all by clicking below:
Browse Over 7,000 Podcasts on LearnOutLoud.com
We've gone through every subcategory and picked out 5 or 10 podcasts to feature for that subcategory. Browse this full list of featured podcasts below:
Arts & Entertainment Podcasts (Over 600 Titles)
Comedy Podcasts:
WTF with Marc Maron Podcast
The Joe Rogan Experience Podcast
Improv4Humans with Matt Besser Podcast
Comedy Central Stand-Up Video Podcast
Comedy Bang Bang Radio Podcast
Film, Music, Radio, TV, & Pop Culture Podcasts:
Voice Film Club Podcast
Maltin on Movies Podcast
Jazz Stories at Lincoln Center Podcast
Desert Island Discs Podcast
Bret Easton Ellis Podcast
You Must Remember This Podcast
Orson Welles: On The Air Podcast
NPR: Pop Culture Happy Hour Podcast
NPR: All Songs Considered Podcast
KCRW's The Treatment Podcast
Painting, Architecture, & Sculpture Podcasts:
EntreArchitect Podcast
Diversity of Urban Art Podcast
BBC Radio 3: Arts and Ideas Podcast
KCRW's Art Talk Podcast
MoMA Think Modern Lectures Podcast
Theater, Opera, & Classical Music Podcasts:
San Diego Opera Video Podcast
Met Opera Guild Podcast
Classical Music in America Podcast
Broadway Radio Podcast
American Theatre's Offscript Podcast
Biography Podcasts (Over 100 Titles)
Artists Podcasts:
Talking Smooth Jazz Podcast
Beethoven Rocks Podcast
Artist Decoded by Yoshino Podcast
Anais Nin Podcast
5 Minute Biographies Podcast
Everyday People Podcasts:
Tangentially Speaking Podcast
Ordinary People Doing Extraordinary Things Podcast
Journals: Out Loud Podcast
Grownups Read Things They Wrote as Kids Podcast
Everyday Superhumans Podcast
Military Figures Podcasts:
Veteran Resource Podcast
Sidearm Podcast
Napoleon: The Man and the Myths Podcast
Command Your Business: Military Veterans Entrepreneurs Podcast
1, 2, Many Podcast
Political Figures Podcasts:
Talking Lincoln Podcast
Russian Rulers History Podcast
Life of Caesar Podcast
La Trobe Biography Podcast
Giants of History Podcast
Business Podcasts (Over 1200 Titles)
Business Leaders Podcasts:
Your Mark on the World Podcast
Renegade Millionaire Show Podcast
Power Players Podcast
Masters in Business Podcast
CEO Spotlight Podcast
Economics Podcasts:
Who Makes Cents?: A History of Capitalism Podcast
Talking Economics Podcast
Talk Poverty Radio Podcast
IMF Podcast
Economics Detective Radio Podcast
Entrepreneurship Podcasts:
Womenpreneur Podcast
The Top Entrepreneurs Podcast
The Entrepreneur Unleashed Podcast
Superhuman Entrepreneur Podcast
Startup School Radio Podcast
Planning Your Leap into Business Podcast
Inc. Radio Podcast
Foundr Magazine Podcast
Entrepreneur 2.0 Podcast
Advancing Entrepreneur Podcast
Investing & Finance Podcasts:
WSJ MoneyBeat Podcast
We Study Billionaires: The Investors Podcast
Trading Stocks Made Easy Podcast
Optimal Finance Daily Podcast
Motley Fool Answers Podcast
Money For the Rest of Us Podcast
Investools Radio Podcast
Invested: The Rule #1 Podcast
Financial Independence Podcast
Enjoying Life on a Budget Podcast
Leadership & Management Podcasts:
Transformational Leadership Podcast
Project Management Podcast
Leading Conversations Podcast
Leaders Inspire Leaders Podcast
Engaging Leader Podcast
Public Speaking Podcasts:
The Toastmasters Podcast
Stand Out Get Noticed Podcast
Speaking with T.J. Walker Podcast
How to Make Powerful Speeches Podcast
Dynamic Communicators Podcast
Real Estate Podcasts:
Sell More Houses Podcast
Rental Income Podcast
REIology: Real Estate Investing Simplified Podcast
Real Estate License Roadmap Podcast
Real Estate Investing Mastery Podcast
Real Estate Agent Podcast
Passive Real Estate Investing Podcast
Landlord University Podcast
Just Start Real Estate Podcast
FlipNerd: Real Estate Investing Podcast
Sales & Marketing Podcasts:
The Truth About Marketing Podcast
Social Media Marketing Podcast
Smarter Marketer Radio Podcast
Small Business Marketing Minute Podcast
Selling More by Talking Less Podcast
Revenue Love: Sales Domination Podcast
Marketing Nerds by Search Engine Journal Podcast
Guerrilla Marketing Radio Podcast
Customers for Life Podcast
AdVerve Podcast
Strategy Podcasts:
Up In Your Business Podcast
Rules of Success Podcast
My Business On Purpose Podcast
Everyday MBA Podcast
Build Your Tribe Podcast
Wealth Podcasts:
WSJ Watching Your Wealth Podcast
Pathways to Wealth Podcast
Jason Hartman's The Speed of Money Podcast
Conscious Millionaire Podcast
Art of Mindful Wealth Podcast
Education & Professional Podcasts (Over 600 Titles)
Careers Podcasts:
Secrets of the Hire Podcast
Purpose Rockstar: Daily Career Stories Podcast
Passion For Work Podcast
Our Authentic Careers Podcast
Navigating The Career Jungle Podcast
Monster Hiring Podcast
Love Your Work Podcast
Find Your Dream Job Podcast
Discover Your Talent, Do What You Love Podcast
Career Tools Podcast
Exam Preparation Podcasts:
Nick's Knack for Neologisms Vocabulary GRE/SAT Podcast
GED Test Audio Lessons Podcast
CPA Exam Review Podcast
Bar Exam Mind Podcast
ESLPod.com's Guide to the TOEFL Test Podcast
Journalism Podcasts:
Newseum Podcast
New Books in Journalism Podcast
Inside The Times Podcast
CNN Reliable Sources Podcast
On The Media Podcast
Law Podcasts:
Radiolab Presents: More Perfect Podcast
Revealing Criminology Podcast
Legally Sound Podcast
Cruel and Unusual: Punishment Podcast
ABA Journal: Legal Talk Network Podcast
Medical Podcasts:
Yale Cancer Center Answers Podcast
Surgery 101 Podcast
Only Human Podcast
JAMA Author Interviews Podcast
EM Basic Podcast
Teaching Podcasts:
Transforming Public Education Podcast
The Teaching Experience Podcast
The Teach Thought Podcast
Educators Lead Podcast
Ask a Teacher Podcast
Writing Podcasts:
Writing Challenges Podcast
This Writing Life Podcast
Self-Publishing Answers Podcast
Scriptnotes Podcast
American Copywriter Podcast
History Podcasts (Over 200 Titles)
American History Podcasts:
United States History, Post-1945 Podcast
Letter from America Podcast by Alistair Cooke
Lectures in History Podcast
Civil War Talk Radio Podcast
Ben Franklin's World Podcast
Ancient & Medieval History Podcasts:
When in Rome Podcast
Trojan War Podcast
Myths and History of Greece and Rome Podcast
History of the Crusades Podcast
Emperors of Rome Podcast
European History Podcasts:
Queens of England Podcast
New Books in European Studies Podcast
Napoleon: The Man and the Myths Podcast
History of the Great War Podcast
History Ireland Show Podcast
Military History Podcasts:
Wartime: A History Series Podcast
Voices of the First World War Podcast
Korean War Podcast
Hoover Institution: Strategika Podcast
American Military History Podcast
World History Podcasts:
Witness: Black History Collection Podcast
Lectures in Intellectual History Podcast
In Our Time: History Podcast
Gallipoli and the Great War Podcast
5 Minute History Podcast
Languages Podcasts (Over 350 Titles)
Chinese Podcasts:
Popup Chinese Podcast
Learn Mandarin Now Podcast
Learn Chinese Insights Podcast
I Love Learning Chinese Podcast
Cantonese Pod Podcast
English as a Second Language Podcasts:
Zapp English Vocabulary and Pronunciation Podcast
Espresso English Podcast
Effortless English Podcast
ESLPod.com's Guide to the TOEFL Test Podcast
English as a Second Language Podcast
French Podcasts:
Talk in French Podcast
Real Deal French Podcast
Learn French with Daily Lessons Podcast
French Etc Beginner's Podcast
Cultivate Your French Podcast
German Podcasts:
Yabla German Video Podcast
Learn German by Podcast
German Language Vocabulary Podcast
Fast German Podcast
GermanLingQ Podcast
Italian Podcasts:
Yabla Italian Video Podcast
News in Slow Italian Podcast
Learn Italian with Coffee Break Italian Podcast
30 Minute Italian Podcast
One Minute Italian Podcast
Japanese Podcasts:
News in Slow Japanese Podcast
Japanese Language Proficiency Test Boot Camp Podcast
Easy Japanese Podcast
Survival Phrases – Japanese Podcast
JapanesePod101.com Podcast
Other Languages Podcasts:
SwedishPod101.com Podcast
Survival Phrases – Brazilian Portuguese Podcast
Learn Thai Podcast
Learn Russian from RusPod.com Podcast
ArabicPod Learn Arabic Podcast
Spanish Podcasts:
Spanish Quickies Podcast
Real Deal Spanish Podcast
Learning Spanish Like Crazy Podcast
Beginners Lightspeed Spanish Podcast
Learn Spanish – Survival Guide Podcast
Vocabulary Building Podcasts:
Talk the Talk Podcast
Slate Presents Lexicon Valley Podcast
Nick's Knack for Neologisms Vocabulary GRE/SAT Podcast
GRE Vocabulary Podcast
Dictionary.com Word Explorer Podcast
Literature Podcasts (Over 300 Titles)
American Classics Podcasts:
The Wizard of Oz Podcast
Tales of War and Other Horrors Podcast
Moby Dick Podcast
The Adventures of Tom Sawyer Podcast
The Essays of Ralph Waldo Emerson Podcast
Ancient & Medieval Classics Podcasts:
Myths and Legends Podcast
Celtic Myth Podshow Podcast
Classical Mythology Podcast
Contemporary Literature Podcasts:
What Should I Read Next Podcast
Overdue Podcast
Monocle 24: Meet the Writers Podcast
Literary Disco Podcast
AudioFile Podcast
European Classics Podcasts:
The Tolkien Road Podcast
Frank Delaney's Re: Joyce Podcast
Folger Shakespeare Library: Shakespeare Unlimited Podcast
Flatland: A Romance of Many Dimensions Podcast
A Tale of Two Cities Podcast
Literary History & Criticism Podcasts:
Shakespeare and Contemporary Theory Podcast
Science Fiction and Politics Podcast
New Books in Literary Studies Podcast
Bookfight! Podcast
New York Times Book Review Podcast
Poetry Podcasts:
Slate's Poetry Podcast
Poetry Now Podcast
Poem Talk Podcast
Essential American Poets Podcast
Intro to Poetry Podcast
Short Stories Podcasts:
Tales of Horror Podcast
StoryWeb: Storytime for Grownups Podcast
Morning Short: Your Daily Dose of Fiction Podcast
Literary Roadhouse: One Short Story, Once a Week Podcast
1001 Heroes, Legends, Histories & Mysteries Podcast
Philosophy Podcasts (Over 100 Titles)
Ancient & Medieval Philosophy Podcasts:
Philosophy by the Book Podcast
Philosophy Audiobooks Podcast
Philosophize This Podcast
Philosophy: The Classics Podcast
Plato – The Republic Podcast
Ethics Podcasts:
Revealing Applied Ethics Podcast
Everyday Ethics Podcast
Ethics Talk: Philosophy, Flourishing and The Good Life Podcast
Examining Ethics Podcast
Religion & Ethics NewsWeekly – PBS Podcast
History of Philosophy Podcasts:
New Books in Intellectual History Podcast
Lectures in Intellectual History Podcast
In Our Time: Philosophy Podcast
History of Philosophy in India Podcast
The History of Philosophy Without Any Gaps Podcast
Modern Philosophy Podcasts:
Why: Philosophical Discussions About Everyday Life Podcast
Proceedings of the Aristotelian Society Podcast
New Books in Philosophy Podcast
Modern Day Philosophers Podcast
Elucidations: A University of Chicago Podcast
Philosophers Podcasts:
Philosophy for Theologians Podcast
Philosophy by the Book Podcast
Lives and Opinions of Eminent Philosophers Podcast
Jeremy Bentham Seminar Podcast
The Philosophy Podcast
Political Philosophy Podcasts:
Reading Marx's Capital Podcast
On Liberty Podcast
Jeremy Bentham Seminar Podcast
Reith Lectures Archive: 1948-1975 Podcast
Plato – The Republic Podcast
Politics Podcasts (Over 350 Titles)
Conservative Politics Podcasts:
Weekly Standard Podcast
We Are Libertarians Podcast
Uncommon Knowledge Podcast
Harvard Lunch Club Political Podcast
GLoP Culture with Goldberg, Long, and Podhoretz Podcast
Contemporary Issues Podcasts:
Vox's The Weeds Podcast
US Immigration Podcast
ProPublica Podcast
NPR: Politics Podcast
My History Can Beat Up Your Politics Podcast
Intersections: A Brookings Institution Podcast
Ending Human Trafficking Podcast
Commonwealth Club: Climate One Podcast
BBC Newshour Podcast
NewsHour with Jim Lehrer – PBS Podcast
European Politics Podcasts:
Today in Parliament Podcast
This Week in Germany Podcast
Inside Europe Podcast
Global Politics Podcasts:
WSJ Opinion: Foreign Edition Podcast
WBEZ's Worldview Podcast
Global Dispatches Podcast
Foreign Policy's The Editor's Roundtable Podcast
Foreign Affairs Unedited Podcast
Liberal Politics Podcasts:
The Young Turks Interviews Audio Podcast
Start Making Sense Podcast
Slate's Trumpcast Podcast
HuffPost Politics: So That Happened Podcast
Citizen Radio Podcast
Political Figures Podcasts:
Slate's Trumpcast Podcast
Ronald Reagan on the Air Podcast
U.S. Presidents Podcast
Political Philosophy Podcasts:
The Yaron Brook Show Podcast
New Books in Political Science Podcast
History of Liberalism Podcast
U.S. Government Podcasts:
WSJ Opinion: Potomac Watch Podcast
Slate's Amicus with Dahlia Lithwick Podcast
Decode DC Podcast
Congressional Dish Podcast
60-Second Civics Podcast
April 13, 2015
Since we launched our LearnOutLoud.com Podcast Directory back in September of 2005, we've featured 100s of podcasts in our Free Resource of the Day Emails. We've seen great new podcasts rise to the top, and many more podcasts fade away into oblivion. We even had our moment in the sunshine with many of our very own LearnOutLoud.com Podcasts being featured and awarded in the iTunes Podcast Directory. After 10 years of podcasting history and to commemorate our LearnOutLoud.com 10th Anniversary, we've put together this list of the 50 best podcasts you can learn from. Over the years we've tried to seek out great podcasts that might not be the top ranked podcasts on iTunes, but nevertheless are amazing educational resources. Listen and subscribe to some of the best of the best podcasts from the first decade of podcasting! We've tried to rank them according to which podcasts are best!
1. Inspiring Words of Encouragement Podcast
There's not much motivational content on our site that can rival Zig Ziglar's Inspiring Words of Encouragement Podcast. Ziglar passed away in 2012 at the age of 86, and we must feature his podcast which includes 300 individual podcast episodes from the audio archives of Zig Ziglar! Listen to podcasts on Wisdom, Hope, Faith, Gratitude, Overcoming Fear, Discipline and Commitment, Success, Emotions and Attitudes, Values, Persistence, Happiness, Goals, Positive Thinking, Relationships, Forgiveness, Sales Advice, Parental Wisdom, Ethical Leadership, Love and Romance, and we could go on and on and on. Each of the podcasts has a description below it, so it should be easy to pick out ones in the areas you need motivation. Listen to one of the greatest motivators of all time with over 9 years of podcasts from Zig Ziglar! Note: It may take a moment to load because the podcast feed is quite massive.
2. Entrepreneurial Thought Leaders Podcast
Since 2005 a group at Stanford University has been podcasting talks from some of the most successful people in business and technology. The speaker generally gives an overview of their experiences as an entrepreneur along with advice for anyone looking to start a business. On this podcast you'll hear from such thought leaders as Sal Khan of the Khan Academy, author Guy Kawasaki, Facebook founder Mark Zuckerberg, and people from Google, Yahoo, and dozens of other companies you're probably familiar with. They have all their podcasts up on the feed going back ten years! Learn from these successful business & technology thought leaders.
3. Oprah.com's Spiritual Channel Podcast
In 2008 Oprah Winfrey launched a series of podcasts. Her first and most popular podcast featured Eckhart Tolle teaching a 10-part course on his book A New Earth. That podcast has since become Oprah.com's Spiritual Channel Podcast and she continues to update it with interviews she conducted on her Soul Series on Oprah Radio and other spiritual audio programs from Oprah.com. Now on the podcast you'll find hour-long Oprah interviews with spiritual teachers such as Wayne Dyer, Elizabeth Lesser, Jon Kabat-Zinn, Larry Dossey, Byron Katie, and many other teachers and bestselling authors in the field of spiritual growth. And of course the Eckhart Tolle 10-part course is still on the podcast. These podcasts are available on MPEG-4 audio & video and can be played through Quicktime or iTunes.
4. 1 Year Daily Audio Bible Podcast
Want to get through the entire Bible in a year? This podcast will take you through the entire Bible in 365 separate podcasts to be listened to over the next year. Each podcast is read by Nashville, TN based record producer Brian Hardin. Instead of going through the Bible chronologically, he selects four different passages for each podcast, which go through books of the Old and New Testament simultaneously, along with a Proverb and a Psalm. If you'd like to read the Bible more, but can't find the time of day, then try listening to the entire Bible in one year with the Bible In a Year Podcast.
5. Frontline Audiocast – PBS Podcast
The PBS Frontline series are some of the best documentaries available on public television, but it's often difficult to carve out time to sit down and watch them. Now Frontline has released a group of their documentaries as audio podcasts and they actually work really well as just audio. Since most of the Frontline documentaries feature talking heads interviews along with narration they don't really require the visual component. Also Frontline has done the service of inserting audio of the name of the person who is talking before each interview. Each podcast runs about an hour.
Zencast has been offering Zen Buddhism teachings on podcast for many, many years now and the great thing is they've kept almost all their podcasts up on their feed so each of them can still be downloaded. They're now up to over 400 podcasts! Zencast host Gil Fronsdal teaches many classes. Other frequent speakers on Zencast include Joseph Goldstein, Tara Brach, and Jack Kornfield. These podcasts are essential listening for anyone looking to learn more about Zen Buddhism. Caution: This feed is huge so it may take time to load.
7. Grammar Girl's Quick & Dirty Tips for Better Writing Podcast
Grammar Girl's Quick & Dirty Tips for Better Writing is a podcast devoted to helping listeners improve their writing skills. Taking a nuts and bolts approach, these short podcasts clarify common errors in English grammar in precise detail. If you've ever wondered whether or not you should use lie or lay in a sentence, or if that comma splice was used correctly, this podcast will give you the answers. Listen to the latest podcasts from Grammar Girl Mignon Fogarty. And her podcasts started an empire. Check out more Quick and Dirty Tips Podcasts.
One of the first podcasts we ever featured! The TEDTalks Podcast features key talks from the TED Conference covering the latest ideas in Technology, Entertainment, Design, Business, Science, and other areas. Many years later and they're still featuring new talks every week so you may want to subscribe to this one.
9. BMA: Black Media Archive Podcast
Listen to hundreds of podcasts from notable African and African-American speakers. The Black Media Archive Podcast has collected a wide range of multi-media including speeches, archival video, movies, music, and more. They feature speeches from Malcolm X, Dr. Martin Luther King, Jr., Fannie Lou Hamer, James Baldwin, Barbara Jordan, Ossie Davis, Langston Hughes, and dozens of other influential black leaders over the course of the past 100 years. (Note: They have quite a large podcast feed so it may take a moment for it to load on our site, but it's worth the wait.)
10. 12 Byzantine Rulers: The History of The Byzantine Empire Podcast
With the History of the Byzantine Empire Podcast, Lars Brownworth examines the 12 rulers that have come to represent a unique era in Roman history; a period marked by decline. With an excellent handle on the subject and concise delivery, Brownsworth devotes each episode to an Emperor; describing the man, how he came to power, how he ruled, and what his legacy was thereafter. When taken as a whole, each bite-sized character profile tells the overall story of the Roman Empire as it struggled to survive during the middle ages.
11. Plato – The Republic Podcast
The Republic by Plato is one of the most influential works of philosophy in history. In the form of Socratic dialogue, Plato's teacher and protagonist Socrates sets out to find an answer to the question: "What is justice?". Along the way Socrates discusses the ideal city-state and his theory of forms, which includes his famous allegory of the cave. This podcast contains all eleven books of The Republic unabridged. It is read by the professional British narrator Patrick Horgan and is available on MP3 download.
What podcast list would be complete without NPR's Fresh Air?! In 2007 NPR started offering their popular radio show Fresh Air for free as a podcast. Host Terry Gross has been interviewing persons in arts & entertainment and other fields for over 40 years now. Currently on the feed the podcasts go back about three months.
13. Sounds True: Insights at the Edge Podcast
Listen to the best podcast yet from the publisher Sounds True! In this podcast Tami Simon, founder of Sounds True, interviews spiritual teachers, visionary writers, and living luminaries about their newest work and current challenges of their inner inquiry and outer contribution to the world. Subscribe to this great podcast today!
14. English as a Second Language Podcast
This podcast is for anyone who wants to improve their English listening and speaking. Their podcast feed features their regular show which covers vocabulary in a variety of situations and also their English Cafe podcast which includes English discussion on various topics to help listening comprehension. Learning Guides, which include transcripts, can be downloaded on their site ESLpod.com. The ESL Podcast is hosted by Dr. Jeff McQuillan, former professor of applied linguistics and education. For anyone looking to learn English, this is one of the best free resources available on the web. They're now up to over 1000 podcasts!
15. Seminars About Long Term Thinking Podcast
From The Long Now Foundation comes this fascinating series of Seminars About Long Term Thinking. Podcasts on the feed include CEO Philip Rosedale talking about the game Second Life, Chris Anderson talking about The Long Tail, founder and president of Wikipedia Jimmy Wales speaking on vision, author Jared Diamond discussing his book Collapse: How Societies Choose to Fail or Succeed, writer Bruce Sterling speaking about The Singularity, musician Brian Eno chatting with Will Wright (creator of the video game "The Sims" and forthcoming "Spore"), and dozens of other interesting podcasts on topics like climate change, human life extension, etc. Have a listen to over a decade of podcasts!
16. Heart of Darkness Audiobook Podcast
Joseph Conrad's classic novella Heart of Darkness has recently been made available for free on audio download. LoudLit.org and LiteralSystems have produced this professional sounding audio book that is narrated by Tom Franks. Listen to the highly symbolic tale of Marlow's journey down the Congo River. This unabridged audio book is available on MP3 Download from and can also be subscribed to as a podcast.
17. History According to Bob Podcast
For many years now, Bob Packett has serviced the world with his podcast, History According to Bob! This retired history professor operating out of Kansas explores a large canvas – from the smallest historical artifacts to decade-spanning cultural upheaval with the sort of down-home, approachable style that is the earmark of a great teacher.
18. Garrison Keillor's The Writer's Almanac Podcast
The Writer's Almanac Podcast hosted by Garrison Keillor is a wonderful way to start your day. Though well known already for being the figurehead of NPR's "A Prairie Home Companion", Keillor has been offering this daily dose of poetry and history for many years as well. Each episode typically begins with a note on a person or event that has shaped a given day in history, followed by a poem rendered in Keillor's peerless style. Enjoy!
19. Inside Out Weight Loss Podcast
Listen to this podcast from Personal Life Media hosted by leading diet and weight-loss coach Renee Stephens. Renee features over 250 podcasts on her feed and she encourages listeners to start with the first podcast which covers her personal story of how she overcame compulsive overeating along with the methods of weight loss she'll be using in the podcast. Instead of focusing on a diet plan or what you should or shouldn't be eating or doing, Renee focuses on transforming the mind so that you can in turn transform your body. Using techniques such as Neuro-Linguistic Programming (NLP), Hypnotherapy, and Positive Psychology, Renee teaches listeners how to lose weight from the "inside out". She does multi-part podcasts on How to Eat, Exercise Motivation, Intent-ful Eating, Fixing a "Broken" Metabolism, and much more. Enjoy this epic podcast on weight loss!
20. Great Speeches in History Podcast
After all these years still our most popular LearnOutLoud.com podcast! Our Great Speeches in History Podcast showcases classic speeches from great orators throughout history. Featuring great speeches like the "I Have a Dream" speech, the Gettysburg Address, and many more famous speeches. Please download, listen, and subscribe to our popular podcast!
21. A Tale of Two Cities Podcast
Check out this free unabridged professional recording of A Tale of Two Cities, released by Literal Systems. Listen to this sweeping historical novel set in London and Paris around the time of the French Revolution. The audio quality is top notch and Jane Ayer's narration is superb. This classic 14-hour audio book is available on MP3 download as a podcast from Literal Systems.
22. The History of Rome Podcast
After five years of podcasting The History of Rome Podcast, host Mike Duncan has completed the entire history of the rise and fall of the Rome. In his 179th and final episode he talks about the journeys through Roman history that he has taken in the podcast. This podcast is one of the most popular podcasts on our site with a 4.6 star rating out of over 40 ratings and many glowing reviews. All 179 podcast episodes are up on the feed. Get hooked on the history of Rome! The History of Rome Podcast is a chronological attempt to trace the rise, decline and fall of the Roman Empire. Starting with Rome's founding by the mythical twins Romulus and Remus, this series hosted by Mike Duncan is an ongoing account of the people and events that shaped the western world. A must for any student of history and an invaluable resource for anyone that needs a ground level survey of the Roman Republic and the Roman Empire.
23. The EntreLeadership Podcast
Dave Ramsey is a bestselling financial author and radio host, and his team runs one of the most popular business podcasts on iTunes, The EntreLeadership Podcast. The podcast is hosted by Chris LoCurto, who conducts excellent interviews with today's top business authors and leaders. At the beginning of each episode you'll hear a lesson from Dave Ramsey himself. After the lesson LoCurto conducts an interview, and currently on the feed you can listen to interviews with leadership experts like John C. Maxwell, Robin Robins, Patrick Lencioni, Stephen M.R. Covey, Jim Collins, Tony Dungy, Tony Hseih, and, of course, Dave Ramsey. Get great business advice from over 90 podcasts dating back to 2011!
24. Meditation Peace: Free Guided Meditation Exercises Podcast
The Meditation Society of Australia provides this series of podcasts featuring several guided meditations. These well-directed meditations focus on a specific subject matter and are accompanied by music. The narrator also provides many meditative insights along the way. Enjoy these free meditations from the Meditation Society of Australia.
25. Vanity Fair's Writers Reading Podcast
Vanity Fair's Writers Reading Podcast features many of today's best authors reading from their latest books. They haven't updated the feed in a while, but currently on the podcast feed you'll hear award-winning prison journalist Wilbert Rideau read from his book In the Place of Justice, Norris Church Mailer reading from her memoir about her life with her husband Norman Mailer, Pulitzer Prize-winning author Garry Wills reading from his new book Bomb Power: The Modern Presidency and the National Security State, Jonathan Safran Foer on his first nonfiction work exploring factory farming entitled Eating Animals, and many other highly respected writers including Augusten Burroughs, Tracy Kidder, Taylor Branch, Gay Talese, Jay McInerney, and more.
26. Dan Carlin's Hardcore History Podcast
In his own irreverent style Dan Carlin attacks the historical record in the Hardcore History Podcast. Each month, Carlin selects a different topic or person in history, spanning from the ancient to the present depending upon his mood, and brings his humorous and sometimes provocative opinion to bear on it. The editorial tone Carlin takes is usually funny, and while some of what he argues is controversial, his command of the subject can never be questioned.
27. SermonIndex Classics Podcast
Listen to these podcasts from SermonIndex. These podcasts cover many aspects of Christianity and Christian Living, including sermons from Billy Graham, Corrie Ten Boom, Jim Cymbala, David Wilkerson, Zac Poonen, Keith Green, A.W. Tozer, Duncan Campbell, Ian Paisley, Leonard Ravenhill, and many other popular preachers from throughout the 20th century. For more free classic sermons check out the offerings we feature from Sermon Index.
28. NPR: Intelligence Squared U.S. Podcast
One of the best things to listen to on audio is a debate. The full rhetoric comes through in the speakers, making it very exciting to listen to. NPR has created a debate podcast where they confront controversial topics. They've been podcasting these debates since 2007 and they have one a month. The podcast feed goes back about six months. Have a listen to these fantastic debates.
29. The Masters of The Secret Podcast
This podcast features conversations with teachers that were featured in the movie The Secret. Bill Harris, director of the Centerpointe Research Institute, conducts the conversations which cover the spiritual and practical applications of the law of attraction by the teachers that are interviewed. The teachers included in this podcast are John Assaraf, Hale Dwoskin, Joe Vitale, Jack Canfield, Dr. Michael Beckwith, Lisa Nichols, and James Ray.
30. Healthy Living Radio Podcast
Browse over 400 podcasts covering just about every imaginable aspect of health! This podcast from the Cooper Aerobics Center and Cooper Institute in Dallas, Texas features over 400 healthy living podcasts going to back to 2005. Many of them feature Dr. Ken Cooper, also known as the "father of aerobics", who introduced the world to the concept of aerobics with his 1968 book Aerobics. Since that time he's authored dozens of books and created the Cooper Aerobics Center and Cooper Institute for health and wellness research. This podcast features numerous members of the Cooper Institute including Dr. Cooper, Dr. Tedd Mitchell, Dr. Abram Eisenstein, and Dr. Nina Radford talking about a wide variety of topics including cancer prevention, vitamins, exercise, weight loss, heart disease, depression, and many, many more health topics. They also interview a lot of experts on health. For example on Oct. 8, 2007 they interviewed Dr. John J. Ratey, author of Spark: The Revolutionary New Science of Exercise and the Brain. And on Feb. 27, 2006 they interviewed Dr. Daniel G. Amen on brain health. Dr. Amen authored the bestselling book Making a Good Brain Great. So much amazing healthy living information on one podcast that we are embarrassed we haven't featured yet!
31. Jung Podcast
This podcast is devoted to the understanding of the analytical psychology of the great Swiss psychiatrist Carl Jung. Jungian analyst John Betts (who graduated from the International School of Analytical Psychology in Zurich, Switzerland) introduces listeners to Carl Jung's theories of the structure of the psyche, the Anima & Animus, the Persona, Jungian dream interpretation, active imagination, individuation, and more! John Betts is incredibly lucid and articulate in describing these theories, providing real life examples and quoting Jung and other Jungians as he goes along. It's basically a course on Jung, and one would do best to start with Betts' first podcasts and work his or her way through them.
32. Take Control of Your Career and Your Life with Marcus Buckingham Podcast
Listen to or watch this podcasted class offered by Oprah.com, featuring bestselling author Marcus Buckingham. This eight-step course explores finding fulfillment in your career. Marcus Buckingham guides 29 students that are seeking personal success in their business and life. Throughout the course Marcus teaches you how to leverage your strengths and minimize your weaknesses. This podcast is available on audio & video download (for some reason the streaming doesn't seem to be working too well). Enjoy the course!
33. The History of Philosophy Without Any Gaps Podcast
Philosophy Professor Peter Adamson hosts a series of 20 minute philosophical history lessons that endeavor to provide listeners with a more rounded approach to the subject. While Adamson does offers his expert analysis on titans like Plato, Aristotle, Augustine and other well-known thinkers, he also focuses equal scrutiny on Islamic figures such as al-Ghazali, or the Jewish mystics that contributed to Kabbalistic thought. In sum, the series offers a thorough, ever-growing and ultimately even-handed overview of how the major philosophical (and corresponding religious) traditions developed throughout human history.
Listen to Christian author and speaker Joyce Meyer deliver talks from her TV & radio ministry. In many podcasts, she discusses busyness and how to confront time management from a Biblical perspective. Enjoy these podcasts which go back over four months!
35. iTunes: Meet the Author Podcast
A wide array of contemporary authors are joined by special moderators in the Meet the Author podcast series presented by Apple. Authors of the latest best-selling fiction and non-fiction books converge on the Apple Store in New York City for a lively discussion on their latest works, as well as a Q&A period from the in-store audience. Guests in the growing interview archive include Neil Gaiman, David Sedaris, Tim Ferriss, James Patterson, George R.R. Martin and more!
36. Music and the Brain Audio Podcast
Watch or listen to this great series from the Library of Congress on streaming video or audio podcast. Project chair Kay Redfield Jamison convenes scientists and scholars, composers, performers, theorists, physicians, psychologists, and other experts to talk about cognitive neuroscience and music. Here are some of the lectures in the series: "The World in Six Songs: How the Musical Brain Created Human Nature": In this short talk, author Daniel Levitin suggests that in human history music came before language, and that throughout history music has almost always been accompanied by movement. "Depression and Creativity Symposium": Kay Redfield Jamison, Dr. Terence Ketter, and Dr. Peter Whybrow take a look at depression and bipolar disorder and their possible connection to creativity. They specifically discuss artists like Vincent van Gogh, Robert Schumann, and Felix Mendelssohn. "The Mind of an Artist": Cognitive psychologist Michael Kubovy and composer Judith Shatin suggest that language and music are very closely related in the brain, and Kubovy shows findings on the brain's reaction to different types of music in comparison to the cognition of language. "Music, Criminal Behavior, and Crime Prevention": Norman Middleton of the Library of Congress Music Division starts the lecture with providing examples of how music has been used in regards to preventing crime and treating criminals. Then Dr. Jacqueline Helfgott talks about ways of discouraging criminal activity and anti-social behavior through the use of music in different environments. "Wellness and Growth: Acoustic Medicine and Music Therapy": Jayne Standley, director of the Music Therapy Program at Florida State University, introduces music therapy and the many ways it has been applied in the medical profession while showing video examples of successful music therapy. Enjoy these and many more lectures on "Music and the Brain" in this series of talks from the Library of Congress.
37. NPR Series: Books That Changed the World Podcast
This podcast is certain to get you interested in some of the books that have had the most impact in global history. Grove/Atlantic published a series of books by prominent writers focusing on the most significant works of literature that introduced groundbreaking ideas and altered the course of human history. This NPR series features 30-minute interviews that were conducted over time with the authors of all these books on NPR's Talk of the Nation program hosted by Neal Conan and featuring live callers from across the United States.
38. The Forum at Grace Cathedral Podcast
San Francisco's Grace Cathedral has long hosted a series of Forum discussions with special guests that are on the cutting edge of faith-based work. Grace's current Dean, Jane Shaw, hosts guests on a wide range of topics, with a current emphasis placed on how the arts have impacted our understanding of the nature of God. Recent talks have tackled the current state of interfaith relations, the history of religious architecture, the meaning of money, music's role in spiritual expression, and the question of where religion is headed as humanity dives into an increasingly pluralistic modern world. Always thought-provoking, Shaw and her guests take on each topic with a welcoming, inquisitive spirit that invites everyone into the discussion at hand. Guests currently on the feed include Michael Pollan, Sandra Day O'Connor, Dinesh D'Souza, T.C. Boyle, Matthew Fox, Elaine Pagels, Rob Bell, Jim Wallis, and many other distinguished guests.
39. HBO: Real Time with Bill Maher Podcast
One of the most popular podcasts in our podcast directory is HBO's Real Time with Bill Maher Podcast. Host and comedian Bill Maher features a panel of guests discussing current events in politics. There is a week-long delay on the audio podcast from when the show airs, and they currently feature the previous 7 episodes on the podcast feed, along with some extra material from each show that wasn't aired on HBO.
The Change Nation Podcast features interviews with leading experts and inspirational speakers about ways individuals can make positive changes in their personal and professional lives. Host Ariane De Bonvoisin talks with authors and speakers and other great teachers of change. Topics covered include getting organized, starting a business, finding a job, nurturing a relationship, getting fit, eating right, and much, much more. Ariane is an excellent host and many recent interviews are available as both audio & video podcasts. Definitely check out this podcast and you might also want to check out Ariane De Bonvoisin's site: www.first30days.com.
41. Catalyst Podcast
The Catalyst Podcast features an impressive collection of many podcast interviews with leadership authors and experts in the areas of business and church ministry. It stems from the Catalyst Conference which is a Christian leadership conference that features many of the speakers that are interviewed on the podcast. Become a better leader in every area of your life with the Catalyst Podcast.
Listen to the Gary Renard Podcast co-hosted by professional voice artist Gene Bogart as he talks with author Gary Renard about the ideas in his books such as The Disappearance of the Universe and Your Immortal Reality. Renard's books draw heavily from the ideas of A Course in Miracles and he provides insight into many teachings from A Course in Miracles in these podcasts. Renard has been podcasting for years now and there are now over fifty podcast episodes to listen to. Check them out!
43. UCSF Mini Medical School Audio Podcast
UCSF Mini Medical School Video Podcast
In this series from the University of California, San Francisco, faculty members and other nationally-recognized experts give the latest findings on a variety of health and medical related topics. Learn the latest in medical research from the University of California, San Francisco with these audio & video podcasts.
44. The Potter's Touch Audio Podcast
The Potter's Touch Video Podcast
With The Potter's Touch Podcast on audio & video, Bishop T.D. Jakes brings an empowering message to his audience on how God wants us to succeed in life. Using a forceful, energetic delivery that can't help but stir an audience, Jakes has become one of the leading voices in a modern evangelical movement that is focused on delivering a biblically-based call to take responsibility for one's life. With a no-nonsense style that doesn't take a minute for excuses, Jakes teaches that with God's help, we can overcome the inner and outer demons that are holding us back from becoming what we were always meant to be.
45. Philosophy: The Classics Podcast
In this podcast, British author Nigel Warburton reads from his book Philosophy: The Classics (now in its 3rd edition). The book examines and summarizes 27 classic works of philosophy. Currently on the podcast feed, Warburton reads chapters from his book summarizing classics such as Plato's The Republic, Aristotle's Nicomachean Ethics, Boethius' The Consolation of Philosophy, Machiavelli's The Prince, and Descartes' Meditations. His introductions to these works are clear and concise, and his narration is adequate for the material. Subscribe to this work of philosophical generosity.
46. Revealing World Religions Podcast
Revealing World Religions Podcast is offered by ThinkingStrings.com and features the narrated text of Revealing World Religions by Dr. Cynthia Eller of Montclair State University. This podcasted audio book features these 10 modules covering many of the World's Religions. All of these are currently available on the feed and work as introductions to these religious traditions.
47. Love Language Minute with Dr. Gary Chapman Podcast
Noted relationship counselor Gary Chapman hosts these short daily insights based on his bestselling book The Five Love Languages . Each episode is under a minute and touches on the various barriers people face in the way they communicate their feelings with one another. Framed within a spiritual perspective, these podcasts offer valuable tips on how to speak more freely and love more fully.
48. Serial Podcast
iTunes has announced their picks for the best podcasts of 2014 and their pick for the best new podcast is Serial Podcast. Here's a little bit about this compelling podcast that everyone is talking about. As one of the main creative forces behind NPR's radio program "This American Life", journalist Sarah Koenig has worked for decades bringing the the every day stories of real people to the level of an art form. Starting as a This American Life spinoff, Koenig and fellow producer Julie Snyder created the Serial Podcast as a means to tell one true life story over the course of several episodes. Each episode ends on something like a cliff-hanger and given the real-life nature of what is explored, the ending is unpredictable. In the inaugural season, listeners have been enthralled by the murder case of Adnan Syed who was accused and sent to prison for the death of his girlfriend Have Min Lee in 1999. With this true-crime story that dissects young love, murder and the criminal justice system, Koenig and Snyder parcel out new details with each episode in a winning formula that flows like a page-turner. The podcast is updated weekly and there's still enough time to binge-listen so you can get caught up before the mystery is resolved. Start listening today!
49. Ram Dass Here And Now Podcast
Listen to classic recordings of author and spiritual teacher Ram Dass (also known as Dr. Richard Alpert) on his "Ram Dass Here And Now Podcast". Each 30 minute podcast is introduced by Raghvindra Das (Raghu Markus) of the Love Serve Remember Foundation who has long been a follower of Ram Dass. After the intro we hear one of Ram Dass' unique talks about his discoveries as a psychologist at Harvard, his psychedelic research with Timothy Leary, and his travels to India where he met his guru, Neem Karoli Baba. The podcasts are delivered in the form of a narrative of Ram Dass' life, so start out with the first podcast (located at the bottom of the podcast feed) in which Ram Dass discusses his frustrations with being an "empire builder" during his professorship at Harvard, and the psychedelic trip which changed his state of consciousness.
Listen to one of the most highly rated and popular personal development podcasts in iTunes, as host Karel Vredenburg delivers the Life Habits Podcast. Karel has been podcasting since back in 2008, and he now has over 80 podcasts episodes you can choose from covering a vast amount of topics related to good and bad habits in all aspects of our lives. Drawing ideas from some of the best personal growth teachers, Karel delivers knowledge on life habits in a brief amount of time. Browse this podcast and find some topics that interest you.
May 20, 2014

We uploaded a number of podcasts from "Quick and Dirty Tips", which feature experts providing tips on a variety of topics to help you do things better. We now have 15 podcasts from "Quick and Dirty Tips" on our site. They started back in 2006 with their most popular podcast Grammar Girl's Quick & Dirty Tips for Better Writing Podcast featuring Mignon Fogarty, who is the the founder and managing director of Quick and Dirty Tips. Since then they've expanded into many other topics including money, health & fitness, time management, nutrition, parenting, public speaking, and more. Below are all 15 of their podcasts that we feature on LearnOutLoud.com. After each podcast we've listed how many episodes are on the podcast feed. Enjoy hundreds of Quick and Dirty Tips!
Check out all of the Quick and Dirty Tips podcasts right here:
All Quick and Dirty Tips Podcasts
Here are the ones that we've recently added:
The Digital Marketer's Quick and Dirty Tips for Growing Your Business with Digital Tools (98 Podcasts)
The Dog Trainer's Quick and Dirty Tips for Teaching and Caring for Your Pet Podcast (215 Podcasts)
Domestic CEO's Quick & Dirty Tips to Managing Your Home Podcast (80 Podcasts)
Everyday Einstein Podcast (71 Podcasts)
Get-Fit Guy's Quick and Dirty Tips to Slim Down and Shape Up Podcast (155 Podcasts)
Get-It-Done Guy's Quick and Dirty Tips to Work Less and Do More Podcast (283 Podcasts)
Grammar Girl's Quick & Dirty Tips for Better Writing Podcast (385 Podcasts)
The House Call Doctor's Quick and Dirty Tips for Taking Charge of Your Health Podcast (133 Podcasts)
The Math Dude Quick and Dirty Tips to Make Math Easier Podcast (169 Podcasts)
Mighty Mom's Quick and Dirty Tips for Practical Parenting Podcast (250 Podcasts)
Money Girl's Quick and Dirty Tips for a Richer Life Podcast (329 Podcasts)
Mr. Manners' Quick and Dirty Tips for a More Polite Life Podcast (266 Podcasts)
The Nutrition Diva's Quick and Dirty Tips for Eating Well and Feeling Fabulous Podcast (254 Podcasts)
The Public Speaker's Quick and Dirty Tips for Improving Your Communication Skills Podcast (222 Podcasts)
Tech Talker's Quick and Dirty Tips to Navigate the Digital World Podcast (95 Podcasts)
October 16, 2013

We have just added 300 new popular podcasts to the LearnOutLoud.com Podcast Directory! We searched all over the Web to find the best podcasts you can learn from that were not yet on our site. Since we started our handpicked podcast directory back in 2005, it has now grown into one of the top podcast directories on the Web. Browse all of the podcasts in our directory today:
www.learnoutloud.com/Podcast-Directory
We've added new podcasts from some of the top podcast providers. Here are some of the great podcast providers which we've added new podcasts for:
American Public Media Podcasts
15 New Sports Podcasts from ESPN
10 New Podcasts from HowStuffWorks.com
6 New Language Learning Podcasts from Innovative Language Learning
6 New Podcasts from KCRW Public Radio
15 New Podcasts from National Public Radio
10 New Podcasts from Public Radio International
7 New Quick and Dirty Tips Podcasts
13 New Language Learning Podcasts from the Radio Lingua Network
25 City Guide Podcasts from Tourcaster.com
Beyond adding podcasts from top providers, we've also added many great individual podcasts to our directory. Below we'll highlight some of the great new podcasts we've added. We'll start out by pointing out that we've added dozens of great comedy podcasts. For those of you who want to "laugh out loud" we've got some fun and popular podcasts for you. Go to our comedy podcasts section and you'll see some of the recently added podcasts you can laugh with:
50 New Popular Comedy Podcasts
Along with these great comedy podcasts, we've also added the following popular podcasts to our directory:
Andy Stanley Leadership Podcast
Daily Hope with Rick Warren Podcast
Inside Sports Illustrated Podcast
John Maxwell: A Minute with Maxwell Podcast
Life Habits Podcast with Karel Vredenburg
Marathon Training Academy Podcast
Norman Centuries: A Norman History Podcast (from the creator of the "12 Byzantine Rulers" podcast)
Bill O'Reilly News & Interviews Podcast
Orson Welles: On The Air Podcast
Seth Godin's Startup School Podcast
The Smart Passive Income Podcast
WNYC's Here's The Thing Podcast with Alec Baldwin
Enjoy these individual podcasts and browse many more in our podcast directory:
www.learnoutloud.com/Podcast-Directory
February 12, 2010

Check out over a 1000 interviews and talks with 100s of leading thinkers on these 10 great podcasts featuring thought leaders from across the spectrum of ideas. For the past five years we've featured hundreds of podcasts as part of our Free Resource of the Day Emails. From these resources we've selected the top 10 best podcasts that feature an abundant amount of interviews and talks with today's leading thinkers. Here are podcasts we've selected, along with some suggested audio books that we offer on download from authors featured in each podcast:
1. Commonwealth Club Radio Program Podcast
The Commonwealth Club of California has been bringing fascinating speakers to their forum since 1903. Their podcast feed currently features four years of speaking events! Recent speakers include Timothy Ferriss, Simon Winchester, Arianna Huffington, Robert Reich, Andre Agassi, Deepak Chopra, Taylor Branch, Arnold Schwarzenegger, Noam Chomsky, Chris Anderson, Michael Moore, Christopher Hitchens, Madeleine K. Albright, and literally hundreds of other speakers with podcasts going back to 2006!
This forum also features panel discussions on a variety of topics such as the Summer of Love, America's Budget Crisis, Religion in U.S. Culture and Society, Moving Forward in Iraq, Capitalism 3.0, The Politics Of Food, Health of Africa, and Digital Health. Scroll down the list of their podcasts and you're sure to find something that interests you.
Audio books by leading thinkers on this podcast:
Supercapitalism by Robert Reich
The 4-Hour Body by Tim Ferriss
The Portable Atheist: Essential Readings for the Nonbeliever Edited by & with Commentary by Christopher Hitchens
2. NPR Series: Books That Changed the World Podcast
This podcast is certain to get you interested in some of the books that have had the most impact in global history. Grove/Atlantic published a series of books by prominent writers focusing on the most significant works of literature that introduced groundbreaking ideas and altered the course of human history. This NPR series features 30-minute interviews that were conducted over time with the authors of all these books on NPR's Talk of the Nation program hosted by Neal Conan and featuring live callers from across the United States. In this series you'll hear:
Francis Wheen talks about Das Kapital and separates the ideas of Marx from the many applications of Marxism throughout history.
Karen Armstrong discusses how The Bible has been used historically in the traditions of Judaism and Christianity.
Christopher Hitchens speaks about Thomas Paine's views on the rights of man, religion, and the revolutions of his time.
Military historian Hew Strachan discusses Napoleonic military theorist Carl von Clausewitz's On War and how it influenced much of military strategy going into World War I & II.
Philosopher Simon Blackburn talks about Plato's The Republic including Plato's controversial arguments against art and democracy.
Darwin scholar Janet Browne talks about Darwin's theory of evolution and the significance of his book Origin of Species in science history.
Islamic studies professor Bruce Lawrence talks about The Koran and tries to explain its many interpretations throughout history.
Conservative author and satirist P.J. O'Rourke talks about Adam Smith's 900-page tome The Wealth of Nations and some of the brilliant ideas that Smith came up with about free markets while living in a largely agrarian society.
Listen to these podcasts on Books That Changed the World!
Audio books by leading thinkers on this podcast:
On the Wealth of Nations by P.J. O'Rourke
The Qur'an: A Biography by Bruce Lawrence
Darwin's Origin of Species: A Biography by Janet Browne
Plato's Republic by Simon Blackburn
Clausewitz's on War by Hew Strachan
Thomas Paine's Rights of Man by Christopher Hitchens
The Bible: A Biography by Karen Armstrong
Marx's Das Kapital by Francis Wheen
Homer's the Iliad and the Odyssey: A Biography by Alberto Manguel
3. We The People Stories Podcast
From the National Constitution Center in Philadelphia, Pennsylvania comes this podcast featuring politicians, historians, journalists, authors, and other notable figures discussing issues related to the U.S. Constitution and other contemporary issues facing America. Each podcast is typically an hour long and features an interview or a panel discussion on a specific topic. Their podcast feed goes all the way back to 2004 with over 150 podcasts available!
Political figures featured on the podcast include Tom DeLay, Newt Gingrich, Bill Bradley, Justice Stephen Breyer, John McCain, Pat Buchanan, George McGovern, Justice Antonin Scalia, and more. Authors, historians, & journalists featured include Cornel West, Doris Kearns Goodwin, David Brooks, Dinesh D'Souza, Tavis Smiley, Walter Isaacson, Dave Isay, Tom Brokaw, Ken Burns, Naomi Wolf, Jon Meacham, John C. Bogle, and others. There's also a number of panels discussing various constitutional issues throughout U.S. history. Enjoy this podcast, loaded with capitivating talks from the National Constitution Center.
Audio books by leading thinkers on this podcast:
The Battle for the Soul of Capitalism by John C. Bogle
No Ordinary Time: Franklin and Eleanor Roosevelt, The Home Front in World War II by Doris Kearns Goodwin
The New American Story by Bill Bradley
4. Seminars About Long Term Thinking Podcast
From The Long Now Foundation comes this fascinating series of Seminars About Long Term Thinking. These dozens of podcasts with leading thinkers go back all the way to 2003! Podcasts on the feed include CEO Philip Rosedale talking about the game Second Life, Chris Anderson talking about The Long Tail, founder and president of Wikipedia Jimmy Wales speaking on vision, author Jared Diamond discussing his book Collapse: How Societies Choose to Fail or Succeed, writer Bruce Sterling speaking about The Singularity, musician Brian Eno chatting with Will Wright (creator of the video game "The Sims" and forthcoming "Spore"), and dozens of other interesting podcasts on topics like climate change, human life extension, etc. Have a listen. Recent podcasts feature anthropologist Wade Davis, San Francisco mayor Gavin Newsom, Michael Pollan, Niall Ferguson, Francis Fukuyama, Sam Harris, and Chris Anderson.
Audio books by leading thinkers on this podcast:
The Botany of Desire by Michael Pollan
Letter to a Christian Nation by Sam Harris
Free: The Future of a Radical Price by Chris Anderson (FOR FREE OF COURSE!)
The TEDTalks Podcast features key talks from the TED Conference covering the latest ideas in Technology, Entertainment, Design, Business, Science, and other areas. Now on their podcast feed they feature podcasts going back six months and some of the leading thinkers they currently feature include William Ury, Jason Fried, Barry Schwartz, Bruce Feiler, David Brooks, and many more. They're featuring new talks every week so you may want to subscribe to this one.
Audio books by leading thinkers on this podcast:
Rework by Jason Fried
Getting to Yes by William Ury
The Social Animal by David Brooks
6. After Words – C-SPAN Podcast
Each week C-SPAN airs and podcasts their After Words program which features the authors of the latest nonfiction books being interviewed by journalists, public policy makers, and legislators. It's a podcast worth subscribing to as they almost always have an interesting guest who's recently finished their book pitted against an interviewer who often has opposing view points and isn't afraid to ask the tough questions.
In past podcasts they've featured Nobel Prize-winning economist Joseph Stiglitz on his book Freefall, Jane Goodall on her book Hope for Animals and Their World, Greg Mortenson on his book Stones into Schools, Steven Levitt & Stephen Dubner on their book SuperFreakonomics, Peter Schweizer on his book Architects of Ruin, Chris Hedges on his book Empire of Illusion, and a number of authors talking about their latest works. After Words proves to be another brain-stimulating podcast from C-SPAN.
Audio books by leading thinkers on this podcast:
Three Cups of Tea: One Man's Mission to Fight Terrorism and Build Nations One School at a Time by Greg Mortenson
Hope for Animals and Their World by Jane Goodall
War Is a Force That Gives Us Meaning by Chris Hedges
HumanMedia.org produces Public Radio Programs featuring voices of vision, conscience and compassion. Most of the programs are written and produced by David Freudberg and they feature hundreds of programs for sale on download and CD on their website at HumanMedia.org. Their podcast series provides captivating excerpts from their programs. Currently on the feed they feature shows with Archbishop Desmond Tutu, comedian Sid Caesar, mind-body researcher Herbert Benson, and many other interested guests. Enjoy these free podcasts from HumanMedia.org.
Audio books by leading thinkers on this podcast:
The Breakout Principle: Maximize Creativity, Athletic Performance, Productivity and Personal Well-Being by Herbert Benson & William Proctor
When God Smiles by Archbishop Desmond Tutu
And we also feature over a dozen titles from the Human Media archive available on audio download:
8. Barnes & Noble.com's Meet the Writers Podcast
Listen to this series of 15-minute interviews offered by Barnes & Noble. Host Steve Bertrand talks with authors of many of the most popular books available asking questions about their writing career and their latest books. Their list of podcasts extends back to 2006 with over 200 interviews! Some of the authors interviewed include James Bradley, John Hodgman, Sarah Vowell, Naomi Wolf, Arthur Agatston, M.D., Simon Winchester, Cokie Roberts, Arianna Huffington, Jimmy Carter, Martha Beck, Marilu Henner, Samantha Power, Dean Ornish, John Gray, Ph.D., Newt Gingrich, Tommy Lasorda, Madeleine Albright, David Sedaris, Anne Geddes, Yann Martel, Paula Deen, Anthony Bourdain, Judy Blume, Dave Barry, Garrison Keillor, Joyce Carol Oates, Tony Dungy, Michael Beschloss, Michael Ondaatje, Khaled Hosseini, Robert Kurson, Michael Chabon, Chuck Palahniuk, Elaine Pagels, Anne Lamott, Thomas Ricks, Tavis Smiley, Mireille Guiliano, Eric Schlosser, Chuck Klosterman, Joan Didion, Augusten Burroughs, Frank McCourt, Tim Russert, and David Maraniss. Plenty of podcasts to choose from!
Audio books by leading thinkers on this podcast:
The South Beach Diet Supercharged by Dr. Arthur Agatston & Dr. Joseph Signorile
Word by Word by Anne Lamott
The Gospel of Thomas by Elaine Pagels
9. BMA: Black Media Archive Podcast
Listen to hundreds of podcasts from notable African and African-American speakers. The Black Media Archive Podcast has collected a wide range of multi-media including speeches, archival video, movies, music, and more. They feature speeches from Malcolm X, Dr. Martin Luther King, Jr., Fannie Lou Hamer, James Baldwin, Barbara Jordan, Ossie Davis, Langston Hughes, and dozens of other influential black leaders over the course of the past 100 years. (Note: They have quite a large podcast feed so it may take a moment for it to load on our site, but it's worth the wait.)
Audio books by leading thinkers on this podcast:
The Fire Next Time by James Baldwin
A Call to Conscience: The Landmark Speeches of Dr. Martin Luther King, Jr.
Voices of Black America: Historical Recordings of Speeches, Poetry, Humor & Drama 1908-1947
NPR has been podcasting their popular radio show Fresh Air for free as a podcast for a number of years now and it continues to be one of the top podcasts in iTunes. Host Terry Gross has been interviewing persons in arts & entertainment and other fields for over 30 years now. Currently on the feed the podcasts go back two weeks and they generally feature 2-3 stories per episode with great interviews in each segment.
Enjoy this massive collection of audio downloads from leading thinkers!
We've been sending out our Free Resource of the Day Emails for many years now. If you've not subscribed yet, we highly encourage you to do so. Who knows what magnificent free audio & video learning resources we'll dig up in the future.
March 25, 2009
We have just added 600 new podcasts to the LearnOutLoud.com Podcast Directory! We searched all over the Web to find the best podcasts you can learn from in every category. Our LearnOutLoud.com Podcast Directory now features over 2000 podcasts. Since we started our handpicked podcast directory back in 2005, it has now grown into one of the top podcast directories on the Web. Browse all of the podcast in our directory today, including 600 new podcasts:
www.learnoutloud.com/Podcast-Directory
Here are the number of podcasts that we've added by category. Please note that the podcasts are sorted by default according to popularity so you'll have to dig deep in order to get the new podcasts which haven't yet risen in popularity.
65 New Arts & Entertainment Podcasts
25 New Education & Professional Podcasts
25 New Religion & Spirituality Podcasts
75 New Self Development Podcasts
50 New Social Sciences & Current Events Podcasts
60 New Sports & Hobbies Podcasts
We have also cleared out all the dead podcasts in our directory and updated all the feeds of existing ones, so they should all work. Please let us know if you have any issues you have with a podcast or if there are any podcasts you'd like to see added to the directory by emailing us at: podcast@learnoutloud.com. You can also add your own podcasts to our site through our TeachOutLoud service.
Load up your iPod or portable audio player with downloads from over 600 new podcasts on LearnOutLoud.com.
www.learnoutloud.com/Podcast-Directory
Since we just added 600 podcasts to our LearnOutLoud.com Podcast Directory, we wanted to showcase some of the Podcast Providers which we feature and have added podcasts for. Click the links below to check out all the podcasts from these podcast providers:
Australian Broadcasting Corporation
British Broadcasting Corporation
Canadian Broadcasting Corporation
KCRW (Public Radio Station in LearnOutLoud's hometown of Santa Monica, CA)
Personal Life Media (Podcasts with expert advice on personal growth, anti-aging, intimacy and relationships)
Enjoy free new podcasts from these generous Podcast Providers.
And finally we'd like to highlight a few of the great new podcasts we've added to our site. Here are some of the podcasts from the 600 we've added that you might be interested in:
Anton Chekhov Select Stories Podcast
Peikoff.com Q&A on Ayn Rand Podcast
The Chopra Center for Wellbeing Podcast
BMA: Black Media Archive Podcast
Marianne Williamson's MiracleThought Podcast
Psychology in Everyday Life: The Psych Files Podcast
Scriptures Podcast: New Testament Podcast
Love Language Minute with Dr. Gary Chapman Podcast
And 600 others! Check them all out here:
www.learnoutloud.com/Podcast-Directory
April 11, 2008
You can take your education anywhere you go when you tune into a free educational podcast. These podcasts should appeal to traditional students, distance learners, and anyone else who wants to study on the go. From pop culture to advanced physics, your options are vast. The following free university podcasts should be very enlightening:
Stanford
1. Quantum Mechanics – Discusses the theory of relativity and other physics-related topics.
2. Geography of World Cultures – This should help anyone who is taking a class in world cultures and anyone who travels regularly.
3. Ben Franklin and the World of Enlightenment – Learn about Ben Franklin's life and achievements.
4. The Literature of Crisis – From Socrates to Shakespeare, this podcast discusses existential literature.
UC Berkeley
5. General Biology – Those learning the fundamentals of biology will benefit from this podcast.
6. Issues in Foreign Policy After 9/11 – A heated discussion from the politically charged campus of Berkeley.
7. Human Emotion – The science and psychology of human emotion.
8. Introduction to Human Nutrition – This is a helpful podcast for anyone, not just students.
Duke
9. Nintendo: A History of Innovation – Discusses the history of the company and its many innovations.
10. Italiano 2.02 – Learn all about the Italian culture, from language to cuisine.
11. Game2Know Focus IDC – Topics related to online gaming and more.
12. Business Ethics – General discussions on business ethics.
As you can see, there is a wide variety of topics being covered by some of the most famous universities in the country. One can almost receive a completely free college education just by tuning into podcasts like the ones above.
By-line:
Heather Johnson is a freelance writer, as well as a regular contributor for OEDB, a site for learning about online education. Heather invites your questions, comments and freelancing job inquiries at her email address: heatherjohnson2323@gmail.com.
April 17, 2007
🙂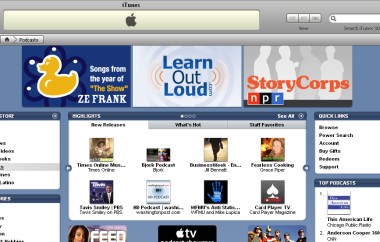 iTunes has just added the LearnOutLoud podcast "room" where you can check out all of our podcasts.
Click here to check out our podcast room on iTunes