June 2020
| Su | Mo | Tu | We | Th | Fr | Sa |
| --- | --- | --- | --- | --- | --- | --- |
| | 1 | 2 | 3 | 4 | 5 | 6 |
| 7 | 8 | 9 | 10 | 11 | 12 | 13 |
| 14 | 15 | 16 | 17 | 18 | 19 | 20 |
| 21 | 22 | 23 | 24 | 25 | 26 | 27 |
| 28 | 29 | 30 | | | | |
September 27, 2004
The Day the (iPod) Music Died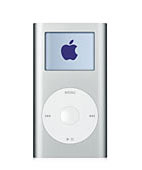 It seems that there are some lessons in life that you have to learn a few times before they finally sink in. One of those for me might seem quite obvious to you: Water and electronics do not mix. After managing to drop my cell phone into a drink a few months ago, today lightning struck twice as a water bottle in my backpack managed to leak all over my iPod. Needless to say, this was not a good thing...
When I went to go out on a run today I checked my iPod to make sure it was working. It wasn't. It was doing some really funky stuff and I figured that the bottle of water had just cost me $250 more than I had previously thought. I got on the line with tech support at Apple and in the meantime, turned the iPod off.
After about 20 minutes on hold I finally got someone who informed me that I had purchased my iPod more than 90 days ago and therefore was not entitled to anymore "complimentary phone support". In all fairness though she was willing to listen to my problem and send me a link with some info on a couple of steps I could take to possibly restore it. She also mentioned that it would cost $250 to repair it but with new Minis running about $235 at Amazon.com I'm not sure why anyone in their right mind would choose that option.
Well, after getting off the phone with tech support I turned the iPod back on and lo and behold, it works! I'm keeping my fingers crossed as I know were not out of the woods on this one yet. If my iPod startsplaying Miles Davis someday then I know I'm really screwed (I have no Miles Davis music on my iPod). In the meantime, all is good. Still can't wait until they come out with waterproof iPods...
Posted by | Permalink