July 2019
| Su | Mo | Tu | We | Th | Fr | Sa |
| --- | --- | --- | --- | --- | --- | --- |
| | 1 | 2 | 3 | 4 | 5 | 6 |
| 7 | 8 | 9 | 10 | 11 | 12 | 13 |
| 14 | 15 | 16 | 17 | 18 | 19 | 20 |
| 21 | 22 | 23 | 24 | 25 | 26 | 27 |
| 28 | 29 | 30 | 31 | | | |
October 5, 2005
Headphones for the Long Run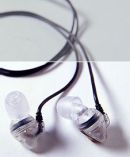 Well it's official. I'm running the OC Marathon in January. It'll be my third marathon and I'm definitely looking forward to it. My goal is to better the time my brother ran at the San Francisco Marathon in July...3:33. It isn't going to be easy and I realize that I'll need to train hard.
Part of the nice thing about running an "audio learning company" is that I can actually work during my workout. I review a number of podcasts and audio books every week and my run is a perfect time to listen to them. There's something about being in motion and getting the ol' heart rate up that makes listening to these even more enjoyable. It's definitely something I look forward to.
Lately I have realized the need for some better headphones to use while I'm doing my runs. The white earbud headphones that come with the iPod have never worked for me while working out as they fall out way too easily. I got some cheap earbud headphones that wrap around the ears but those aren't much better. I figured it was time to invest in something a little better.
I spent an hour or so reviewing posts over on the iLounge forums. It's amazing how much discussion there has been about the best headphones for running! I probably combed through at least four dozen threads and while there wasn't a consensus, a couple of favorites emerged.
It really depends on whether you want noise-cancelling or not. The upside of noise-cancelling headphones is that they drown out sounds around you. While this can often be a positive (such as while flying) it can sometimes be a negative while running as it would suck to get hit by a bus that you never heard coming...
In the end I decided to get both a pair of cheaper, non-noise cancelling headphones (the Sony MDR-A34L) and a slightly more expensive pair of noise-cancelling headphones (the Shure E2c). I'm excited to try them both out and see how they stack up against each other. My guess is that I'll use the Sonys whenever there is traffic around and the Shures when there isn't. Regardless of what I do, I'll report back here.
Posted by | Permalink