January 2019
| Su | Mo | Tu | We | Th | Fr | Sa |
| --- | --- | --- | --- | --- | --- | --- |
| | | 1 | 2 | 3 | 4 | 5 |
| 6 | 7 | 8 | 9 | 10 | 11 | 12 |
| 13 | 14 | 15 | 16 | 17 | 18 | 19 |
| 20 | 21 | 22 | 23 | 24 | 25 | 26 |
| 27 | 28 | 29 | 30 | 31 | | |
October 12, 2005
The New Video iPod Has Arrived!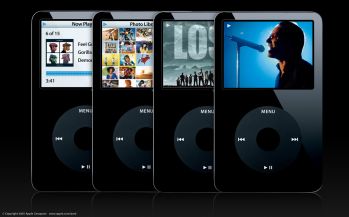 OK, so less than 48 hours ago I'm bitching about how options for video learning are more limited than for audio learning because of the lack of ability to "space shift." With the iPod and other portable MP3 players that are out there, audio is almost entirely portable (with the exception that it's still a pain in the ass to connect iPods and MP3 players to many vehicles). Video on the other hand is much less portable...at least until today.
Apple just announced their brand new video iPod at their "One more thing..." event in San Francisco. They have a cool new commercial that allow you to see the new iPod. Check it out:
I just wandered down to the Apple Store here in Santa Monica and unfortunately they don't have any video iPods in the store yet. I'd love to see the quality of the video first-hand. I'm also curious to see the screen size and try to gauge whether this is a viable platform for viewing and what type of video content might work best on the video iPod.
Regardless of whether the video iPod takes off, I think that this will be the day that people will look back on and point to as the beginning of the portability of video. Imagine what this allows me to do. I can take some video content, throw it on my iPod and watch in anywhere. On the train on the way into work in the morning...hooked up to my PC or laptop...through my new hi-def television (OK, wishful thinking there...).
Just as the original iPod (and other MP3 players) made music and spoken word content portable (do you remember the days of lugging cases of CDs around with you?!), I think that the new iPod will absolutely do the same thing for video. DVDs? What are those? I think as soon as a few years from now people might be asking that question.
It's a brave new world and we're glad to be a part of it. We're excited to bring you educational and self-development video content in the coming months. So when you do get that brand spankin' new iPod for the holidays make sure y'all come back here to fill it up!
Before I go, here are some more cool links related to the new iPod:
"One more thing..." Special Event Video
Engadget's First Impressions of the new iPod
How to get your own videos onto the iPod
Posted by | Permalink