May 2021
| Su | Mo | Tu | We | Th | Fr | Sa |
| --- | --- | --- | --- | --- | --- | --- |
| | | | | | | 1 |
| 2 | 3 | 4 | 5 | 6 | 7 | 8 |
| 9 | 10 | 11 | 12 | 13 | 14 | 15 |
| 16 | 17 | 18 | 19 | 20 | 21 | 22 |
| 23 | 24 | 25 | 26 | 27 | 28 | 29 |
| 30 | 31 | | | | | |
November 18, 2005
Bono Out Loud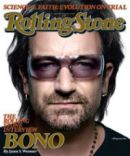 I've been a huge fan of U2 since I was back in middle school and it's been fun to see them grow and evolve over the years. What makes the band special for me is the message behind the music, a message of hope mixed with an urgent call for social activism. I've gotten a chance to see them in concert a few times this year and it's an amazing experience. Really tough to put into words for those who haven't been to a show.
Anyway, Rolling Stone just published an interview with Bono as a podcast. As far as I know this is one of the first times they've done something like this. Very, very cool. We've put this up on our site and here's the link:
Bono: The Rolling Stone Interview Podcast
I cruised around a bit tonight to see what other Bono audio material I could find and found another great interview that was posted as part of the Back Story Podcast from the San Francisco Chronicle. It's in three parts and you can access it from the following link:
Chronicle Podcasts: Back Story Podcast
I also came across an interview with Bono that we already had up on the site. Haven't listened to it yet but I'll definitely check it out soon:
Last but not least I'll have to throw in a couple of links to U2 podcasts. Haven't listened to these yet but if you're a big nut like I am you may want to check them out:
The @U2 Podcast
U2Source.com - U2Chatcast
Quick reminder: If you haven't join the One Campaign yet please do so. If we all do our part our generation can be the one that makes history by making poverty history.
Have a great weekend everyone!!!

Posted by | Permalink