October 2021
| Su | Mo | Tu | We | Th | Fr | Sa |
| --- | --- | --- | --- | --- | --- | --- |
| | | | | | 1 | 2 |
| 3 | 4 | 5 | 6 | 7 | 8 | 9 |
| 10 | 11 | 12 | 13 | 14 | 15 | 16 |
| 17 | 18 | 19 | 20 | 21 | 22 | 23 |
| 24 | 25 | 26 | 27 | 28 | 29 | 30 |
| 31 | | | | | | |
December 25, 2005
Christmas Musings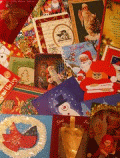 Merry Christmas everyone! I'm having a wonderful time today with friends and family but wanted to take just a few minutes to wish all of you a Merry Christmas and Happy Hannukah.
We've got quite a collection of Christmas-related audio to listen to on LearnOutLoud. So if you feel the need later today to take a break and are looking for something to listen to here are a few suggestions:
Two Podcasts of A Christmas Carol
Two Free Teaching Company Lectures
Christmas in 19th Century America
Christmas in Victorian Britain
Other Christmas Audio Books

A Child's Christmas in Wales
A Prairie Home Christmas

Also, welcome to those of you who received an iPod (or other mp3 player) under the tree this year and are looking to fill it up! A few places to start:
Our Podcast Directory - 568 free educational and inspirational podcasts for you to listen to and download. And click here for a free video tutorial that will walk you through how to listen to and subscribe to podcasts using iTunes.
Our Free Audio Directory - We have tons of free audio books, speeches and lectures to listen to and download here. This is a great way to sample some spoken word audio and see what you enjoy listening to.
We're very grateful to all of you for helping make 2005 such an incredible success. We have a whole lot more planned for 2006 so please stay tuned. Please enjoy this wonderful day with your friends and family and cherish the time together.
Cheers,
The LearnOutLoud.com Team

Posted by | Permalink