November 2021
| Su | Mo | Tu | We | Th | Fr | Sa |
| --- | --- | --- | --- | --- | --- | --- |
| | 1 | 2 | 3 | 4 | 5 | 6 |
| 7 | 8 | 9 | 10 | 11 | 12 | 13 |
| 14 | 15 | 16 | 17 | 18 | 19 | 20 |
| 21 | 22 | 23 | 24 | 25 | 26 | 27 |
| 28 | 29 | 30 | | | | |
December 29, 2005
Ten New "Ear's" Resolutions for 2006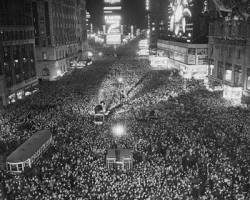 No, I didn't leave out the "Y". While everyone else is talking about "New Year's Resolutions" I figured I'd write an article about New Ear's Resolutions. It probably sounds like I'm off my rocker but bear with me. A New Ear's Resolution is a resolution to change the things you listen to in the coming year. To be honest, it might be one of the biggest changes you'll make.
You see, I'm a big believer in the fact that our lives are often the product of the things that we consume. It might be the stuff we read, what we watch on television or the people we hang out with. Here at LearnOutLoud we're all about the stuff that you listen to. Our mission is to help introduce you to amazing variety of really interesting and entertaining educational content that's out there. We hope that by doing so we can encourage you to Learn Out Loud too.
So as part of that I've written a series of New Ear's Resolutions. You might choose to follow them all or just to follow some of them. Either way, I think you'll find that they'll benefit you tremendously in the upcoming year. In fact, I guarantee it. Hear me out on this. OK, that was a bad pun but I really believe that if you were to incorporate just a few of these resolutions into your daily life that you won't believe what an impact it will. Make them all a part of your life and you'll end 2006 living on a totally different level than you started it on.
Ten New Ear's Resolutions for 2006
10. Pull the cord on talk radio - OK, every once in a while I too like to listen to talk radio. But what it is about people going on and on about relatively meaningless stuff that attracts so many people? My answer? Lack of choices. People put on talk radio because there isn't much else on the dial. Here's my advice to you: Plan a bit ahead. Have something really good queued up on the CD player, iPod, whatever so that you listen to something that you enjoy rather than just settling for whatever is on.
9. Learn a language this year - Learning a foreign language used to be a lot more difficult than it is now. You used to have to go to expensive classes or try to learn from boring books which aren't all that great at teaching language anyway. All that's changed. There are a number of great companies like Pimsleur and Rosetta Stone who are producing excellent foreign language courses. You can throw these in on your way to work and absorb a ton during your commute. It might not be enough to achieve fluency but you'll get pretty darn close. Not a bad way to spend your drive time...
8. Listen to a new podcast each week - Set a goal in 2006 to try to listen to one new podcast each week. Maybe you'll find that only one out of every four light your fire. That's cool. By the end of the year that means you have 13 new podcasts that you're subscribed. Given all that's out there it's not always easy to find good stuff. Try our Podcast Directory or read our recent article "The Top 10 Podcast Episodes of 2005" for some helpful suggestions.
7. Find a few "broken records" - I talked about this before in a previous blog post. A broken record is an audio book that you just throw on in the background when you're doing something around the house, exercising, etc. Great examples of broken records are titles like Think and Grow Rich or The Science of Getting Rich (great if you've got some financial goals in 2006), titles like Living Health or The Food Revolution (if you are trying to lose weight and/or improve your diet) or general ones like 101 Ways to Transform Your Life or 50 Things I'm Going To Do Today. A couple of broken records you can pick up on the cheap include Acres of Diamonds ($2.98) and The Magic Story ($1.98). My latest broken record is Tuesday With Morrie. Everyone should listen to that at least once a year. Buy a few of these and throw them on often throughout the year.
6. Take a university course - Remember all those great courses you just never had the time to take? It's not too late! Through offerings from The Teaching Company and the Portable Professor Series you can go back to school without high tuition or pre-exam anxiety. There are some really amazing courses here to dive into from some of the best professors around. It's a great opportunity to expand your horizons and deepen your understand of the world that we live in. Take some time in 2006 to turn your vehicle into a "University on Wheels."
5. Super-charge your workouts - When your exercising your body why not exercise your intellect as well? Sure it's fun to listen to music when you work out but mix in some audio books or podcasts from time to time. It's a pretty cool feeling to finish a workout and realize that in addition to getting in better shape you learned something as well. You can pick an audio book that has some relevance to the workout that you are doing. For instance, try listening to Lance Armstrong's It's Not About the Bike when you're cycling.
4. Deepen your religion/spirituality in 2006 - Want to get closer to God this year? You're not alone. This is becoming a growing trend in today's society. Think of your iPod (or mp3/CD/cassette player/etc.) as an oasis and an opportunity to re-connect to your source of inspiration. Pick up audio versions of The Bible, The Bhagavad Gita or any of a number of titles on Religion and Spirituality and give yourself a break from the hustle and bustle of everyday life to focus on what's truly important to you.
3. Subscribe to the Zaadz Daily Wisdom - One of my favorite podcasts is one that we've produced here at LearnOutLoud, The Zaadz Daily Wisdom. Brian Johnson is your host for the Daily Wisdom and he covers a wide range of philosophers, psychologists, spiritual teachers and others such as Socrates, Thoreau and Einstein. Think of it as a daily motiviational quote on steroids. Perfect to subscribe to and listen to first thing in the morning or on your way into work.
2. Create your own audio learning content - It's easier than ever to record your own content. Surely you have something that you would like teach the world! Check out Seth's article "How To Begin Home Recording" to see just how easy it can be. And what do you do with your recording once it's done? Start with getting it listed right here at LearnOutLoud.com. We have a service in the works called LearnDirect which will allow you to share your audio content with millions of people and get paid to do so! For more information, send an e-mail to learndirect@learnoutloud.com.
1. Share audio learning with a friend - Perhaps by now you've become a believer of the impact that audio learning can have. Now it's time to spread that love! Hook some of your friends and family on audio books and podcasts. We've created a number of audio learning junkies of our friends and family this year and we hope that you'll do the same in 2006. Point them to LearnOutLoud.com. Show them this short, free video tutorial on listening to podcasts. Help them learn to stop worrying and love their commute. It's one of the best gifts you can give somebody.
At the end of the day it's not so much about what you're learning but rather that you've chosen to take the time to Learn Out Loud. Many people get frustrated because they don't have the time to read all the books they want to or learn the things that they know would help them in their lives. Audio learning can help with all of that. It can turn the 2/3/4 hours each day that you spend sitting behind the wheel, exercising, washing the dishes, etc. into a time of personal and professional development. To quote Brian Tracy, one of the biggest proponents of audio learning that I know:
If you did nothing but use that traveling time as learning time, this decision alone could make you one of the best educated people of your generation. Many people have gone from rags to riches simply by listening to audio programs as they drive to and from work.
That's powerful stuff. 2006 is going to be a big year for you. We hope that you'll incorporate Learning Out Loud into your daily life in order to make it the best year yet. Happy New Year and Best Wishes from all the staff here at LearnOutLoud.com!

Posted by | Permalink