October 2021
| Su | Mo | Tu | We | Th | Fr | Sa |
| --- | --- | --- | --- | --- | --- | --- |
| | | | | | 1 | 2 |
| 3 | 4 | 5 | 6 | 7 | 8 | 9 |
| 10 | 11 | 12 | 13 | 14 | 15 | 16 |
| 17 | 18 | 19 | 20 | 21 | 22 | 23 |
| 24 | 25 | 26 | 27 | 28 | 29 | 30 |
| 31 | | | | | | |
December 27, 2005
The Top 10 Podcast Episodes of 2005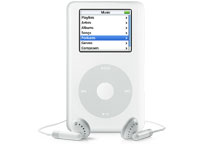 2005 was no doubt the Year of the Podcast. A year ago hardly anyone knew what a podcast was and now it's on just about everyone's lips. A ton of great podcasts came online this year and we wanted to highlight the best of what we've heard. We've probably listened to at least a thousand episodes a piece here at LearnOutLoud in the process of putting together our Podcast Directory and here's our attempt at a Top 10. A few disclaimers first:
-There are no doubt some excellent podcasts that didn't make the list. While we listened to a lot we couldn't get to everything. That's part of the beauty of podcasting, it's hard to run out of podcasts to listen to. Anyway, apologies upfront for anything that should have made the list but didn't.
-We take the "Doug Kaye approach" to listing podcasts in our directory. We're looking for shows that are "educational, inspirational and entertaining" and we'll take two out of three. We feel that the Top 10 listed below all fit the criteria.
-While the list is largely based on quality we also wanted to pick episodes that were representative of the year in podcasting. We hope that you'll download the episodes on this list and burn them to a disc so that you can go back to it in the future when your children or other people ask you what podcasting was like back in 2005 when it was just getting going.
So, without further ado and in no particular order, here's our list of the Top 10 Podcast Episodes of 2005:
#10: TWiT #30 Live from the Portable Media Expo - TWiT probably takes the title as "Podcast of the Year" when you factor in both quality and popularity. There were a lot of good TWiT episodes this year but I'm a bit partial to TWiT 30 which was recorded live at the Portable Media Expo in November. The Expo was the first ever conference specifically for Podcasting so having the TWiT gang there recording live was very apropos. In addition to some of the usual suspects (Leo Laporte, Doug Kaye, Steve Gibson and Alex Lindsay) a number of special guests made an appearance including Audible.com CEO Don Katz, Chuck Tomasi from ChuckChat and blind podcaster Darrel Shandrow.
#9: Catholic Insider at the New Pope's Coronation - Whether you're Catholic or not, it's hard not to like father Roderick Vonhogen. The Catholic Insider podcast gives a unique look at the Catholic Church and Vonhogen's enthusiasm is infectious. This episode was recorded live at the Vatican during the coronation of Joseph Ratzinger a.k.a. Pope Benedict XVI. Hearing Vonhogen's play-by-play and the crowd's reaction truly makes you feel like you are listening to history in the making.
(Note: The second episode recorded on April 19th entitled "Habemus Papam!!" is the one you want.)
#8: Jason Calacanis on The Web 2.0 Podcast - Jason Calacanis is a riot. Those of you who heard his keynote at the Portable Media Expo know what I'm talking about. Calacanis is both funny and blunt and never lacking for an opinion. His interview on the Web 2.0 Podcast is a prime example of this. He covers a lot of ground including LAN parties, Technorati bombing and of course the recent acquisition his company, Weblogs Inc., by AOL. I'd love to hear a lot more from Calacanis. Since he has a little more time on his hands these days maybe he'll start podcasting?
#7: Small World Podcast interview of "Jessica" after Hurricane Katrina - The biggest thing to hit the U.S. this year (literally) was Hurricane Katrina. It caused unimaginable destruction and loss of life. I was fortunate enough to be able to go to Louisiana in September and one of the most powerful experiences was hearing the first-hand accounts of those who survived the storm. A number of podcasts captured similar accounts bearing more testimony to the power of podcasting. The best I heard was Bazooka Joe's interview of Jessica, a resident of New Orleans who escaped the storm. It's an amazing interview that feels both haunting and hopeful at the same time.
#6: The Physics of Superheroes on Science Friday - It's almost impossible to pick just one NPR podcast episode because there are so many good ones but since we're limiting ourselves to one we decided to select "The Physics of Superheroes", an interview with James Kakalios, a Professor of Physics and Astronomy at The University of Minnesota. If you've ever wondered how fast Superman needs to run to leap tall building in a single bound or the physics behind the controversy over whether Spiderman accidentally killed his girlfriend, you'll love this episode. Who knows, all the physics you learn may just help you win a bar bet someday.
#5: DSC #200 Live from Gnomedex - I can't create a Top 10 list without including at least one episode of the Daily Source Code, the first podcast I ever listened to. There were a lot of entertaining moments during DSC episodes including the Wiki controversy, the feud with Dave Winer (among other people) and of course Adam pissing into a bottle at 5,000 feet during DSC #279. But my favorite was DSC #200, Adam's keynote address at Gnomedex. Gnomedex felt like the start of the podcasting revolution and who better to address that crowd than the Podfather himself? A killer Guns and Roses/Beatles mash-up and the amazing music of Rob Costlow were the icing on the cake for this Source Code.
#4: ZenCast with Thich Nhat Hanh in Vietnam - One of the best parts of podcasts is the feeling that you are being transported to different places (e.g., "sound seeing tours") or experiencing different cultures. The episode of ZenCast featuring Thich Nhat Hanh is a great example of both those things. Far from the shouting matches that you'll find on talk radio and even some podcasts, Hanh's mellow message of mindfulness will help you to relax and slow down. Listening to this podcast was a refreshing change of pace that I really enjoyed.
#3: Malcolm Gladwell on IT Conversations - Like NPR and TWiT, it's hard to pick just one episode of IT Conversations to include on the list. Some of my favorites were Vinod Khosla's talk at the Web 2.0 Conference and an interview of Jonathan Schwartz (another guy who I'd love to hear podcast) from Supernova 2005. But if I had to pick just one it would probably be Malcolm Gladwell's keynote address at South by Southwest. Gladwell is both an innovative thinker and an interesting speaker. To be able to throw on a pair of headphones and listen for free to sessions like this from conferences that people pay hundreds or thousands of dollars to attend is really cool. And given Doug Kaye's amazing work and ambition for The Conversations Network it's about to get even cooler.
#2: The Diggnation "Clip Show" - Finding Digg.com was one of the highlights of my 2005. It's an incredibly addictive site as its astronomical growth is evidence of. The Diggnation podcast is almost equally addictive. Kevin Rose and Alex Albrecht are usually a hoot to listen to and sometimes are downright hysterical. My favorite episode of the year was their "clip show" which consisted of some of the funniest moments from the previous 21 episodes of Diggnation. I laughed my way through this entire episode. Nice work guys!
#1: The Entrepreneurial Thought Leaders Podcast with Joe Liemandt, Founder and CEO of Trilogy - A number of colleges and universities started Podcasting this year, none more famously than Stanford. Stanford has a number of podcasts available via it's iTunes channel but I found the Entrepreneurial Thought Leaders podcast to be the most engaging. My favorite episode was the session with Joe Liemandt, Founder and CEO of Trilogy Software. It's an extremely intimate portrait of a start-up company that almost didn't make it…and then made it big. You'll love this one.
Wow. What a year it's been huh? I can't wait to see what 2006 has in store! Thanks to all of the podcasters that are making incredible content. It sure makes Learning Out Loud a whole lot of fun. :)

Posted by | Permalink