March 2022
| Su | Mo | Tu | We | Th | Fr | Sa |
| --- | --- | --- | --- | --- | --- | --- |
| | | 1 | 2 | 3 | 4 | 5 |
| 6 | 7 | 8 | 9 | 10 | 11 | 12 |
| 13 | 14 | 15 | 16 | 17 | 18 | 19 |
| 20 | 21 | 22 | 23 | 24 | 25 | 26 |
| 27 | 28 | 29 | 30 | 31 | | |
February 9, 2006
Barack Obama takes home Best Spoken Word Album Grammy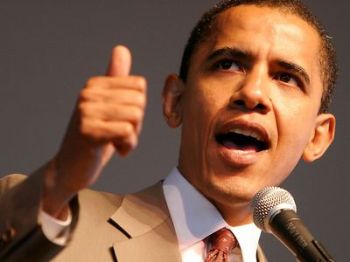 Beating out the likes of actors and comedians such as Garrison Keillor, Al Franken, George Carlin, and Sean Penn, Illinois Senator Barack Obama took home the Best Spoken Word Album Grammy last night for his audio book Dreams from My Father which he authored and narrated. Mr. Obama joked in a recent podcast that he was going to now change his name to The Artist Formerly Known as Barack.
I haven't listened to the audio book yet but I plan to very soon. It's a memoir of Mr. Obama's search for the truth about his father and his familial roots in Africa, after his father died in car crash.
I've been a subscriber to the Barack Obama Podcast since it's inception. Regardless of political affiliation, I think Mr. Obama is an excellent speaker and his podcasts are very entertaining and informative. And he mixes up the format of how they are delivered as well. Sometimes he's at his home in Chicago, sometimes it's a speech he gave, sometimes it's him on a cell phone from the Middle East (which he recently traveled to), and there's also one of him on the Al Franken show. Mr. Obama is no dry, square politician and he's not always talking politics. He frequently talked about the Chicago White Sox as they were approaching the World Series.
So it was not surprising to me that his audio book and his narration were Grammy worthy. With this win, I'll have to make his audio book my next purchase.
Posted by LearnOutLoud | Permalink