January 2022
| Su | Mo | Tu | We | Th | Fr | Sa |
| --- | --- | --- | --- | --- | --- | --- |
| | | | | | | 1 |
| 2 | 3 | 4 | 5 | 6 | 7 | 8 |
| 9 | 10 | 11 | 12 | 13 | 14 | 15 |
| 16 | 17 | 18 | 19 | 20 | 21 | 22 |
| 23 | 24 | 25 | 26 | 27 | 28 | 29 |
| 30 | 31 | | | | | |
November 10, 2006
The Philosophy Podcast...More Popular than the Man Show?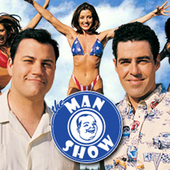 I'm in awe at how popular our Philsophy Podcast has become. We just recently launched it and yet it has become one of the most popular podcasts on iTunes (currently sitting at #24). My brother has always said that he would be incredibly stoked when one of our podcasts surpassed the Man Show (Jimmy Kimmel and Adam Corolla's podcast) in popularity. Well, that has finally happened!!! (Man Show is currently #29 on iTunes)
Let's compare recent episodes of The Philsophy Podcast vs. The Man Show...
Philosophy Podcast = What is Enlightenment - Now we take a closer look at the world of Immanuel Kant and his essay What is Enlightenment.
vs.
The Man Show = Great Moments In Stupidity - Watch a dumbass bash his own head in with a bottle!
*or*
Philosophy Podcast = Discourse on Method - This week we showcase a selection from Discourse on Method by Rene Descarte.
vs.
The Man Show = Camcorders For Lesbians - CCFL is here to provide young, hot lesbians with camera to film their love. Please, donate now.

Could it be that thoughtful, intelligent content is actually starting to win out over all the mindless drivel that's out there? Well, let's not get carried away...after all, we're not #1 yet but it is encouraging that in the world of podcasting consisting of a lot of stupid and inane stuff, high-quality podcasts from people like NPR, National Geographic and of course LearnOutLoud are starting to shine through.
:)
Posted by | Permalink