May 2021
| Su | Mo | Tu | We | Th | Fr | Sa |
| --- | --- | --- | --- | --- | --- | --- |
| | | | | | | 1 |
| 2 | 3 | 4 | 5 | 6 | 7 | 8 |
| 9 | 10 | 11 | 12 | 13 | 14 | 15 |
| 16 | 17 | 18 | 19 | 20 | 21 | 22 |
| 23 | 24 | 25 | 26 | 27 | 28 | 29 |
| 30 | 31 | | | | | |
January 21, 2009
Presidential Inauguration Speeches From FDR to Obama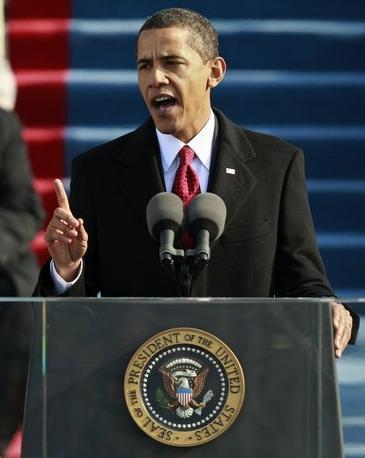 Barack Obama was sworn in as the 44th President Of United States this week and delivered his Inauguration Speech. We thought we'd feature a collection of Presidential Inauguration Speeches going back to Franklin Delano Roosevelt's Inauguration Speech delivered on March 4, 1933. These speeches provide an interesting history lesson in what the most pressing issues of the nation were at the time and how the president planned to face these issues. This collection features audio downloads and streaming videos of the speeches courtesy of American Rhetoric, C-SPAN, YouTube, and Audible.com.
Franklin Delano Roosevelt: 1933 First Inaugural Address
Harry S. Truman: 1949 Inaugural Address
Dwight D. Eisenhower: 1953 First Inaugural Address
Dwight D. Eisenhower Inauguration Speech 1957
John F. Kennedy: 1961 Inaugural Address
Lyndon Baines Johnson: 1965 Inaugural Address
Richard M. Nixon: 1969 First Inaugural Address

Richard M. Nixon Inauguration Speech 1973
Gerald Ford Inauguration Speech 1974

Jimmy Carter Inauguration Speech 1977
Ronald Reagan: 1981 First Inaugural Address

George H. W. Bush Inauguration Speech 1989
Bill Clinton Inauguration Speech 1993
George W. Bush Inauguration Speech 2001
George W. Bush: 2005 Second Inaugural Address
Barack Obama: 2009 Presidential Inaugural Address

Another great resource for finding most of these addresses and hundreds more presidential speeches on video and MP3 download is the:
Scripps Library Presidential Speech Archive
Enjoy these presidential speeches.
Posted by LearnOutLoud | Permalink