November 25, 2010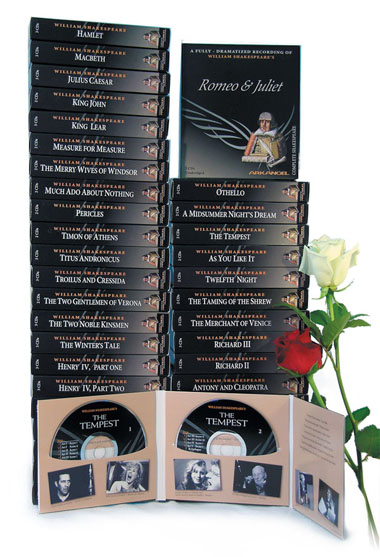 One of the best ways to encounter the plays of William Shakespeare is listening to them dramatized on audio with a great cast. LearnOutLoud.com is pleased to present for the first time on "a la carte" audio download the Complete Arkangel Shakespeare collection which features all 38 fully-dramatized unabridged plays of William Shakespeare. You can browse all the plays along with over 100 other editions of Shakespeare's plays on our Shakespeare author page:
All William Shakespeare Plays on Audio
The Complete Arkangel Shakespeare represents one of the great achievements in audio book history. This collection features nearly 400 actors, almost all past or present members of the Royal Shakespeare Company, including Eileen Atkins, Joseph Fiennes, Sir John Gielgud, Ciaran Hinds, Alan Howard, Jane Lapotaire, Amanda Root, David Tennant, Sophie Thompson, Samuel West, and Timothy West.
All of these plays are produced by a single creative team with state-of-the-art technology, along with original music and subtle sound effects that heighten the drama. We are offering them as MP3 downloads at 192 kbps bit rate which is CD quality audio.
All 38 plays are produced in their entirety, based on the authoritative Complete Pelican Shakespeare, under the supervision of scholars. The Complete Arkangel Shakespeare audio plays are a multimillion dollar production that was five years in the making.
Here they all are divided up by genre:
COMEDIES:
All's Well That Ends Well
As You Like It
Comedy of Errors
Love's Labour's Lost
Measure for Measure
Merchant of Venice
Merry Wives of Windsor
Midsummer Night's Dream
Much Ado about Nothing
Taming of the Shrew
The Tempest
Twelfth Night
Two Gentlemen of Verona
Winter's Tale
HISTORIES:
Cymbeline
Henry IV, Part I
Henry IV, Part II
Henry V
Henry VI, Part I
Henry VI, Part II
Henry VI, Part III
Henry VIII
King John
Pericles
Richard II
Richard III
TRAGEDIES:
Antony and Cleopatra
Coriolanus
Hamlet
Julius Caesar
King Lear
Macbeth
Othello
Romeo and Juliet
Timon of Athens
Titus Andronicus
Troilus and Cressida