October 2012
November 2021
| Su | Mo | Tu | We | Th | Fr | Sa |
| --- | --- | --- | --- | --- | --- | --- |
| | 1 | 2 | 3 | 4 | 5 | 6 |
| 7 | 8 | 9 | 10 | 11 | 12 | 13 |
| 14 | 15 | 16 | 17 | 18 | 19 | 20 |
| 21 | 22 | 23 | 24 | 25 | 26 | 27 |
| 28 | 29 | 30 | | | | |
October 26, 2012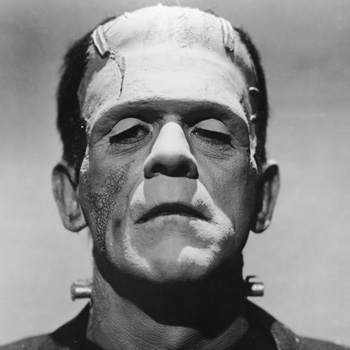 Happy Halloween! If you thrive on a regular scare, or can take the occasional spook, we've picked seven of the best free horror audio books from our free audio & video resource page. Below you'll find bone chilling classics such as Bram Stoker's Dracula, Mary Shelley's Frankenstein and the best Edgar Allan Poe stories. This collection also includes our favorite macabre tales from Oscar Wilde, Robert Louis Stevenson and more classic authors; all of them chosen to keep you up at night, or put a tingle up your spine. Many of these classic books feature multiple versions, so with horror especially, we suggest selecting your narrator carefully! Now that you've been warned, turn the lights low and start clicking the links below. If there are multiple versions then we'll link to each of them and you can decide which narrator you like the best. Here are our top seven free horror audio books:
1. Frankenstein, or the Modern Prometheus from Lit2Go
Frankenstein, or Modern Prometheus from LibriVox
Listen to Mary Shelley's classic tale of Gothic horror and science fiction. Written at the dawn of the Industrial Revolution, this allegorical novel reveals the dark side of modern man's irresponsible use of technology. Download Frankenstein on MP3 today!
2. Dracula from Librivox
Dracula from Lit2Go
As Halloween approaches, we thought you might want to listen to one of the greatest horror stories of all time: Bram Stoker's Dracula. This classic vampire story examines modern Victorian culture and the gothic occult dimension that lies beneath it. Listen and you will meet not only Count Dracula himself, but heroes Jonathan Harker and Abraham Van Helsing, plus an array of madmen, psychiatrists, and fair maidens who cross paths with the fanged menace.
3. The Works of Edgar Allan Poe from Librivox
No one else spins a Gothic tale of mystery & macabre quite like Edgar Allan Poe. In this collection of his stories you'll hear such famous Poe stories as "The Fall of the House of Usher", "The Masque of the Red Death", "The Pit and the Pendulum", and "The Tell-Tale Heart". Poe's popular stories and poems made him a living in his day and continue to be popular. These short stories are read by a group of volunteer narrators at Librivox.org.
4. The Strange Case of Dr. Jekyll & Mr. Hyde from Librivox
The Strange Case of Dr. Jekyll & Mr. Hyde from Lit2Go
We all know the phrase "Jekyll and Hyde", but how many of us have read the book which created this classic example of a split personality? Robert Louis Stevenson's 1886 novella The Strange Case of Dr. Jekyll & Mr. Hyde is full of mystery and intrigue as the lawyer Mr. Utterson seeks to discover who Mr. Hyde is after a series of bizarre crimes committed by Hyde. Utterson seeks out the advice of the respectable Dr. Jekyll who has an interesting relationship with Mr. Hyde.
Listen to Henry James' classic Victorian ghost story of a governess and the children she cares for as the deal with the mysterious spirits of their estate. The ambiguous nature of the novel has kept literary critics guessing its meanings for over a century. This spellbinding tale is narrated by Nikolle Doolin over at LibriVox.org and is available on MP3 download.
6. The Legend of Sleepy Hollow from Librivox (downloadable on LearnOutLoud.com)
The Legend of Sleepy Hollow from Voices in the Dark
The Legend of Sleepy Hollow from Lit2Go
Listen to this great short story written by Washington Irving, one of the first acclaimed American authors. It tells the tale of a Dutch settlement called Sleepy Hollow which is haunted by the legend of a Headless Horseman. The Librivox version is read by Chip and his narration if magnificent. It's available on MP3 Download.
7. The Picture of Dorian Gray from Librivox
The Picture of Dorian Gray from Lit2Go
Listen to the classic gothic tale of Dorian Gray who sells his soul to embrace the new hedonism promoted by Lord Henry Wotton. Dorian Gray remains the same age, but a portrait of him serves as a reminder of the effect each act has upon his soul, with each sin displayed as a disfigurement of his form. Download this controversial work of gothic fiction on MP3.
Enjoy these classic works of horror this Halloween!


Posted by LearnOutLoud | Permalink
October 22, 2012
50 years ago today, on October 22nd, 1962, President John F. Kennedy delivered a nation-wide televised address about the discovery of Soviet missiles in Cuba and the U.S. plan of action during the Cuban Missile Crisis. Watch or listen to Kennedy's speech during one of the major confrontations of the Cold War.
Cuban Missile Crisis Address to the Nation by John F. Kennedy on Audio Download and Streaming Video
The confrontation ended on October 28, 1962, when Kennedy and United Nations Secretary-General U Thant reached a public and secret agreement with Soviet Premier Nikita Khrushchev. Had a nuclear conflict, or possibly World War III, been initiated it has been estimated that 100 million Americans and over 100 million Soviets would have perished.
50 years later eight countries have detonated nuclear weapons and acknowledge that they possess nuclear weapons: the United States, Russia, the United Kingdom, France, the People's Republic of China, India, Pakistan, and North Korea. And it is widely believed that Israel possesses nuclear weapons, though it does not acknowledge having them. South Africa has the unique status of a nation that developed nuclear weapons but has since disassembled its arsenal. The Federation of American Scientists estimates there are more than 19,000 nuclear warheads in the world as of 2012, with around 4,400 of them kept in "operational" status, ready for use.




Posted by LearnOutLoud | Permalink
October 17, 2012
Each presidential election year PBS produces the Frontline documentary "The Choice". It premiered last week and you can now watch the 2-hour documentary "The Choice 2012" on YouTube. This documentary goes beyond the talking points of Barack Obama and Mitt Romney, and looks at their biographies in order to discover what drives them and informs their decisions. The documentary goes back to the upbringing of both candidates and follows them through their rise in politics and some of their more recent political struggles. It's a good look at Obama and Romney with insightful interviews from some of the people that have been closest to them. Enjoy this free documentary and maybe it'll inform your CHOICE!
Watch Frontline: The Choice 2012 on YouTube
Watch Frontline: The Choice 2012 on Frontline Website with Bonus Interviews and Features





Posted by LearnOutLoud | Permalink