December 2013
March 2022
| Su | Mo | Tu | We | Th | Fr | Sa |
| --- | --- | --- | --- | --- | --- | --- |
| | | 1 | 2 | 3 | 4 | 5 |
| 6 | 7 | 8 | 9 | 10 | 11 | 12 |
| 13 | 14 | 15 | 16 | 17 | 18 | 19 |
| 20 | 21 | 22 | 23 | 24 | 25 | 26 |
| 27 | 28 | 29 | 30 | 31 | | |
December 18, 2013
We've finally finished our Best of 2013 Audio Books List. At LearnOutLoud.com we've assembled a list of the best new and most popular audio book releases from 2013. You can check out all of our new releases here:
Popular 2013 Audiobook New Releases
All the audio books on our list are available on Audio Download. To make it easy, we've divided this list of the best new releases from 2013 into categories. We've picked a selection of audio books from our most popular categories. Here is a selection of great audio book gifts from the categories of Self Development, Business, and Religion & Spirituality:
Best Self Development Audio Books of 2013:
1. Hero by Rhonda Byrne (author of The Secret)
2. Courage: Overcoming Fear and Igniting Self-Confidence by Debbie Ford, Foreword by Wayne Dyer
3. The Gifts of Imperfect Parenting by Brene Brown
4. Salt Sugar Fat: How the Food Giants Hooked Us by Michael Moss
5. What Are You Hungry For?: The Chopra Solution to Permanent Weight Loss, Well-Being, and Lightness of Soul by Deepak Chopra
6. Focus: The Hidden Driver of Excellence by Daniel Goleman
7. Break Out!: 5 Keys to Go Beyond Your Barriers and Live an Extraordinary Life by Joel Osteen
8. When Pain is the Doorway by Pema Chodron
9. Sometimes You Win - Sometimes You Learn by John C. Maxwell
10. Hardwiring Happiness: The New Brain Science of Contentment, Calm, and Confidence by Rick Hanson
Best Business Audio Book of 2013:
1. Lean In: Women, Work, and the Will to Lead by Sheryl Sandberg
2. Contagious: Why Things Catch On by Jonah Berger
3. David and Goliath: Underdogs, Misfits, and the Art of Battling Giants by Malcolm Gladwell
4. Louder Than Words: Take Your Career from Average to Exceptional with the Hidden Power of Nonverbal Intelligence by Joe Navarro
5. Street Smarts: Adventures on the Road and in the Markets by Jim Rogers
Religion & Spirituality Audio Book Gifts:
1. The Testament of Mary by Colm Toibin, Narrated by Meryl Streep
2. Seeking Heaven: Sound Journeys into the Beyond by Eben Alexander
3. Body and Mind Are One: A Training in Mindfulness by Thich Nhat Hanh
4. God Is Not Mad at You by Joyce Meyer
5. Zealot: The Life and Times of Jesus of Nazareth by Reza Aslan

Best of Biographies, A&E, and Literature

Do you enjoy listening to literature or learning about the life of a renowned individual. We've made our selections for the Best of Biographies, A&E, and Literature on Audio Book in 2013.
Best Biographies of 2013:
1.I Am Malala: The Girl Who Stood Up for Education and Was Shot by the Taliban by Malala Yousafzai

2. My Brief History by Stephen Hawking
3. Jim Henson: The Biography by Brian Jay Jones
4. Salinger by David Shields & Shane Salerno
5. Wilson by A. Scott Berg
Best Arts & Entertainment Audio Books of 2013:
1. Si-cology 1 by Si Robertson
2. Attempting Normal by Marc Maron
3. Hollywood Said No!: Orphaned Film Scripts, Bastard Scenes, and Abandoned Darlings from the Creators of Mr. Show by David Cross, Bob Odenkirk, & Brian Posehn
4. Marvel Comics: The Untold Story by Sean Howe
5. Fortunately, the Milk by Neil Gaiman
Best Literature Audio Books of 2013:
1. The Goldfinch by Donna Tartt
2. Doctor Sleep by Stephen King
3. Night Film by Marisha Pessl
4. Ocean At The End of the Lane by Neil Gaiman
5. Tenth of December written and read by George Saunders
Best of History, Politics, & Science

If you love nonfiction we've got some of the best history, politics, & science audio books released in the past year. Browse this selection of the Best of History, Politics, & Science Audio Books of 2013.
Best History Audio Books of 2013:
1. The Bully Pulpit: Theodore Roosevelt, William Howard Taft, and the Golden Age of Journalism by Doris Kearns Goodwin
2. One Summer: America, 1927 by Bill Bryson
3. Camelot's Court: Inside the Kennedy White House by Robert Dallek
4. The King Years: Historic Moments in the Civil Rights Movement by Taylor Branch
5. The Men Who United the States: America's Explorers, Inventors, Eccentrics and Mavericks, and the Creation of One Nation, Indivisible by Simon Winchester
Best Political Audio Books of 2013:
1. Tip and the Gipper: When Politics Worked by Chris Matthews
2. Rush Revere and the Brave Pilgrims: Time-Travel Adventures with Exceptional Americans by Rush Limbaugh
3. The Center Holds: Obama and His Enemies by Jonathan Alter
4. The Liberty Amendments: Restoring the American Republic by Mark R. Levin
5. Good Tidings and Great Joy: Protecting the Heart of Christmas by Sarah Palin
Best Science Audio Books of 2013:
1. The Story of the Human Body by Daniel Lieberman
2. An Appetite for Wonder: The Making of a Scientist by Richard Dawkins
3. Five Days at Memorial: Life and Death in a Storm-Ravaged Hospital by Sheri Fink
4. Boost Your Brain: The New Art and Science Behind Enhanced Brain Performance by Majid Fotuhi
5. Eating on the Wild Side by Jo Robinson
Posted by LearnOutLoud | Permalink
December 11, 2013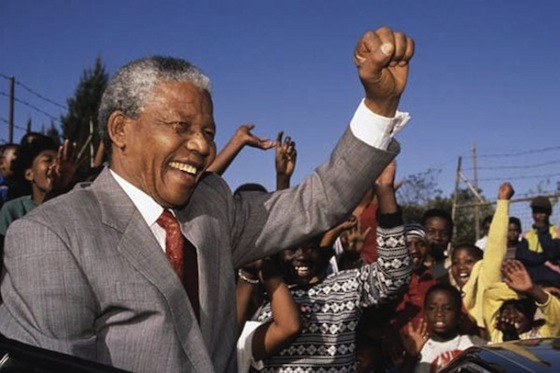 After the passing of Nelson Mandela last week, we've put together this tribute page of Nelson Mandela speeches, interviews, documentaries, and audio books:
If you don't know about Nelson Mandela's amazing life story, we highly recommend today's free resource:
The Long Walk of Nelson Mandela
This 2-hour PBS FRONTLINE documentary covers Nelson Mandela's amazing life story, from his radical political activism in Johannesburg as a youth to his over 20-year imprisonment, and then to his remarkable rise as the President of South Africa from 1994 to 1999 in which he presided over the dismantling of apartheid. This documentary features excellent footage from all periods in Mandela's life along with interviews of the people closest to him. It's a story that must be heard to be believed. Watch this superb documentary from PBS online.
The Long Walk of Nelson Mandela
A few other free resources we'll point out:
Mandela's 1993 Nobel Peace Prize Speech
Over 30 Nelson Mandela Videos on C-SPAN
An Hour-Long Interview With Nelson Mandela on Charlie Rose

Posted by LearnOutLoud | Permalink