June 1, 2014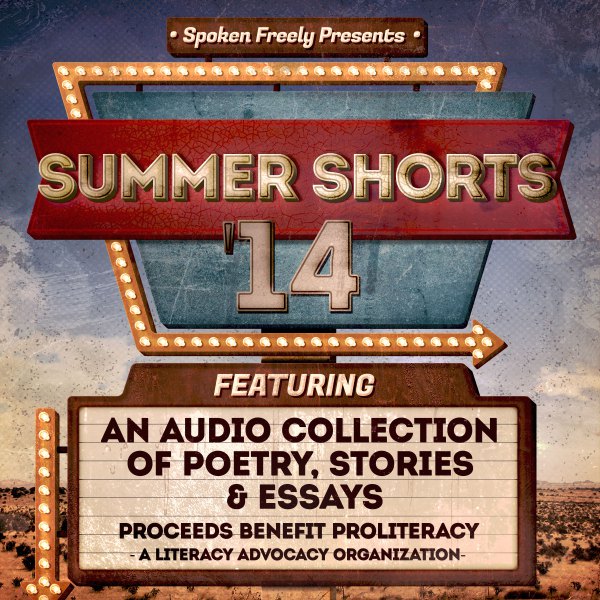 Spoken Freely: Summer Shorts 2014
June is Audio Book Month! And to celebrate it Spoken Freely, a group of 40+ professional narrators, has teamed with Going Public by offering 40 audio short stories, poems, and essays read by 40 great narrators. You'll hear short stories from authors like Edgar Allan Poe and O. Henry, poems by authors like W.B. Yeats and Walt Whitman, and essays by authors such as Dave Barry. Each selection is read by a great narrator from the audio book industry. On the Spoken Freely site you can go to the various blogs that are hosting the selections and stream them through SoundCloud.
You can get these selections by following the links here:
Spoken Freely: Summer Shorts 2014
The stories and narrators included through the month of June are as follows:
5/30 – 6/1 Sean Runnette, The Lost One, by James John Audubon @ PW's Blog
6/2 Johnny Heller, Dave Barry's Money Secrets, by Dave Barry@ Library Journal
6/2 Mark Turetsky, How Angelina Buglebrain Got Her Start. By Tom Angleberger w/author Tom Angleberger @ Nerdy Book Club
6/3 Hillary Huber, The Tell-Tale Heart, by Edgar Allan Poe @ Linus's Blanket
6/4 Tavia Gilbert, Beautiful Things, by Michelle Webster-Hein @ The Reading Date
6/5 Robert Fass, The Garden of Adompha, by Clark Ashton Smith @ The Guilded Earlobe
6/6 Luke Daniels, Act 2, Scene 2 from Hamlet, by Shakespeare @ The Book Nympho
6/7 Jeffrey Kafer, Hearing Aid, by Jeremy Robinson @ Bob Souer's Boblog
Poetry Week! From 6/8 – 6/14, we'll be offering a delectable audio feast of poetry and only poetry! From Shakespeare to St. Vince Millay, Rumi to Dickinson, with modern poets in between!
6/8 Rachel Fulginiti, Jasmine Comes Up, by Rumi @ author MV Freeman's blog
6/9 David Drummond, Wild Nights! Wild Nights! By Emily Dickinson @ Overreader
Patrick Lawlor, Miracles, by Walt Whitman @ Overreader
6/10 Paul Boehmer, Mother's Ashes, by Kimberly Morgan @ Reading in Winter
Robin Miles, Sonnets 23, 74, by Shakespeare @ Truth, Beauty, Freedom & Books
6/11 John Lee, The Stolen Child, by W.B. Yeats @ Literate Housewife
Kathe Mazur , An Ancient Gesture, by Edna St. Vincent Millay @ Lakeside Musing
6/12 Amy Rubinate, Cassandra Campbell & Kathe Mazur, Sonnets 2, 4, 6 from Renascence &
Other Poems, by Edna St. Vincent Millay @ Lakeside Musing
Coleen Marlo, How Do I Love Thee? by Elizabeth Barrett Browning @ AudioGals
6/13 Katherine Kellgren, Father William, by Lewis Carroll @ Overreader
Carrington MacDuffie, Al's Boy, by Carrington MacDuffie @ Beth Fish Reads
6/14 Diane Havens, So Long, by Walt Whitman @ Author Michael Stephen Daigle's blog
John Pruden, The Funny Little Fellow, by James Whitcomb Riley @ Going Public
…now back to short stories and essays
6/15 Dion Graham, Days Gone By, by Eric Jerome Dickey @ Literate Housewife
Gary Dikeos, The Higher Abdication, by O. Henry @ Going Public
6/16 Peter Bishop, The Moth, by H.G. Wells @ SFF Audio
6/17 Cris Dukehart, The Velveteen Rabbit, by Margery Williams @ Book & a Latte
6/18 Peter Berkrot, John Mortonson's Funeral, by Ambrose Bierce @ Jen's Book Thoughts
6/19 Jo Anna Perrin, The Girl in the Blue Feathered Hat, by JP Perrin @ Literate Housewife
6/20 & 6/21 Gabrielle de Cuir & Stefan Rudnicki joint, two-day appearance at Joe's Geek Fest
Selections: Too Far, and Man of Distinction, by Fredric Brown
6/22 Heather Henderson, The Curve of Time, by M. Wylie Blanchet @ PostHypnotic Press Blog
6/22 Scott O'Neill, Why I Don't Believe in Santa Claus, by Matt Rothschild @ Rhonda's Voice
6/23 Andi Arndt, Cedars of Lebanon, by Mary Miller @ Author Mary Miller's blog
6/24 Bruce Coville, The Box, by Bruce Coville @ Book & a Latte
6/25 Paul Michael Garcia, Yard Waste, by Steven LaFond – w/author Steven LaFond @ My Bookish Ways
6/26 Day of Classic Horror, with Poe and Lovecraft!
Mike Chamberlain, The Statement of Randolph Carter, by H.P. Lovecraft @ MV Freeman's blog
Dufris/AudioComics, Audio Theatre: Cask of Amontillado, by Edgar Allan Poe @ Jenn's Bookshelves
John McLain, The Black Cat, by Edgar Allan Poe @ Going Public
6/27 Dawn Harvey, Something as Big as a Mountain, by Jane Cawthorne, w/author Jane Cawthorne at My Books, My Life
6/28 Tanya Eby, The Girl at the Gate, by Lucy Maud Montgomery @ Miss Susie's Reading & Observations
6/28 Tish Hicks, How They Broke Away to Go to the Rootabaga Country, by Carl Sandburg @ Going Public
6/29 Karen White, Sharks and Seals, by Susanna Daniel @ Every Day I Write the Book
6/30 Xe Sands, Virtue of the Month, by Kathleen Founds @ The Oddiophile