June 7, 2017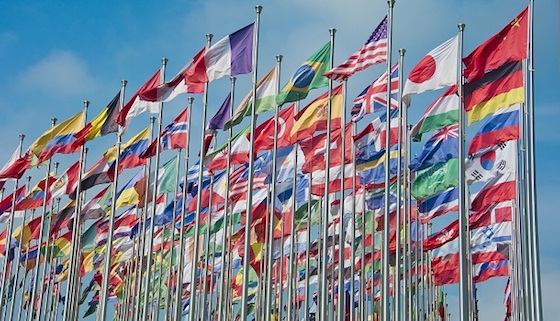 In recent years U.S. foreign policy and global affairs have become increasingly interesting to say the least. With ongoing crises happening in the Syrian Civil War and their refugee crisis, the war on ISIS and the fight against terrorism, the Russian-Ukrainian conflict and Russia's meddling in the elections of other countries, heightened tensions on the Korean peninsula, the ongoing war in Afghanistan, the rise of populist nationalism in many Western countries, the threat of the break up of NATO and the European Union, hacking and cybersecurity, confronting global warming, international trade deals, and the list goes on and on.
One of the best ways to attempt to keep up with all the global news and to hear a diverse range of opinions on these issues facing the United States and the rest of the world, is by listening to the latest coverage from many excellent foreign policy and global affairs podcasts. Most major foreign policy think tanks and publications now have regular podcasts discussing the latest news and events, and public radio from the U.S. and the U.K. provide a number of excellent foreign affairs programs. We've assembled this list of 15 of the best foreign policy podcasts that cover global affairs. These podcasts feature interviews, news, analysis, and debate from foreign policy experts about what is happening now and what is coming next on the global stage.
1. The Global Politico Podcast
The Global Politico Podcast is one of the best new foreign policy podcasts, featuring in-depth interviews conducted by POLITICO's Susan Glasser. Glasser has access to highly influential leaders and thinkers on the global stage including former Secretary of State Condoleezza Rice, NBC's Andrea Mitchell, Iraq war architect Paul Wolfowitz, former Secretary of State Jim Baker, Clinton campaign chairman John Podesta, Trump senior national security official Michael Anton, and many other key figures in American foreign policy. Glasser is not afraid to ask her guests challenging questions about their views and she keeps the interviews consistently compelling as she seeks to apply her guest's knowledge to current events in the world.
2. Center for Strategic & International Studies Podcast
The Center for Strategic & International Studies (CSIS) Podcast provides serious discussion on geopolitical topics. Each week host Colm Quinn talks to a key foreign policy thinker about a major issue confronting the U.S. and the world. Topics range from cybersecurity to human rights to climate change to military defense, and Quinn seems very knowledgeable of all these issues as he navigates the latest news and developments each week.
Pod Save the World is the foreign affairs arm of the Crooked Media slate of progressive political news podcasts hosted by former Obama-administration insiders John Favreau, Tommy Vietor, and Jon Lovett. With this podcast, Vietor utilizes his first-hand National Security experience to discuss both past and current foreign policy matters. Washington insiders from a wide array of backgrounds are interviewed to discuss the fascinating inner workings, decisions, deals, and challenges that face policy makers in Washington.
4. The World Next Week Podcast
The World Next Week Podcast from the Council on Foreign Relations looks forward to the major upcoming events in global politics each week and how things might play out. CFR's Director of Studies James M. Lindsay and CFR.org Managing Editor Robert J. McMahon offer their ideas regarding current global affairs, drawing on their deep knowledge of the history of foreign relations of the United States. In each 30-minute episode they cover a number of key topics that the world will face each week, and they also look back at what has happened recently in terms of major global events.
NPR's Madeleine Brand hosts a monthly magazine-format podcast that dissects some of the biggest challenges shaping U.S. foreign policy. Set firmly in a post-Trump diplomatic world scene, Brand and a team of correspondents survey topics ranging from Middle East relations, emergent disease response, cyber threats, climate change developments, and more. Informative and well produced, the America Abroad Podcast puts you on the front lines with top-notch reporting that will keep you abreast of how the United States is maintaining its leadership role in a complex world.
6. WSJ Opinion: Foreign Edition Podcast
From the editorial board of the Wall Street Journal, Mary Kissel hosts a brief look at current world news. Episodes are short and to the point, averaging about 20 minutes, and packed with interviews designed to help shed light on the forces shaping the world, especially in relation to the United States foreign policy and security. Kissel's point of view is in keeping with the conservative WSJ reputation, and is a valuable addition to your regular balance of daily news.
7. Foreign Policy's The Editor's Roundtable Podcast
For a casual roundtable of conversation about current U.S. foreign policy tune into Foreign Policy's The Editor's Roundtable Podcast. Foreign Policy magazine has been around since 1970, and their bimonthly magazine and website ForeignPolicy.com have become a popular platform for leading foreign policy contributors and politicians to express their views on global affairs. Based in Washington, D.C., this podcast features Foreign Policy magazine editors who consider themselves self-professed "foreign policy nerds". They express their views on the latest news and topics, often with experts calling in from around the world to weigh in on contemporary issues. They aren't afraid to throw in some humor to the mix as they openly discuss what U.S. foreign policy is today.
Global Dispatches is a podcast dedicated to in-depth conversations with academics, and expert personalities involved in current foreign affairs. With each episode, host Mark Leon Goldberg interviews figures on topics ranging from global nuclear security, climate change, US-China relations, the state of worldwide humanitarian relief, and more. Brief and to the point, Goldberg chooses his guests well, offering expert analysis to help better inform listeners on how big global challenges are being addressed (or not) on a diplomatic level.
PRI's The World Podcast is a daily world news magazine that is a coproduction of Public Radio International, the BBC World Service, and WGBH in Boston. Hosted by Marco Werman, each show covers world news and interesting stories from around the world in public radio's signature style. Each show runs about 45 minutes and they are put out by PRI Monday through Friday with two weeks of episodes remaining up on the podcast. In addition to global political news, they also cover economics, language, and music from around the globe. You'll also hear stories of a more personal nature as their reporters interview individual throughout the world. Enjoy this popular public radio program that is broadcast on over 300 stations across North America.
10. From Our Own Correspondent – BBC Podcast
If you'd like to go beyond the headlines when hearing stories about what is happening around the world, listen to the BBC's From Our Own Correspondent Podcast. This BBC radio show has been broadcasting since 1955 and features BBC foreign correspondents from around the globe reporting on specific stories that relate to current events. Often these correspondents travel to places that aren't covered in the headlines of the day, and they provide news that might otherwise go uncovered. These 25-minute podcast episodes include good descriptions and the weekly episodes go back over several years on their podcast feed, so you can browse around for stories that interest you most.
11. When Diplomacy Fails Podcast
With the When Diplomacy Fails Podcast, host Zack Twamley takes you on a well-researched tour of the major figures, events, and political maneuvering involved in some of the great historical conflicts. Twamley doesn't spare any details in multi-part episodes that take a deep dive into the preceding factors, dramatic clashes, and lasting consequences of wars that are mostly centered in Europe. This podcast is notable for the breadth and depth of detail, and is recommended for listeners particularly interested in European history and in World War I specifically. Learn about the past to understand the present state of international relations.
12. New Books in World Affairs Podcast
The New books in World Affairs Podcast is part of the larger New Books Podcast Network, which is focused on high-quality author interviews covering a variety of challenging, up-to-date topics. With this world affairs podcast, a revolving group of NBN moderators sit down to speak with authors that also happen to be leading thinkers in the fields of sociology, history, politics, and general philosophy. Episodes tend to be an hour-long, which provides ample time for authors to draw out the big ideas of a given book. This is a great podcast for serious readers interested in discovering new books in geopolitics, religious studies, intellectual history, and political theory.
13. Financial Times World Weekly Podcast
The Financial Times World Weekly Podcast is a brief, but informative foreign affairs podcast out of London. The show features weekly 20-minute discussions about specific events from the past week that will play a major role on the global stage. Coming out of the United Kingdom, this podcast delivers a nice outsider's view of U.S. foreign policy while also relating global events as to how they will impact England. Major topics within the UK such as "Brexit" are also given more coverage.
14. Fareed Zakaria GPS Audio Podcast
Fareed Zakaria GPS, or Global Public Square, Podcast offers editorial commentary by Zakaria on world events on CNN. Zakaria brings in guests and journalists as they debate the current news with an emphasis on international issues and foreign affairs. Zakaria considers himself a "centrist" politically and his interviews and roundtables on the show provide a variety of opinions on global affairs from the mainstream cable news outlet of CNN.
Based in Chicago, WBEZ's Worldview Podcast offers up-to-the-moment analysis of the current global news. Jerome McDonnell interviews a range of expert guests to examine U.S. foreign policy, and help us understand everything from Middle East hotspots to emerging Asian markets. This podcast is a digestible roundup of the key players, cultural pressure points, and historical trends that are shaping the world. The podcast also features commentaries on human rights and foreign film reviews.