March 31, 2018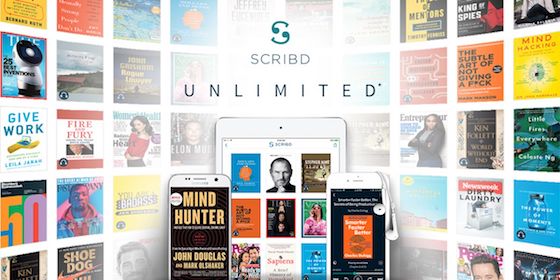 I've had a little bit of a revelation recently. That revelation being unlimited audiobooks services! Like many fans of audio books I've been a subscriber to Audible.com for years, getting my one credit per month for $14.95 and amassing a sizable library of audio books over the past decade.
Earlier this year the popular e-book and audiobook subscription service Scribd opened up their subscription service to offer unlimited e-books and audiobooks for $8.99/month after a 30 day free trial. I was skeptical of the selection I could get, but then I started browsing around. On Scribd you can browse around without having to create an account or log in to see the different audio books they have to offer. It's easier to browse their offerings on a desktop or laptop computer, but you can also browse on a mobile phone. And you can search for specific audio books on their site as well, sorting results by "Everything" or just "Books" or "Audiobooks". I decided to subscribe and after subscribing I've now got unlimited access to 90,000 audio books and 900,000 eBooks! Check it out for yourself:
Browse and Get Access to 90,000 Audio Books on Scribd
Scribd works with almost all the major audio book publishers amounting to over 50,000 titles from the following publishers:
Penguin Random House Audio (9600 Titles)
HarperAudio (4200 Titles)
Simon & Schuster Audio (2800 Titles)
Hachette Audio (1600 Titles)
Macmillan Audio (700 Titles)
Tantor Audio (9500 Titles)
Recorded Books (9000 Titles)
Brilliance Audio (8100 Titles)
Christian Audio (1800 Titles)
Oasis Audio (1600 Titles)
Zondervan Audio (1600 Titles)
Highbridge Audio (1400 Titles)
Naxos Audiobooks (800 Titles)
Thomas Nelson Audio (500 Titles)
Listen & Live Audio (500 Titles)
Gildan Audio (400 Titles)
L.A. Theatre Works (300 Titles)
Made for Success Audio (300 Titles)
Audio Holdings (300 Titles)
Better Listen Audio (200 Titles)
Penton Overseas Audio (130 Titles)
New World Library (40 Titles)
Berlitz Audio (30 Titles)
Once I had joined and was into my Scribd account, I started browsing the categories of the site. I began adding dozens of audio books to my saved library, and it was a bit like the first time I added streaming movies to my Netflix queue or starting listening to any album I wanted to on a streaming music service like Spotify. I wasn't just creating a wish list of audio books I would someday like to buy, but I was making a list of audio books that I could access and listen to as much (or as little) as I wanted to immediately! And that's what I've been doing since I subscribed last month. I've been trying out new releases along with audio books that used to be in my Audible Wish List, and I've also listened to titles that I might've never have purchased on Audible.
When it came to listening, I found the Scribd app on iOS to be very user friendly and assume that Android is the same experience. The titles are divided up by chapters and the app bookmarks your place wherever you've left off listening on your desktop or mobile app. On your phone you can stream audio books over your mobile network or download them on a WiFi connection for offline listening. The app specifies how large the files are for storing on your phone.
While I'm still an Audible.com subscriber since it has the largest selection of audio books at about 180,000 with many titles I can only get there, I've been impressed by Scribd's selection of 90,000 audio books. Some publishers not currently offered on Scribd include Blackstone Audio, Nightingale-Conant, Pimsleur, Phoenix Audio, Sounds True, The Great Courses, Hay House, AudioGO, and, of course, they don't have the titles published exclusively by Audible Studios (which includes about 30,000 audio books).
After looking around I discovered Scribd is not the only unlimited audiobooks subscription service currently. Here are a few others:
Playster.com – Has 100,000+ audiobooks available unlimited for $14.95/month. They have apps for iOS and Android, but their app is not as well reviewed as Scribd.
Otto Radio – I think they started as a radio and podcast app on iOS, but now have 55,000 audio books with two plans:
– Otto Select is $9.99 a month for unlimited access to 20,000+ Audio books.
– Otto Premium is $14.99 a month for everything included in the Select plan, plus one premium audio book per month.
And if you're looking for more a la carte options or one audio book per month subscriptions then you can try these:
Audible Free Trial Offer:
Get your first 30 days of the Audible membership plan free, which includes two free audiobook credits. After your 30 day trial, your membership will renew each month for just $14.95 per month so you can continue to receive one audiobook credit per month plus members-only discounts on all audio purchases. 180,000 Audio Books available!
Downpour Audio Books – Owned by our friends at Blackstone Audio, members get 1 Credit per month for $12.99 per month along with saving up to 70% off retail prices for members.
Kobo Audio Books – The popular eBook platform also features one audio book per month for $9.99/month.
Audiobooks.com – Offers an impressive 100,000 audio books with a free book and trial before it is $14.95 for one audio book per month.
Google Play Audiobooks – And with the growth in the audio book market, Google decided it was their turn to jump in, offering no subscriptions, but audio books for sale a la carte at discounts. They launched in January with audio books in their Google Play Books app for both Android and iOS.
LearnOutLoud.com Audiobooks for Sale – And we offer 10,000 educational and inspirational audio books to download or stream on MP3 audio.
You can also purchase audio books through Amazon.com (which owns Audible) and iTunes (which Audible distributes to). There is also the ability to get audio books through libraries with Hoopla and Overdrive. Many options, but we recommend trying:
90,000 Audio Books with a 30 Day Trial to Scribd