November 9, 2023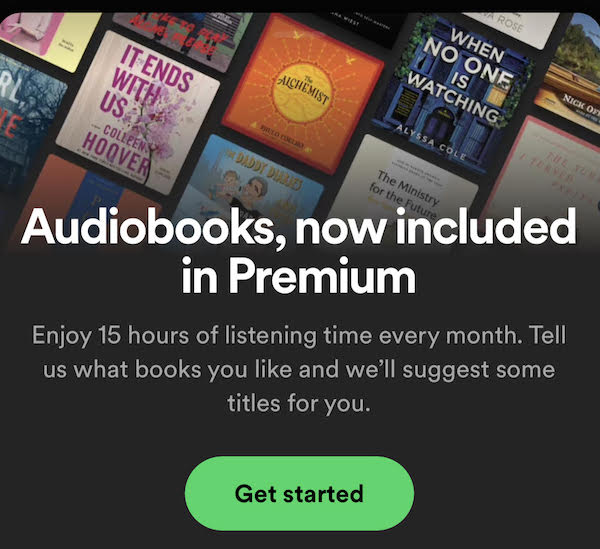 If you're in the United States and a Spotify Premium member, then update your Spotify app! We knew it was coming, and Spotify has rolled out its offering of 200,000 audio books included in its Premium membership. Starting today, you can listen to 15 hours per month of audio books as a Spotify Premium member at no additional cost (plenty of monthly listening time for most audio books listeners). This premium audio book catalog access was already rolled out in the UK and Australia last month for about 150,000 titles in those countries. Here's the USA Spotify Premium Audio Book Announcement.
This makes Spotify Premium even more appealing for audio junkies who already use it for music and podcasts. Apple made it a pain for Spotify to sell audio books through their iPhone iOS app, so Spotify decided instead to give audio books away and pay publishers royalties based on streams just like they do for music. It's an interesting model that has worked for Scribd, which offered a large catalog of streaming audio books that we subscribed to for many years. Scribd was referred to as "the Netflix for books." But I guess Spotify is now the Netflix for audio books at least! Scribd has recently pivoted and rebranded its ebooks and audio books business as Everand for $11.99/month.
It will be interesting to see what Amazon's Audible now does in response to Spotify's new audio book program. Audible does offer about 50,000 audio books to members with unlimited access in their Plus Catalog. Many of the titles in the Plus Catalog are exclusive to Audible, and you can get access to the Audible Plus Catalog for $7.95 per month currently with a 30-day free trial. And then there is the Audible Premium Plus Subscription that gets you a free audio book with a 30-day free trial and is $14.95 per month after that. The Premium Plus subscription is the one-audio-book-credit-per-month model that Audible users have become accustomed to, which gives you one credit to purchase one of over 500,000 titles they offer each month. Audible has been publishing like crazy for years and many of their audio books are exclusive.
But a catalog of 200,000 audio books ready to stream from Spotify is very impressive. At $10.99 per month for Spotify Premium you get 100 million music tracks, 5 million podcasts, and now 200,000 audio books. Sounds like a good deal! We've been adding audio books we want to listen to into our Spotify library all day.
The user experience for audio books on Spotify is pretty straightforward and easy to use. Audio books are broken up into chapters or tracks. While the audio books sometimes include the chapter names, they often just list the chapter or track numbers. When you pause an audio book in your Spotify library, you can always hit play and pick up where you left off. And you can download the audio books for offline listening.
They have audio books from most of the major publishers, including the following ones. I'll just link to the publisher pages on our site to show what they have to offer as there is no way to link to publishers directly on Spotify.
–Penguin Random House Audio which includes both Random House Audio and Penguin Audio
–Simon & Schuster Audio
–Harper Audio
–Hachette Audio
–Christian Audio
–Tantor Audio
–Recorded Books which includes the Modern Scholar Courses
–Highbridge Audio
–Nightingale-Conant
–Oasis Audio
–Better Listen
–Gildan Media
–New World Library
–Thomas Nelson Word
–Phoenix Audio
–Zondervan
And there are many, many smaller publishers that are also included in the Spotify Premium catalog. Note that not all the audio books from these publishers are available to stream with the Spotify Premium membership. Some of the authors probably elected to opt-out.
Notable exceptions of publishers whose audio books are NOT available to stream through the Spotify Premium subscription currently include the following publishers. Their audio books might either not be on Spotify at all, or they are listed on Spotify but are locked and must be purchased individually through Spotify.com:
-Macmillan Audio
-Blackstone Audio (Many of their titles are available in the Audible Plus Catalog)
-Sounds True
-Hay House
-The Great Courses
-Brilliance Audio (they're owned by Audible so that makes sense)
-Pimsleur Language Learning Programs
-Naxos Audiobooks
And, of course, nothing published directly by Audible is on Spotify Premium! Well, this is bound to shake up the audio book industry, and we'll see what the results are. As for now, we're staying subscribed to both Spotify and Audible for the best of both worlds and a truly impressive collection of hundreds of thousands of audio books to choose from.
If you aren't a Spotify Premium member or aren't in the USA, UK, or Australia and can't yet access this new audio book program, then you might want to check out our Spotify playlist of over 1,000 of the Best Free Audio Books on Spotify that are available to stream whether you're a Spotify member or not:
Over 1,000 of the Best Free Audio Books on Spotify Playlist
Happy streaming! Thanks Spotify!