October 2018
| Su | Mo | Tu | We | Th | Fr | Sa |
| --- | --- | --- | --- | --- | --- | --- |
| | 1 | 2 | 3 | 4 | 5 | 6 |
| 7 | 8 | 9 | 10 | 11 | 12 | 13 |
| 14 | 15 | 16 | 17 | 18 | 19 | 20 |
| 21 | 22 | 23 | 24 | 25 | 26 | 27 |
| 28 | 29 | 30 | 31 | | | |
July 20, 2018
Hi! We've been busy making some changes on the website recently. First off we're no longer selling audio books on download directly, but we are linking to over 30,000 audio books on Audible through Amazon.com. You can now browse our new Audio Books section here:
LearnOutLoud Audio Books Section Now Featuring 30,000 Audio Book Downloads from Audible on Amazon.com
So now that we are free from the burden of selling audio books we can focus on offering more free audio books, podcasts, and other great free audio & video learning programs. A number of the publishers we were working with now offer their audio books for free on streaming ad-supported platforms like Spotify, YouTube, and SoundCloud. We've now switched the links for these publishers and added embeddable players for these titles so you can access them for free through our site. Below are over 300 new free audio books we've added into our Free Audio & Video Directory. We'll be adding many more in the coming weeks as we switch over to titles that are now available for free. For now here are over 300 free audio books from a number of great publishers:
50 Free Personal Growth Audio Books from BN Publishing
65 Free Plays on Audio from L.A. Theatre Works on SoundCloud & Spotify
30 High Quality Hypnotherapy Program from Diviniti Publishing, mostly lead by the UK's best-selling hypnotherapist, Glenn Harrold
25 Free Audio Books of Great Speeches and Historical Audio from Speechworks
30 Free Relaxing Musical and Spoken Recordings from The Relaxation Company
7 Talks by Jiddu Krishnamurti from the Krishnamurti Foundation of America
15 Fun Full Cast Audio Books for Kids & Teens by the Publisher Full Cast Audio
10 Free Audio Programs from More Than Sound featuring Author Daniel Goleman Interviewing Thought Leaders
50 Free Spiritual Music Albums by Sounds True (You'll need to browse through their publisher page to find music albums that are Online Audio (Free))
Adding these titles brings our total number of free audiobooks to be over 3,500 in our Free Audiobooks section:
Browse Over 3,500 Free Audiobooks
Also we'll remind you as you browse around that if you log in now you can create "My List" which is a list of audio & video learning titles you want to listen to or watch. "My List" is now accessible in the upper right hand corner of every page on our desktop site. Start creating a learning list today! Many more free audio books to come. Thanks for your patience!
Please Note: In order to listen to many of these audio programs you'll need a free Spotify account. You can listen for free with occasional ads and they also have Spotify software for easier listening on your computer. If you want to listen ad-free and on a smart phone and you love music as well, we can't recommend Spotify Premium highly enough.

Posted by LearnOutLoud | Permalink
May 16, 2018
Author Tom Wolfe passed away this week at the age of 88. He was one of the leading writers of the literary nonfiction style known as New Journalism that was developed in the 1960s and 1970s. Always a pleasure to read, Tom Wolfe also gave some very enjoyable interviews and talks that we've featured over the years. Here are five fun talks he gave on video:
In this streaming video from C-SPAN's BookTV, Tom Wolfe talks about his career as writer from The Kandy-Kolored Tangerine-Flake Streamline Baby which he wrote back in the 1960s all the way up to his latest novel I Am Charlotte Simmons which explores college campus life in the present day. He fields call-in questions from people across the United States and tells us the secrets of his craft. Indeed, few writers today are as fun to listen to as Tom Wolfe.
For an amusing talk on modern art, listen to author Tom Wolfe in this talk he gave at his 60th class reunion at Washington and Lee University. In the tradition of his 1975 book The Painted Word, Tom Wolfe skewers the modern art world of the 21st century. He presents slides of the work of famous "deskilled" and "hands off" modern artists such as Jeff Koons, Damien Hirst, and Marina Abramovic. He talks about the art world establishment as consisting of about 3,000 people who determine the taste and value of modern art. If you've ever scratched your head while looking at a work of modern art, then this talk might amuse you. It is available as a video through YouTube with slides that show the works of art which Wolfe is referencing.
3. 2000 Boston University Commencement by Tom Wolfe
Watch this turn of the century commencement address from the great American author Tom Wolfe. While most commencement address speakers urge students to go out and change the world and fight the system, Tom Wolfe reminds graduates to keep up the current greatness of America and of our tremendous wealth and openness as a country. He praises our middle class virtues and laughs at movie actors and rock stars and other "intellectuals" who tear down the ordinary virtues of America with satire and cries of indignation. Throughout the talk Wolfe gives some of his own hilarious observations on America at the turn of the 21st century. It's a unique commencement address from one of America's most keen observers and most entertaining writers.
4. The Word According to Tom Wolfe

In this 30-minute interview with author Tom Wolfe, he provides his two cents on a wide variety topics from the death of the novel to the latest findings in neuroscience. He gives insight into his book that he was writing at the time
Back to Blood
and his thoughts on contemporary immigration in America. Wolfe provides some of his political opinions such as his support of President George W. Bush, which has proved very unpopular in his social circles in New York City. While most critics predict doom and gloom for the American Empire, Wolfe feels that we are on the verge of many great American centuries. At the end he provides a little moral advice: "Be happy with what you have!"
5. Tom Wolfe: What's Southern Today?
In this streaming video offered by C-SPAN, author Tom Wolfe talks about the South as it is today. He provides observations about going to a NASCAR event, the origins of the term redneck, and the history of the right to own a gun in the South. Wolfe also fields questions from the audience about his career and he lets us know what he's reading now. This entertaining hour-long video is available on C-SPAN.org.
Posted by LearnOutLoud | Permalink
May 4, 2018
We've decided to make some changes at LearnOutLoud and focus primarily on free audio & video learning going forward.
First off, starting July 1st, 2018 we will no longer be selling audio books directly on LearnOutLoud.com. We've had a good 12-year run as an audio book retailer, but we realize there are many better options for buying audio books now (notably Amazon's Audible.com). If you've purchased audio books from us in the past, you'll still be able to access them after July 1st, 2018, but we will no longer be selling audio books from that point on. We still plan to link to the best educational audio books as an affiliate of Audible.com and other audio & video learning companies, but our main focus now is going to be on providing you with the best free audio & video learning on the Internet.
Since we're soon no longer going to be selling audio books, we decided it was time to give away all 60 of the audio books we've published on LearnOutLoud.com over the past 12 years. Since 2006 we've been featuring a free audio book of the month every month. Well now we're giving away all 60 of those audio books we've published. Here are the audio books we've published that are now free on audio download exclusively on LearnOutLoud, now and forever:
Acres of Diamonds by Russell H. Conwell
Anthem by Ayn Rand
The Art of Money Getting by P.T. Barnum
The Art of War by Sun Tzu
The Autobiography of Benjamin Franklin
The Best of Steve Pavlina's Blog
Character Building Thought Power by Ralph Waldo Trine
A Christmas Carol by Charles Dickens
Civil Disobedience & Life Without Principle by Henry David Thoreau
Classics of Western Philosophy: Volume 1
Classics of Western Philosophy: Volume 2
Classics of Western Philosophy: Volume 3
Classics of Western Philosophy: Volume 4
Creative Mind by Ernest Holmes
Death in Venice by Thomas Mann
The Dhammapada by Buddha
The Enchiridion by Epictetus
The Founding Documents of the United States of America
The Go-Getter by Peter B. Kyne
Great American Presidents, Volume II
The Greatest Thing in the World by Henry Drummond
Hawthorne Tales by Nathaniel Hawthorne
The Impersonal Life by Joseph Sieber Benner
Iron Will by Orison Swett Marden
The Jefferson Bible by Thomas Jefferson
The Madman by Kahlil Gibran
The Magic Story by Frederic Van Rensselaer Dey
A Message to Garcia by Elbert Hubbard
Metamorphosis by Franz Kafka
Nature by Ralph Waldo Emerson
The Science of Being Great by Wallace D. Wattles
The Science of Being Well by Wallace D. Wattles
The Science of Getting Rich by Wallace D. Wattles
Selected Essays of Ralph Waldo Emerson
Selected Essays of Ralph Waldo Emerson: Volume 2
Siddhartha by Hermann Hesse
Tao Te Ching by Lao Tzu
A Theory of Human Motivation by Abraham Maslow
Think and Grow Rich by Napoleon Hill
Thought Vibration by William Atkinson
The Way of Peace by James Allen
The Will to Believe by William James
In the coming months we'll also be uploading all of these audio books to our YouTube channel which you can listen to there.
We're very grateful to the millions of visitors that have used LearnOutLoud.com over the years. If you'd like to support us just keep visiting our site and you can also support us by signing up for one of our affiliates, which is a win-win-win situation for all of us. You can support us by signing up through the following links:
Audible Free Trial Offer:

Get your first 30 days of the Audible membership plan free, which includes two free audiobook credits. After your 30 day trial, your membership will renew each month for just $14.95 per month so you can continue to receive one audiobook credit per month plus members-only discounts on all audio purchases.
Or from our more recent affiliate, that offers a truly amazing deal:
Scribd Free Trial Offer:

Get your first 30 days of a Scribd subscription free. With a free trial to Scribd, you'll get unlimited access to over 90,000 audio books and over 900,000 eBooks, along with numerous magazines, documents, and more. After your 30 day trial, your membership will renew each month for just $8.99 per month with ongoing unlimited access to their growing collection of audio books and eBooks. Scribd is truly becoming the Netflix of Audio Books & eBooks!
Or sign up for a free trial from one our all-time favorite audio & video learning companies, The Great Courses:
The Great Courses Plus Free Trial Offer:

You can now sign up for a 14-day free trial on TheGreatCoursesPlus.com When you sign up for The Great Courses Plus, you can then watch over 350 great courses and over 8,000 video lectures as much as you want, whenever you want! After the initial free trial, the price is only $19.99/month now! A bargain considering all the great courses you get access to. And if you sign up for a full year the price breaks down to only $14.99/month.
Thanks for Learning Out Loud! We can't wait to dedicate our focus solely on providing you with the best free audio & video learning content on the World Wide Web!
Posted by LearnOutLoud | Permalink
March 31, 2018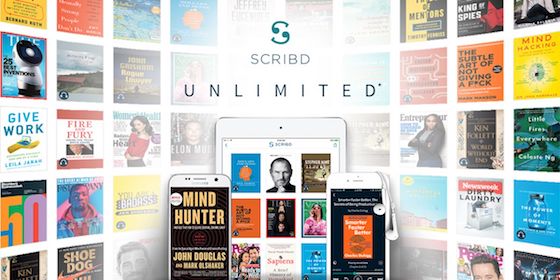 I've had a little bit of a revelation recently. That revelation being unlimited audiobooks services! Like many fans of audio books I've been a subscriber to Audible.com for years, getting my one credit per month for $14.95 and amassing a sizable library of audio books over the past decade.
Earlier this year the popular e-book and audiobook subscription service Scribd opened up their subscription service to offer unlimited e-books and audiobooks for $8.99/month after a 30 day free trial. I was skeptical of the selection I could get, but then I started browsing around. On Scribd you can browse around without having to create an account or log in to see the different audio books they have to offer. It's easier to browse their offerings on a desktop or laptop computer, but you can also browse on a mobile phone. And you can search for specific audio books on their site as well, sorting results by "Everything" or just "Books" or "Audiobooks". I decided to subscribe and after subscribing I've now got unlimited access to 90,000 audio books and 900,000 eBooks! Check it out for yourself:
Browse and Get Access to 90,000 Audio Books on Scribd
Scribd works with almost all the major audio book publishers amounting to over 50,000 titles from the following publishers:
Penguin Random House Audio (9600 Titles)
HarperAudio (4200 Titles)
Simon & Schuster Audio (2800 Titles)
Hachette Audio (1600 Titles)
Macmillan Audio (700 Titles)
Tantor Audio (9500 Titles)
Recorded Books (9000 Titles)
Brilliance Audio (8100 Titles)
Christian Audio (1800 Titles)
Oasis Audio (1600 Titles)
Zondervan Audio (1600 Titles)
Highbridge Audio (1400 Titles)
Naxos Audiobooks (800 Titles)
Thomas Nelson Audio (500 Titles)
Listen & Live Audio (500 Titles)
Gildan Audio (400 Titles)
L.A. Theatre Works (300 Titles)
Made for Success Audio (300 Titles)
Audio Holdings (300 Titles)
Better Listen Audio (200 Titles)
Penton Overseas Audio (130 Titles)
New World Library (40 Titles)
Berlitz Audio (30 Titles)
Once I had joined and was into my Scribd account, I started browsing the categories of the site. I began adding dozens of audio books to my saved library, and it was a bit like the first time I added streaming movies to my Netflix queue or starting listening to any album I wanted to on a streaming music service like Spotify. I wasn't just creating a wish list of audio books I would someday like to buy, but I was making a list of audio books that I could access and listen to as much (or as little) as I wanted to immediately! And that's what I've been doing since I subscribed last month. I've been trying out new releases along with audio books that used to be in my Audible Wish List, and I've also listened to titles that I might've never have purchased on Audible.
When it came to listening, I found the Scribd app on iOS to be very user friendly and assume that Android is the same experience. The titles are divided up by chapters and the app bookmarks your place wherever you've left off listening on your desktop or mobile app. On your phone you can stream audio books over your mobile network or download them on a WiFi connection for offline listening. The app specifies how large the files are for storing on your phone.
While I'm still an Audible.com subscriber since it has the largest selection of audio books at about 180,000 with many titles I can only get there, I've been impressed by Scribd's selection of 90,000 audio books. Some publishers not currently offered on Scribd include Blackstone Audio, Nightingale-Conant, Pimsleur, Phoenix Audio, Sounds True, The Great Courses, Hay House, AudioGO, and, of course, they don't have the titles published exclusively by Audible Studios (which includes about 30,000 audio books).
After looking around I discovered Scribd is not the only unlimited audiobooks subscription service currently. Here are a few others:
Playster.com - Has 100,000+ audiobooks available unlimited for $14.95/month. They have apps for iOS and Android, but their app is not as well reviewed as Scribd.
Otto Radio - I think they started as a radio and podcast app on iOS, but now have 55,000 audio books with two plans:
- Otto Select is $9.99 a month for unlimited access to 20,000+ Audio books.
- Otto Premium is $14.99 a month for everything included in the Select plan, plus one premium audio book per month.
And if you're looking for more a la carte options or one audio book per month subscriptions then you can try these:
Audible Free Trial Offer:
Get your first 30 days of the Audible membership plan free, which includes two free audiobook credits. After your 30 day trial, your membership will renew each month for just $14.95 per month so you can continue to receive one audiobook credit per month plus members-only discounts on all audio purchases. 180,000 Audio Books available!
Downpour Audio Books - Owned by our friends at Blackstone Audio, members get 1 Credit per month for $12.99 per month along with saving up to 70% off retail prices for members.
Kobo Audio Books - The popular eBook platform also features one audio book per month for $9.99/month.
Audiobooks.com - Offers an impressive 100,000 audio books with a free book and trial before it is $14.95 for one audio book per month.
Google Play Audiobooks - And with the growth in the audio book market, Google decided it was their turn to jump in, offering no subscriptions, but audio books for sale a la carte at discounts. They launched in January with audio books in their Google Play Books app for both Android and iOS.
LearnOutLoud.com Audiobooks for Sale - And we offer 10,000 educational and inspirational audio books to download or stream on MP3 audio.
You can also purchase audio books through Amazon.com (which owns Audible) and iTunes (which Audible distributes to). There is also the ability to get audio books through libraries with Hoopla and Overdrive. Many options, but we recommend trying:
90,000 Audio Books with a 30 Day Trial to Scribd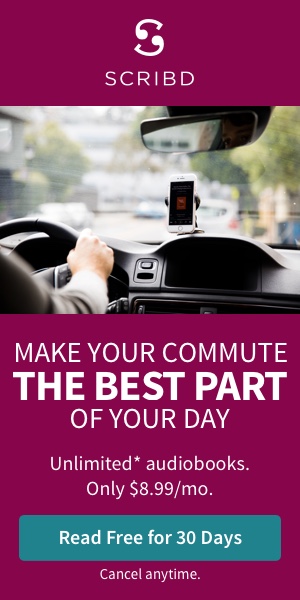 Posted by LearnOutLoud | Permalink
March 30, 2018
There is a new 6-hour Netflix documentary series out called Wild Wild Country on the Indian guru Bhagwan Shree Rajneesh (popularly known as Osho) and the Rajneeshpuram community he and his followers set up in the 1980s in central Oregon. It is a fascinating documentary that covers the drama that unfolded over many years from many perspectives including leading figures within Rajneeshpuram and the surrounding townspeople and law enforcement officials they came into conflict with.
What the documentary doesn't cover much is the actual teachings of Osho. We've sold Osho talks on our site for years and have enjoyed his unconventional spiritual wisdom which draws on Eastern philosophy and religion. We recently discovered that these talks are available for free on Spotify as well, so we've embedded them onto our pages for 20 of Osho's talks which we'll list below. OSHO International has also recently uploaded a six-part 4-hour video series by Osho to their YouTube channel entitled:
Priests & Politicians: The Mafia of the Soul
And here are the 20 free talks featured on Spotify. Please Note: In order to listen to these audio programs you'll need a free Spotify account. You can listen for free with occasional ads and they also have Spotify software for easier listening on your computer. If you want to listen ad-free and on a smart phone and you love music as well, we can't recommend Spotify Premium highly enough. If you don't have Spotify or you want the talks on audio download, we are selling each talk for $4.00 on audio download.
1. 20 Difficult Things to Accomplish in this World
6. Every Human Being is a Seeker of Truth
8. Hypnosis in the Service of Meditation
9. Love and Hate: Just Two Sides of the Same Coin
10. The Man With the Inexplicable Life
11. Mind And Body Are Not Two Things
13. The Philosophy of Non-Violence
14. Reminding Yourself of The Forgotten Language of Talking to Your Mind And Body
15. Watchfulness, Awareness, Alertness
17. When Eternity Penetrates Time
18. Why Is Communication So Difficult?
19. You Are in Prison and You Think You Are Free
Take a listen to these Osho talks and decide for yourself about his unique spiritual ideas.
Posted by LearnOutLoud | Permalink