March 2022
| Su | Mo | Tu | We | Th | Fr | Sa |
| --- | --- | --- | --- | --- | --- | --- |
| | | 1 | 2 | 3 | 4 | 5 |
| 6 | 7 | 8 | 9 | 10 | 11 | 12 |
| 13 | 14 | 15 | 16 | 17 | 18 | 19 |
| 20 | 21 | 22 | 23 | 24 | 25 | 26 |
| 27 | 28 | 29 | 30 | 31 | | |
November 27, 2021
UPDATE! As you might've heard, iTunes shut down their iTunes U section at the end of 2021. iTunes U was launched in 2007 to showcase free educational material from universities, colleges, and other institutions. Now the bad news is that you can no longer browse iTunes U and some of their courses and offerings are gone. But the good news is that many of their courses have now moved over to the iTunes Podcast Directory. At LearnOutLoud we've tried to feature the top audio & video learning content that iTunes U had to offer over the years which we'll highlight below.
After going through their courses which we featured, here are some of courses that still remain on the iTunes Podcast Directory and we still feature on our site:
Over 70 Courses & Lectures from Stanford University on iTunes & YouTube
12 Courses from La Trobe University
23 Free Courses from UC Davis on iTunes & YouTube
11 Courses from Arizona State University
16 Courses from East Tennessee State University
9 Courses from Utah Valley University
19 Courses from Missouri State University on iTunes & YouTube
12 Course from Seattle Pacific University
11 Courses from Harrisburg Area Community College
5 Courses from Parkland College
8 Courses from the New Jersey Institute of Technology
18 Courses from Covenant Theological Seminary
3 Courses from DePaul University
4 Courses from the Reformed Theological Seminary
4 University of Arizona Courses
And here are 30 other iTunes U courses we link to:

And here are some of the individual courses and offerings we've featured over the years:
In addition to their other offerings through Stanford on iTunes, Stanford University is offering this course for free through iTunes U on audio download. This Intro to Humanities course entitled "The Literature of Crisis" explores crisis when it occurs at the personal, familial, and societal levels through six major works of literature. Professor Martin Evans and Marsh McCall are both dynamic lecturers that lead listeners through these works. While it seems a lot can be derived from the lectures without reading the works, you may want to read (or listen to) some of the works yourself in conjuction with listening to the lectures. Here are the works they examine (with links to these titles on audio book): Apology by Plato, The Consolation of Philosophy by Boethius, Oedipus the King by Sophocles, Hamlet by Shakespeare, The Aeneid by Virgil, and Candide by Voltaire.
Professor J. Rufus Fears was an American historian, scholar, teacher, and author, who was best known for his many courses he taught through the Teaching Company that produces The Great Courses. Now you can get one of his "great" courses absolutely free from the University of Oklahoma through iTunes U. In a series of 18 dynamic audio & video lectures supplemented by downloadable documents, Professor J. Rufus Fears tells the story of how America's vision of freedom became a model for the entire world. As Fears argues in the first lecture, one of the main reasons America has endured is because the founding fathers used lessons from the past to make decisions in the present and plan for the future. This sense of what works historically and what we should avoid has given the great American leaders (from Jefferson to Lincoln to FDR) a sturdy precedent that can be used as a tool to forge ahead. With that established, Fears says the purpose of the course will be to reflect upon the lessons provided by major turning points in American history and how we can use this history to tackle the problems the world faces today. Enjoy this course from a truly great professor and historian. Now on YouTube.
Utah Valley University Professor Michael J. Shively leads a course that will explore the structure and function of the most remarkable machine on earth: the Human Body. In a series of video lectures, Shively goes over how human anatomy is broken down to the sub-atomic level, back up to the "gross" or observable elements we can study with the naked eye. As they progress through the course, Shively asks his students to continually build upon what they are learning, providing a cell by cell, bone by bone picture of how human beings function and how we differ from other living beings. Fun and easy to digest, Shively's dynamic videos easily draw both the student and the viewer in on a fascinating topic. This 38 lesson course is available on free video via iTunes U.
UCLA professor Robert Cargill teaches a class that considers how the the three major world religions focused on Jerusalem as a center of holy significance. Cargill begins the course by tracking why a regionally unexceptional city became so important in the first place. Starting chronologically with Genesis, he traces the history of Jewish settlement in the region, to the rise of Christianity and the latter development of Islam. Throughout each lecture, Cargill tethers every historical era to the physical geography of the city itself, showcasing how cultural and religious development was mirrored by the changing significance of specific landmarks. Viewed in this light, Cargill's course demonstrates how different cultures externalize and maintain their religious beliefs through physical objects and places. This course is available on video through iTunes U.
Colonial and Revolutionary America
The ways in which scholars and teachers approach American History has gone through a major shakeup in recent years, and in this free course presented by Stanford, students will be given a chance to assess the new ways we might investigate American origins. Historian and professor Jack Rakove identifies two strands of thinking when it comes to American history: the first, more conventional take examines American history through the prism of British colonial involvement and the transplantation of English institutions into North America. The second, more contemporary view sets the clock back to European "discovery", starting with Columbus and tracing the vast exchanges over what became known as the Atlantic Ocean. Setting up his survey in these terms, Rakove explains that writing a strong narrative of American history has always been tough to do, and the course will try to navigate the complex series of interactions that led to the development of the North American continent up the Revolutionary generation. This course is available on audio through iTunes U.
Who were the Romantics? In this free course conducted by Timothy Morton, listeners will learn about an innovative literary period between 1790 and 1820 that produced influential writers such as William Blake, Jane Austen, William Wordsworth, John Keats, and Mary Shelley. Centered primarily in England at the dawn of the Industrial Revolution, the Romantic poets began to grapple with a changing world that was dominated by capitalist ambition, a growing consumerism, and the explosive development of democratic political reforms. Morton also feels that with this change there came a new self-awareness that the romantics tapped into, where many became conscious of a newfound intellectual and expressive freedom. The course will not only cover the writers and their work, but also pay special attention to how their thinking helped influence modern self-understanding. It's being offered on audio on iTunes U.
How to Think Like a Psychologist
In this free mini-course provided by Stanford University, Upside of Stress author and psychologist Kelly McGonigal hosts a survey of current trends in psychology and how they might offer strategies for use in daily life. With each class, cutting edge psychologists offer a lecture on their specific areas of study, followed by lively interviews with McGonigal and questions from the class. Fascinating topics covered include how to use meditation to combat anxiety, finding practical techniques to manage our emotions, and what really makes human beings unique. A must for anyone interested in the role psychology plays in daily life, and for those that want to learn more about the newest, exciting innovations in the field. This course is available on video through iTunes U.
Enjoy what is left of iTunes U through the iTunes Podcast Directory!
Posted by LearnOutLoud | Permalink
May 1, 2021
We've just added over 500 new audio books from Spotify into our Free Audio & Video Directory. That brings our total number of Spotify audio books to over 1,000. We've created a Spotify playlist on our LearnOutLoud Spotify account that you can use to find these audio books. The playlist features the first track of each audio book. Check out this playlist on Spotify:
Best Audio Books on Spotify Playlist by LearnOutLoud
In addition to music and podcasts, Spotify has increasingly become a destination for audiobooks. In order to listen to these audiobooks you'll need a free Spotify account. You can listen for free with occasional ads, and they also have Spotify apps for easier listening on your computer or smart phone. If you want to listen ad-free and you love music as well, we can't recommend Spotify Premium highly enough.
One of the issues with Spotify and audio books is finding the best audio books they have to offer. We've scoured through Spotify to find the highest quality audio books you can learn from and below we'll list the publishers that have added many of their titles to Spotify. Browse through these publishers on our site and find some great audio books to listen to on Spotify today!
Spotify Podcasts & Audio Books - For titles that didn't fit under another publisher, we've added them to our Spotify publisher page. Here you'll find some classic literature audio books that Spotify has published with professional narrators, along with some podcasts that are exclusive to Spotify. There are also spoken word albums of speeches, poetry readings, comedy, and a lot more.
Dreamscape Media Audio Books - This publisher has hundreds of audio books on Spotify. We've picked out over 200 of their best educational audio books that you can listen to and added them to our site. Their titles cover a wide array of categories from self help to business to history and more.
Made for Success Audio Books - We feature over 250 audio programs from Made for Success which are available on Spotify and YouTube. They specialize in original audio programs to motivate you in your personal and professional life.
L.A. Theatre Works Audio Books - The best publisher of audio theatre has added over 80 of their plays to Spotify. You'll find classic plays such as Twelve Angry Men and much more.
Penton Overseas Language Learning Audio Books - This publisher has added over 50 of their "Learn in Your Car" language learning audio programs to Spotify. Learn French, Spanish, Italian, Chinese, German, English as a Second Language, and more.
Scholastic Audio Books - Scholastic Audio specializes in contemporary books for kids and offers about 50 of their audio books on Spotify including The Hunger Games.
Speechworks Audio Books - If you like great speeches, then Speechworks features over 25 collections of original recordings of amazing speeches on Spotify.
Vibrance Press Audio Books - This publisher offers over 50 of their unabridged audio books on Spotify, mostly in the areas of personal growth.
BN Publishing Audio Books - Check out over 50 classic self help audio programs from BN Publishing on Spotify. Mixed in are some great speeches, classic radio programs, and other historic recordings.
CSA Word Audio Books - If you want to listen to classic literature in abridged format, then CSA Word has over 50 audio books that typically run 2-3 hours in length. These abridged classics feature outstanding professional narrators.
Novel Audio Books - They offer over 30 contemporary audio books on Spotify, with many nonfiction titles.
Saland Publishing Audio Books - Love Shakespeare? Saland Publishing offers over 25 full cast Shakespeare plays on Spotify with many superb actors.
Krishnamurti Foundation of America Audio Books - Listen to 30 audio programs from the renowned spiritual teacher Jiddu Krishnamurti on Spotify.
Smithsonian Folkways Recordings Audio Books - Smithsonian Folkways publishes a lot of music, but they also have released some great spoken word collections. We feature 15 of them from Spotify.
Musically Speaking Audio Books - Take a journey through classical music with over twenty "Conductor's Guides" to some of the greatest music ever composed!
Osho Audio Books - Over 20 talks on Spotify from the famous spiritual guru Osho, also known as Bhagwan Shri Rajneesh (featured in the popular Netflix documentary Wild Wild Country).
NAXOS Audio Books - Listen to 27 hour-long introductions of famous operas and 11 4-hour-long composer biographies from NAXOS. They're all on Spotify and we've collected them here on a blog post.
Earworms Audio Books - Over 15 language learning programs featuring essential words and phrases in Spanish, French, German, Russian, Italian, Japanese, and more.
The Relaxation Company Audio Books - The Relaxation Company offers over 30 of their pioneering audio programs on Spotify to help your relax with meditations, guided relaxations, and audio sleep aids.
There are even more audio books than that on Spotify, but the 1,000 audio books from these publishers we think are the best!
Posted by LearnOutLoud | Permalink
August 27, 2020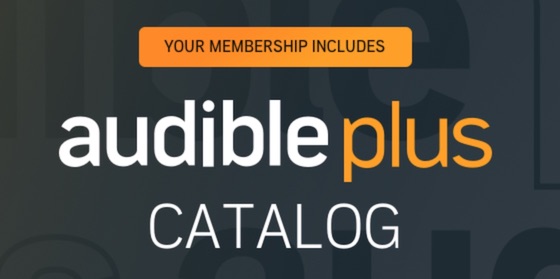 A subscription to Audible just got a whole lot more appealing! Audible has launched their brand-new all-you-can-listen-to service called Audible Plus! We've been hoping for something like this for a while, and now if you're an Audible member you get access to a library of over 11,000 audio books that you can download or stream at any time! Current Audible members are automatically upgraded to Audible Premium Plus where you'll get your one audio book credit a month and you'll also have access to their Plus Catalog of over 11,000 audio books that you can Play and Add to your library at any time.
Here's Audible's press release on Audible Plus:
All-You-Can-Listen Membership Option, Audible Plus, Rolls Out in Preview
And if you browse the audio book categories on the Audible.com site you can now filter by their "Plus Catalog", so you can see the titles you'll be automatically getting when you become an Audible Premium Plus Member:
We've browsed around for a few hours and noticed that most of the titles are ones published directly by Audible.com or they're published by the large independent audiobook publisher Blackstone Audio, which appears to have offered up a hefty portion of their audiobooks on Audible Plus. I'm sure the Audible Plus catalog will change and expand over time, but it's already very impressive!
Audible Plus is eventually going to be offered as a stand-alone subscription service for $7.95/month. But you won't get your monthly audio book credit if you're subscribed to only Audible Plus. And that monthly Audible credit can be applied to the hundreds of thousands of audiobooks available on Audible. If you want to dive into Audible Plus, sign up for a free Audible trial today:
Get an Audible Free Trial Now Featuring Audible Plus
Here are just a few of the most popular audio books currently available in the Audible Plus Catalog. You can listen to all these titles now for free with a subscription to Audible Premium Plus:
1984 by George Orwell
Man's Search for Meaning by Viktor E. Frankl
Animal Farm by George Orwell
The Complete Book of Five Rings by Miyamoto Musashi
The Hiding Place by Corrie ten Boom
The Confidence Gap by Russ Harris
The New Confessions of an Economic Hit Man by John Perkins
Surely You're Joking, Mr. Feynman! by Richard P. Feynman
What If?: Serious Scientific Answers to Absurd Hypothetical Questions by Randall Munroe
Peace Is Every Step by Thich Nhat Hanh
Mere Christianity by C.S. Lewis
The Anatomy of Peace, Expanded Second Edition by The Arbinger Institute
Amusing Ourselves to Death by Neil Postman
The Doors of Perception by Aldous Huxley
Goals!: How to Get Everything You Want Faster Than You Ever Thought Possible by Brian Tracy
The Bulletproof Diet by Dave Asprey
The Bonfire of the Vanities by Tom Wolfe
Origins: Fourteen Billion Years of Cosmic Evolution by Neil deGrasse Tyson
Smile at Fear: Awakening the True Heart of Bravery by Chogyam Trungpa
And over 11,000 more free titles to stream with Audible Plus! We're gonna be adding new titles to our Audible library for days! :)
Posted by LearnOutLoud | Permalink
July 8, 2020
When top authors go on tour to talk about their latest books, they'll often stop at a Google office location to deliver a summary of what they've written and to answer questions from Google employees. Google has been recording these talks for 15 years now on video and has been putting them on YouTube where they now have over 5,000 talks on their Talks at Google Channel. Also recently they launched the Talks at Google Podcast where you can listen to their newest talks.
Over the years we've listened to hundreds of these talks and have added about 500 of the Best Google Talks to LearnOutLoud for you to browse:
500 of the Best Google Talks on LearnOutLoud.com
It's been about five years since we've added any of their talks to our site, so we decided to browse through all of the talks they've been offering and pick out the Top 100 Google Talks from the Past Five Years. We've selected these based on what talks are most popular, highly rated, and also have the most highly rated and bestselling books associated with them. Below we've listed these 100 talks and we're linking to them directly on YouTube:
Alex Epstein on The Moral Case for Fossil Fuels

Alex Filippenko on Supernovae, Exoplanets, Black Holes

Alex Garland on Ex Machina

Andy Puddicombe on Headspace

Ashlee Vance on Elon Musk

Atul Gawande on Being Mortal

Barbara Corcoran on Shark Tales

Barbara Oakley on Learning How to Learn

Bea Johnson on Zero Waste Home

Bernie Roth on The Achievement Habit

Bill Nye on Undeniable

Brad Gilbert on Winning Ugly

Brian Christian & Tom Griffiths on Algorithms to Live By

Brian Greene on Until the End of Time

Carmine Gallo on Talk Like TED

Carol Dweck on Mindset

Caroline Webb on How to Have a Good Day

Cary Elwes on As You Wish

Cenk Uygur on the Revolution of News

Chris Guillebeau on The Happiness of Pursuit

Chris McDougall on Natural Born Heroes

Chuck Bryant & Josh Clark on Stuff You Should Know

Chuck Klosterman on But What If We're Wrong

Clayton Christensen on Where Growth Comes From

Dan Ariely on Dating & Relationships

Dan Carlin on The New Golden Age of Oral Historical Storytelling

Dan Lyons on Disrupted

Dan Savage & Esther Perel on Love, Marriage & Monogamy

Daniel Dennett on The Evolution of Minds

Daniel Ellsberg on The Doomsday Machine

Daniel Goleman & Richie Davidson on Altered Traits

Daniel H. Pink on The Scientific Secrets of Perfect Timing

Daniel Levitin on The Organized Mind

David Nihill on Do You Talk Funny?

David Wallace-Wells on The Uninhabitable Earth

Donald Johanson on What Makes Us Human?

Dr. Brant Cortright on The Neurogenesis Diet

Dr. Harry Barry on Flagging Anxiety & Panic

Dr. Helen Fisher on Anatomy of Love

Dr. Jordan Metzl on Running Strong

Dr. Michael Greger on How Not to Die

Emily Fletcher on Ziva Meditation

Felicia Day on You're Never Weird on the Internet

Francis Chan on How to Get to Heaven from Silicon Valley

Frank Abagnale on Catch Me If You Can

Garry Kasparov on Deep Thinking

George Friedman on The Emerging Crisis in Europe

George Miller on Mad Max: Fury Road

Gloria Steinem on My Life on the Road

Gretchen Rubin on Better than Before

Harville Hendrix & Helen LaKelly Hunt on Getting the Love You Want

Ijeoma Oluo on So You Want to Talk About Race

J.L. Collins on The Simple Path to Wealth

Jack and Suzy Welch on The Real-Life MBA

James Robinson on Why Nations Fail

Jimmy O. Yang on How to American

Joel Greenblatt on The Little Book that Beats the Market

John Cleese on So, Anyway

John Searle on Consciousness in Artificial Intelligence

Jon Ronson on So You've Been Publicly Shamed

Judith Orloff on The Empath's Survival Guide

Kristin Neff on The Science of Self-Compassion

Leanne Brown on How to Eat Well on $4 Per Day

Lisa Nichols on Abundance Now

Mark Roberge on The Sales Acceleration Formula

Mary Roach on Grunt

Matt Ridley on The Evolution of Everything

Matthew Vines on God and the Gay Christian

Matthew Walker on Why We Sleep

Max Tegmark on Our Mathematical Universe

Michael Moore on Where to Invade Next

Michael Pollan on How to Change Your Mind

Michio Kaku on The Future of Humanity

My Journey at the Nuclear Brink

N.T. Wright on Simply Good News

Nassim Nicholas Taleb on Skin in the Game

Neil Pasricha on The Happiness Equation

Nicholas Carr on Automation and Us

Nick Offerman on Good Clean Fun

Noam Chomsky at Google in 2017

Paul Mason on PostCapitalism

Pedro Domingos on The Master Algorithm

Penn & Teller on Broadway

Peter Adamson on Philosophy in the Islamic World

Peter Singer on The Most Good You Can Do

Randall Munroe on What If?

Ray Dalio on Principles: Life and Work

Richard Dawkins on Brief Candle in the Dark

Richard Rohr on Divine Dance

Richard Thaler on The Making of Behavioral Economics

Richard Wolff on Democracy at Work

Robert Greene on The Laws of Human Nature

Robert Reich on Preparing the Economy for AI

Robert Thurman on Buddhist Ethics

Ryan Holiday on Ego is the Enemy

Ryan Serhant on Sell It Like Serhant

Sadhguru on Developing an Inclusive Consciousness

Sean Carroll on The Big Picture

Sebastian Junger on Tribe

Shawn Stevenson on Sleep Smarter

Simon Sinek on The Games of Leadership

Sonia Shah on Pandemic

Steven J. Dubner on When to Rob a Bank

Steven Pinker on Enlightenment Now

Steven Pinker on The Sense of Style

Ted Koppel on Lights Out

Thomas L. Friedman on Thank You for Being Late

Tim Ferriss on How to Cage the Monkey Mind

Tim Keller on Making Sense of God

Tim Larkin on When Violence is The Answer

Vanessa Van Edwards on Captivate

William Thorndike on The Outsiders

Yanis Varoufakis on And the Weak Suffer What They Must?

Yuval Harari on Techno-Religions and Silicon Prophets

Yuval Noah Harari on 21 Lessons for the 21st Century


Posted by LearnOutLoud | Permalink
June 28, 2020
In recent years the popular music and podcast service Spotify has become a destination for audiobooks as well! Whether it's self help audio programs from Made for Success, full cast plays on audio from L.A. Theatre Works, or language learning programs from Penton Overseas, you can find a lot of audiobooks to learn from. To help you discover these audiobooks we've put together playlists on our Spotify account which you can check out and follow here:
LearnOutLoud Playlists of Audiobooks on Spotify
After browsing around Spotify we've come across one large audiobook publisher that has embraced releasing titles on the platform. They're called Dreamscape Media and you can check out all the titles they've published at www.dreamscapepublishing.com. In addition to being on Audible.com, Dreamscape Media has released most of the audiobooks they've published on Spotify, and they've published over 5,000 titles to date! Most of their audiobooks are in the fiction categories which we don't really feature on LearnOutLoud (romance, mysteries, thrillers, etc.), but they've also published a significant number of new nonfiction audiobooks. We've picked out 300 of their nonfiction audiobooks and have added them to our LearnOutLoud.com Free Audiobooks Section. We'll link directly to our title pages for these audiobooks which you can browse below where we've listed them all by category. Seize the day when it comes to listening to these audiobooks because you never know when the publisher might take them down. We're still kicking ourselves over not listening to more of the Joseph Campbell lectures that were on Spotify but have now been removed. Anyway, here are 300 new nonfiction audiobooks free on Spotify courtesy of Dreamscape Media!
Please Note: In order to listen to these audiobooks you'll need a free Spotify account. You can listen for free with occasional ads and they also have Spotify software for easier listening on your computer or smart phone. If you want to listen ad-free and you love music as well, we can't recommend Spotify Premium highly enough. Here are the 300 audiobooks you can listen to:

Arts & Entertainment Audio Books:
A Futile and Stupid Gesture: How Doug Kenney and National Lampoon Changed Comedy Forever by Josh Karp

100 Things the Simpsons Fans Should Know & Do Before They Die by Allie Goertz, Julia Prescott

Directing Actors by Judith Weston

Go Ahead in the Rain: Notes to A Tribe Called Quest by Hanif Abdurraqib

My Week with Marilyn by Colin Clark

Short Nights of the Shadow Catcher: The Epic Life and Immortal Photographs of Edward Curtis by Timothy Egan


Biography Audio Books:
Being John Lennon: A Restless Life by Ray Connolly

Elton John: The Biography by David Buckley

For Your Consideration: Dwayne "The Rock" Johnson by Tres Dean

For Your Consideration: Keanu Reeves by Larissa Zageris, Kitty Curran

The Class of '65: A Student, a Divided Town, and the Long Road to Forgiveness by Jim Auchmutey

Fragments of Isabella: A Memoir of Auschwitz by Isabella Leitner

H.H. Holmes: The True History of the White City Devil by Adam Selzer

Say I'm Dead: A Family Memoir of Race, Secrets, and Love by E. Dolores Johnson

Eisenhower's Armies: The American-British Alliance During World War II by Niall Barr

Friendly Fire by C.D.B. Bryan

Guadalcanal Diary by Richard Tregaskis

After the Fall: The Remarkable Comeback of Richard Nixon by Kasey S. Pipes

Lessons My Father Taught Me: The Strength, Integrity, and Faith of Ronald Reagan by Michael Reagan

Washington and Hamilton: The Alliance That Forged America by Stephen F. Knott, Tony Williams

Working with Winston: The Unsung Women Behind Britain's Greatest Statesman by Cita Stelzer


Business Audio Books:
The Great Reversal: How America Gave Up on Free Markets by Thomas Philippon

Socialism Sucks: Two Economists Drink Their Way Through the Unfree World by Robert Lawson, Benjamin Powell

Who Cooked Adam Smith's Dinner?: A Story of Women and Economics by Katrine Marcal

Boom: Bridging the Opportunity Gap to Reignite Startups by Craig Hall

The Fifteen Percent: Overcoming Hardships and Achieving Lasting Success by Terry Giles

The Capitalist Code: It Can Save Your Life and Make You Very Rich by Ben Stein

Deduct Everything!: Save Money with Hundreds of Legal Tax Breaks, Credits, Write-Offs, and Loopholes by Eva Rosenberg

Work Your Money, Not Your Life: How to Balance Your Career and Personal Finances to Get What You Want by Roger Ma, Jenn Roberts Ma

Your Score: An Insider's Secrets to Understanding, Controlling, and Protecting Your Credit Score by Anthony Davenport

21 Great Leaders: Learn Their Lessons, Improve Your Influence by Pat Williams, Jim Denney

How Leaders Decide: A Timeless Guide to Making Tough Choices by Greg Bustin

Talk Is Chief: Leadership, Communication, and Credibility in a High-Stakes World by Jack Modzelewski

iCompete: How My Extraordinary Strategy for Winning Can Be Yours by John T. Hewitt

Iconic Advantage: Don't Chase the New, Innovate the Old by Soon Yu

Smart Skills: Working with Others by Frances Kay

The 30-Minute Millionaire: The Smart Way to Achieving Financial Freedom by Peter J. Tanous, Jeff Cox

Isn't That Rich?: Life Among the 1 Percent by Richard Kirshenbaum

The Little Book of Prosperity: The 12 Principles of Wealth and Abundance by Chris Gentry


Education & Professional Audio Books:
I Shouldn't Be Telling You This: Success Secrets Every Gutsy Girl Should Know by Kate White

Smart Skills: Building Career Success by Anthony Jacks

Start Now: Because That Meaningful Job Is out There, Just Waiting for You by Reynold Levy

Between Hope and Fear: A History of Vaccines and Human Immunity by Michael Kinch

The End of the Beginning: Cancer, Immunity, and the Future of a Cure by Michael Kinch

Handbook for a Post-Roe America by Robin Marty

Human Heart, Cosmic Heart: A Doctor's Quest to Understand, Treat, and Prevent Cardiovascular Disease by Thomas Cowan

The Invention of Surgery: A History of Modern Medicine: From the Renaissance to the Implant Revolution by David Schneider

On Call in the Arctic: A Doctor's Pursuit of Life, Love, and Miracles in the Alaskan Frontier by Thomas J. Sims

Patient Care: Death and Life in the Emergency Room by Paul Seward

Blackboard: A Personal History of the Classroom by Lewis Buzbee

The Montessori Toddler by Simone Davies

The Prize: Who's in Charge of America's Schools? by Dale Russakoff

Unschooled: Raising Curious, Well-Educated Children Outside the Conventional Classroom by Kerry Mcdonald, Peter Grey

Save the Cat! Goes to the Movies: The Screenwriter's Guide to Every Story Ever Told by Blake Snyder

Save the Cat!: The Last Book on Screenwriting You'll Ever Need by Blake Snyder


History Audio Books:
The Eternal City: A History of Rome by Ferdinand Addis

The Last Best Hope: The Greatest Speeches of Ronald Reagan by Ronald Reagan

1956: The World in Revolt by Simon Hall


Literature Audio Books:
Dear Fahrenheit 451: Love and Heartbreak in the Stacks by Annie Spence

On the Shoulders of Giants by Umberto Eco

The Toni Morrison Book Club by Juda Bennett, Winnifred Brown-Glaude


Philosophy Audio Books:
The Case Against Perfection by Michael J. Sandel

How to Teach Philosophy to Your Dog: Exploring the Big Questions in Life by Anthony McGowan


Politics Audio Books:
The New Road to Serfdom: A Letter of Warning to America by Daniel Hannan

The Democracy Fix: How to Win the Fight for Fair Rules, Fair Courts, and Fair Elections by Caroline Fredrickson

How the Government Got in Your Backyard: Superweeds, Frankenfoods, Lawn Wars, and the (Nonpartisan) Truth About Environmental Politics by Jeff Gillman, Eric Heberlig

In a Day's Work: The Fight to End Sexual Violence Against America's Most Vulnerable Workers by Bernice Yeung

ISIS: Inside the Army of Terror by Michael Weiss, Hassan Hassan

No Place on the Corner: The Costs of Aggressive Policing by Jan Haldipur

The Ultimate Guide to the 2020 Election: 101 Nonpartisan Solutions to All the Issues that Matter by Ryan Clancy, Margaret White

Deceiving the Sky: Inside Communist China's Drive for Global Supremacy by Bill Gertz

Footprints in the Dust: Nursing, Survival, Compassion, and Hope with Refugees Around the World by Roberta Gately

Saudi, Inc.: The Arabian Kingdom's Pursuit of Profit and Power by Ellen R. Wald

Death of the Liberal Class by Chris Hedges

Blind Ambition: The White House Years by John W. Dean

The Impeachment and Trial of Andrew Johnson: Seventeenth President of the United States by David Miller DeWitt

The Promise and the Dream: The Untold Story of Martin Luther King, Jr. and Robert F. Kennedy by David Margolick

The Putin Interviews: Oliver Stone Interviews Vladimir Putin by Oliver Stone


Religion & Spirituality Audio Books:
One Blade of Grass: Finding the Old Road of the Heart, a Zen Memoir by Henry Shukman

Theravada Buddhism: Simple Guides by Diana St. Ruth, Richard St. Ruth

What's Beyond Mindfulness?: Waking Up to This Precious Life by Stephen Fulder

The World Could Be Otherwise: Imagination and the Bodhisattva Path by Norman Fischer

Beholding and Becoming: The Art of Everyday Worship by Ruth Chou Simons

The Bondage Breaker: Overcoming Negative Thoughts, Irrational Feelings, Habitual Sins by Neil T. Anderson

The Bumps Are What You Climb On: Encouragement for Difficult Days by Warren W. Wiersbe

Church of Cowards: A Wake-Up Call to Complacent Christians by Matt Walsh

DiscipleShift: Five Steps That Help Your Church to Make Disciples Who Make Disciples by Jim Putman, Bobby Harrington

Enough: Silencing the Lies That Steal Your Confidence by Sharon Jaynes

Finding Deep and Wide: Stop Settling for the Life You Have and Live the One Jesus Died to Give You by Shellie Rushing Tomlinson

A Generous Life: 10 Steps to Living a Life Money Can't Buy by David Green

Growing Up: How to Be a Disciple Who Makes Disciples by Robby Gallaty

Inspiration in My Shoes by Diana Patton

Interrupted: When Jesus Wrecks Your Comfortable Christianity by Jen Hatmaker

A Midwife in Amish Country: Celebrating God's Gift of Life by Kim Woodard Osterholzer

The Power of a Woman's Words: How the Words You Speak Shape the Lives of Others by Sharon Jaynes

Soul Feast: An Invitation to the Christian Spiritual Life by Marjorie J. Thompson

When God Happens: True Stories of Modern Day Miracles by Angela Hunt, Bill Myers

Why Does God Care Who I Sleep With? by Sam Allberry

Your Life Is Worth Living: 50 Lessons to Deepen Your Faith by Fulton Sheen, Robert Barron

Christian Beliefs: Twenty Basics Every Christian Should Know by Wayne Grudem, Elliot Grudem

Dark Agenda: The War to Destroy Christian America by David Horowitz

The Divine Dance: The Trinity and Your Transformation by Richard Rohr

The Enneagram: A Christian Perspective by Richard Rohr, Andreas Ebert

The Forgotten Trinity: Recovering the Heart of Christian Belief by James R. White

Orthodox Church: Simple Guides by Katherine Clark

Unveiled: The Bible, the Qur'an, and Women by Esther Ahmad, J. Chester

The Torah by Rabbi Rodney Mariner

Divinity of Doubt: The God Question by Vincent Bugliosi

Everything Belongs: The Gift of Contemplative Prayer by Richard Rohr

Falling Upward: A Spirituality for the Two Halves of Life by Richard Rohr

The Naked Now: Learning to See as the Mystics See by Richard Rohr

100 Bible Verses Everyone Should Know by Heart by Robert J. Morgan


Science Audio Books:
The Equations of Life: How Physics Shapes Evolution by Charles S. Cockell

One Wild Bird at a Time: Portraits of Individual Lives by Bernd Heinrich

When Humans Nearly Vanished: The Catastrophic Explosion of the Toba Volcano by Donald R. Prothero

The Archipelago of Hope: Wisdom and Resilience from the Edge of Climate Change by Gleb Raygorodetsky

A Naturalist at Large: The Best Essays of Bernd Heinrich by Bernd Heinrich

Nature's Best Hope: A New Approach to Conservation that Starts in Your Yard by Douglas W. Tallamy


Self Development Audio Books:
14 Days: A Mother, a Daughter, a Two Week Goodbye by Lisa Goich

Ageless Brain: Think Faster, Remember More, and Stay Sharper by Lowering Your Brain Age by Julia VanTine

Aging in Reverse: The Easy 10-Day Plan to Change Your State, Plan Your Plate, Love Your Weight by Natalie Jill

The Blue Zones: Lessons for Living Longer from the People Who've Lived the Longest by Dan Buettner

The Longevity Code: The New Science of Aging by Kris Verburgh

The Longevity Plan: Seven Life-Transforming Lessons from Ancient China by John D. Day, Jane Ann Day

The Stem Cell Cure: Remake Your Body and Mind by Guarav K. Goswami, Kerry Johnson

Super Ager: You Can Look Younger, Have More Energy, a Better Memory, and Live a Long and Healthy Life by Elise Marie Collins

Craft a Life You Love: Infusing Creativity, Fun & Intention into Your Everyday by Amy Tangerine

Disciplined Dreaming: A Proven System to Drive Breakthrough Creativity by Josh Linkner

The Runaway Species: How Human Creativity Remakes the World by David Eagleman, Anthony Brandt

The Four-Pack Revolution: How You Can Aim Lower, Cheat on Your Diet, and Still Lose Weight and Keep It Off by Chael Sonnen

The New Health Rules: Simple Changes to Achieve Whole-Body Wellness by Frank Lipman, Danielle Claro

The Ultimate Guide to Eating for Longevitiy: The Macrobiotic Way to Live a Long, Healthy, and Happy Life by Denny Waxman

20 Things I Know for Sure: Principles for Cultivating a Peaceful Life by Karen Casey

Calm Clarity: How to Use Science to Rewire Your Brain for Greater Wisdom, Fulfillment, and Joy by Due Quach

Fierce Joy: Choosing Brave over Perfect to Find My True Voice by Susie Rinehart

Happiness Hacks: 100% Scientific! Curiously Effective! by Alex Palmer

Own Your Greatness: Overcome Impostor Syndrome, Beat Self-Doubt, and Succeed in Life by Lisa Orbe-Austin, Richard Orbe-Austin

Secrets Kids Know...That Adults Oughta Learn: Enriching Your Life by Viewing It Through the Eyes of a Child by Allen Klein

Thrive: Finding Happiness the Blue Zones Way by Dan Buettner

The Way of Being Lost: A Road Trip to My Truest Self by Victoria Price

The Big Book of 30-Day Challenges: 60 Habit-Forming Programs to Live an Infinitely Better Life by Rosanna Casper

You Can't Ruin My Day: 52 Wake-Up Calls to Turn Any Situation Around by Allen Klein

The Ayurvedic Self-Care Handbook: Holistic Healing Rituals for Every Day and Season by Sarah Kucera

The Crying Book by Heather Christle

Gentle Energy Touch: The Beginner's Guide to Hands-On Healing: An Open Center Book by Barbara E. Savin

Overcoming Opioid Addiction: The Authoritative Medical Guide for Patients, Families, Doctors, and Therapists by Adam Bisaga

The Sudden Loss Survival Guide: Seven Essential Practices for Healing Grief by Chelsea Hanson

Understanding Your Grief: Ten Essential Touchstones for Finding Hope and Healing Your Heart by Alan D. Wolfelt

When Bad Things Happen to Good Women: Getting You (or Someone You Love) Through the Toughest Times by Carole Brody Fleet

When Reality Bites: How Denial Helps and What to Do When It Hurts by Holly Parker

Bare: A 7-Week Program to Transform Your Body, Get More Energy, Feel Amazing, and Become the Bravest, Most Unstoppable Version of You by Susan Hyatt

Change Maker: Turn Your Passion for Health and Fitness into a Powerful Purpose and a Wildly Successful Career by John Berardi

The Simple Heart Cure: The 90-Day Program to Stop and Reverse Heart Disease by Chauncey W. Crandall

Teaching Yoga Beyond the Poses: A Practical Workbook for Integrating Themes, Ideas, and Inspiration into Your Class by Sage Rountree, Alexandra Desiato

Unzip Your Genes: 5 Choices to Reveal a Radically Radiant You by Jennifer Stagg

Make It Stick: The Science of Successful Learning by Peter C. Brown

Tidy the F*ck Up: The American Art of Organizing Your Sh*t by Messie Condo

Chasing the Sun: How the Science of Sunlight Shapes Our Bodies and Minds by Linda Geddes

The 20-Month Legend: My Baby Boy's Fight with Cancer by Steve Tate

Almost Holy Mama: Life-Giving Spiritual Practices for Weary Parents by Courtney Ellis

Mom Hacks: 100+ Science-Backed Shortcuts to Reclaim Your Body, Raise Awesome Kids, and Be Unstoppable by Darria Gillespie

The New Rules of Pregnancy: What to Eat, Do, Think About, and Let Go of While Your Body Is Making a Baby by Adrienne L. Simone, Jaqueline Worth

The New Smart: How Nurturing Creativity Will Help Children Thrive by Terry Roberts

Parenting the New Teen in the Age of Anxiety: Raising Happy, Healthy Humans Ages 8 to 24 by John Duffy

Teaching Kids to Be Kind: A Guide to Raising Compassionate and Caring Children by Rachel Tomlinson

Designer Relationships: A Guide to Happy Monogamy, Positive Polyamory, and Optimistic Open Relationships by Mark A. Michaels, Patricia Johnson

Be the Light That You Are: Ten Simple Ways to Transform Your World with Love by Debra Landwehr Engle

Five Lessons: A Master Class by Neville by Neville Goddard

Change Your Schedule, Change Your Life by Suhas Kshirsagar, Michelle Seaton

Listful Thinking: Using Lists to Be More Productive, Successful and Less Stressed by Paula Rizzo

Take Back Your Time: Identify Your Priorities, Decrease Stress, and Increase Productivity by Morgan Tyree

Time Management Ninja: 21 Rules for More Time and Less Stress in Your Life by Craig Jarrow


Social Sciences Audio Books:
Good Enough: The Tolerance for Mediocrity in Nature and Society by Daniel S. Milo

Underdogma: How America's Enemies Use Our Love for the Underdog to Trash American Power by Michael Prell

Secondhand: Travels in the New Global Garage Sale by Adam Minter

Men on Strike: Why Men Are Boycotting Marriage, Fatherhood, and the American Dream - and Why It Matters by Helen Smith

Pretty Powerful: Appearance, Substance, and Success by Eboni K. Williams

Unbroken: One Woman's Journey to Rebuild a Life Shattered by Violence: A True Story of Survival and Hope by Madeleine Black

What Works: Gender Equality by Design by Iris Bohnet

Witches: The Transformative Power of Women Working Together by Sam George-Allen

A Few Red Drops: The Chicago Race Riot of 1919 by Claire Hartfield

The Lines Between Us: Two Families and a Quest to Cross Baltimore's Racial Divide by Lawrence Lanahan

The Memo: What Women of Color Need to Know to Secure a Seat at the Table by Minda Harts

Memoir of a Race Traitor: Fighting Racism in the American South by Mab Segrest

The Ungrateful Refugee: What Immigrants Never Tell You by Dina Nayeri

The Age of Addiction: How Bad Habits Became Big Business by David T. Courtwright

Autism in Heels: The Untold Story of a Female Life on the Spectrum by Jennifer Cook O'Toole

Dreaming on Both Sides of the Brain: Discover the Secret Language of the Night by Doris E. Cohen

The Left Brain Speaks, the Right Brain Laughs by Ransom Stephens

Nerve: Adventures in the Science of Fear by Eva Holland

Playful Intelligence: The Power of Living Lightly in a Serious World by Anthony T. DeBenedet

The Secret Life of the Mind: How Your Brain Thinks, Feels, and Decides by Mariano Sigman

The Secret Lives of Introverts: Inside Our Hidden World by Jenn Granneman

The Small Guide to Anxiety by Gary Small, Gigi Vorgan

From Here to There: The Art and Science of Finding and Losing Our Way by Michael Bond


Sports & Hobbies Audio Books:
The Book of Spice: From Anice to Zedoary by John O'Connell

Football for a Buck: The Crazy Rise and Crazier Demise of the USFL by Jeff Pearlman

5 Days to a Clutter-Free House: Quick, Easy Ways to Clear Up Your Space by Sandra Felton, Marsha Sims

The Rise of the Ultra Runners by Adharanand Finn

The Trainable Cat: A Practical Guide to Making Life Happier for You and Your Cat by John Bradshaw


Travel Audio Books:
Ethiopia - Culture Smart!: The Essential Guide to Customs & Culture by Sarah Howard

Ghana - Culture Smart!: The Essential Guide to Customs & Culture by Ian Utley

Kenya - Culture Smart!: The Essential Guide to Customs & Culture by Jane Barsby

Tanzania - Culture Smart!: The Essential Guide to Customs & Culture by Quintin Winks

Israel - Culture Smart!: The Essential Guide to Customs & Culture by Jeffrey Geri, Marian Lebor

Philippines - Culture Smart!: The Essential Guide to Customs and Culture by Graham Colin-Jones

Turkey - Culture Smart!: The Essential Guide to Customs and Culture by Charlotte McPherson

UAE - Culture Smart!: The Essential Guide to Customs and Culture by John Walsh

Australia - Culture Smart!: The Essential Guide to Customs & Culture by Barry Penney

New Zealand - Culture Smart!: The Essential Guide to Customs & Culture by Sue Butler

Britain - Culture Smart!: The Essential Guide to Customs & Culture by Paul Norbury

Ireland - Culture Smart!: The Essential Guide to Customs & Culture by John Scotney

Norway - Culture Smart!: The Essential Guide to Customs & Culture by Linda March

Cuba - Culture Smart!: The Essential Guide to Customs & Culture by Russell Madicks, Mandy Macdonald

Dominican Republic - Culture Smart!: The Essential Guide to Customs and Culture by Ginnie Bedggood

Mexico - Culture Smart!: The Essential Guide to Customs & Culture by Russel Maddicks

Chile - Culture Smart!: The Essential Guide to Customs & Culture by Caterina Perrone

Ecuador - Culture Smart!: The Essential Guide to Customs & Culture by Russel Maddicks

The Yellow Envelope: One Gift, Three Rules, and A Life-Changing Journey Around the World by Kim Dinan

Alta California: From San Diego to San Francisco, a Journey on Foot to Rediscover the Golden State by Nick Neely


And Dreamscape Media also publishes a lot of audiobooks for kids and teens. Here are some of those:

Abraham Lincoln: The Making of America by Teri Kanefield

Andrew Jackson: The Making of America by Teri Kanefield

Beastly Brains: Exploring How Animals Think, Talk, and Feel by Nancy F. Castaldo

Because They Marched: The People's Campaign for Voting Rights That Changed America by Russell Freedman

The Big Book of Bible Questions by Amy Parker

Dissenter on the Bench: Ruth Bader Ginsburg's Life and Work by Victoria Ortiz

Don't Sit on the Baby!: The Ultimate Guide to Sane, Skilled, and Safe Babysitting by Halley Bondy

Eureka!: 50 Scientists Who Shaped Human History by John Grant

Facing Frederick: The Life of Frederick Douglass, a Monumental American Man by Tonya Bolden

The Fierce 44: Black Americans Who Shook Up the World by The Staff of The Undefeated

Franklin D. Roosevelt: The Making of America by Teri Kanefield

Girls Against Girls: Why We Are Mean to Each Other and How We Can Change by Bonnie Burton

Herstory: 50 Women and Girls Who Shook Up the World by Katherine Halligan

Kid Activists: True Tales of Childhood from Champions of Change by Robin Stevenson

Kid Artists: True Tales of Childhood From Creative Legends by David Stabler

Kid Athletes: True Tales of Childhood from Sports Legends by David Stabler

Kid Authors: True Tales of Childhood from Famous Writers by David Stabler

Kid Presidents: True Tales of Childhood from America's Presidents by David Stabler

Kid Scientists: True Tales of Childhood from Science Superstars by David Stabler

The Life Heroic: How to Unleash Your Most Amazing Self by Elizabeth Svoboda

A Student's Guide to Culture by John Stonestreet, Brett Kunkle

Votes of Confidence: A Young Person's Guide to American Elections by Jeff Fleischer

Posted by LearnOutLoud | Permalink