June 2, 2006
For those of you unaware, the Audie Awards are sort of the Oscars for audio books and they were held May 19th in Washington, D.C. They are run by the Audio Publishers Association. Hopefully next year a LearnOutLoud.com audio book will be up for an Audie but until then we applaud the winners of the 2006 Audies. Here's the winners that apply to audio learning in general and we feature on our site:
Audiobook of the Year
The Hitchhiker's Guide to the Galaxy: The Tertiary Phase
Publisher: BBC Audiobooks America and The Audio Partners Publishing
Company
Author: Douglas Adams
Narrator: BBC Radio
Classics
Around the World in 80 Days
Publisher: Listening Library
Author: Jules Verne
Narrator: Jim Dale
Non-Fiction, Abridged
Luckiest Man: The Life and Death of Lou Gehrig
Publisher: Simon & Schuster Audio
Author: Jonathan Eig
Narrator: Ed Herrmann
Personal Development/Motivational
The Five Love Languages
Publisher: Oasis Audio
Author: Dr. Gary Chapman
Narrator: Dr. Gary Chapman
Biography/Memoir
Garlic and Sapphires
Publisher: Random House Audio
Author: Ruth Reichl
Narrator: Ruth Reichl
Business Information/Educational
Good to Great
Publisher: HarperCollins Publishers
Author: Jim Collins
Narrator: Jim Collins
Inspirational/Spiritual
Finding God in Unexpected Places
Publisher: Brilliance Audio
Author: Philip Yancey
Narrator: Mel Foster
Humor
The Truth (With Jokes)
Publisher: Brilliance Audio
Author: Al Franken
Narrator: Al Franken
Original Work
Famous Composers
Publisher: Naxos AudioBooks Ltd.
Author: Darren Henley
Narrator: Marin Alsop recorded at Room With a View
Solo Narration – Male
Moby-Dick
Publisher: Naxos AudioBooks Ltd.
Author: Herman Melville
Narrator: William Hootkins
Narration by Author or Authors
The Tender Bar
Publisher: Hyperion AudioBooks
Author: J.R. Moehringer
Narrator: J.R. Moehringer
Audiobook Adapted From Another Medium
Hidden Kitchens: Stories and More from NPR's the Kitchen Sisters
Publisher: Audio Renaissance
Author: Davia Nelson and Nikki Silva
Narrators: Frances McDormand, Davia Nelson and Nikki Silva
May 26, 2006

We recently added to our Downloads section over 60 titles from Hovel Audio, which is an excellent publisher of classic Christian audio books.
Here's the publisher page we created for them:
https://www.learnoutloud.com/hovel
From them you'll find classics like The Confessions of St. Augustine and Orthodoxy by G.K. Chesterton, as well as thoughtful audio books from contemporary Christian authors like Eugene H. Peterson and Dallas Willard. They also do some classic fiction by Tolstoy, Dostoevsky, John Bunyan, and others. They've been generous enough to currently offer two of their titles in our free directory, Tolstoy On Death: The Death of Ivan Ilyich & Master Man and The Practice of the Presence of God.
I speak from listening experience when I say their production is stellar. I'm currently half way through listening to their edition of The Brothers Karamazov and in all honesty it's one of the best audio books I've ever listened to. Narrator Simon Vance provides a distinct voice for each character and he really brings the text to life. Their other narrators are industry professionals like Dan Cashman, Grover Gardner, Lloyd James, and many other superb narrators.
Also check out their expanded site Christianaudio.com which features their titles as well as other Christian audio books by many publishers. This site lets you save on audio books in all formats when you subscribe to their Thoughtful Listener plans.
May 25, 2006
Boy, a couple of weeks on the road and I'm out of the blog habit. Lots going on our end though so make sure to sign up for our newsletter if you haven't already. Our next update will be going out early next week (plus a brand new free audiobook is on the way soon!).
In the meantime, just a few things in the audio world I thought I'd point you too:
1. Dr. Daniel Amen – Recently listened to a presentation that he gave and was fascinated by what's happening in the world of brain science. It is really remarakable that although we have sophisticated technique to scan other body parts until just recently we haven't had anything to scan our more important body part (the brain). By the way, we have a number of Dr. Amen's titles available here.
2. Red Business – I had a chance to meet the people behind this at last week's Audio Publisher's Conference. I really like what they're doing and they've done some cool interviews with a number of big names (e.g., Tom Peters). Plus they recently put a title on TeachOutLoud!
3. Moneyball – I had a chance to listen to about half of Moneyball on the trip out to D.C. Very enjoyable! I've always liked Lewis' writing and if you're a baseball fan you're in for a treat with this one.
4. Pema Chodron – I've started listening to Pema Chodron and have been getting a lot out of it. I think there's a tremendous amount of benefit to be gained from merging the best wisdom from the Eastern and Western religious and spiritual traditions. Pema's treaching can providing the Eastern component of that equation.
So much more to say but I'll leave it at that for now. More to come soon!
May 14, 2006
We got a cool mention in the New York Times Travel section today in an article entitled "New Audio Books Pack a Lot More Prose." Here's the link but you'll have to register to read it. It's actually a cool article in that it talks about digital rights management and mentions LearnOutLoud as one of the only companies selling DRM-free content. Here's a bit from the article:
For travelers who are interested in self improvement or concerned about proprietary formats, the portal LearnOutLoud offers MP3-based audio content at www.learnoutloud.com. MP3 is a common file format for digital music and audio files. "LearnOutLoud focuses on the educational market — not K-12, but adult, life-long learners," said Jon Bischke, its founder and chief executive. While you won't find blockbusters like the Harry Potter books there, LearnOutLoud offers something that few other sites offer — downloads in MP3 format, making it easy to copy the files to just about any device (May's free download is "The Autobiography of Benjamin Franklin").
We're getting the vibe from a lot of people that they're getting more and more interested in getting their content on MP3. One of the reasons for this is that people don't know what kind of device they may want to listen to audiobooks on in the future and worry that if they purchase a book in a proprietary format it might not be compatible. For instance, let's say you get a new phone a year from now that plays MP3s. If you buy audiobooks from other companies you might not be able to play them.
Anyway, it was a great article and hopefully will bring a few more people to our site.
May 9, 2006
So I have the privilege of taking an awesome class right now through the UCLA Producers Program that is being taught by Peter Guber (Host of Sunday Morning Shootout among other things). It's quite possibly the best graduate-level course I've ever been to. Last night our guest was Lloyd Braun, the head of media at Yahoo! We've had Mark Burnett (creator of Survivor and The Apprentice), Scott Sassa (CEO at Friendster) and a number of other interesting guests. And the class is only half over…
Anyway, when I go to classes like these I can't help but be a little frustrated that the only people who get to experience this are the 100 or so people in the classroom with me. I would love (love love love!) to see stuff like this podcasted. I know it's starting to happen (a podcast like Entrepreneurial Thought Leaders is an example) but in my opinion it isn't fast enough.

We need to get this knowledge out there into the hands of as many people that want it as quickly as possible.
We need to podcast conferences like TED and PUSH (which I'm going to next month) and GEL (which my buddy Kareem just wrote an excellent blog post about).
We need to podcast more courses and lectures (especially the ones with cutting-edge ideas that can push the world forward). We need to have more people contribute their thoughts to the mix and share their wisdom with the world (which is essentially why we launched TeachOutLoud). We need to realize that ideas will change the world, especially to the extent that we can spread them as far and wide as possible.
That's our goal here. To change the world through meaningful media. We've come a long way in the last five years and no doubt will make a tremendous amount of progress in the next five.
Nevertheless, I'm pretty impatient these days. 🙂
May 8, 2006
While working on the Autobiography of Benjamin Franklin over the past few weeks, I was given a great chance to access Franklin's life, his time, and most of all his wisdom. In the memoir his code of ethics can be expressed in many ways. In one section he stresses how learning forms the crux of personal excellence, in another he systematically endevours to rid himself of the daily habits that impede virtue. Any one section of the book can be listened to on its own and it would be enough to chew on for several months if not a year. Here are a few aspects of Franklin's life that I found the most compelling.
Morality: Franklin was not conventionally religious: He spurned the clergy's attempts to save his soul, and he rarely attended church. Nevertheless, he did come to form his own set of beliefs based on divine principles. He codified these beliefs at one point into a series of maxims he then tried to adhere to for the rest of his life. For instance, during a period of several weeks he spoke nary an unkind word about anyone in his circle in order that he not become known as a badmouther. By taking a strategic approach to personal character, Franklin experimented with the whole concept of "good" human conduct. While he himself admitted the results over a lifetime were mixed, he still found a way to identify his personal deficiencies and objectively improve upon them.
Reading and Writing: When you think you've hit a wall in your options, there's always the option of reading more about your options in order to broaden your understanding of your options. Does that make sense? Let me put it another way, Benjamin Franklin read not just for pleasure, he read to gain a better grasp on the way the world functions and how he might best be used within it. Reading for him was a way to map the world more efficiently. He made time for reading within his daily work schedule, and at many points in the book one can see he derived extreme pleasure from his books. He was also a beloved writer, and this aspect of his many talents had a profound influence on early colonial life. His poor Richard's Almanac, newspaper editorials and self-published essays held major sway on public opinion and undoubtedly helped plot the direction of the colonial mind. It would be foolish to think he didn't sow the seeds of revolution; his writing extolled independent thought and action at all costs. What's more American than that?
Be Curious: Every waking moment can move you forward, even when it seems like leisure. Franklin was the very definition of a rennaissance man. If he wasn't creating the first library, he was thinking of a way to put fires out or harnessing the electrical properties of lightning. All of these great discoveries were made by a man that followed through on every interest he had to the nth degree. Franklin was always searching to illuminate the dark corners of his personal experience. His world was marked by a constant need to know more and to push the boundaries of convention. Throughout the book, Franklin speaks of his activities as if they didn't present an obstacle and everything he didn't know was simply something he would know if he simply took the time to study it.
That's just a bit of what I've gleaned after thinking about it here for a few minutes. There's much more to discuss here and nothing written here can encapsulate what Franklin was able to accomplish in his lifetime. He was gifted with an amazing intellect to be sure, but he was also equally blessed by his access to learning materials (even he would admit he would have gone nowhere if he hadn't educated himself throughout his life).
In the end, it constantly amazes me how era-defining historical periods produce the perfect people to lead the way. If we didn't have men like Franklin, Washington and Jefferson during the revolution, I don't know how history would have gone. The same can be said for how Lincoln appeared during the Civil War or how leaders like FDR and Churchill emerged to save the world during World War II. I hope you enjoy Franklins account of his story and are inspired by his example as well. If anything, the model he provides for living is very, very doable.
May 5, 2006
It's been a while since I've blogged about WIE Unbound, the audio and video service from the good people over at What is Enlightenment? magazine. It's a great service that features interviews with leading thinkers like Deepak Chopra, Andrew Cohen (whose new Meditation title is available for download from LearnOutLoud here), Jon Kabat-Zinn and many others. $10 a month gets you the whole kit and kaboodle. Definitely a great investment.
I also wanted to encourage fans of What is Enlightment? to vote for them in the upcoming Webby Awards. They're up for a Webby for best Religion and Spirituality web site. Here's the link where you can give them your vote:
http://www.wie.org/home04i/offsite.asp?oid=webby
Kudos to Laura and the rest of the gang over at WIE for producing a ton of compelling audio and video content for your learning out loud pleasure.
Have a great weekend everyone!
Update: Since this blog we've added a number of What is Enlightment? audio programs (now called EnlightenmentNext)
EnlightenmentNext Audio Downloads
May 3, 2006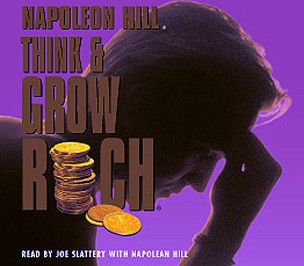 LearnOutLoud.com is proud to be the first retailer to offer Napoleon Hill's audio books on digital download including the all-time self-help classic "Think & Grow Rich". These 15 titles are published by Highroads Media which we've created a publisher page for:
https://www.learnoutloud.com/highroads
And we also feature an author page on Napoleon Hill:
https://www.learnoutloud.com/napoleonhill
Commissioned by Andrew Carnegie, Napoleon Hill spent 20 years interviewing over 500 millionaires and his books feature the collected knowledge he gathered on how to attain success in business and in life. From his monumental 4 volume set "The Law of Success" to over 12 hours of rare recordings of Napoleon Hill lectures in "Your Right to Be Rich", you can learn from one of the most important self-help and wealth-building authors of all time.
May 2, 2006
With the recent release of Chomsky's latest audio book Failed States, we decided it was time to put together the ultimate audio and video resource on this linguist and political activist:
Chomsky has written dozens of books but only his most recent, Failed States and Hegemony and Survival, have been made into audio books. Another recent release called Imperial Ambitions contains over 5 hours of interviews of Chomsky conducted by radio journalist David Barsamian since 9/11.
In the last few decades Chomsky has also delivered 100s of lectures, speeches, and interviews that have been captured on audio and video, many of which are available for free. We've featured the majority of Chomsky's free audio & video programs here along with some that are on sale on CD and digital download. The most complete listing of Chomsky audio and video can be found at Chomsky.info Audio N' Video which includes all of his appearances on Democracy Now as well as other radio programs. So check out all the audio & video resources from one of the most prolific and renowned intellectuals of our time.
April 29, 2006

As I've mentioned before, the Venture Voice podcast just keeps getting better and better. The most recent episode is with Dave Sifry, the CEO of Technorati. His mission in life?
To be of service.
When you listen to him talk you're listening to what I feel will be the future of business and entrepreneurship. Strive to serve first. Everything else (including profits) will come out of that.
Sifry's passion is infectious. We need more entrepreneurs like him. I hope (and think) that podcasts like Venture Voice will help to encourage that.