December 28, 2007



Two of LearnOutLoud's podcasts received mention in iTunes Best of 2007 Awards. Our Aesop's Fables Podcast was awarded one of the Best New Podcasts of 2007. And our Great Speeches in History Podcast was considered one of the Best Classic Podcasts of 2007. Thanks to everyone who subscribed and helped make these podcasts so popular! To check out the best of this year's podcasts in iTunes click this link:
Best of 2007 Podcasts on iTunes
Here's some of the educational podcasts from 2007 that made iTunes list:
NPR: Fresh Air Podcast
Philosophy Bites Podcast
YogaDownload.com – 20 Min. Yoga Sessions Podcast
Guardian Weekly Podcast
My Daily Phrase Italian Podcast
November 30, 2007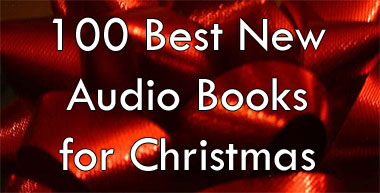 Looking for some great holiday gifts? At LearnOutLoud.com we've assembled a list of the 100 best new audio book releases.
All the audio books here are available on Audio CD and are in stock and ready to ship from LearnOutLoud.com. No matter who you're giving gifts to this year, you're sure to find an audio book they'll enjoy and learn from.
To make it easy, we've divided this list of 100 new releases into categories:
Arts & Entertainment:
I Am America (and So Can You!) by Stephen Colbert
Our Dumb World by The Onion
Born Standing Up by Steve Martin
Things I Overheard While Talking to Myself by Alan Alda
Dave Barry's History of the Millennium (So Far) by Dave Barry


Biography:
Clapton: The Autobiography by Eric Clapton
Mosaic: Pieces of My Life So Far by Amy Grant
Listening Is an Act of Love: A Celebration of American Life from the Storycorps Project

This I Believe: The Personal Philosophies of Remarkable Men and Women
My Grandfather's Son by Clarence Thomas
Andrew Carnegie by David Nasaw
Shakespeare: The World as Stage by Bill Bryson
A Mighty Heart by Mariane Pearl
Crashing Through by Robert Kurson
Amazing Grace by Eric Metaxes
Einstein: His Life and Universe by Walter Isaacson
Leni: The Life and Work of Leni Riefenstahl by Steven Bach


Business:
All the Money in the World by Peter W. Bernstein
Free to Choose by Milton Friedman & Rose Friedman
Supercapitalism by Robert Reich
The Age of Turbulence by Alan Greenspan
Leadership: Great Leaders, Great Teams, Great Results by Stephen R. Covey
The Power of Outrageous Marketing by Joe Vitale
Rich Dad's Advisors: Box Set
Think Big and Kick Ass in Business and Life by Donald Trump
The Last Chance Millionaire by Doug Andrew
The 4-Hour Work Week by Timothy Ferris
The Tipping Point (Unabridged) by Malcolm Gladwell


History:
American Creation by Joseph J. Ellis
Boom!: Voices of the Sixties by Tom Brokaw
Conscience for Change by Martin Luther King, Jr.
The War: An Intimate History, 1941-1945 by Ken Burns & Geoffrey C. Ward
The Coldest Winter: American and the Korean War by David Halberstam


Literature:
Beowulf
Cat's Cradle by Kurt Vonnegut
Diary of a Madman by Nikolai Gogol
A Family Christmas by Caroline Kennedy
Harry Potter and the Deathly Hallows by J.K. Rowling
Essential Dickens: A Christmas Carol by Charles Dickens
Essential Tolkien: The Hobbit and the Fellowship of the Ring
Pontoon: A Novel of Lake Wobegon by Garrison Keillor
A Clockwork Orange by Anthony Burgess
The Nick Adams Stories by Ernest Hemingway
Roots: The Saga of an American Family by Alex Haley
A Thousand Splendid Suns by Khaled Hosseini
Beloved by Toni Morrison
Catch-22 by Joseph Heller
To Kill a Mockingbird by Harper Lee


Politics:
If Democrats Had Any Brains, They'd Be Republicans by Ann Coulter
An Inconvenient Book: Real Solutions to the World's Biggest Problems by Glenn Beck
Giving: How Each of Us Can Change the World by Bill Clinton
What We Say Goes by Noam Chomsky
Beyond the White House by Jimmy Carter
Hard Call: Great Decisions and the Extraordinary People Who Made Them by John McCain
Obama: From Promise to Power by David Mendell
Legacy of Ashes by Tim Weiner
The Nine: Inside the Secret World of the Supreme Court by Jeffrey Toobin
The Assault on Reason by Al Gore
The Reagan Diaries by Ronald Reagan


Religion & Spirituality:
My Utmost for His Highest by Oswald Chambers
New Day, New You by Joyce Meyer
3:16: The Numbers of Hope by Max Lucado
Bringing Peace to a Changing World: Bible Study with Jimmy Carter
The Bible: A Biography by Karen Armstrong
What's So Great about Christianity by Dinesh D'Souza
Inspired By…the Bible Experience: Complete TNIV Bible
NKJV: Word of Promise – New Testament
Buddha: A Story of Enlightenment by Deepak Chopra
The Gospel According to Judas by Benjamin Iscariot by Jeffrey Archer


Self Development:
Guided Meditation by Jack Kornfield
The Art of Power by Thich Nhat Hanh
I Dare You by Joyce Meyer
Maximum Confidence by Jack Canfield
The Astonishing Power of Emotions by Esther & Jerry Hicks
The Science of Being Great by Wallace D. Wattles
What on Earth Have I Done? by Robert Fulghum
Not Easily Broken by T.D. Jakes
You: Staying Young by Michael F. Roizen & Mehmet C. Oz
Ageless Face, Ageless Mind by Nicholas Perricone
Change Your Thoughts – Change Your Life, 8-CD Set by Wayne Dyer
Healthy Sleep by Andrew Weil
Become a Better You by Joel Osteen
Notes from the Universe by Mike Dooley
The Golden World by Robert A. Johnson
The Law of Attraction CD Collection by Esther Hicks
The Sacred Contract of America by Caroline Myss
Life's Missing Instruction Manual by Joe Vitale
50 Psychology Classics by Tom Butler-Bowdon
Quiet Strength by Tony Dungy
How to Make Someone Love You Forever! in 90 Minutes or Less by Nicholas Boothman
The 48 Laws of Power by Robert Greene
Meditations for a Miraculous Life by Marianne Williamson


Other Notable Releases:
Grammar Girl's Quick and Dirty Tips to Clean Up Your Writing by Mignon Fogarty
Unlocking the Secrets of 2012 by John Major Jenkins
Don't Know Much about Anything by Kenneth C. Davis
The Meaning of It All by Richard P. Feynman
The Stuff of Thought by Steven Pinker
Into the Wild by Jon Krakauer
NPR Driveway Moments for Dads

We currently offer four different shipping methods for shipping audio books: USPS Media Mail, USPS Priority, UPS Ground, and UPS 2nd Day Air.
Merry Christmas!
October 12, 2007
A while back I blogged about micro-learning which I think is going to be an increasingly strong trend in the world of education. In short, micro-learning is breaking up learning modules into bite-sized chunks that can consumed in isolation or in series. It's respecting the fact that people are busier than ever and that the population is becoming more ADD-ish in its media consumption habits.
To that extent, we've recently launched a side project called 10Things.tv. It's a series of short instructional videos for learning languages. The initial videos teach Spanish but eventually we'll be adding other languages. It's a great way to pick up a bit of Spanish before you head off on a trip or to whet your appetite to learn more. Take a look at videos below and if you like them visit 10Things.tv for more.
September 25, 2007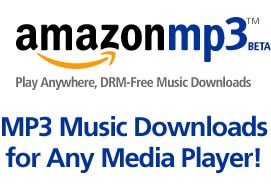 Today Amazon.com launched AmazonMP3 which features over 2 million songs from more than 180,000 Artists and over 20,000 labels, including music from major labels EMI Music and the Universal Music Group. These songs are in the MP3 format and are DRM-free so you can play them on any digital audio player available. Purchases are made a la carte and use Amazon's One-click shopping making it quick and easy to download. Their prices are 89 cents for bestselling MP3s making it a little cheaper than iTunes and the files are encoded at 256kbs making them twice the audio quality of iTunes downloads. You can make purchase for individual tracks or as an entire album which provides a discount (basically the same as iTunes except Amazon seems to be cheaper).
We purchased an album and it was a smooth process. You need to download their application called the Amazon MP3 Downloader which downloads the files and then puts them right into iTunes or Windows Media Player. Amazon has confirmed that some labels are applying watermarking, but are only inserting into the file that it was purchased from Amazon, and not any personal customer information. Amazon.com hasn't started selling DRM-free MP3 audio book downloads yet, but it is pretty certain they will do so soon.
The DRM-free movement continues…
September 18, 2007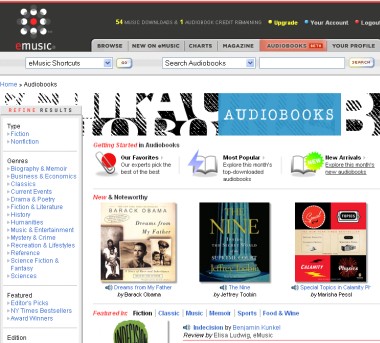 The website eMusic, which is second to iTunes in music download sales, announced yesterday it will be offering DRM-free MP3 downloadable audio books through their subscription service.
N.Y Times Article: EMusic to Offer Audiobooks
They've launched the beta version of their audiobooks section and are currently offering 1011 audio books from publishers: Random House Audio (about 500 titles), Penguin Audio (about 150 titles), Hachette Audio (about 15 titles), Blackstone Audiobooks, and NAXOS AudioBooks.
eMusic's press release announces "eMusic Introduces World's First Audiobooks Catalogue in MP3", which isn't entirely true as we've been selling MP3 audio book downloads for over a year now and have over 1500 titles to choose from. And other publishers such as NAXOS AudioBooks, Christian Audio, Sounds True, The Teaching Company, and Nightingale Conant have made their catalog available on MP3 through their websites. But we won't hold that against eMusic, as this is a welcome development in the trend towards audio books being offered in the universal DRM-free MP3 format so that customers can play their audio books on all portable audio players and not have to worry about compatibility issues or other frustrations surrounding DRM-ed files.
At LearnOutLoud we gave their new audio book program a test run. It requires signing up for the eMusic 14-day free trial which gets you 25 free downloads and 1 free audio book. You give them your credit card and you're billed at the end of the trial if you don't cancel.
The eMusic (music) download subscription is separate from the audiobooks subscription. When you sign up for the 14-Day trial that includes 25 free music downloads and 1 free audio book download, you are essentially signing up for 2 trials. From there you can choose to continue either subscription. The eMusic (Music) Basic Monthly subscription gets you 30 music downloads for $9.99 per month and the subscriptions and downloads scale up from there. The eMusic Audiobooks Basic subscription gets you one audiobook credit per month for $9.99 a month, and 2 audiobook credits a month for $19.99 a month. The audiobook credits do not roll over to the next month, so if you forget to use your credits within the month, then you lose them.
We signed up for the trial and then needed to download the eMusic Remote which is where you browse all their music and audio books. Once you're in the eMusic Remote application, then downloading music and audio books is quite easy. It's basically a one-click purchase when you click their download button and the entire audio book is queued up to download in the eMusic Remote Download Manager.
They break audio books up into quite a few tracks. For the 11-hour audio book we downloaded it was 113 tracks which I guess amounts to about 10 tracks per hour. There wasn't an option for a single bookmarkable AAC file, which would be nice for iPod users so they don't have to remember what track number they're on. They do offer their audio books at a bit rate of 64kbs which is higher than Audible.com's highest bit rate of 32kbs.
eMusic is digital watermarking their audio book files, which means they are stamping information onto the audio file, so if their files do show up on peer-to-peer sharing networks they can trace the files back to their original source. We're unsure if this watermark contains customer info, and if so, we're unsure what the repercussions would be for customers who shared their files on peer-to-peer sharing networks.
Browsing the eMusic store is very fast and easy. They feature 14 categories and numerous subcategories to browse in the audiobooks section. Audio samples are in .m3u which loads and plays in whatever your default player is for .m3u files. Overall it was a good user experience downloading audiobooks from eMusic, and we'll stay subscribers and see what more they have to offer.
We welcome eMusic to the wonderful world of audiobooks!
July 11, 2007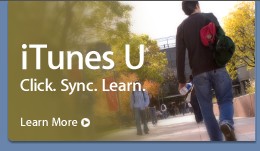 iTunes is no longer letting us link to their individual iTunes U offerings. The most we can do is link to the iTunes U home page. So you'll have to go to the iTunes U home page and then search these great offerings there:
Apple iTunes now features a section of their store called iTunes U which features free audio & video downloads from dozens of universities across the United States and around the world including Stanford, Duke, MIT, Arizona State, and more.
At LearnOutLoud.com we combed through these free resources to pick out the best lectures, courses, and audio & video programs that iTunes U offers. Here are the best titles on iTunes U:
Stanford University:
Philosophy Talk at Stanford University – Hour-long radio series produced by Ben Manilla discussing a wide range of philosophical topics with contemporary philosophers.
The Aurora Forum at Stanford University – Popular nonfiction authors and intellectuals come together to discuss their books and contemporary issues in society.
Hoover Institution Lectures – Libertarian public policy think tank out of Stanford featuring talks on politics and economics both domestic and foreign.
Stanford Technology Ventures Program Lectures – Over 40 hour-long lectures from entrepreneurial thought leaders at the intersection of business and technology.
The Literature of Crisis – One of many free downloadable courses offered by Stanford, this course taught by Martin Evans and Marsh McCall covers Boethius' Consolation of Philosophy, Plato's Apology, Shakespeare's Hamlet, Sophocles' Oedipus the King, Virgil's Aeneid, and Voltaire's Candide.
Hannibal – Lecture course covering the life of the Carthaginian military commander Hannibal.
Geography of World Cultures – Course examining the locational dynamics of the world's languages, religions, and ethnic groupings.
Arizona State University:
Arizona State University News and Events Audio – Over 100 free lectures from ASU from visiting speakers covering the gamut of topics.
Ask a Biologist – Geared towards students from preschool to high school, Dr. Biology works with guests to explore many biological subjects.
Introduction to Exercise Science & Wellness – ASU course on video which provides a brief overview of the field of Exercise Science & Wellness.
Building Healthy Lifestyles Conference – Conference devoted to promoting healthy lifestyles with doctors addressing physical activity, surviving cancer, getting enough sleep, mindfulness, and other methods for living a healthy life.
Center for the Study of Religion and Conflict – Talks delivered on religious wars and religious terrorism as well as numerous lectures on Transhumanism (which we're not sure what they have to do with religion and conflict, but they look interesting).
New Jersey Institute of Technology:
World Literature & World Literature II – Courses taught by professor Norbert Elliot covering works of literature and authors from all over the world.
Technology & Society Forum Series at NJIT – Forward-looking series of lectures which looks at technology from a global and environmental perspective.
Confronting the Insurmountable Opportunities of Online Education – Discussion covering issues that impact the effectiveness of online teaching and learning.
Texas A&M University:
George Bush Award for Excellence in Public Service Speeches – Speeches from the recipient of this award recognizing an individual's or group's dedication to public service at the local, state, national or international levels, including speeches from Helmut Kohl, Mikhail Gorbachev, Edward M. Kennedy, Reverend Billy Graham, and Arnold Schwarzenegger.
University of South Florida:
Lit2Go: Audio Files for K-12 – Massive collection of audio poetry, short stories, and novels for all grade levels from kindergarten to 12th grade.
Lit2Go: Audio Files for Kindergarteners:
Features Robert Louis Stevenson poems for children, as well as classic nursery rhymes like "Jack and Jill", "Little Bo-Peep", "Hickory Dickory Dock", and "Baa, Baa, Black Sheep".
Lit2Go: Audio Files for 1st Graders:
Features more classic poems and fairy tales including Lewis Carroll's "Jabberwocky", "Fire! Fire! Burn Stick!" from Aesop's Fables, "Humpty Dumpty", "Peter Piper", and "The Twelve Days of Christmas".
Lit2Go: Audio Files for 2nd Graders:
Features "The Story of a Fierce Bad Rabbit" by Beatrix Potter, "The Hare and the Hedgehog" by The Brothers Grimm, more Robert Louis Stevenson poems, and an unabridged audio book called The Outdoor Girls in Florida by Laura Lee Hope.
Lit2Go: Audio Files for 3rd Graders:
Features a number of Aesop's Fables, "The Ugly Duckling" & "The Emperor's New Clothes" by Hans Christian Anderson, "How the Alphabet Was Made" by Rudyard Kipling, and the audio books Squinty, the Comical Pig by Richard Barnum, The Outdoor Chums on the Gulf; or, Rescuing the Lost Balloonists by Captain Quincy Allen, and Jack Tier, or the Florida Reef by James Fenimore Cooper.
Lit2Go: Audio Files for 4th Graders:
Features many more of Aesop's Fables, tales by Beatrix Potter, and the unabridged audio books The Secret Garden by Frances Hodgson Burnett, Seven O'Clock Stories by Robert Gordon Anderson, The Tale of Tommy Fox by Arthur Scott Bailey, Whitefoot the Woodmouse by Thornton W. Burgess, and many of Andrew Lang's Fairy Books.
Lit2Go: Audio Files for 5th Graders:
Features "Sleeping Beauty" by The Brothers Grimm, even more of Aesop's Fables, tales by Beatrix Potter, The Tale of Brownie Beaver by Arthur Scott Bailey, The Go Ahead Boys and the Racing Motor-Boat by Ross Kay, Curly and Floppy Twistytail the Funny Piggie Boys by Howard R. Garis, The Adventures of Jerry Muskrat by Thornton W. Burgess, Half-Past Seven Stories by Robert Gordon Anderson, Beyond the City by Sir Arthur Conan Doyle, Alice in Wonderland by Lewis Carroll, and The Snow Queen by Hans Christian Andersen.
Lit2Go: Audio Files for 6th Graders:
Features dozens of short stories including many by Virginia Woolf and Rudyard Kipling. Also features the audio books The Wonderful Wizard of Oz, Dorothy and the Wizard in Oz, & The Emerald City of Oz by L. Frank Baum, Famous Stories Every Child Should Know, The Story of Siegfried by James Baldwin, The Light Princess by George MacDonald, The Open Boat by Stephen Crane, A Florida Sketch-Book by Bradford Torrey, Sylvie and Bruno & Sylvie and Bruno Concluded by Lewis Carroll, Memoirs of Sherlock Holmes by Sir Arthur Conan Doyle, Philosophy and Fun of Algebra by Mary Everest Boole, The Adventures of Sherlock Holmes by Sir Arthur Conan Doyle, and Flappers and Philosophers by F. Scott Fitzgerald.
Lit2Go: Audio Files for 7th Graders:
Features Edgar Allan Poe's most famous short stories, as well as the audio books The Tin Woodman of Oz & Tik-Tok of Oz by L. Frank Baum, The Little Lame Prince by Maria Dinah Mulock Craik, The Return of Sherlock Holmes by Sir Arthur Conan Doyle, The Castle of Otranto by Horace Walpole, Treasure Island by Robert Louis Stevenson, and The Invisible Man by H. G. Wells.
Lit2Go: Audio Files for 8th Graders:
Features poems by Henry Wadsworth Longfellow, short stories by Emily Bronte, more of Edgar Allan Poe's most famous short stories, and the audio books In the Wilds of Florida by W. H. G. Kingston, Logic: Deductive and Inductive by Carveth Read, M.A., The Number Concept: Its Origin and Development by Levi Leonard Conant, Ph. D., The Mystery of Edwin Drood & Great Expectations by Charles Dickens, and Around the World in 80 Days by Jules Verne.
Lit2Go: Audio Files for 9th Graders:
Features "History" essay by Ralph Waldo Emerson, more poems by Henry Wadsworth Longfellow, and the audio books Frankenstein, or the Modern Prometheus by Mary Wollstonecraft Shelley, Wakulla, A Story of Adventure in Florida & Canoemates: A Story of the Florida Reef and Everglades by Kirk Munroe, Florida Trails by Winthrop Packard, The Autobiography of an Ex-Colored Man by James Weldon Johnson, A Victorious Union by Oliver Optic, A Connecticut Yankee in King Arthur's Court by Mark Twain, Dracula by Bram Stoker, The Mystery of Cloomber by Sir Arthur Conan Doyle, The Castles of Athlin and Dunbayne, Sense and Sensibility by Jane Austen, Jane Eyre by Charlotte Bronte, Agnes Grey by Anne Bronte, The Strange Case of Dr. Jekyll and Mr. Hyde by Robert Louis Stevenson, The Picture of Dorian Gray by Oscar Wilde, and The War of the Worlds by H. G. Wells.
Lit2Go: Audio Files for 10th Graders:
Features the audio books St. Augustine Under Three Flags: Tourist Guide and History, Symbolic Logic by Lewis Carroll, The House of the Seven Gables by Nathaniel Hawthorne, Wuthering Heights by Emily Bronte, The Professor by Charlotte Bronte, The Woman in White by Wilkie Collins, Vanity Fair by William Makepeace Thackeray, and The Adventures of Huckleberry Finn by Mark Twain.
Lit2Go: Audio Files for 11th Graders:
Features the audio books The Game of Logic by Lewis Carroll, The Scarlet Letter, The Blithedale Romance & The Marble Faun by Nathaniel Hawthorne, Deductive Logic by George William Joseph Stock, M.A., Lettres Philosophiques by Francois-Marie Arouet, and Beowulf translated by Frances B. Grummere.
Lit2Go: Audio Files for 12th Graders:
Features the audio books Physics by Aristotle, Lectures on Ten British Mathematicians of the Nineteenth Century by Alexander MacFarlane, A Short Account of the History of Mathematics by W. W. Rouse Ball, History of Modern Mathematics by David Eugene Smith, Flatland by Edwin A. Abbott, The Flamingo Feather by Kirk Munroe, Northanger Abbey by Jane Austen, and Spherical Trigonometry by Isaac Todhunter.
Concordia Seminary:
Lay Bible Institute – Which Jesus? – Course taught by Jeffery Kloha exploring the historical Jesus from the perspective of the canonical and gnostic gospels.
Elementary Greek – Language learning course covering Greek grammar and pronunciation.
The Lutheran Mind – Lecture course covering the core ideas of Lutheran theology.
Seattle Pacific University:
Seattle Pacific University Campus Lectures & Forums – Over 80 lectures on Christian topics, C.S. Lewis, J.R.R. Tolkien, and much more.
John M. Perkins Lectures – Outspoken Christian and civil rights leader John M. Perkins delivers talks on racial reconciliation, leadership training, and community development.
Martin Luther King, Jr. – Over twenty lectures celebrating the life, work, and calling of Martin Luther King, Jr.
Thomas F. Staley Distinguished Christian Scholar Lectures – Dozens of lectures from distinguished Christian scholars including Ravi Zacharias, James Sire, and many others.
J.R.R. Tolkien – Numerous lectures on "The Lord of the Rings as a Defense of Western Civilization", as well as lectures about Tolkien's relationship with C.S. Lewis.
MIT OpenCourseWare:
Introduction to Psychology – Course covering questions about human behavior and mental life ranging from how you see to why you fall in love taught by Jeremy Wolfe.
Electricity & Magnetism – Comprehensive physics course on video taught by award-winning physics professor Walter Lewin.
Animal Behavior – Comprehensive course covering the categories of adapative behavior in animals covering the evolution of behavior and sociobiology.
Philosophy of Love in the Western World – American philosopher Irving Singer gives 4 two-hour lectures on the philosophy of love which he has written numerous books about. These lectures are available on downloadable video and can also be streamed through MIT course website.
Physics I: Classical Mechanics – Popular MIT lecturer Walter Lewin leads this freshman physics class available on video download.
UC Berkeley:
Arts Events & Programs at UC Berkeley – Prominent poets read their works at UC Berkeley's Lunch Poems.
Politics & Public Policy Events & Programs at UC Berkeley – Talks from John Edwards, Robert Reich, Robert F. Kennedy, Joseph Wilson IV, and more.
All UC Berkeley Courses – And don't forget to check out the 100+ audio courses that UC Berkeley is now offering in their generous and expansive catalog.
Heideggers Being and Time, Division II Podcast – A new course on Heidegger and his influence on contemporary European philosophy from professor Hubert L. Dreyfus.
Introduction to Practical Reasoning and Critical Analysis of Argument Podcast – Course covering rhetoric and logic examining both ancient and modern approaches.
The Roman Empire Podcast – A history of Rome from Augustus to Constantine.
Shakespeare Podcast – Course on Shakespeare eventually covering the plays Midsummer Night's Dream, As You Like It, Othello, Hamlet, King Lear, Macbeth, All's Well that Ends Well, Antony and Cleopatra, Winter's Tale, and The Tempest.
Pennsylvania State University:
Penn State Institute for the Arts and Humanities Faculty Lecture Series – Where else can you get a lecture called "Sexual Geographies: Utopian Terrains of the Late-Victorian Counterculture"?
Colorism: Global Perspectives on How Skin Color Still Matters – Colorism Symposium covering topics in discrimination on the basis of skin color.
Michigan Tech University:
Introductory Astronomy – Video course taught by Robert J. Nimeroff covering the solar system, the stars, and the whole universe.
Digital Logic – Michigan Tech University Course – EE 2171 – Course covering digital logic including Boolean algebra, binary numbers, logic gates, combinational and sequential logic, and other topics complete with PDF Lecture Notes.
Otis College of Art and Design:
Modern Art History – Course taught by Jeanne Willette covering everything from Impressionism to Dada.
Duke University:
Duke University: Fuqua/Coach K Leadership Conference – Numerous lectures on attaining the edge in leadership in sports, business, and more.
Martin Luther King Jr. Celebration Addresses – Speeches from Angela Davis, Harry Belafonte, and others commemorating Martin Luther King Jr.
Duke University: Kenan Institute for Ethics Lectures – Lectures confronting ethical issues such as Goodness & Evil, Knowledge & Society, and more.
Duke University: Nicholas Talks – Over twenty talks from the Nicholas School of Environment and Earth Sciences covering pollution, ecosystems, deforestation, biodiversity, and more.
Provost Lecture Series: Privacy at Risk? – Features a lecture by blogger Cory Doctorow entitled "From Myspace to Homeland Security: Privacy and the Totalitarian Urge".
Abilene Christian University:
Clinical Dietetics I – Dr. Sheila Jones covers diet and nutrition in relation to numerous disorders and diseases.
American Military University:
Sports Training Videos – Short downloadable videos covering baseball, lacrosse, the weight room, and sports medicine.
Broome Community College:
Physical Therapist Assistant Program – Short videos covering muscle testing for every area of the body.
Central Washington University:
Moments in American History – 90-second historical video documentaries featuring numerous historians covering specific moments in American history from 1750 to the present.
Central Washington University Lectures & Events – Featuring guest speakers such as Gloria Steinem, Bobby McFerrin, Angela Davis, Jean Michel Cousteau, and Robert Kennedy Jr.
CWU Counseling Center – Relaxation and mindfulness exercises for anyone seeking emotional health.
DePaul University:
Basic Spanish – Audio files of basic Spanish speaking to improve your listening comprehension.
Intellectual Property Scholars Conference – Conference featuring the presentations of 75 scholars covering a vast array of topics regarding intellectual property.
DePaul Humanities Center Audio – Features a lecture by the Director of the Martin Luther King, Jr. Research and Education Institute Clayborne Carson entitled "Legacy of Martin Luther King, Jr.", along with many other intriguing lectures.
Gordon College:
Gordon College Featured Speakers – Interviews, addresses, and lectures at Gordon College including a talk by author Brian McLaren along with many other Christian speakers.
Lehigh University:
The Examined Life: Intro to Philosophy – Lectures and post-lecture talks on Plato and Descartes from Professor Greg Reihman.
Bio Science in the 21st Century – Multidisciplinary survey course on biological science today covering stem cells, genes, neurobiology, and more featuring video lectures from many experts in their fields.
Miami Dade College:
The Earth Ethics Institute – Video lectures covering environmental ethics and ways to pursue a green and sustainable future.
Northeastern University:
Welcome to Boston: Audio Tours – Full audio of the Boston Harbor Walk Audio Tour.
Free Culture Forum – Lawrence Lessig and other experts on free culture give talks at the Free Culture Forum.
Queen's University:
Ethnicity & Democratic Governance – Talks from the Ethnicity and Democratic Governance Project International Summer Institute covering many aspects of governing ethnic diversity.
Reformed Theological Seminary:
C.S. Lewis – Course on C.S. Lewis covering his biography, theology, ethics, and more. Reformed Theological Seminary features over 20 free courses to download!
Rock Valley College:
Film History and Appreciation – Brian Shelton provides brief descriptions of different aspects of film including film production, documentary, and more.
UMBC:
BIO 305: Animal Physiology – In this course Dr. Frank Hanson takes a comparative approach to the study of how various selective pressures have resulted in the evolution of specific solutions to physiological problems.
University of Arizona:
Global Climate Change Lecture Series – Seven video lectures covering Global Climate Change and what could happen as a result of it and what ways there are to stop it.
University of Pennsylvania:
60 Second Lectures from the University of Pennsylvania School of Arts & Sciences – Entertaining 60 second lectures from University of Pennsylvania faculty covering a potpourri of topics.
Moynihan Report Revisited – Numerous lectures looking back at Daniel Patrick Moynihan's 1965 report on the high joblessness among black men as a principal cause of poverty and family instability among African Americans.
University of Southern California:
Faculty at USC: What Matters to Me and Why – USC professors give their stories about what matters to them and why.
USC College of Letters, Arts and Sciences – From USC's largest academic schools comes a number of fabulous lectures such as "Quaking in California: The Faults Beneath Our Feet", "History of Hollywood", and author T. C. Boyle talking about his latest novel "Talk Talk".
USC School of Cinematic Arts Speaker Series – Speakers include documentary filmmaker Ken Burns, director Ron Howard, and others working in the industry of film and television.
University of the Pacific:
Engineering and Technology in a New Millenium – Cutting edge video lectures on covering everything from neonatal hearing testing to the world's largest wind tunnel.
Vanderbilt University:
Worlds of Wordcraft – A unique course exploring the interactive technology and narratives of video games.
The Rev. James Lawson on the Non-Violence Struggle – A course of video lectures by a leading theoretician and tactician of nonviolence within the American Civil Rights Movement Rev. James Lawson.
Yale University:
Yale Religion Podcasts – Theologians, scholars, educators and clerics at the Yale Divinity School talk about faith in American and the rest of the world.
Yale International Podcasts – From the Yale Center for the Study of Globalization comes from speakers on the international stage including Thomas L. Friedman on how "The Flattening World Challenges The Imagination" and an interview of the late Pakistani politician Benazir Bhutto about "The Future Of Pakistan".
Highlights from new educational providers on iTunes U:
American Public Media:
Living Buddhism – Thich Nhat Hanh and other practicing Buddhists discuss this religion with Krista Tippett, host of the American Public Media program Speaking of Faith.
Vietnam & the Presidency – Series of American RadioWorks audio documentaries covering the Vietnam War and its effects on the U.S. Presidency, including interviews with David Halberstam, Jimmy Carter, General Wesley Clark, Dan Rather, and many others.
American Theatre Wing:
Downstage Center – Over 180 in-depth single subject interviews with theatre artists, producers and others in the field, addressing their most recent work as well as providing an overview of their careers.
Gilder Lehrman Institute:
American Presidents – Historians from the Gilder Lehrman Institute of American History discuss their books on American presidents.
Slavery and Abolition – Scholars discuss the history of slavery and abolition in the United Stated from the Founding era through the Civil War.
Indianapolis Museum of Art:
Indianapolis Museum of Art Raw and Uncut – Video interviews with numerous artists at the Indianapolis Museum of Art.
Little Kids Rock:
Little Kids Rock: Guitar Lessons – 20 short video lessons teaching kids to play the guitar complete with PDF lesson books.
Museum of Modern Art:
Edvard Munch: The Modern Life of the Soul – Audio covering MoMA's exhibition of Edvard Munch and his paintings with a link to the online collection that can be viewed. MoMA's exhibition archive features 25 of their past exhibitions with audio, video, and online collections to view.
Pablo Picasso – Audio from MoMA's Selected Artists gallery covering Picasso's seminal work of modern art "Les Demoiselles d'Avignon" along with many other paintings by Picasso. The Selected Artists offerings include audio on the paintings of Henri Matisse and other reknowned modern artists.
PBS:
Meet the Author – Interviews with popular children's authors from WETA Learning Media.
QUEST: Science and Nature – KQED's QUEST explores science and nature through video programs focusing on astronomy, biology, chemistry, engineering, environment, geology, health, physics, and weather.
ResearchChannel:
Allen Edwards Psychology Lectures – Nationally distinguished psychologists give talks on different aspects of psychology.
Behind the Code from Microsoft Research – From the office of the CTO of Microsoft comes these talks with the most influential technical employees who give their personal stories about their careers.
Loma Linda University's Bioethics Grand Rounds – Presentations on topics in Bioethics, including physician-assisted suicide, handling medical errors, neurobiology, and other critical issues.
Samuel and Althea Stroum Lectures in Jewish Studies – October 2006 – Series of three lectures by Dr. Lawrence H. Schiffman entitled "Creation, Revelation, and Redemption: The Religion of the Dead Sea Scrolls".
Smithsonian Global Sound:
Smithsonian Global Sound Talking Music – Ethnomusicologists discuss various types of ethnographic music.
UCTV:
UCTV: Religion and Spirituality – Downloadable audio versions of UCTV offerings including talks with John Selby Spong, Rabbi Michael Lerner, and an interesting talk entitled "Gen-Xers: Changing American Religion".
US Holocaust Memorial Museum:
Genocide Prevention: What You Can Do – Stories of individuals taking action when it comes to confronting genocide in Congo, Darfur, Rwanda, and throughout the world.
Holocaust History: Eyewitness Testimonies & Personal Stories – From the United States Holocaust Memorial Museum's oral history collection, listen to stories of Holocaust survivors.
WGBH:
Life Science: WGBH Teacher's Domain – Short videos from WGBH's NOVA that can be used by educators as a resource.
Politics: WGBH Forum Network – Political talks at the WGBH Forum Network including numerous notable liberal thinkers such as Noam Chomsky, Howard Zinn, Chris Hedges, Robert Fisk, Amy Goodman, Paul Krugman, and others.
So that's all for our latest update on the best of iTunes U. A special thanks to all the universities and providers offering these audio & video titles and to iTunes for orchestrating such an invaluable resource. Now load up your iPods or other portable audio & video players and start learning out loud!

June 13, 2007
For those of you unaware, the Audie Awards are sort of the Oscars for audio books and they were held June 1st in New York City, NY. They are run by the Audio Publishers Association. Hopefully next year a LearnOutLoud.com audio book will be up for an Audie but until then we applaud the winners of the 2007 Audies. Here's the winners that apply to audio learning in general and we feature on our site:
Audiobook of the Year
Inspired by…The Bible Experience: New Testament
Publisher: Zondervan
Narrator: Denzel Washington, Blair Underwood, Angela Bassett, Juanita Bynum, Shirley Caesar, Kirk Franklin and more
Politics
Hubris
Publisher: Blackstone Audiobooks
Author: Michael Isikoff, David Corn
Narrator: Stefan Rudnicki
Classics
To Kill a Mockingbird
Publisher: Caedmon Audio
Author: Harper Lee
Narrator: Sissy Spacek
Non-Fiction, Abridged
The Beatles
Publisher: Simon & Schuster Audio
Author: Bob Spitz
Narrator: Alfred Molina
Personal Development/Motivational
For the Love of a Dog: Understanding Emotion in You and Your Best Friend
Publisher: Tantor Media
Author: Patricia B. McConnell
Narrator: Ellen Archer
Biography/Memoir
Teacher Man
Publisher: Simon & Schuster Audio
Author: Frank McCourt
Narrator: Frank McCourt
Business Information/Educational
The Long Tail
Publisher: Hyperion Audiobooks
Author: Chris Anderson
Narrator: Christopher Nissley
Inspirational/Spiritual
Inspired by…The Bible Experience: New Testament
Publisher: Zondervan
Narrator: Denzel Washington, Blair Underwood, Angela Bassett, Juanita Bynum, Shirley Caesar, Kirk Franklin and more
Humor
Spoiled Rotten America
Publisher: Harper Audio
Author: Larry Miller
Narrator: Larry Miller
Short Stories/Collections
This I Believe: Personal Philosophies of Remarkable Men and Women
Publisher: Audio Renaissance
Editors: Jay Allison and Dan Gediman
Narrator: Bill Gates, Martha Graham, et al.
Original Work
Soundwalk: Hasidic Williamsburg, Brooklyn for Men & Soundwalk: Hasidic Williamsburg, Brooklyn for Women
Publisher: Soundwalk
Narrator: Joseph Piekarski and Pearl Gluck
Solo Narration – Male
Peter and the Shadow Thieves
Publisher: Brilliance Audio
Author: Dave Barry and Ridley Pearson
Narrator: Jim Dale
Solo Narration – Female
Telegraph Days
Publisher: Simon & Schuster Audio
Author: Larry McMurtry
Narrator: Annie Potts
Narration by Author or Authors
The Tortilla Curtain
Publisher: Blackstone Audiobooks
Author: T. Coraghessan Boyle
Narrator: T. Coraghessan Boyle
Audio Drama
Radio Theatre's The Life of Jesus
Publisher: Tyndale/Focus on the Family
Author: Paul McCusker
Narrators: Richard O'Callaghan, Adam Godley, Geoffrey Palmer, Robert Hardy and a full cast
June 4, 2007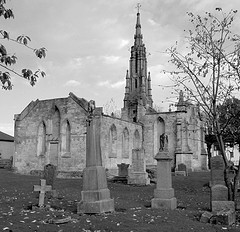 Just spent the last few days out at the National Book Expo and had a lot of conversations with major publishers about DRM. The general consensus among most people is that DRM is on the way out. Apple.com's homepage is featuring DRM-free music. Top articles talking about the demise of DRM (such as this one I wrote back in November) regularly are featured on popular media sites like Digg and TechCrunch. However, there is still a lot of resistance from big content companies (e.g., record labels, publishers, etc.) to put content out there DRM-free.
In this article I'll give five reasons why you won't see DRM (at least not audio-based DRM) five years from now. Hopefully this article will help (at least in a small way) to convince big content companies to move away from DRM sooner rather than later. I'll also give five suggestions for things you can do to speed DRM's demise.
Reason #1 – The mobile media market. According to projections within five years there will be more than four billion media-enabled mobile phones on the market. That's an incredibly huge opportunity for content providers (witness what happened in the ringtone market a few years back and you'll have a sense of the upcoming explosion in mobile audio content). However, mobile content companies and carriers don't want to deal with a variety of proprietary file types. They'll instead want to focus on a limited number of non-proprietary file types like MP3 and AAC. In and of itself this trend is very likely to put an end to audio DRM.

Reason #2 – EMI. The fact that the world's fourth largest record label was willing and able to make their entire catalog available DRM-free is testament to how far we've come. Getting the sign-off to do this was no insignificant thing as it meant convincing artists, agents and many others in the music industry that this was a good thing. If EMI was able to do it then it's only a matter of time before others will follow (assuming that EMI has reasonable success with their strategy). Up until a month ago many people assumed that convincing major content providers to go DRM-free was just too hard. EMI has helped to show that while it isn't easy, it is achievable.
Reason #3 – Amazon. Amazon recently announced they were launching a DRM-free music store. Amazon is already one of the Top 5 sellers of music depsite never having sold a single music downloand. Their entrance into the market wiill have a huge impact and as labels and publishers realize the huge amount of the money they are missing by not being DRM-free and not being included in Amazon's digital catalog most of them likely will make the switch.
Reason #4 – Growing customer awareness. The infamous Steve Jobs memo and other news of late has helped bring DRM to the forefront of customer awareness. Although many people still don't know what DRM is that is gradually changing. And as customer's perceptions change they'll start to demand that they can do what they want with their media uncumbered from DRM. That will help lift sales of DRM-free content and convince more content onwers to make the switch. That'll be one helluva virtuous cycle.
Reason #5 – Increasing complexity. We live in a world that is moving incredibly fast. There are more devices being produced than ever, more websites selling content and more consumers. The challenge with any proprietary, DRM-infected platform is that it has to do so much more work to adapt to the changing world. For instance, our main competitor Audible.com has to work diligently to ensure that mobile handsets supports its ".aa" files (Hint: Most don't). We just need to make sure that mobile handsets support MP3 and AAC files (Hint: Most do and in the future it's a pretty safe bet that they all will.). Makes our job a whole lot easier.
For these five reasons I think you'll see a complete end to DRM as early as the end of this decade. Want to speed the process? Take the five steps below:

#1 – Support Apple/EMI. One of the first things I'm doing this week is buying a bunch of iTunes DRM-free content. First of all, it makes sense to me to do this now that it isn't crippled content that I might not be able to play a few years from now. Second, I'm voting with my dollars. If Apple and EMI report great sales it'll help the other record labels to follow suit.
#2 – Support other people selling DRM-free content. A while back I posted a round-up of other DRM-free providers of audio content. I encourage you to patronize these sites. Sure this is self-serving but I truly believe that by spending the vast majority of your money on DRM-free content you'll send a clear message to content owners.

#3 – Support organizations that are fighting against DRM. DefectivebyDesign.org is probably the best place to start. Donate money to them and see how else you can help them out. These guys have been fighting the fight for a long time and the tide is starting to turn in no small part due to the efforts of people like Corey Doctorow, Jason Calacanis and others who've railed against DRM in the past.
#4 – Spread the word about DRM. The next time you see a friend downloading DRM-infected songs off iTunes ask them if they know about DRM. Explain to them that they might want to think twice about buying a song they may not be able to play in a few years. You'll be doing them a favor and at the same time you'll be helping spread awareness.
#5 – Digg, Furl, del.icio.us, etc. this article. 🙂
We're getting really close to a DRM-free world and if we band together on this one we can move into a world where the power shifts back into the hands of the consumer and messages like "not authorized to play" are a thing of the past.
April 17, 2007
🙂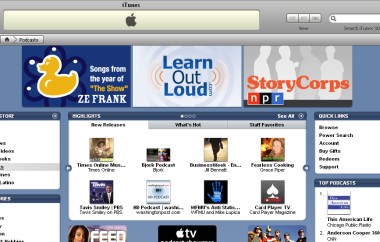 iTunes has just added the LearnOutLoud podcast "room" where you can check out all of our podcasts.
Click here to check out our podcast room on iTunes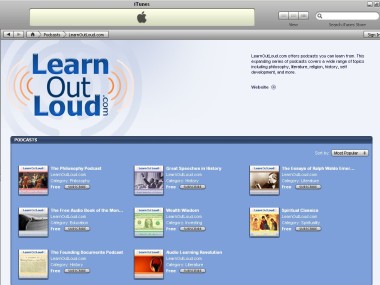 April 13, 2007
This Wednesday, April 11th American author Kurt Vonnegut, Jr. passed away at the age of 84. Watch one of his last interviews which was conducted by John Hockenberry of the The Infinite Mind series, and recorded live in the virtual on-line community Second Life. It's an entertaining interview with questions from the Second Life audience and Vonnegut's thoughts on America towards the end of his life. He also discusses his final work which is a collection of essays entitled A Man Without a Country.
The Infinite Mind is produced by Lichtenstein Creative Media which focuses on mental health, human rights and other social issues. LearnOutLoud features over 40 audio downloads from The Infinite Mind.
For audio books from Vonnegut check out:
Slaughterhouse-Five
Breakfast of Champions
Essential Vonnegut Interviews
A Man Without a Country