September 2020
| Su | Mo | Tu | We | Th | Fr | Sa |
| --- | --- | --- | --- | --- | --- | --- |
| | | 1 | 2 | 3 | 4 | 5 |
| 6 | 7 | 8 | 9 | 10 | 11 | 12 |
| 13 | 14 | 15 | 16 | 17 | 18 | 19 |
| 20 | 21 | 22 | 23 | 24 | 25 | 26 |
| 27 | 28 | 29 | 30 | | | |
September 18, 2013
The Great Courses on Sale on Audible & iTunes, No Coupon Necessary!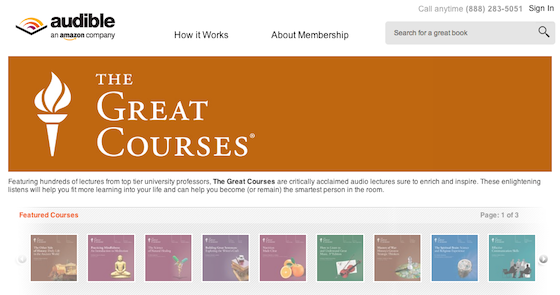 We must mention the great news that The Great Courses are now available at a sale price for audio download on Audible.com! For anyone unaware, The Great Courses publish and sell lecture courses from the nation's best university professors. They now offer over 400 courses on audio and video from a broad array of university level disciplines. Now almost all of their audio courses are available for audio download through Audible.com, and we've switched over our links to point to Audible.com. Not only are these courses readily available through Audible.com's great applications for iPhone, iPad, and Android, but The Great Courses are also usually cheaper on Audible.com, especially if you have an Audible membership. Now you can get great, expansive courses for only 1 credit! And since Audible.com supplies iTunes you can also buy The Great Courses on sale on iTunes with prices almost always below $29.95 per course (and many courses for only $14.95)!
But the cheapest way to get The Great Courses is certainly through an Audible.com membership. If you don't have a membership, you should maybe try Audible out:
AudibleListener® Gold Membership Consumer Offer
Get 50% off your first 3 months of the AudibleListener® Gold membership plan and receive your free audiobook credit each month. Pay only $7.49/month for 3 months, $14.95/month thereafter.
Audible® Free Trial Consumer Offer
Get your first 14 days of the AudibleListener® Gold membership plan free, which includes one audiobook credit. After your 14 day trial, your membership will renew each month for just $14.95 per month so you can continue to receive one audiobook credit per month plus members-only discounts on all audio purchases.
And here's a link to all of The Great Courses on iTunes:
The Great Courses on Sale on iTunes
Even if you don't have an Audible.com membership, the prices are often cheaper for audio downloads through Audible.com. No more waiting around for that desired Great Course to go on sale or for a coupon to arrive. You can get them all on sale on Audible.com! Also you can now listen to audio samples of the courses before you buy them! Browse all The Great Courses we feature on LearnOutLoud.com right here:
Browse The Great Courses Now on Sale on Audible.com
And for some free content, we've also wrote a few blog posts of free videos that The Great Courses is now offering:
Free Video Lecture Samples from The Great Courses
Preview Free Video Trailers for The Great Courses
And they also feature a new podcast:
The Torch: The Great Courses Podcast
Here are some of those great courses that you can now get for 1 credit or at a sale price on Audible.com:
How to Listen to and Understand Great Music
Great Minds of the Western Intellectual Tradition
No Excuses: Existentialism and the Meaning of Life
Big History: The Big Bang, Life on Earth, and the Rise of Humanity
Classics of American Literature
Now The Great Courses are cheaper and more accessible than ever through Audible.com! And just in time for Back to School!
Note: We don't currently sell these courses directly. We just link to The Great Courses and Audible.com as an affiliate.
And if you haven't yet, be sure to check out The Great Courses Plus. You can now sign up for a free one month trial on TheGreatCoursesPlus.com. For fans of The Great Courses it's overwhelmingly awesome. You subscribe to The Great Courses Plus, and you can then watch 300 great courses and over 6,000 video lectures as much as you want, whenever you want!
After the initial free month, the price is only $19.99/month now! A bargain considering all the great courses you get access to. And if you sign up for a full year the price breaks down to only $14.99/month. We've gone through their entire catalog and there are so many courses and individual lectures we want to watch. You can browse all these courses by category on their website as well:
Browse Over 300 Courses Currently Offered Through the The Great Courses Plus
We've updated a blog post that lays out The Great Courses Plus in more detail and lists all the current courses:
Watch 300 Great Courses on the Great Courses Plus Updated Blog Post

Posted by LearnOutLoud | Permalink