February 15, 2006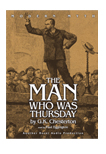 We thought we were the only ones. We were wrong.
We launched our Free Audiobook of the Month Club last month (go get Siddhartha if you haven't already!) because we thought the world could use more high-quality free literature. Turns out that another site, ChristianAudio.com, is doing the same thing. Cool.
This month's free audiobook over there is G.K. Chesterton's The Man Who Was Thursday. I wasn't familiar with this title but I have listened to another of Chesterton's titles St. Francis of Assisi. I didn't like that one much but that was mostly due to poor sound quality. This one sounds much better. It's the full-length version (over 5 hours) and costs $20 or more to purchase elsewhere.
Kudos to ChristianAudio.com for doing this. The more free audio we can get out there the better!
Anyone aware of any other Free Audiobook of the Month clubs we should know about? 🙂
September 18, 2005

We haven't had any blog posts in our "Hot Deals" section for a while so I figured I'd blog about a few ways that you can save money while you are Learning Out Loud. Here goes…
4 GB iPod Minis for $149 at Costco – With the release of the new iPod Nano, Minis just aren't as hot. But at $149 for 4 GB that's one helluva deal. Sure they are a little bigger but for $100 less (plus the option for those nice pastel colors) it just might be worth taking on the extra heft…
10% off coupon for…EBay! – This is the first time I've ever seen EBay offer a coupon. You can find a ton of used audio and video material on EBay ranging from Tony Robbins to Pimsleur foreign language courses. This coupon will allow you to take off 10% of any purchase up to a max of $25.
Books on Tape 30th Anniversary Sale – Books on Tape has been around for 30 years?! Wow. And they are celebrating like they mean business. Pick up Deepak Chopra's Golf for Enlightenment for $7, George Orwell's 1984 for $14 or choose from hundreds of other titles.
That's all for now. If you know of other hot deals related to audio or video learning, send me an e-mail so I can put them up here in the blog. Happy shopping!
April 26, 2005

Sometimes buying an audio book is just too pricey. I mean it's about 10 bucks more than a CD and you might not even like the book after you've spent alot of time on it. Well, now there's a few options for those that don't like to buy audio books. Netflix showed the renting over the internet can be big business and now tons of audio book rental outfits are showing up like crazy. In the future me and david will be recording a podcast that will try to navigate a path through the murky world of online audio book rental services, but for now I want to give you some links to pages I created as guides to a few of them:
April 8, 2005
Just wanted to give a note to all of you that the Brian Tracy Author Page is up and running and looks to be a great addition to our other author pages. Tracy is best suited for those that are interested in pursuing or enhancing their business career. From what I've looked over today, he has many titles that zero in particularly on sales and marketing.
In other news, I wanted to give you all some more links to sites that feature audio samples. This time I'm focusing on audio membership sites, figuring they have to feature some kind of sample right? Well…..
Audioqueue is first up. With categories like "Appearance" and "Feelings" I felt like their page layout was a little too… inaccessible maybe? I went on, hoping for detailed product descriptions repleat with 20 minute audio samples for you all to hear. I was again, as per usual in this hard, hard life, disapointed. No samples, just a picture (sometimes even that isn't available) and a brief description followed by a plea to sign up for their 20 buck a month club. I might check the competition out before I go with you guys.
Audio-To-Go features no samples and their product pages are so brief they just fit them all on one big page insteand of breaking them up individually. I think I like them, but I guess their presentation doesn't it really do it for me either. Seems to me, these audio book clubs are forming a pattern of no audio samples. How am I supposed to know what I'm getting from a picture? What if I'm one of those guys that's just casaully browsing. What if I'm not an avid reader and I don't know who an author is? This stuff seems catered to people in the know and I feel like a loser.
Audiobookclub, what my good friend and co-worker david has called the BMG of audiobooks, has alot of samples! I'm listening to this one from James Patterson's "3rd Degree". I have absolutely no idea what this book is about other than that it seems to be some kind of detective story involving avid runners. Hah. The audio sample is ok. For some reason I want GREAT quality audio samples because I feel I deserve nothing less when I get something for nothing.
Simplyaudiobooks was by far my favorite of the audio book rental sites. This is just the tops as far as presentation and product description. They basically have all your basic top sellers but alas, they don't have any audio samples. My search was in vain, but I left the place with a smile so I guess the world isn't so bad after all.
Ok, so this sort of turned into an amateur hour referendum on the state of audio book rental subscription sites. I didn't mean for that to happen and I think its giving me an idea for a new article. As it stands, i found no audio samples on any of these sites but I hope the information is useful nonetheless. At least it was for me. I think I'll go now. Final thoughts? Uh, the grapes I'm currently eating in front of the computer are real sour. Yeah! Have a good day wherever you are.
September 15, 2004
Books on Tape is discontinuing their current rental program. As part of this they are selling all of their rental products at rental prices. This represents a huge savings of 80% of more on most titles. For example, I just picked up an unabridged copy of Bill Clinton's autobiography "My Life" for around $30 (it normally runs over $100). Unfortunately they are pretty picked over but it might be worth your while to hop over there and check out what they do have left.